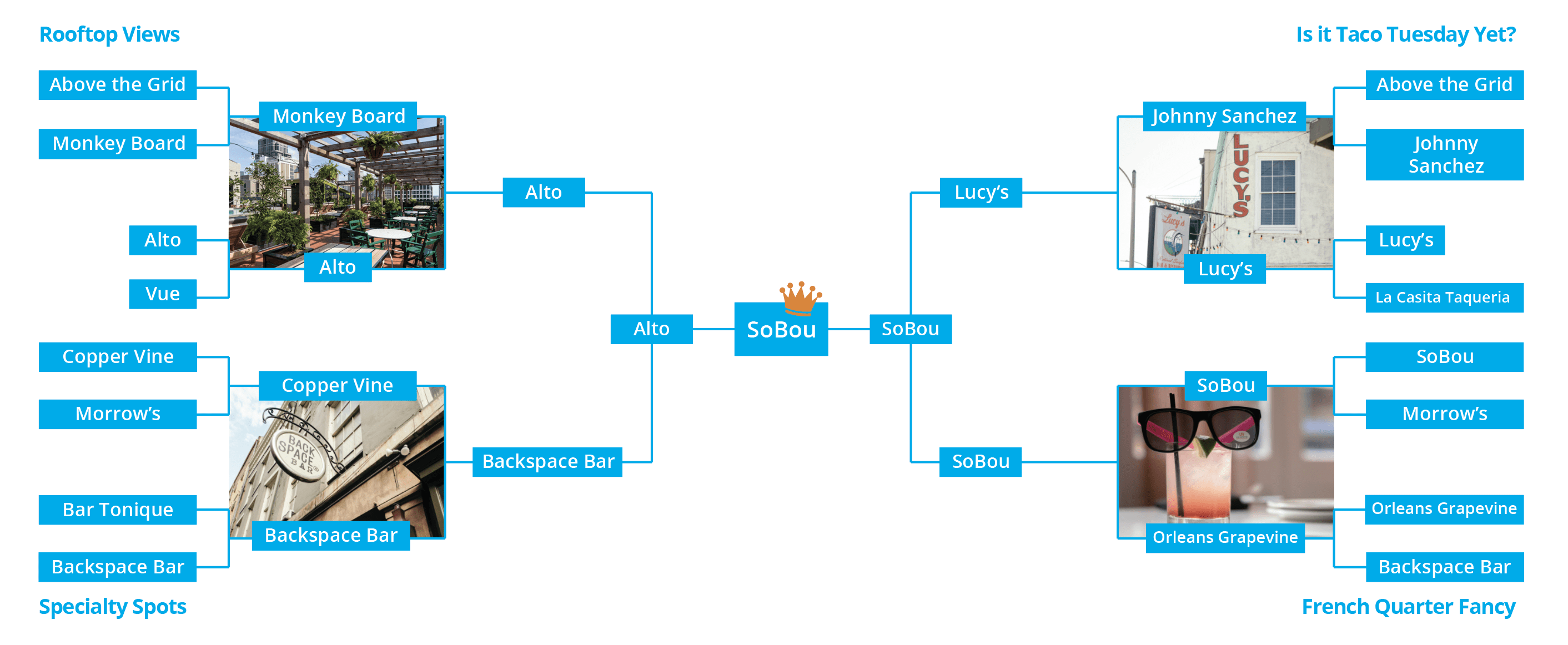 Are you ready to turn your drab, post-work drinks into the happiest hour of them all? Welcome to Happy Hour Wars. We started with 16 top bars from around the city, falling into the categories "Rooftop Views," "Specialty Spots," "Is it Taco Tuesday Yet?" and "French Quarter Fancy." To progress from the Sweet 16 to the Elite Eight, bars and Happy Hours were judged on bar atmosphere. To make it to the Final Four, bars were judged on bang for your buck, and the championship was based on the drinks' drunk factor and the food's deliciousness level.
Only one New Orleans bar will win the best Happy Hour of them all. Who was crowned king of the Happy Hour Krewe? Drumroll please … SoBou. This Commander's Palace restaurant has it all: a comfy and jovial atmosphere, cheap Happy Hour prices, and delicious food and drink.
While SoBou battled its way to the top this time, all bars are worth some weekday happiness for you and your work frenemies pals. Take a look at the bars that participated in depth below. Does your favorite bar have what it takes?


Rooftop Views
Alto at Ace Hotel |600 Carondelet St., 504-900-1180, acehotel.com
I could spend all day in the pool at Alto, relax into the night lounging by a fire pit, book a room in the downstairs Ace Hotel, and do it again the next day. Alto is the hot spot of the CBD. However, they also have a stylish downstairs bar, so neither spot is ever too crowded. Happy Hour may be Monday through Friday, 4 p.m. to 7 p.m., but you won't want to leave when it's last call for $6 daiquiris and $3 chocolate chip cookies. Alto provides a romantic setting, so perhaps save this Happy Hour for your next date night.
Monkey Board at the Troubadour
1111 Gravier St., 504-518-5600,
monkeyboardnola.com
Monkey Board is the place to be, weekdays from 4 p.m. to 6 p.m. The CBD rooftop bar has everything a social media influencer could need: a giant neon "do whatcha wanna" sign, sunset views over the Superdome, beautiful drinks, and cool, pop-art inspired walls and setting. Sip on a French 75 and nosh on delicious bites, such as the grilled pimento sandwich, while you're there.
Vue NOLA Rooftop Bar On top of the SpringHill & TownePlace Suites,
1600 Canal St., 504-702-6800,vuenola.com
Vue Rooftop Bar has one of the most outstanding views of any spot in the city. Nestled between Canal Street, Claiborne Avenue, and I-10, the bar allows you to enjoy drinks in hip furniture and overlook some of the busiest streets in the city. Bring the gals and come by for Friday Ladies' Night. Who doesn't love $5 rosé?
Above the Grid317 Baronne St., 844-439-1463, nopsihotel.com
Above the Grid, the rooftop bar at the NOPSI Hotel, offers a "power hour" from 3 p.m. to 6 p.m. every weeknight. Don't come too early: Non-hotel visitors can only get in on the deals from 4 p.m. on. Enjoy $8 cocktails, $8 wine, or $5 draft beer from a chaise lounge by the pool or from the hip boho furniture that overlooks the many CBD hotels and the Superdome.

Specialty Spots
Backspace Bar
139 Chartres St., 504-322-2245,backspacebarnola.com
Backspace Bar, edged into the French Quarter, may not have an official Happy Hour, but their all-the-time deals are off the chain. Just $2.50 for a bottled beer and $3 for a well drink? Sign me up. Between the long wooden bar, the animals on the wall, and the comfy leather chairs, the bar evokes an old-timey feel that begs someone to come in and write the next great American novel.
Don't miss the Aviation, a house cocktail made with gin, lemon, Luxardo, and crème de violette to give it a luxe mile-high-club feel. It's deliciously light and dangerously close in taste to a tart lemonade that you could suck down way too easily. If you decide to go for one of the bargain-priced beers, pair it with the Backspace Burger, which is topped with smoked bacon, brie cheese, and caramelized onions on brioche.
Morrow's 2438 St. Claude Ave.,

504-827-1519,morrowsnola.com
Morrow's, located at the edge of the Marigny and Bywater, combines a chic, modern experience with traditional NOLA and Korean fare. The hotspot consistently gets packed for Happy Hour, but what do you expect with food specials such as ginger sesame wings and crawfish tails? The restaurant also features 50 percent off premium liquors, $3 beers, $3 shots, and signature cocktails, such as the $12 All Bets on Me: Cognac, white cranberry, and peach schnapps. Come for the Instagram-worthy atmosphere, stay for the incredible eats and drinks.
Copper Vine 1001 Poydras St.,
504-208-9535, coppervinewine.com
Be sure to make a reservation for the popular Copper Vine on Poydras; this place fills up, even on a weeknight. The wine bar has 30 wines and eight beers on tap, but the most popular is #7: a pinot noir. Their trendy Happy Hour runs from 3:30 p.m. to 5:30 p.m. and has half-off wine bottles, $5 glasses, and popular plates, such as the short ribs.
Bar Tonique 820 N. Rampart St.,
504-324-6045, bartonique.com
Bar Tonique is cozy, colorful, and packed. The neighborhood staple has been around for years, and the same bartenders will be creating beautiful, hand-crafted cocktails for you, from noon till 2 a.m. every day. Stop by between noon and 5 p.m. on a weekday for a $5 Frenchmen's Dark & Stormy. The delicious twist on the classic has maple tones that complement the ginger flavors. While this spot doesn't offer food, the $5 Happy Hour cocktails will keep you entertained.
Is it Taco Tuesday Yet?
Rum House 3128 Magazine St., 504-941-7560,therumhouse.com
Rum House has great vibes for both adults grabbing Happy Hour and families out for dinner. However, the restaurant is spaced out well enough that if you need to have an adult conversation, you won't feel self-conscious about an eight-year-old overhearing it.
Try the tuna ceviche with mango served in tacos shells or the calamari with coconut cilantro pesto. Stop by on Tuesday for $3 tacos, $3 beers, and $5 margaritas. Any other day, they still have a great deal, with cocktails for $3 to $6.
Johnny Sanchez 930 Poydras St., 504-304-6615, johnnysanchezrestaurant.com
The food is delicious, and you can guarantee the drinks are boozy. Granted, my tolerance is not as high as it once was, but one blackberry margarita was enough to do me in. (I really am turning into my mother.)
The Happy Hour features $2 tacos and half-priced drinks. While there's typically Happy Hour from 3 p.m. to 6 p.m., Monday through Friday, there's no Happy Hour on big nights at the Smoothie King Center, the Superdome, and Champions Square. When I stopped by, it was the night of the Justin Timberlake concert, and the restaurant played a topical playlist including "Bye, Bye, Bye." The tunes and margarita almost made up for the no-Happy-Hour surprise. Almost.
La Casita Taqueria 8400 Oak St.,
504-826-9913, eatlacasita.com
Respect is earned, not given. At La Casita Taqueria, it is frankly quite easy to #respectthetaco. The Oak Street joint offers $2.50 street tacos during Happy Hour, with either chicken, chorizo, veggie, or carnitas. Add on a colorful $4 margarita, some $3.50 queso, and some pals, and you've got yourself a weeknight party. Be sure to also try the $5 papas guapas.
Lucy's Retired Surfers Bar and Restaurant 701 Tchoupitoulas St., 504-523-8995,lucyssurf.com
When you walk into Lucy's, the party has officially started. Your favorite hits from the last five years are blasting, every important game is playing from one of the 10 flat-screens in the place, and the surfer vibe almost forces you to kick back and order a Corona with lime. Maybe make that a few Coronas, because if you visit during Happy Hour, which is Monday through Friday from 4 p.m. until 7 p.m., you'll hit $3 beers, $4 margaritas, and $4 wells. Even better, if you come on Tuesday, Lucy's is keeping the party going with $3 shots and tacos at $4 or less a pop. Sit back, order same tacos or crawfish, and have a blast.
French Quarter Fancy
The Bombay Club
830 Conti St., 504-577-2237, bombayclubneworleans.com
The suave Bombay Club in the heart of the French Quarter gives off major speakeasy vibes. The hip spot features Happy Hour deals every day of the week (4 p.m. to 7 p.m. on weekdays, 3 p.m. to 7 p.m. on weekends). Decide if you want to be inside the polished bar or outside in an elegant, fountain-lined courtyard. Try the $4 small bites, like the boudin rangoons, and a $6 cocktail. The Conti, a simple mix of gin, lime, and soda, was refreshing and easy to put down.
Hermes Bar at Antoine's 725 St Louis St., 504-581-4422, antones.com/hermes-bar
Luxe Happy Hour-goers, commence. You'll find your vibe at the Hermes Bar at Antoine's, but did we expect anything less? You'll find patrons noshing on finer-than-usual Happy Hour appetizers, such as Pommes de Terre Soufflés or Escargots à la Bourguignonne. Surprisingly, prices are accessible at Hermes Happy Hour, especially for the drinks. Find domestics for $2; imports for $3; wells, wines, and champagne for $4, Monday through Friday.
Orleans Grapevine 720 Orleans St., 504-523-1930,orleansgrapevine.com
If you start drooling when you hear the word bacon, Orleans Grapevine is your spot. Bacon Happy Hour is every day from 4 p.m. to 6 p.m. and 10 p.m. to midnight. Fancy cheese plates galore can be paired with $15 Happy Hour wine flights, or keep it light at $5.50
a glass.
The crowd is more distinguished than your typical Happy Hour spot, begging you to sit and enjoy your wine and baked brie, rather than coming in just to drink off the work day. The restaurant is intimate and comfortable, but doesn't take itself too seriously. It's Bacon Happy Hour, people!
SoBou 310 Chartres St., 504-552-4095, sobunola.com
SoBou, short for South of Bourbon, has it all on the napkin beneath my cocktail. The bar napkin reads "SoBou: So•Bou noun \ So-Bū: 1. an acronym for a micro-neighborhood in 'the Quarter'; 2. a place where a pincho is something to eat, not do; 3. a saloon where the showmanship of the barkeep is only matched by the beauty in the glass; 4. the home of civilized drinking; 5. where people know pinot noir is not a daiquiri flavor; 6. where you see pink elephants and don't mind; 7. where life is meant to be lived
and not endured."
"Where life is meant to be lived and not endured" takes place next to me as two businessmen drink away the afternoon and two girls from Vegas chat with the amiable bartenders. The bartenders, Jared and Hunter, have matching beards, matching plastic-rimmed, bright-hued glasses, and matching personalities. "We're roommates, too," Hunter tells me after he ribs on Jared for the way he is making one of the salon's specialty cocktails. The two made me feel so comfortable that I stopped just short of asking them if they wanted to hang out sometime.
Jared makes me a Tom Collins with gin, but the real Happy Hour prize at SoBou is the martinis. Monday through Friday, SoBou serves up 25-cent martinis from 11 a.m. to 3 p.m. They'll serve a more traditional "Happier Hour" from 3 p.m. to 6 p.m., with snacks and drinks from $3 to $6. I love a good price and time correlation. Jared and Hunter sent me off with a high-five, which was a fine consolation prize for not asking for their friendship.
Come to SoBou to waste the afternoon away and live, not endure