For tourists coming from other oyster-producing regions of the country—states like California, Washington, New York, Massachusetts, and Maine—they'll likely never forget their first taste of Gulf oysters in Louisiana. First, though the species down here can also be found all along the Eastern Coast, as far north as New Brunswick, Canada, our oysters tend to be a lot larger, meatier, and milder in flavor due to the mixing of freshwater from the Mississippi River pouring into the salty, seawater of the Gulf.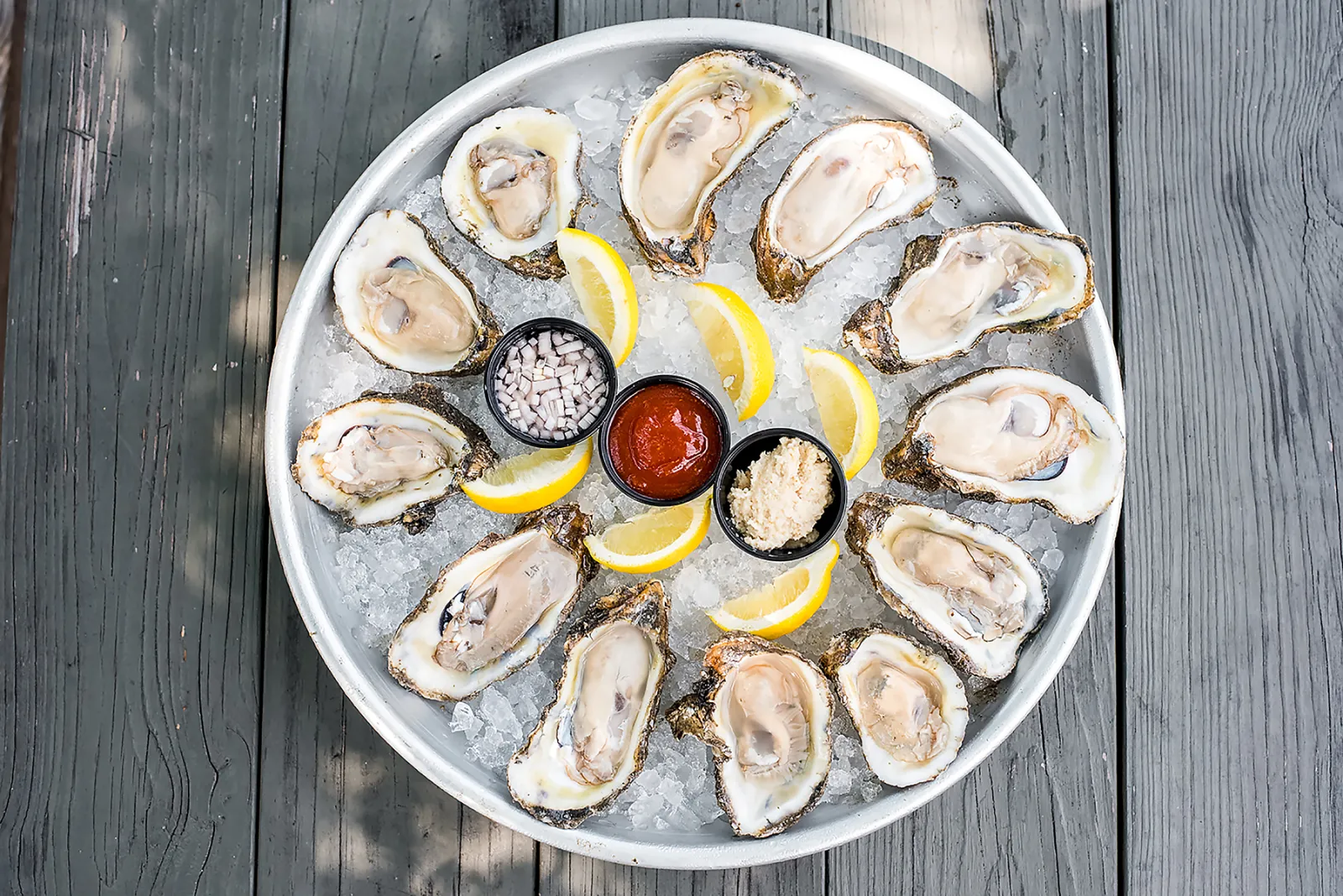 Secondly, the sheer abundance of oysters in the Gulf Coast region make our mollusks considerably more affordable. Lately, our oyster population has diminished due to environmental impacts from climate change and algae blooms to increased oil production, not to mention spills, in the Gulf. But compared to other regions in the country, it's still much easier to find affordable, local oysters...especially at happy hour.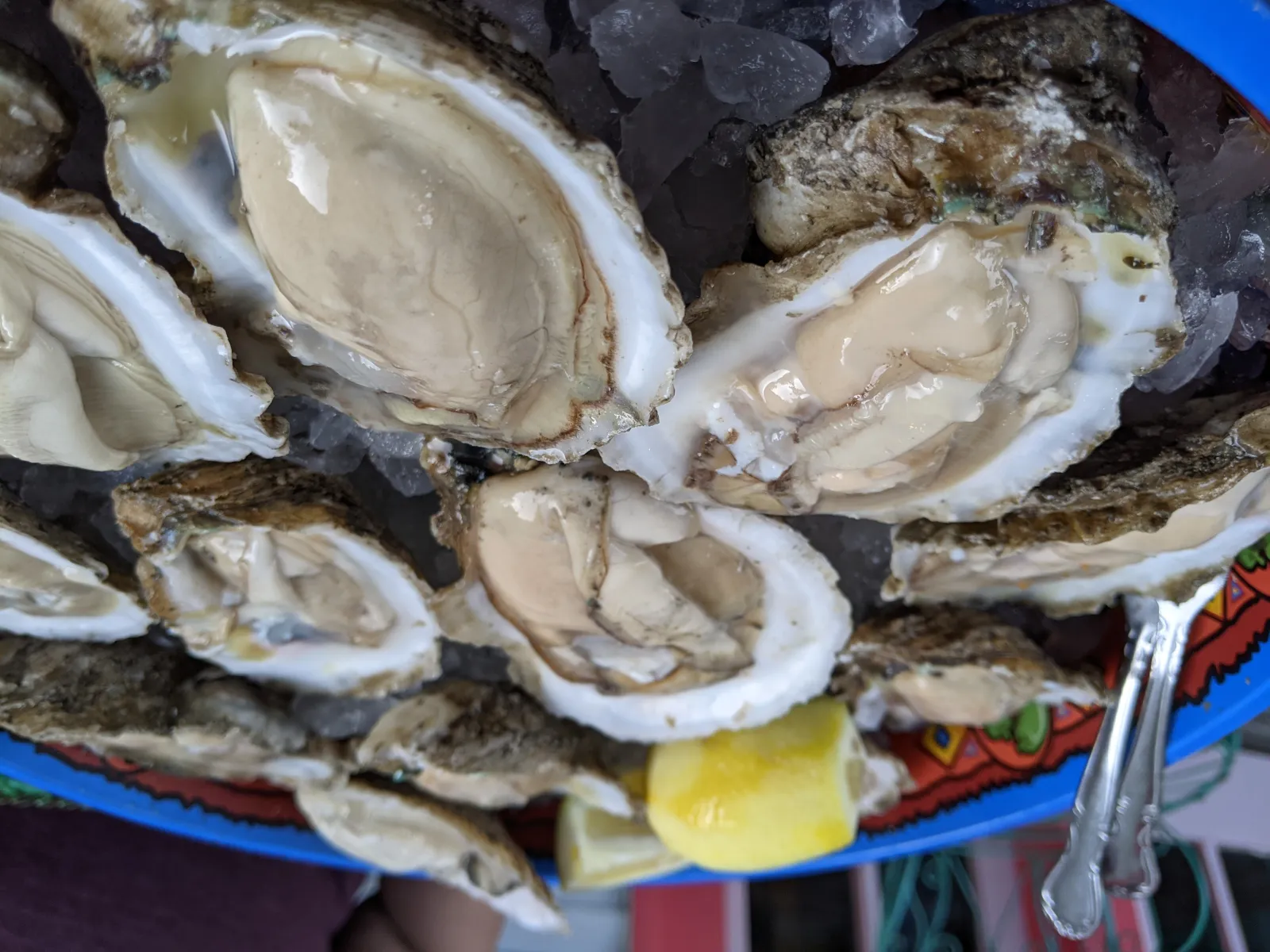 Along with great gas station food and go-cups, New Orleans has ample options for happy hour, specifically ones that include Gulf oysters. Easily one of the best combinations in the world, especially on a warm New Orleans day, is an ice-cold beer with a cool dozen of freshly-shucked, local oysters. Not to mention the lagniappe that commonly makes an appearance alongside, from Tabasco and horseradish to saltine crackers and French bread.
Opened in the Carrollton neighborhood only a few months ago, Seafood Sally's is probably one of the newest spots in town to score oysters. Chef Marcus Jacobs and Caitlin Carney, the dynamic duo behind the ever-popular Marjie's Grill in Mid-City, launched the Oak Street restaurant in early May, touting a more traditional, Southern seafood menu with a few of the Southeast Asian tweaks they're known for thrown in for good measure. Along with boiled and fried seafood, hush puppies, and beer-battered onion rings, Seafood Sally's also offers fresh Gulf oysters on the half-shell and, at happy hour, you can get them half-priced, only a "buck-a-shuck." Go early, kick back on their tree-shaded patio, and enjoy a spritzer and a dozen of the Gulf's finest served with cocktail sauce, horseradish, and a nuoc cham mignonette.
Way across town on St. Claude Avenue, the folks at Elysian Seafood in St. Roch Market offer a similar seafood happy hour. Owners Jennifer Sherrod and Brandon Blackwell are regularly serving up a seafood bounty, from Louisiana crab cakes to crawfish sausage po-boys and coconut curry shrimp. But from Monday to Friday, 4 p.m. to 7 p.m., they have happy hour oysters: $6 per half dozen raw Gulf oysters or the same price for three charbroiled oysters. It's a considerable discount, especially when you compare with their regular prices.
Another "buck-a-shuck" happy hour can be had starting at 4 p.m., Wednesday through Sunday, at Seaworthy, a high-end seafood spot inside the Warehouse District's Ace Hotel. Known for their elaborate raw bar, Seaworthy has oysters from every producing coast in the country, from Humbolt Bay in California to Long Island, New York. Though Louisiana Gulf oysters often make an appearance on their half-priced happy hour for a dollar each, there are occasions when other "select" oysters are featured. Even though they might be slightly more expensive, it's an excellent and affordable opportunity to compare the vastly different flavor profiles in mollusks from one coast to the other.
Neighborhood sports bar Cooter Brown's on South Carrollton Avenue has been serving up oysters with their brews for almost 50 years. Wall-to-wall flat-screen TVs and an expansive beer list (84 taps and even more by the bottle) ensure that customers will never miss a game, any game, or the latest brew. In addition to po-boys, burgers, and sandwiches, Cooter Brown's patrons can also enjoy cold, freshly-shucked, Louisiana Gulf oysters for only $10 per dozen from 3 p.m. till midnight every Tuesday night.
Over in Lakeview on Harrison Avenue, Parlay's is a neighborhood pub serving up a whole lot more than icy cocktails and craft brews on tap. In addition to regularly hosting local pop-ups like @jambalayagirl, @nolasliders, @burger_nerds, and @rollieshotdiggitydogs, the pub also features a dozen raw, P&J oysters at $8 (and $12 for charbroiled on Fridays only) Tuesday through Sunday from 3-7 p.m.!
One of the most impressive oyster happy hours in town is located downtown inside the InterContinental Hotel. Contemporary Louisiana restaurant Trenasse, whose kitchen is helmed by local magic-maker and chef Matt Farmer, offers a menu featuring an incredible "fowl" gumbo with chicken and duck confit, smoky braised short ribs, Buffalo frog legs, and, of course, oysters. The regular price is $20 per dozen, but every day during happy hour from 3 p.m. to 6 p.m., lucky diners (or barflies) can get meaty mollusks on the half shell for 75¢ each! If our calculations are correct, that's $9 per dozen; can it get any better than that? Well, it can certainly get similar. Up on the corner of St. Charles and Napoleon avenues, right on the streetcar line, Superior Seafood also offers 75¢ oysters from 4 p.m. to 6:30 p.m. daily. You'll want to slurp a dozen along with a large Frozen French 75 or Pomegranate Mojito set at a small-sized price.
Finally, over on Bienville Street in Mid-City, Clesi's Restaurant & Catering is also shucking out inexpensive oysters. Regular prices are already quite reasonable at $13 per dozen, but on Wednesdays, if you order a bottle of wine or a bucket of beer, you can also enjoy oysters at only a quarter each! Does it get any cheaper than that? Well, you could hit Magazine Street bar Le Bon Temps Rouler for their "Free Oyster Fridays," but you have to move fast because it's all over when they run out!