Hadestown at the Saenger Theatre cleverly intertwines two story lines from Greek mythology—Orpheus and Eurydice, along with King Hades and his wife Persephone—set in the seedy side of what looks a lot like New Orleans, delivering on its premise of inviting you on a journey to the underworld and back. The Broadway show updates the Greek mythology plot into a Depression-era French Quarter setting, brilliantly blending American folk music with jazz and New Orleans-style architectural trappings.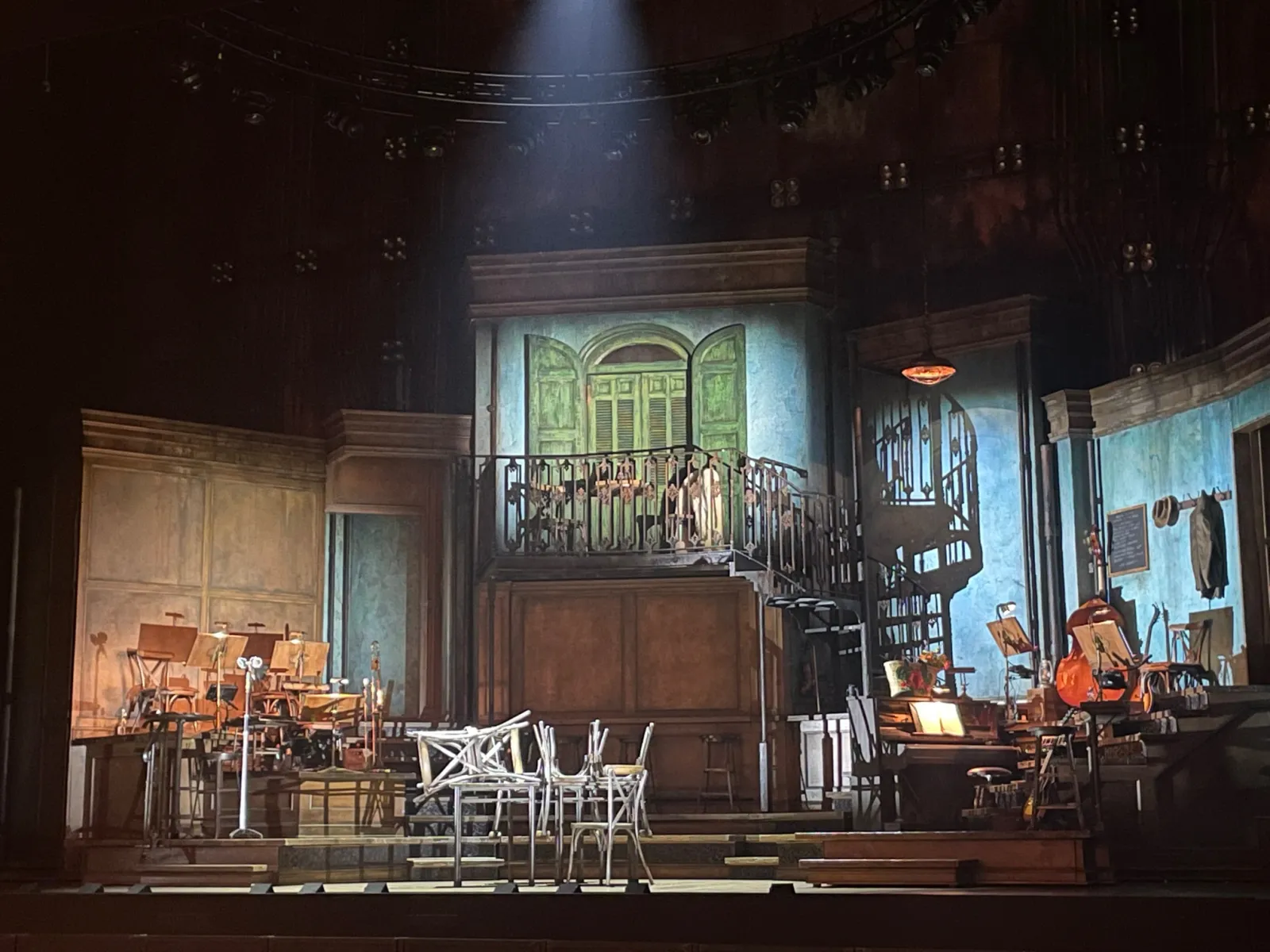 If you forgot (or avoided) your high school required reading, here is a shorter-than-CliffNotes version to make the show's plot point references richer…and maybe even shed some light on a couple Mardi Gras Krewes.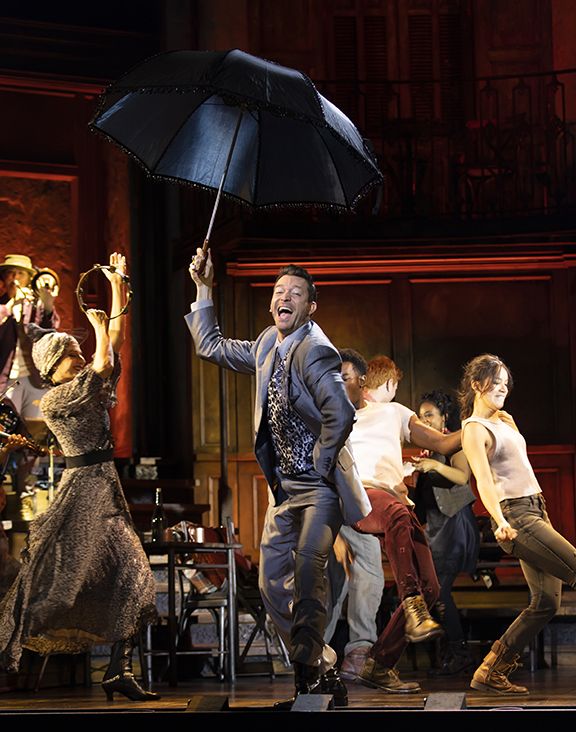 [Warning—Mythological Spoiler Alerts]:
Hades is tasked by the gods to manage the Underworld, but although he resents his job, he's has job security—no one else wants to do it, he's good at it, and enjoys absolute power over his realm. He sees Mother Nature's daughter Persephone and abducts her into the Underworld as his wife. Unhappy in her forced role, Persephone visits the earth for six months (spring and summer when Nature is happy to have her child home) and the other half of the year with her husband co-ruling the Underworld (autumn and winter).

Orpheus plays music that no creature can resist. He falls in love with Eurydice, who dies shortly after going into the Underworld run by Hades, a disgruntled employee if there ever was one. Orpheus is able to enter Hades' realm to rescue his beloved by using his music to melt Hades' heart. Hades agrees to release Eurydice's soul to Orpheus with the caveat he does not look at her until they are out of the Underworld and fully back in Apollo's sunlight. If he does, at his gaze, she will go back to the Underworld—Orpheus losing her forever, as he cannot return to the Underworld and back as a mortal twice. A trap or a test of their love?
[Hadestown's version]: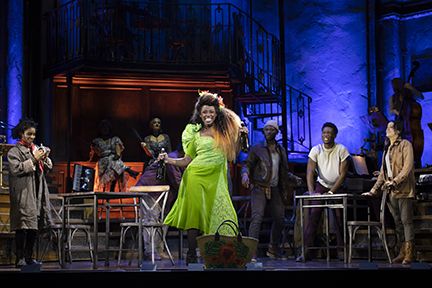 How Hadestown reinterprets and interweaves these myths is beyond masterful and is careful never to stray far from the source material. The ancient Olympian landscape is transformed into the early twentieth-century industrial-age Steampunk setting. Hadestown is Hades' realm—now an underground factory town before labor laws—whose over worked laborers is a fitting analogy for the walking dead of Greek lore. A rebellious Persephone, who clearly is unhappy with her wifely duties, opens the second act by channeling her frustrations in a Hadestown's speakeasy that caters to the hopelessly trapped working clientele.
Things get interesting when possessive Hades comes to retrieve Persephone early, launching an early winter. Love-starved musician Orpheus falls in love with cold-and-starving Eurydice, who is so desperate, she forgoes Orpheus's love for the promise of warmth and security working for an infatuated Hades in his factory town of (eternally) indentured servants. Orpheus is so distracted by his expressing his love for her through art, he misses asking him if she should go. When he realizes she's gone, he is bound and determined to get her back…with a little help from Hermes.
To bond the plot lines, Anaïs Mitchell's script interjects the mischievous god Hermes as Orpheus' mentor (MCU fans may know him as Loki), always looking for an upside and a good time, even parading around the stage with a Mardi Gras parasol during a lively jazz rift. Hermes is also the god able to go between the upper and underworlds easily, as well as credited with creating language, so it's little wonder Mitchell chose him as the character to advance this star-crossed narrative of romantic miscommunications.
While André De Shields captivated audiences in the original Broadway cast in the role of Hermes, Levi Kreis makes the role his own, with charming mannerisms that seem to have been born on Bourbon Street, from opening the show by proudly showing off his ornate vest to his closing monologue.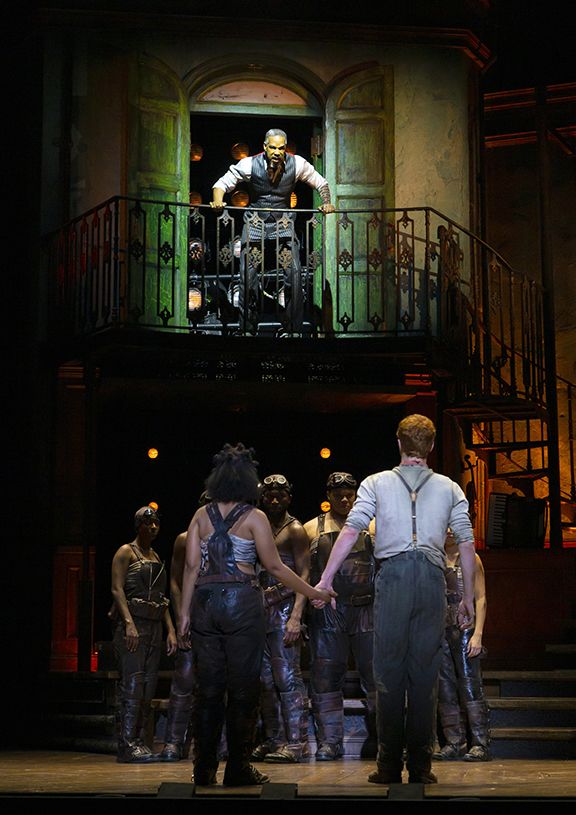 Belén Moyano, Bex Odorisio, and Shea Renne add mayhem as the troublemaking—but harmonious—Fates, a trio of flappers purposefully taunting their prey to ensure all the wrong choices are made.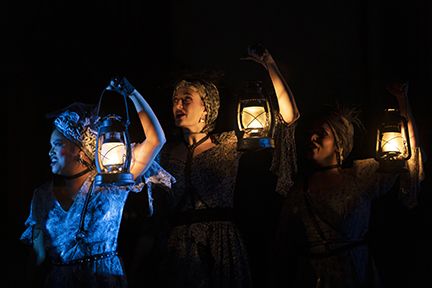 Other standouts in the production include Kimberly Marable as Persephone and Olivier Award® nominee Kevyn Morrow as Hades. Marable brings the frustration of Hades and Persephone's marriage gone cold, but trapped by the material comforts and power, that rekindling their romance is authentically moving. Morrow portrays Hades as an oil and coal robber baron with such entitled malevolence that his transformation in love is even more diabolical (or is it?). Can the devil be redeemed by love?
Anaïs Mitchell's book and songs not only updates the ancient story lines into the common era seamlessly, Rachel Hauck's re-imagining Hades with a New Orleans-inspired set design makes it feel as though this Broadway musical has finally come home to its French Quarter roots at the Saenger. The show easily culminates under the direction of Tony Award® winner Rachel Chavkin.
To further set the tone, the opulent Saenger Theatre—which feels a little like Mount Olympus itself—offers patrons the speakeasy style secret "Persephone" cocktail to ease into the show's French Quarter Underworld, promising "to show you how the world could be." Every day during its run, the theatre will post the name of this secret cocktail to their Instagram story (@saengernola). Ask for it by name [pronounced Per-se-fō-nee] only at the upstairs balcony bar (in the middle), and you'll be treated to a delicious surprise.

----------------------------------------------

Hadestown captured eight 2019 Tony Awards®, including Best New Musical and the 2020 Grammy® Award for Best Musical Theater Album since its opening on April 17, 2019 at the Walter Kerr Theatre in New York City. Beyond that, it also won four Drama Desk Awards, six Outer Critics Circle Awards, including Outstanding New Broadway Musical, and the Drama League Award for Outstanding Production of a Musical.
Hadestown performances are through Sunday, January 2, 2022 at the Saenger Theatre, 1111 Canal St., New Orleans, LA, 70112. Tickets start at $37.
Tickets and additional information are available at saengernola.com/shows/hadestown or at the Saenger Theatre Box Office.