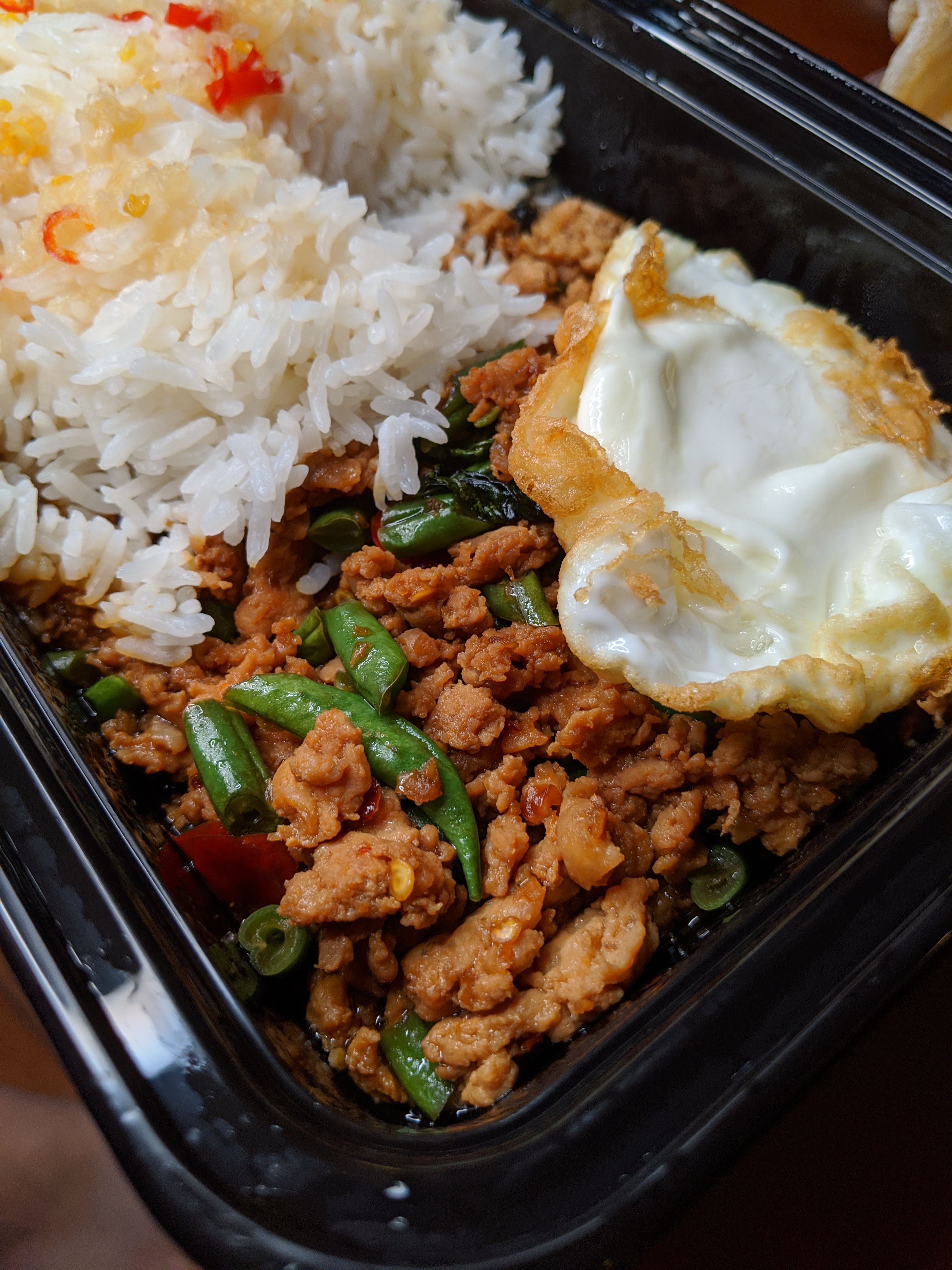 It's been a minute, but "Food News" is back! While it seemed like the pandemic put a damper on just about everything for a spell, determined food-loving folks kept forging ahead, despite the obvious obstacles. COVID-19 certainly took its toll on the local food scene, with the soul-crushing closures of restaurants such as Cake Café & Bakery, K-Paul's Louisiana Kitchen, DTB, and Namese, to name a few. But for this, the first article back, the focus is on the positive and what devotees of New Orleans and its cuisine can look forward to devouring right now.
Please pardon us while we play a little 2020 catch-up. Over this crazy year's summer and fall, our city saw a lot of against-the-odds openings, with restaurateurs plowing ahead with previously laid plans, symbolically flipping the bird at successive hurricanes and an inexorable second wave of the virus. When New Orleans entered Phase Two, many eateries jumped at the chance to be back in business once again, but what truly had us bewildered was the launch of brand-new spots, taking their chances, crossing their fingers, and hoping for the best response from locals, considering a staggering slow-down in tourism. Have you, my fellow Crescent City diners, stepped up?
But where did we leave off? The last column before this one was in April, and not a whole lot happened until Uptown's version of the Westbank's beloved Banana Blossom opened in the beginning of July. In collaboration with BRG Hospitality, Jimmy Cho (proprietor of Banana Blossom) launched Cho Thai, featuring familiar dishes—from the crisp roti to those irresistible Thai BBQ clams. But there are also a few dishes that are different, such as shrimp dumplings in a pork broth with mushroom soy, tamarind pork belly, and Louisiana crab fried rice with garlic-chili fish sauce—not to mention a comprehensive bar program.3218 Magazine St., chothairestaurant.com
Pop-up Plume Algiers went brick-and-mortar that same month. Carrollton Market alums Tyler Stuart and Merritt Coscia started window service from their house-turned-restaurant on Teche Street, offering a small but delightful menu inspired by regional Indian cuisine and using local ingredients. Dishes are always changing at Plume, but regardless of what you order, the food is religious conversion-level good—beginning with their blistered garlic naan and addiction-forming appam (fermented coconut bread) to the fried chicken with chili chutney and roasted pumpkin chaat.1113 Teche St., plumealgiers.com
In the same vein as its predecessor, Middle Eastern restaurant Saj opened this July in the old Mona's on Magazine Street, offering family-style foodstuffs in the form of hummus, baba ganouj, kababs, shawarma, and fried halloumi. There do seem to be a few standouts, though, such as baked feta drizzled with honey and olive oil, beetroot tahini, and "jebna," or house-made cheese crumbled with fresh basil and thyme, bell pepper, green olives, and sumac.4126 Magazine St., @sajnola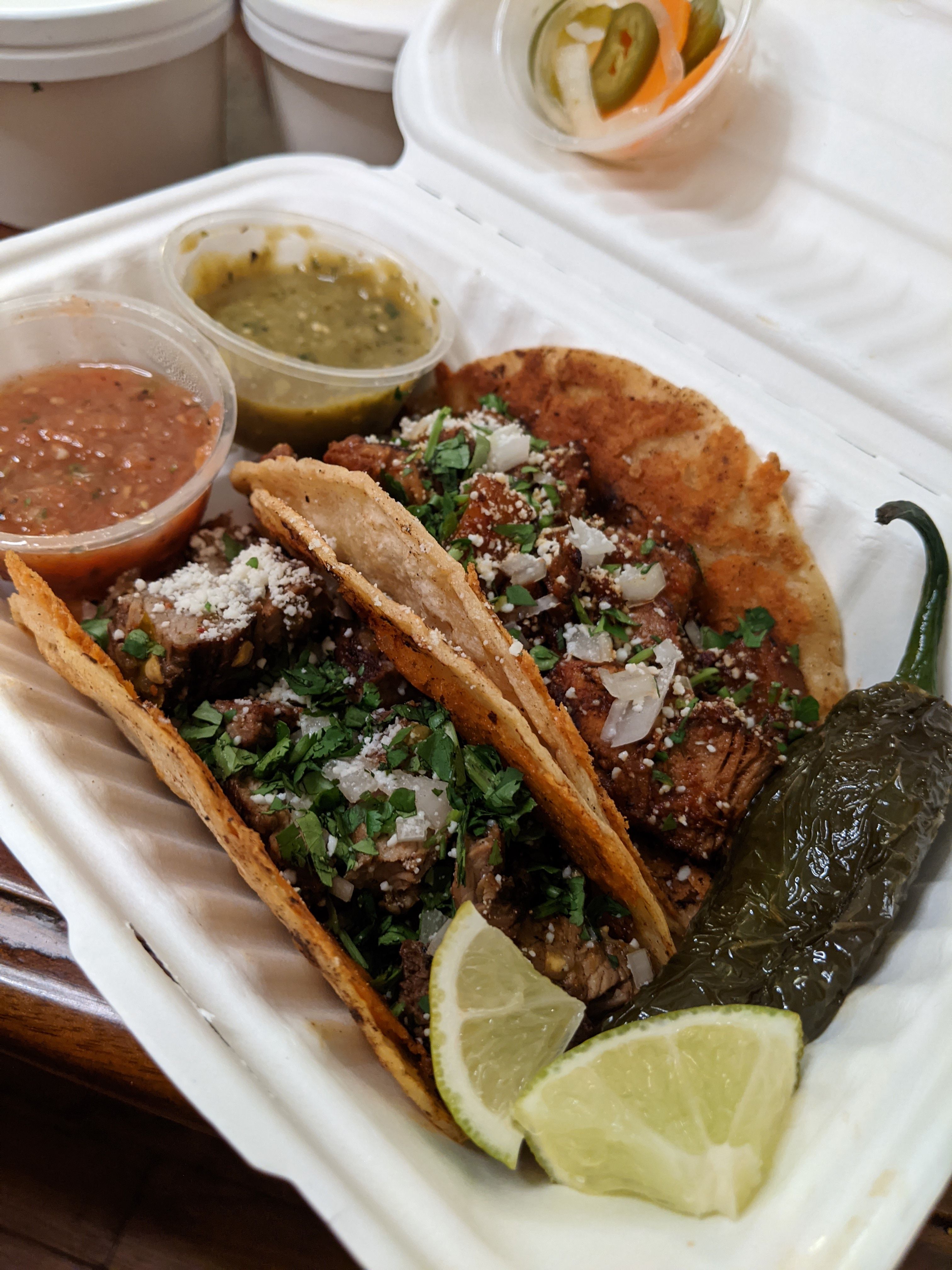 Gonzalez brothers Jonathan, Leonel, and Raul opened Mr. Tequila late this July in the space that formerly housed Freret Street Beer Room. Originally from Guadalajara, Jalisco, the trio have brought their family's cuisine and love for great tequila to New Orleans. Like any respectable taqueria, Mr. Tequila features a menu filled with tacos, burritos, quesadillas, and fajitas, with fun twists such as a Freret Burrito filled with beans and rice, a.k.a. Mission-style, but served with a side of fries, or the "Speedy Gonzalez": hard-shelled beef tacos served with rice and beans. They also offer desserts, including fried ice cream, churros, and sopapillas, plus giant frozen margaritas made with a variety of juices and, of course, tequilas. 5018 Freret St., mrtequilanola.com
Chef Nhat "Nate" Nguyen opened the highly-anticipated Union Ramen with business partner Jeff Gapultos in the Lower Garden District over the summer. After earning his chops in local restaurants like Bayona, Meauxbar (now closed), and Kin, Nguyen struck out on his own. Union Ramen features a modest menu of salads, small plates, and several different types of ramen, from the "Original Tori" with a poultry broth, roasted pork, and bamboo shoots to a "Slap-Ya-Kimchi Mazeman," which is broth-less ramen with blackened chicken, kimchi, nori flakes, and a poached egg. Additionally, all versions offer a variety of different protein options, such as confit oyster mushrooms, blackened chicken, and ground beef and tasso.1837 Magazine St., unionramen.com
Chef Suda Ounin and her husband Jeerasak Boonlert are parked at long last after translating their successful Thai D-Jing food truck into a permanent location this August. Inside the bright pink house-turned-restaurant on 5th Street in Gretna, there's more to their menu, but you could also fulfill a fond foodie dream of stuffing yourself silly on those excellent chicken curry puffs and stuffed chicken wings, finishing it off with their house-made coconut ice cream. Does anyone else have that fantasy? 93 5th St., Gretna, thaidjing.com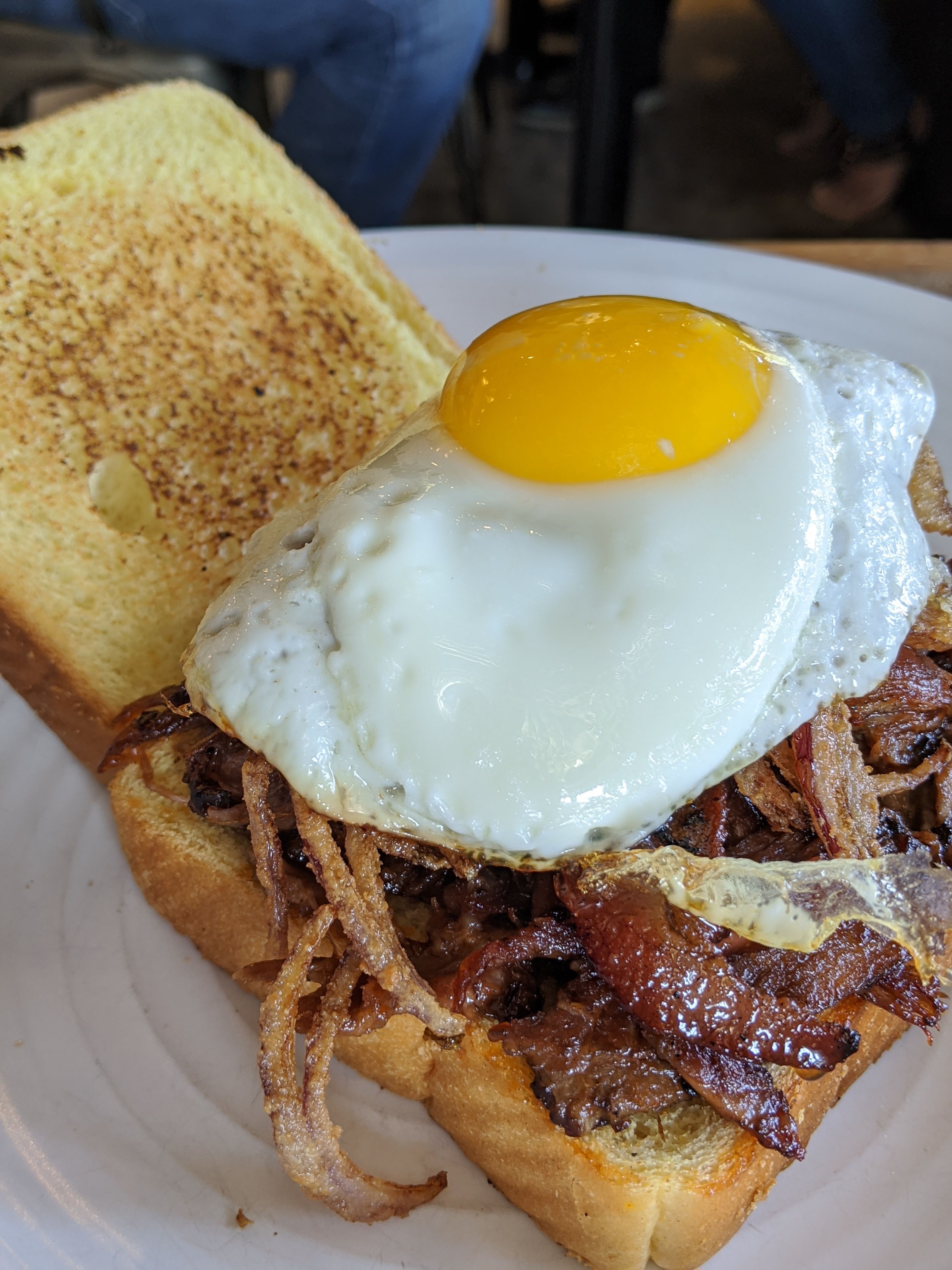 Featuring classic cars, a restored Airstream, American folklore, homemade tortillas, and Mexican street food, taco joint El Cucuy hit Tchoupitoulas Street early this September. Their large shaded deck has proven to be a blessing, considering current mandates regarding the pandemic, allowing diners an outdoor space to enjoy mixed drinks and eloté in relative socially distanced comfort. Tacos and tortas, featuring their trompo al pastor or carne asada, are the feature, with chips, salsa roja, and queso, but they also have ceviche and a Mexican sandwich or pambazo, made with bread fried in a red guajillo pepper sauce and filled with potatoes with (or without) chorizo. 3507 Tchoupitoulas St., elcucuynola.com

Inside the former Babylon Café, a building that hasn't been able to hold onto a tenant since they left, Middle Eastern restaurant Green Olives Café opened late September, determined to try their luck. According to Nola.com, Hilmi Abdeljalil is the man behind this latest incarnation, the same who formerly owned and operated Pyramids Cafe on Calhoun. Kibbeh, stuffed grape leaves, hummus, shawarma and gyro, oh my! Everything one needs from that special space on Maple Street. 7724 Maple St., greenolivescafenola.com
Early in October, chef and owner Melissa Arujo launched Alma, "a modern Honduran eatery" in the Bywater. Located in the space that was formerly Café Henri and Booty's Street Food (among others), Alma features the same indoor layout, with the addition of outdoor tables, and a menu offering both breakfast and lunch items that swing from Honduras to the American South and back again. Huevos rancheros and spicy migas are in good company with "Louisa Toast" topped with lump blue crab, soft scrambled eggs, and mushrooms, or the farmhouse biscuit with sausage, bacon, egg, and tomato jam. Don't forget to try some agua fresca or the eponymous coffee.800 Louisa St., eatalmanola.com
From the same folks who brought you Bakery Bar on Annunciation Street comes Debbie on the Levee, a sweet spot for cocktails and dessert in Rivertown, Kenner. In addition to entire classic lemon and chocolate doberge cakes, Debbie on the Levee also has the popular slices and "dobites" in many different flavors and a well-curated cocktail list that is sure to be seasonal. A little new to Debbie's regular scene are other offerings, including their "colossal" cookie and flavored milk "Happy Hour," funfetti muffins, chocolate-topped peanut butter fudge, and apple curry hand pies. 2118 Reverend Richard Wilson Dr., debbieonthelevee.com
Speaking of sweets, longtime catering and wholesale duo Marielle Dupré and Nicole Eiden have opened their long-awaited Windowsill Pies, a café featuring their stellar pies and tarts, on Freret Street. For now, the shop has truncated their expected menu, with pies, hand pies, and coffee offered only for takeout, but it's still well worth stopping by for a croque madame hand pie or a sumptuous slice of their vanilla bean bourbon pecan pie. Pro tip: Christmas dinner would not go amiss with their amaretto pear and dried cherry pie for dessert. 4714 Freret St., windowsillpiesnola.com

Although they closed their French Quarter restaurant Meauxbar, LeBlanc + Smith were able to launch The Chloe, a 19th-century mansion now a 14-room boutique hotel on St. Charles Avenue. The hotel's restaurant is headed by Todd Pulsenelli, a chef known locally for his work at the Warehouse District's Restaurant August and Warbucks on Magazine Street. Featuring creative takes on local cuisine and Pulsenelli's own flair for fun, the menu offers dishes such as the Royal Red shrimp roll, a mushroom melt dip with Mornay, a chicken katsu sandwich with bacon-onion ranch "marmalade," and his already-iconic praline crunch cookie with brown-butter ice cream sandwich. 4125 St. Charles Ave., thechloenola.com

For those who have made the trek all the way out to a Hammond gas station for Punjabi Dhaba, said to be the best Indian food in the entire state of Louisiana, you can save both time and gas money now and just head to Mantra Indian Cuisine. Opened by chef Bonsi Lal, or "Chef Neeta" (the man who put Punjabi Dhaba on the map), and his partners, Mantra is the answer to our fervent prayers for more Indian food. In the space that formerly housed City Diner, Mantra offers a huge menu that couldn't possibly be fully explored in one visit, let alone a dozen, with samosas, aloo tiki, pakora, masalas, kormas, tandoori, and curries, just to name a few.3116 S. 1-10 Service Rd. E, mantra-indiancuisine.business.site
Though we're feeling all caught up, we likely missed a few, but for now, we leave you here till next time. But you should keep an eye out this month for the relaunch of high-end pastry shop Sucré on Magazine Street—as reported by Nola.com—featuring a new look, a new owner, and executive chef Ashley McMillan in the kitchen, making those exquisite sweets we've all so desperately missed.