The New Orleans Saints boasted one of the most fearsome defenses in the NFL last season, thanks in large part to its ferocious defensive line.
After losing the 2020 team sack leader, Trey Hendrickson, in free agency, the Saints are hoping their latest first round draft selection will be able to step in and fill the void.
New Orleans drafted Payton Turner with the No. 28 selection in April and have high hopes for the former University of Houston defensive end.
"He has a lot of things, a lot of traits that we value," Saints Head Coach Sean Payton said in a draft day press conference. "He was a high energy player, his prototype, his size. We really had this player, someone that you couldn't help but notice."
A multisport athlete for much of his life, Turner's combination of length, physicality, and quickness make him a natural fit on New Orleans's defensive front alongside veterans Cam Jordan and Marcus Davenport.
"I was super excited to get drafted in the first round, even more so that it was the Saints," Turner said. "It's a dream come true."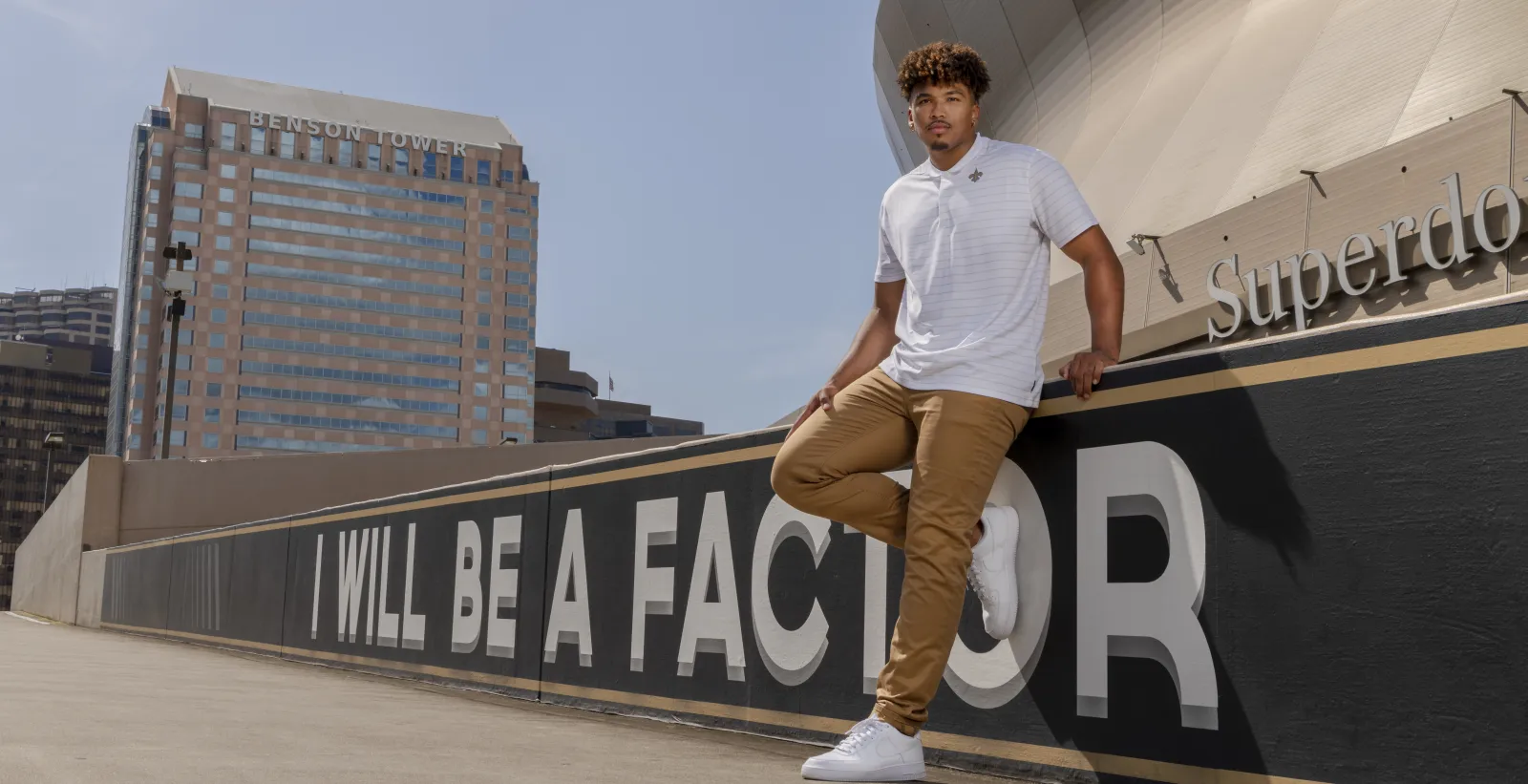 Addressing the Skepticism
Although some fans have questioned his selection when the Saints seemingly had other, more urgent areas of need to address in the draft, Turner believes his work ethic, athleticism, and upside are all reasons he was worthy of a first-round draft selection.
"[It's] the things you can't coach and how hard I'm going to play when I'm out there," Turner explained. "You pair that with how much I've learned in the little amount of time that I have played, I can only go up from here."
If you missed Turner on the field during his senior season in Houston, you're probably not alone. The Cougars play in American Athletic Conference (along with Tulane) and played just eight games in 2020, of which Turner appeared in five.
Despite playing only five games during his senior season, due to COVID and a calf strain, Turner, a 6-foot-6, 270-pound specimen, led Houston with five sacks and 10.5 tackles for loss. As a junior, Turner recorded eight tackles for loss and four sacks, while playing in all 12 of Houston's games.
Even if you haven't seen Turner play, the first thing that stands out is his vigorous work ethic.
"I'm athletic, I'm tall, I'm long, I'm fast, but none of that really means anything if you can't work to get better at the things you need to get better at," Turner said. "I've always been working hard."
Hard work has helped him to bounce back from adversity multiple times during his football career, especially after suffering a torn ACL during his senior season in high school and recovering from the ailments he endured last season in Houston. Those experiences taught him the importance of valuing the game of football, a game he now has the fortune of playing for a living.
Turner's resilience paid off early in the "coolest moment" of his college career, when he intercepted a pass against Rice University in his second collegiate play as a freshman.
"It's safe to say that nothing's been handed to me when it comes to this game," Turner said. "Every moment that I can be around it, I'm going to give my all to it."
Welcome to the Big Easy
Upon arriving in New Orleans, Turner noticed the same spirit of Southern hospitality that he's accustomed to in Houston also radiates throughout the Crescent City and his new team.
"I haven't had a bad interaction yet," Turner said. "I love it here. The people are great, the food is great, and the team is great."
As an avid cook, Turner has quickly acclimated to New Orleans's food scene, trying to sample as many restaurants as possible. New Orleans Food and Spirits currently tops his list as the only place he's dined twice, but he's looking forward to exploring more of city's delicious food. Turner admits, however, that he hasn't been able to delve into much of the city's nightlife or music, outside of a few trips to Bourbon Street with his fellow rookie teammates.
Most importantly, Turner has already been advised of the blood feud between the Atlanta Falcons and the Saints, eagerly anticipating his first chance to participate in the heated rivalry with the Dirty Birds.
"It's a good thing they wear red though," Turner joked. "You don't have to see the blood through the jerseys. I'm excited to play that game."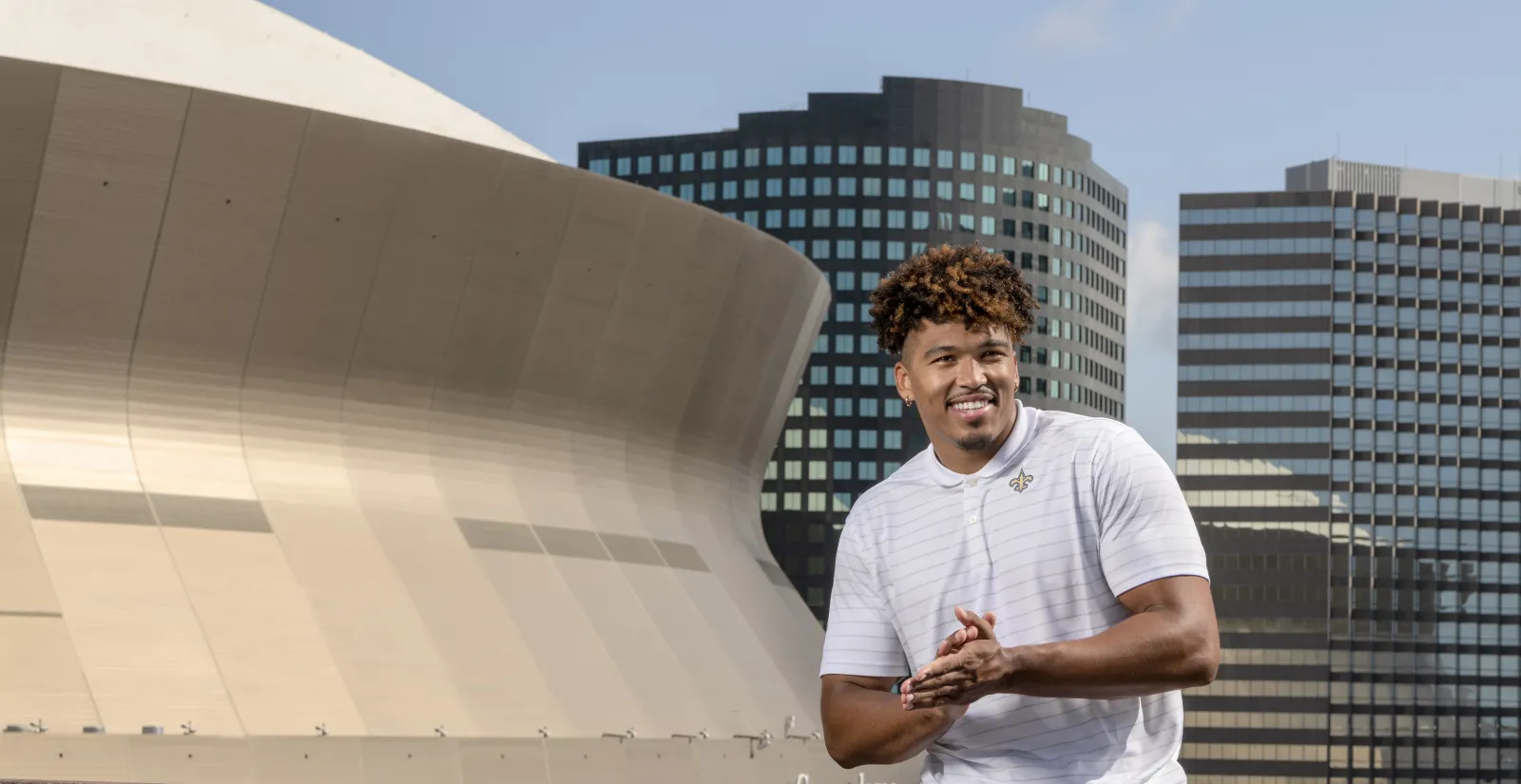 The Force is Strong with Him
When he wasn't dominating on athletic fields growing up, Turner was fixated on one of his favorite pop culture obsessions: Star Wars.
A long time ago, in playroom far, far away, Turner amassed over 400 Star Wars action figures as a kid.
"I had like all of them," Turner said. "I'd go to the store and hide them for the next time I came because my parents would only get me one at a time. I'd be asking them, 'Do we need to go Target today? Do you need to go to Walmart? Do you need to go anywhere?' I'd have them stashed away somewhere in the gardening section in a pot."
Turner's favorite movie in the Star Wars saga is Episode III: Revenge of the Sith, and his favorite character is Obi Wan Kenobi. Although he wishes the latest Star Wars series, The Mandalorian, was a bit more "faster paced," he admits that it is good television.
He ideal lightsaber color would be purple, ala Samuel L. Jackson's Mace Windu character in the Star Wars prequel trilogy, and he unequivocally believes Chewbacca, a 7-foot-5 wookie from the Star Wars universe, would make the best defensive end if he ever stopped battling the evil Galactic Empire.
Ready to Roll
Midi-chlorians and Jedi aside, one thing is certain: Turner is humble, yet confident, and is ready to take on whatever role is needed in this year's Saints defense.
"I'll be rotating in at defensive end," Turner said. "Whether I'm starting or not, (the Saints) rotate up front, so me playing isn't really an issue because of how much they rotate."
For a team used to getting consistent pressure on opposing quarterbacks in recent years, the arrival of a new, hungry pass rusher could be an unlikely boost to this team's front seven.
"Every defensive end we have in the room is big and athletic, so I think I fit in perfect," Turner said.
As he embarks upon his inaugural season in the NFL, Turner's ready to learn, grow, and attack-and maybe pickup a Defensive Rookie of the Year award along the way.
Turner's confident, ferocious, and charming, with physical traits that make him a nightmare to scheme against. The upside is there, the perseverance is evident, and football field is his oyster. New Orleans, meet your potential new defensive star, and make sure to follow him at twitter.com/pt_turner98.
Payton Turner's Favorite Things:
Food | Cajun
Movie | Star Wars
Football Movie | Remember the Titans
NFL Team (besides the Saints) | Houston Texans
Video game | Call of Duty
Musical Artist | Drake
Place He's Visited | Hawaii
Favorite Sporting Event to Watch | 2016 NBA Finals (when the Cleveland Cavaliers defeated the Golden State Warriors)