The Batiste Family Band Performs
Friday May 6 at
Congo Square Stage,
12:20-1:20 p.m.
No other city in the world can lay claim to giving birth to more internationally renowned musical families than New Orleans. The Nevilles, the Marsalises, the Jordans and the Andrews family are just a few of the names that come readily to mind, but that list would not be complete without including the Batistes in that number as well.
No one could be more justifiably proud of this lineage and legacy than the Batiste family patriarch, keyboardist David Batiste, not just of his own sons, most of whom play instruments, but his distinguished kinfolk, past and present, as well. They include the late snare drummer "Uncle Lionel" Batiste, the late composer/arranger/bandleader Harold Battist, and, one of today's hottest musical superstars. David's nephew, pianist/vocalist and TV show bandleader, Jon Batiste.
Batiste's family band, Batiste Fathers and Sons of the New Millennium, will be performing on the Acura Stage on Friday, May 6. In addition to David on keytar, melodica, Hammond organ, and piano, the family ensemble will feature his sons Russell, Jamal, Ryan on drums and keyboards, Damon on percussion, grandson Christopher on drums, and nephew "Lil Mike" on rap vocals—with possibly other instrumentalists yet to be announced.
"We have a wonderful, live repertoire of original music and a lively show," Batiste said. "It will be 60 years of playing music for me. I'm now 74 and have a lot of history to look back on. I started playing when I was 14. I tell my sons, 'When you're out there playing in front of people, you've got to find out what they really like and want to hear.' You can create something in the same vein of what they like and then you go with that.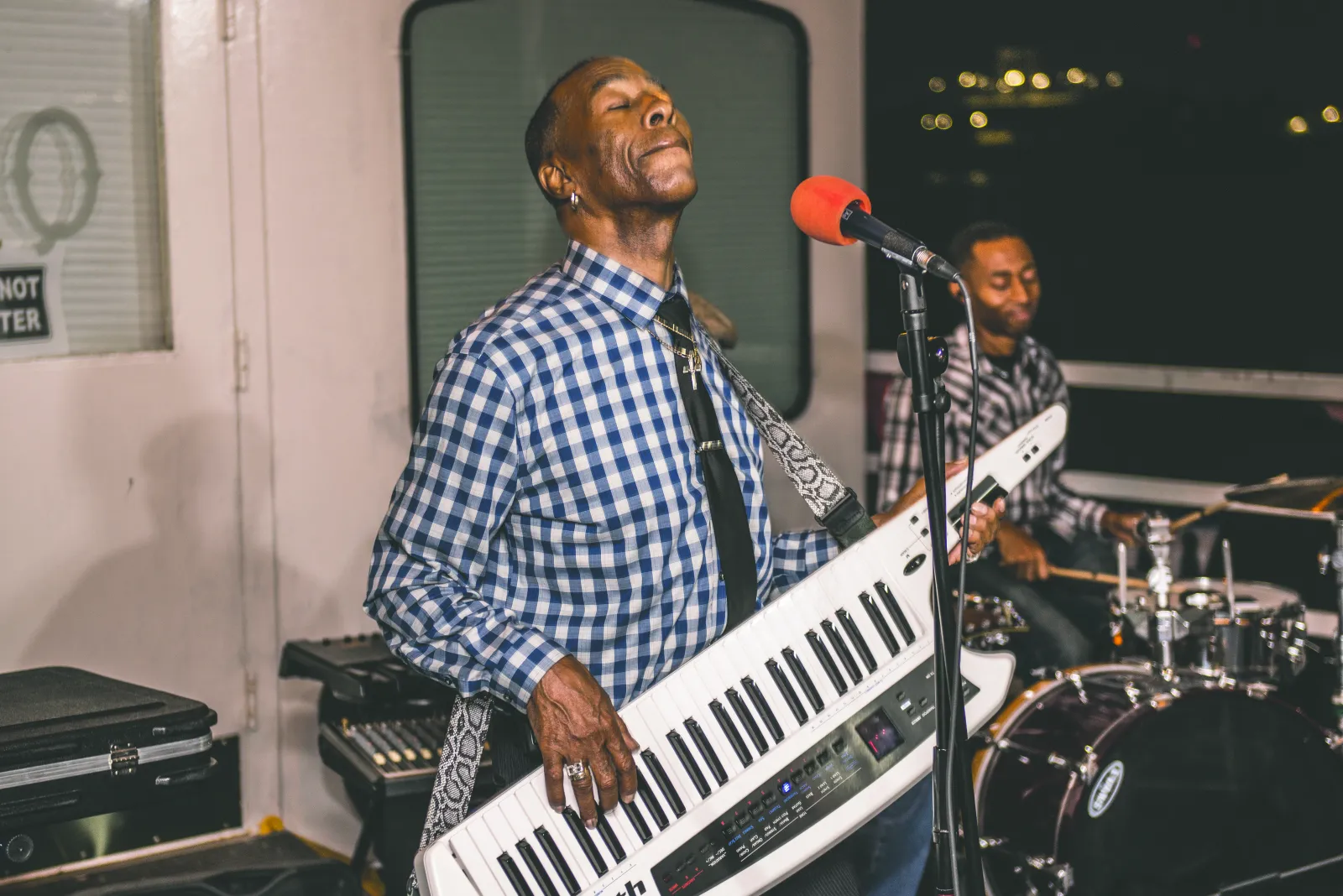 "We mix hip hop with what we do," Batiste continued. "We're current. We can also go back to old school, old school funk, R&B, world music, and whatever else we come up with. We'll have two drum kits and two drummers performing onstage at the same time."
Batiste's long, eventful musical history dates back to when his family was living in the city's Carrollton neighborhood, and his father, Jean Jeffrey Batiste Sr., purchased a piano from a woman on Oak Street and had it delivered to the family home on Cambronne Street. "He didn't play music, but he loved it," Batiste explained. "He used to book bands and play the rub board when we lived in Acadiana. He and mom loved to dance. Music was in their blood. Mom was a housekeeper and both of them used some of their money to buy us band equipment."
It was on this piano that Batiste learned to play the basic instrument he still plays today. After the family moved to Bunche Village in Metairie, Alan Toussaint performed at Batiste's school and became an inspiration to the young man who would later perform with him. While still in junior high school, Batiste composed a song he called, "Cut Out: Parts 1 and 2." It was recorded by the group he formed in the early '60s, David Batiste and the Gladiators, one of the pioneer groups of the funk genre. He described it as "a mixture of Little Richard, Jerry Lee Lewis, Victor Borge, and Liberace," four pianists he admired.
"I had invented a new way of funk on the piano with that song," Batiste said. "I was told later in life, 'Man, you pick the piano like you're playing a guitar.' That's unusual, and so I still play it like that. And the band was built up around that song."
One of the Gladiators' biggest hits, on the Soulin' label, was a song Batiste composed with his drummer Stanley Ratzliff, titled "Funky Soul." The band went on to enter and win local competitions, then moved up to take the crown in a prestigious talent contest at New York City's renowned Apollo Theater in 1965.
After returning to New Orleans, Batiste and his group began backing up popular singers like Ernie K-Doe, Chris Kenner, Oliver Morgan, Johnny Adams and others. They backed up King Floyd on his big hit, "Groove Me," and toured the country with him. They also performed with Wilson Pickett, The Spinners, David Ruffin, William Bell, O.V. Wright, and with Jackie Wilson's backup band. Cyril Neville was a lead singer for the group before the Neville Brothers came into being as a group.
"David Batiste and the Gladiators was known for having one of the best rhythm sections in the country. That's how we ended up backing up all these different great artists," Batiste proudly declared. "The record companies would demand that the artists had a strong rhythm section to back up the artists. We fit the bill for all of them. We were strong enough to open up for the strongest artists with the major hits." In fact, David and the Gladiators are still performing today.
In 1976 and 1977 Batiste sat in with The Meters while their regular keyboardist Art Neville was on sabbatical. During this time, he performed with them on Saturday Night Live with most of the show's original cast members. "That was an exciting time for me as a musician," he noted.
In the years since then, as his sons grew older, some of them would go on to join other well-known bands. Russell became the drummer for the Funky Meters following the departure of Ziggy Modeliste, and he stayed with them for 20 years. Damon was instrumental in helping promote Jon Batiste to the current level of stardom he now enjoys. Jamal played the drummer in "Get On Up," the 2014 biopic about James Brown. Later David Batiste began including them in his own bands.
Batiste's career in music continues into its seventh decade, and his love of performing in front of an audience has been passed on from him to sons, daughters, cousins, nieces, nephews, and other relatives who play and sing music. As he proudly states, "I love music to this day, and I'll love music till I go in the ground."