Despite the fact that tacos have long been available in New Orleans, lately they seem to be as prolific as our beloved po-boy, and understandably so. Like the venerable po-boy, tacos have a lot to offer. They're easy to prepare, almost infinite in their variety, relatively inexpensive, and hold up well to the rigors of takeout, an attribute which has become rather valuable considering recent events.
Everywhere you look, there's yet another taco joint. Whether it be a new brick and mortar, market vendor, food truck, or pop-up, everything is indeed coming up tacos. Not that we're complaining! Variety is the spice of life, after all, and though there are an abundance of taco spots around lately, there's always something a little different on offer.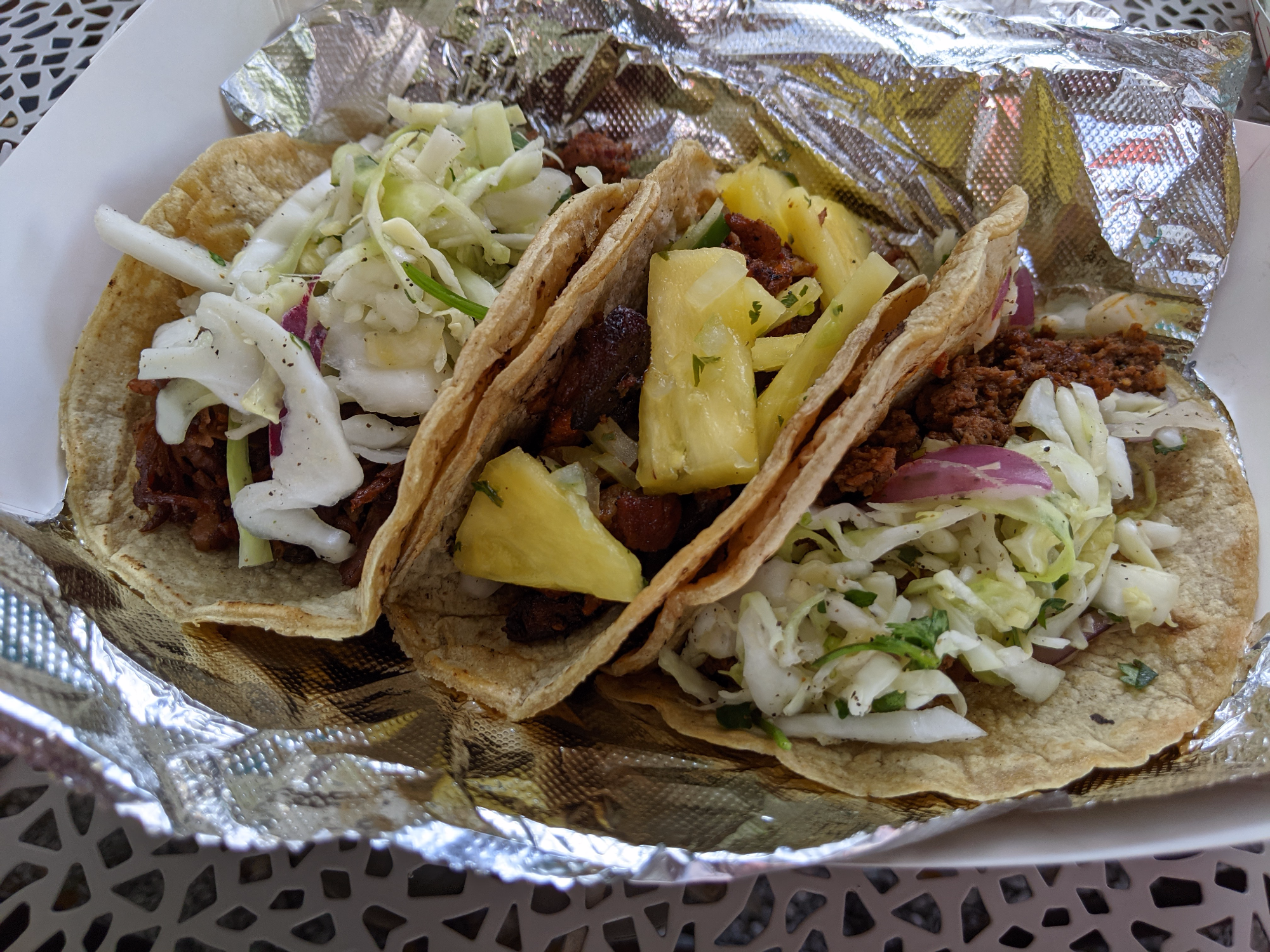 Well-known local restaurateurs Laurie Casebonne and Chef Ian Schnoebelen stepped away from the food scene in late 2017 when they sold Mariza, an Italian eatery in Bywater, but it seems they just couldn't stay away. Less than a year later they launched Rosalita's Backyard Tacos, a regular weekend pop-up that drew taco fans far and wide to Rosalie Alley off N. Rampart. Two years later, or this past January, the dynamic duo acquired their own digs in a space on St. Claude formerly occupied by Shake Sugary. Now folks are still lining up for their tacos, only they have an actual backyard (or patio) in which to eat them. Along with the usual suspects, guest can enjoy a few special items like the "lengua" or beef tongue tacos with pickled onion and radish, as well as crispy pork belly tacos offered on corn or flour (a.k.a. gringa) tortillas. Adding a fruit empanada and one of their homemade juices, like watermelon lemonade or pineapple cilantro, is highly recommended.
Only a few months before the pandemic hit, Galaxie Tacos opened inside a restored 1940s gas station originally designed by Walter Teague. For a few months, aficionados jumped at the chance to hang out on their extensive driveway, or inside purple-hued interior, drink mezcal margaritas, and munch on Chef Hank Shackelford's Oaxaca-influenced, tortilla-wrapped flavors. Speaking of tortillas, one particular aspect that makes Galaxie's tacos stand out are their fresh, made-daily-from-scratch corn tortillas. Aside from their signature "en trompo" (rotisserie), Home Place Pastures pork al pastor tacos, it would be inadvisable to go without tasting the "barbacoa" with smoked beef brisket, as well as their grilled queso.
Yet another service station has turned taco, this time on Freret Street. In the midst of pandemic chaos, the Cure & Co. folks launched Vals inside what was once a former Coneco station. Like Galaxie, there's a huge patio area under a shady awning, plus they added the convenience of a walk-up window for ordering and pickup. Along with pork carnitas and fried local fish, all on corn tortillas, Vals offers an unusual crispy beef belly taco with fresh cilantro and cremosa, as well as a green mole chicken. Aside from the tacos, many seem to gravitate towards their shrimp ceviche, queso fundido with chorizo, and creative (of course) list of craft cocktails.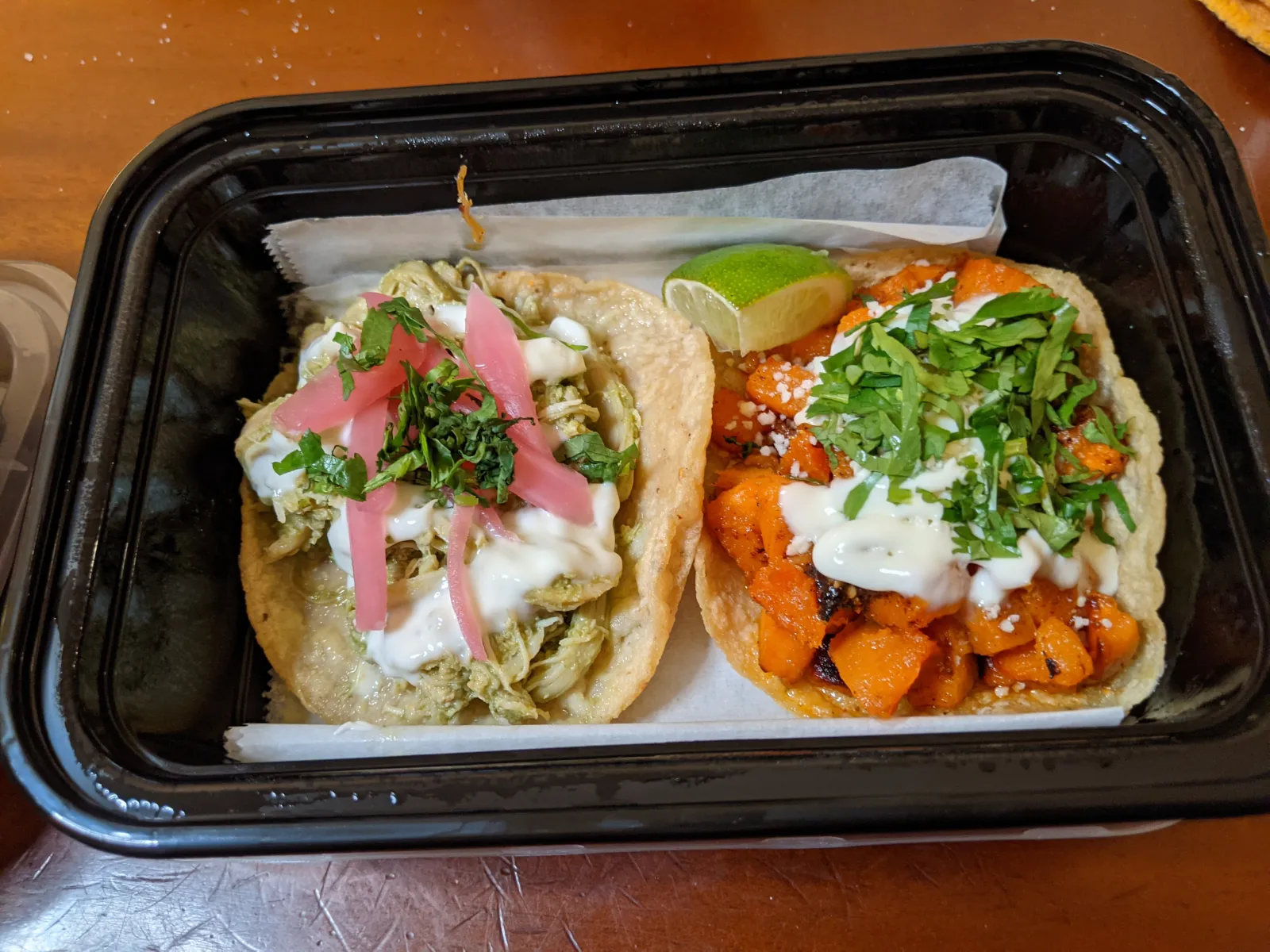 Speaking of queso, have you had the opportunity to enjoy freshly-made chicharrones, still popping from the fryer, dipped in a creamy, spicy queso? If not, you should definitely visit Barracuda. Opened the summer of 2019 on Tchoupitoulas Street, the tiny taco stand has been hoppin', so much so that even with COVID-19, they've already opened a second location on the Westbank. Known for their achiote and tumeric adobo-seasoned chicken tacos, Barracuda also has great vegetarian offerings such as grilled mushrooms with salsa macha or the "Farmer" made with grilled sweet potato, cotija cheese, and sunflower-morita (chile) salsa.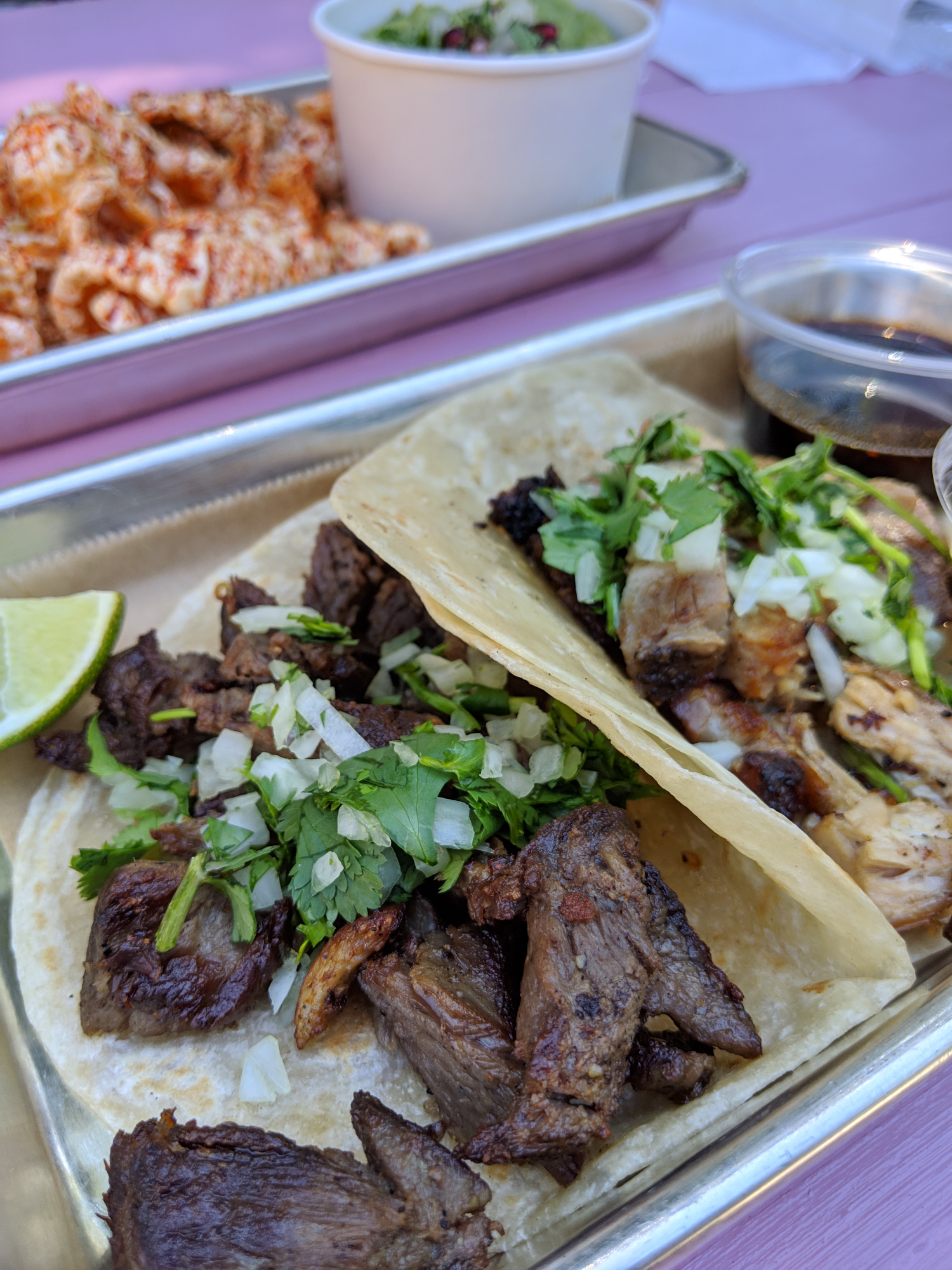 Just down Tchoupitoulas a ways, another taco spot dubbed El Cucuy opened in the fall of 2020. Owner Austin Travis Lane has transformed a shotgun double, that was once his house, into B-horror movie-themed restaurant serving Mexican street food. In addition to the trompo-style al pastor, El Cucuy also offers an interesting vegetarian variant made with nopales, otherwise known as cactus. Aside from tacos, you may want to try the "torta pombazo," basically a potato, cotija, and avocado sandwich on fried bolillo bread, as well as the mangonada (fresh mango sprinkled with chamoy and sweet chili powder).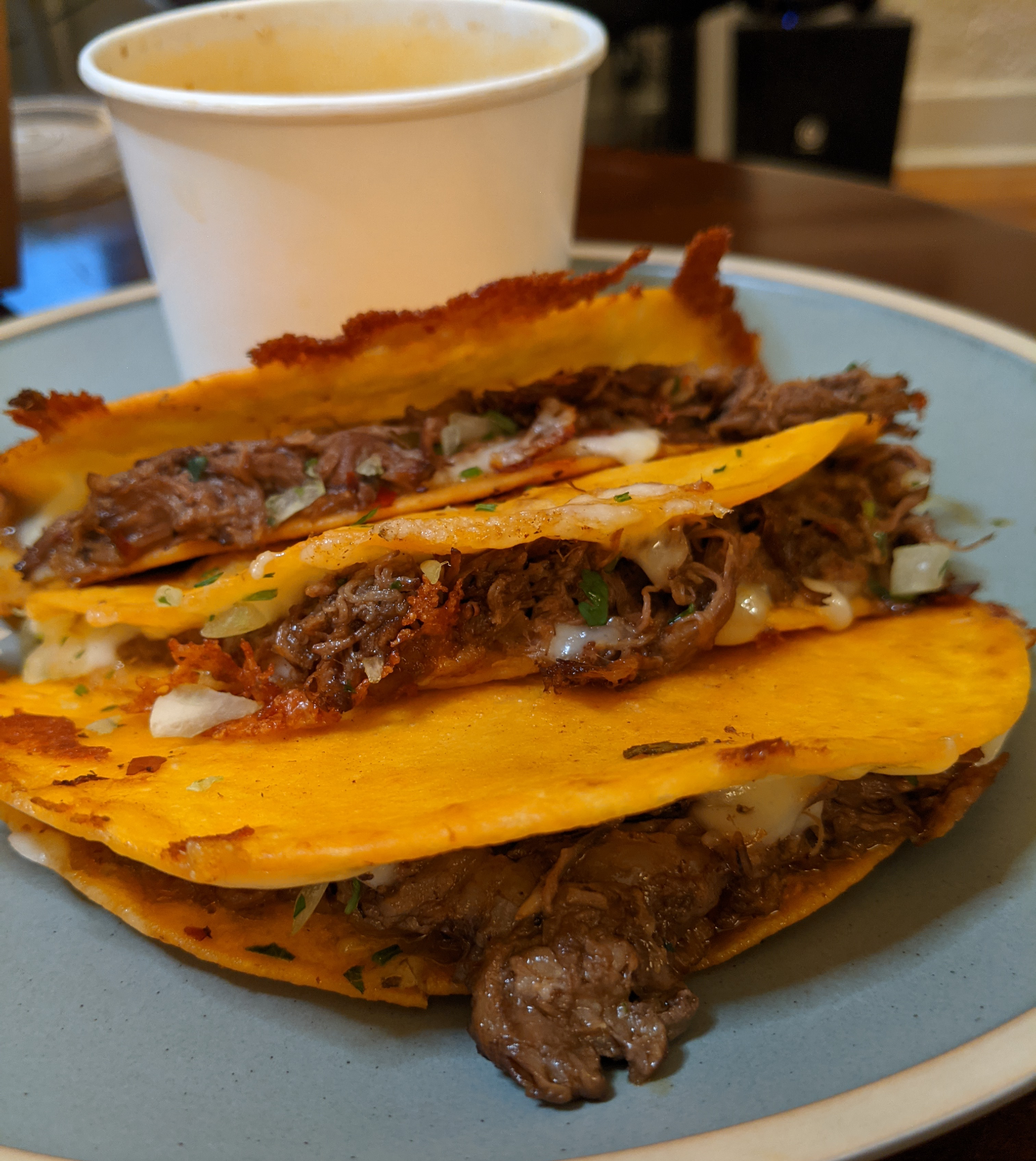 There are arguably both benefits and detriments to trying to keep your restaurant a secret, but it sure seems to be working for Secret Birria Tacos. Their tagline is, "If ya know, ya know," and it seems everyone knows (including Google) that Secret Birria is located Uptown on Octavia Street. Opened just a few months ago in March, this particular taco joint probably seems like a secret because it operates out of what appears to be the side of an apartment complex. The taco stand specializes in birria, thus the name, which could be described as the Mexican answer to a French dip. A trendy street food that originated in Jalisco, birria is goat, lamb, or beef stew marinated and cooked with guajillo, chipotle, and ancho peppers. A corn tortilla is then stuffed with the stew meat along with melty Oaxan cheese, pan fried, and served with the consomme or broth for dipping. In case you were wondering, it's definitely as good as it sounds.
Will Avelar, the former executive chef of Meril, left the Emeril empire in late Spring 2019 to manage his family's local tortilla business Mawi Tortillerias. Due to the pandemic, the struggling bakery opened a lunch counter offering agua frescas, soups, breakfast burritos, pupusas, and tacos; more specifically, birria tacos, quesadillas, and even nachos. There's also a "featured" taco that changes regularly, from fried shrimp and mojo-roasted pork to shredded chicken with pico de gallo and morolique cheese.
In November of last year, a new taco spot by Chef Julio Machado landed in Metairie. Machado came to New Orleans with over a decade of experience working as a chef in Venezuela and was able to garner an interview with local chef and restaurateur Edgar Caro. He was successfully hired as sous chef of Brasa Churrasqueria and was later promoted to chef de cuisine of Zocalo Cocina Mexicana & Cantina. With the help of his friend and business partner Danny Cruz, Machado struck out on his own to open Tacos Del Cartel located in the building formerly housed by Chez Pierre bakery on David Drive. The menu offers a nice variety of tacos, from carne asada and brisket to fried catfish and shrimp. There's also a deep-fried mushroom taco (an homage to Machado's time working at Lakeside Harbor) dressed with mayo and pico de gallo, as well as braised short rib birria tacos seasoned with chile adobo and made with Chihuahua cheese.
In case you were wondering about the taco spots on the other side of the river, local purveyor Pacos Tacos recently launched its third location in Harvey. Owned by Carlos and Daysi Valencia, founders of Carreta's Grill, the Westbank version of this New Orleans-born taco sensation is offering the same great menu as its sisters in Metairie and Mandeville. You can design your own tacos with flour or corn tortillas, choosing from a selection of meats, from Monterrey-style skirt steak and house made chorizo to trompo-style pork and the all-popular birria. Taco-lovers can also choose from Pacos Tacos' specialties and signature creations like cornmeal battered shrimp and guacamole or the "Penny"—a street-style quesadilla with Chihuahua cheese and guacamole. Quench your thirst with a Prickly Pear Margarita made with Premium Maestro Dobel Tequila or play it safe with a cooling horchata.
Though the proverbial surface has barely been scratched, we're finishing our taco extravaganza with two delicious side notes. First, since late 2019, Reave Bell and Roxy Eve Narvaez have been blowing folks away with their roaming taqueria Tacos Para La Vida. They've been popping up in places like Pals Lounge, Okay Bar, and Urban South Brewery, offering homemade corn tortillas filled with grilled beef, chicken in adobo sauce, and macha marinated mushrooms. They also offer the soon-to-be ubiquitous birria tacos and, in a mashup of Japanese and Mexican cuisine, birria ramen. Follow them @tacosparalavida to find out where they'll be next.
Speaking of mashups...though you might have never thought to grab a taco with your morning brew, a new cafe called Small Victories is offering just that. Located in the Lower Garden District on Camp Street, this Aussie-influenced shop is slinging flavorful coffees (like cold brew and crème anglaise or "thicc" chocolate milk) and breakfast tacos such as pancetta and egg, or pecorino, corn and egg all on freshly made corn tortillas.