The Genesis of Eclectic Soul Project
It was the final night before Hurricane Ida would take New Orleans by storm, and Noah Boshra, Max Sanders, and Tucker Godbold were down a drummer. One phone call later to their friend Rob, and they had all the instruments covered for their night gig. Little did they know the musical storm that was also brewing.
The night brought improvisation, some serious jamming, a pocket of an upcoming single, and a lasting musical bond. The Eclectic Soul Project had been born.
It was the Starlight on Bourbon Street where this group first got their feet off the ground. The 3-hour sets allowed the musicians to get comfortable with one another and build upon the chemistry that was already present the first night they all came together.
An Inexplicable Connection
I could feel the undeniable chemistry between them in our conversation. The bandmates possess an intrinsic connection that allows them to communicate not through their words, but rather through the music. Max Sanders compared their collaboration mechanisms to a sports car. He said, "We have total freedom to pivot at any moment to a new direction--if one of us makes a split-second decision, everyone is going to hear it immediately, jump on, and follow." It is this freedom that allows ESP's music to transcend genres. Another bandmate commented, "we could be playing heavy rock, then all of a sudden we're swinging, playing a completely different groove. It's interesting the way we see the connections between music and play through all these gaps."
When I asked ESP to define their genre, there was a collective chuckle among the band members. They noted that inspiration is drawn from the likes of The Jimi Hendrix Experience, The Meters, Miles Davis, and John Coltrane, but that their music doesn't squarely fit into one category. One bandmate described their music as "freeform New Orleans funk with a lot of psychedelic influence that is influenced by all different types of rock and jazz subgenres."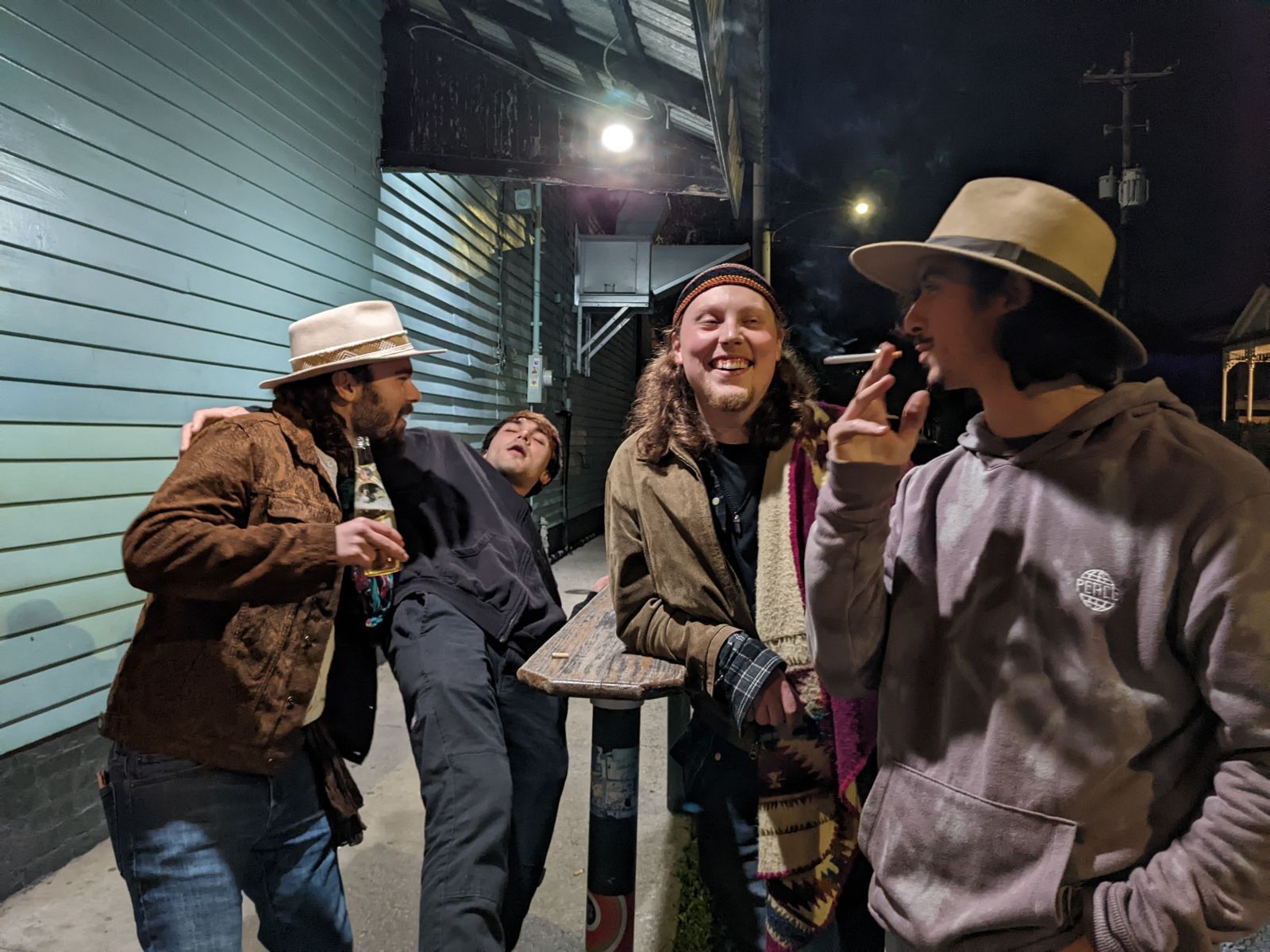 The New Orleans Music Scene
The bandmates acknowledged that the New Orleans music sphere is a saturated market; everyone is really good, and there are a lot of people chasing their dreams. As a result, musicians don't get compensated nearly as much for their shows.
While some might be discouraged by those conditions, ESP allows it to fuel their music. The bandmates commented that knowing there is not a lump sum of money on the line allows them to pursue more artistic freedom during their performances. They never step up onto the stage and feel like they have to compromise who they are as artists, and they don't argue with one another about how or what to play up on stage; they perform because they are doing what makes their souls feel alive.
Rob said his bandmates, "Tucker, Max, and Noah have such distinct personalities-I don't know anyone else who plays a similar way. It's an honor to play with people who are so unique and genuine to the way they feel. I've never felt like they were trying to sound like someone else. They always sound like themselves".
What's Next For ESP
ESP has a standing gig every Saturday at Happy Raptor, and they regularly perform at Hi-Ho Lounge, Gasa Gasa, Saturn Bar, and Carrollton Station. They are always open to and excited by the idea of playing at new venues as well.
They are also thrilled to release a new upcoming single which features pockets from the first time the four band members played together. ESP described the single as a "perfect vehicle for improvisation." There are three distinct sections, and between each section, the bandmates open up the song for improvisation. Thus, the song's duration can be anywhere between 6 and 46 minutes. Sanders noted that the song "has a lot of energy, is really fun, kind of sexy and dirty, and always sounds different."
Eclectic Soul Project is an electric group full of spirit, passion, and zest for life. They are most definitely a group to watch.