National Drive-Thru Day is approaching fast and PJ's Coffee of New Orleans knows just the right way to celebrate. On July 24, PJ's Coffee cafés featuring a drive-thru will be giving away an assortment of prizes and PJ's swag to customers who place their order in the drive-thru line through a promotion called Drive-thru SurPRIZE. Prizes will include PJ's gift cards, tumblers, mugs, and stickers, but a few extra lucky winners will have the chance at the grand prize: a PJ's gift basket valued at over $300. Winners will be selected at random, but a total of over $3,500 in prizes will be distributed, so the stakes are high.
PJ's Coffee in New Orleans was founded in 1978 by Phyllis Jordan, then bought in 2008 by New Orleans natives and brothers Paul, Steven, and Scott Ballard. There are over 59 drive-thru stores around the country, and the franchise is only growing. Although the pandemic wasn't what made the franchise adopt a drive-thru model, it did lead to rapid growth within the business. With over 141 operating stores, including four international locations, the franchise expects that number to increase to 170 stores by the end of 2021 and to add 50 more locations in 2022. If there isn't one near you, just wait…it may be coming sooner than you think!
PJ's Coffee has all of your favorite coffee shop classics. Coffees, frozen beverages, organic tea, freshly baked pastries and breakfast sandwiches, lunch sandwiches, and even a PJ's Original Cold Brew™ Iced Coffee. But if you'd rather make your morning cup of joe from the comfort of your own kitchen, you can purchase PJ's whole-bean coffee bags and single serve cups. You can also enjoy their special summer promotion, which features blueberry flavored coffee beverages!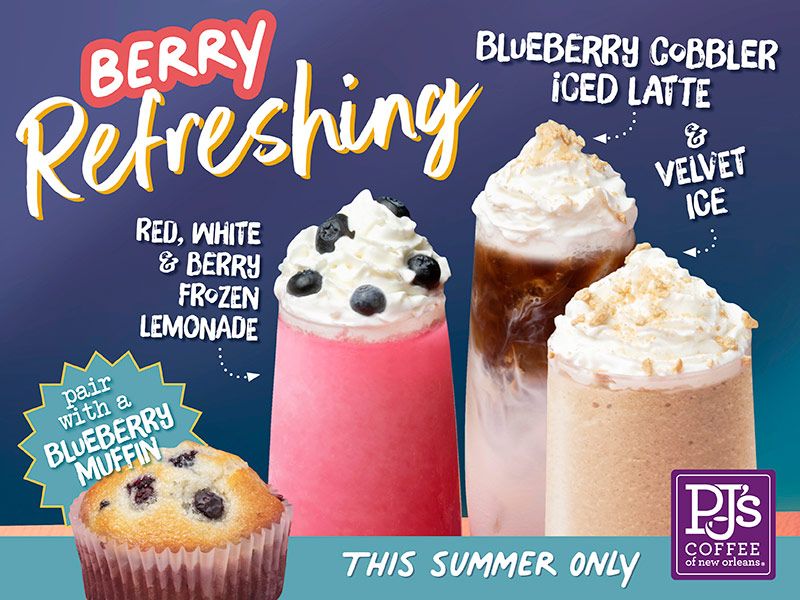 Blueberry Cobbler Velvet Ice: Flavors of the original cold brew, spiced brown sugar, and blueberry syrups, perfectly blended with vanilla frappe, milk, and ice. It gets better…its topped with whipped cream and graham cracker crumbs! Perfect for a sweet summer craving.
Blueberry Cobbler Iced Latte: Espresso and whole milk, sweetened with blueberry and spiced brown sugar syrup, served over ice. Again, this one's also topped with whipped cream and graham cracker crumbs.
Red, White, and Berry Frozen Lemonade: All-natural frozen lemonade mixed with wildberry puree and topped with whipped cream and blueberries. If you're looking for something refreshing on a hot NOLA summer day, this drink may be the one for you!
National Drive-Thru Day on July 24 is the perfect opportunity to try out one of these limited-time drinks while giving yourself a chance to be one of the lucky prize winners! To find a drive-thru location near you, visit locations.pjscoffee.com.