As we continue to navigate through the pandemic, musicians are adapting to changes in how they are sharing and creating music. Local New Orleans harpist Cassie Watson Francillon takes a vibrant yet soulful approach to music, exploring a repertoire of jazz, Celtic, and classical music through the complex and beautiful sounds of her harp. During our current climate, Cassie has used the time for self-reflection and to find deeper ways to connect with others. Cassie expressed, "[Quarantine] has been a double-edged sword, as the pandemic has commanded us to hunker down and refine our priorities and voices as artists and performers."

Most recently during quarantine, Cassie released an originally composed solo acoustic album, This Appears to Disappear; performed livestreams across the globe; and composed ideas for collaborators. With the collective Shakespeare & the Blues (Cam Smith, Bryan Webre), she was able to record an album and rehearse within socially distant specifications. Entitled e.g., Rhapsodic, it will be released this fall on Nouveau Electric Records (headed by Louis Michot of Lost Bayou Ramblers). Cassie is hopeful to do a livestream for that release, harkening on the fun and enjoyment of the album's sample mixes,including theharp, drums, bass, guitar, and synth. She also socially distantly recorded a collaborative track for John Cameron Mitchell's album, New American Dream, which is out now. Cassie is excited to announce her upcoming limited-access residency for smooth harp, which will be performed under safety precautions at the Elysian Bar/Hotel Peter and Paul.
In the midst of the pandemic, Cassie has made the most of her time, acknowledging the impact that has been made on the interpretation of music for musicians and listeners. "Though it has been a deep challenge that in-person gigs have been suspended and [that has] depleted our local economy, there was a hidden opportunity to listen a bit more authentically and to be heard that way, in turn,"Cassie states. She misses connecting with individuals in person, as many of us do, but emphasizes the importance of taking COVID-19 seriously and prioritizing the sustainability of safety. "I miss seeing the emotion in their faces and that reciprocity of sonic communication in the moment." Solo harp performances remain on hiatus, but she intends to keep an eye out for upcoming ways to perform for smaller groups within safe specifications.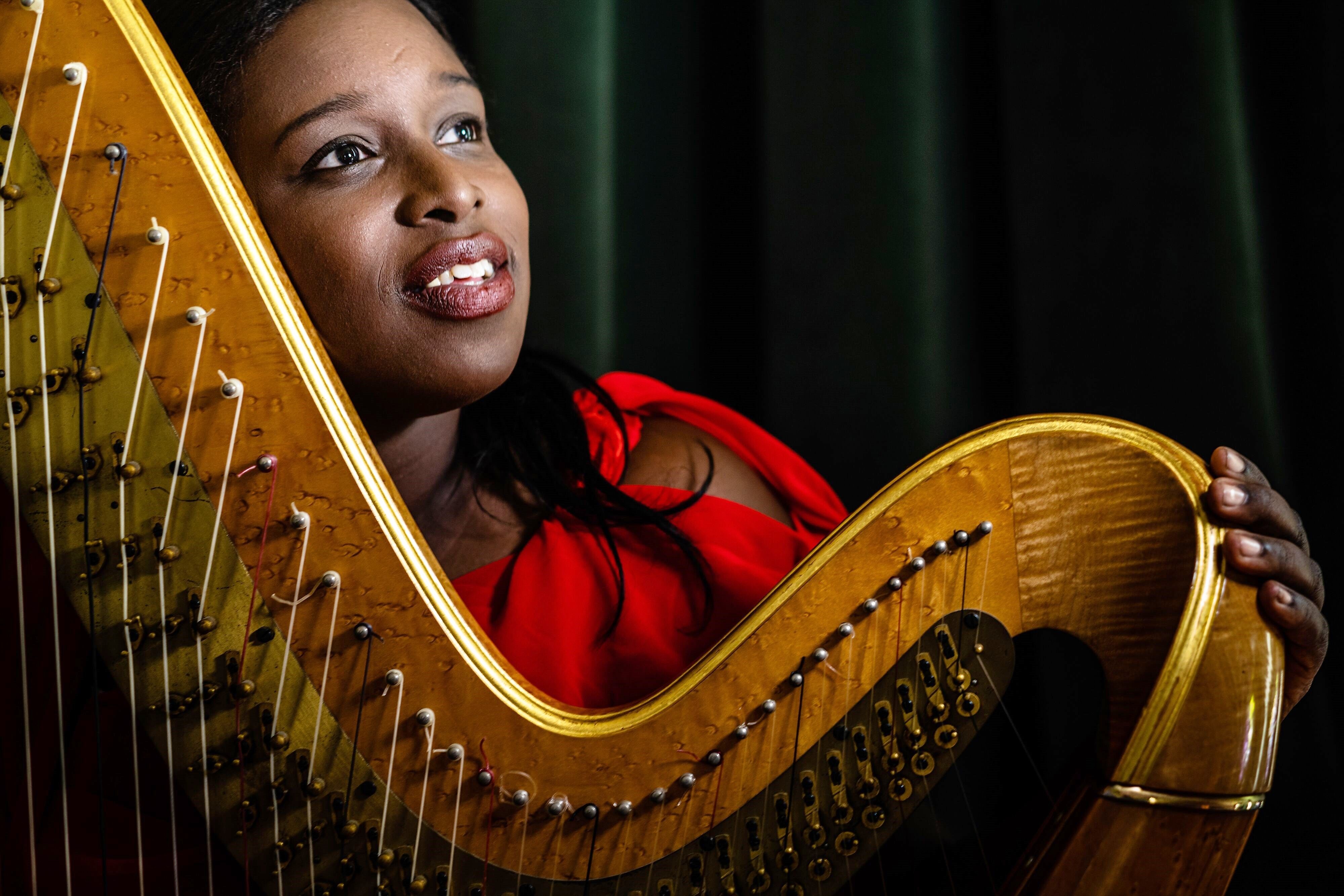 Her time in quarantine has allowed Cassie the chance for deep introspection. Down time has given her a moment to double-down on things she said she would do and given her space to self-reflect. "I'm not looking frantically at what's going on left and right, but remembering who I am and my unique strengths; we each have them!" expressed Cassie, who's been able to focus on self-care, as well as exploring and asserting her responsibility for community care instilled in her by activist and mentor harpist Patrice Fisher (Ecos Latinos). Cassie adds that she finally had the time to do a masked harp technician workshop with Catherine Anderson, which ultimately empowered her to overhaul her antique harp, develop a greater understanding of its unique craftsmanship, and strengthen her core bond to the instrument.

As the pandemic continues to change, shift, and impact so many lives, one thing that has grown from this time has been an appreciation for human connection and how we have found new ways to communicate and connect with one another deeply. We are all adapting to the new world we are living in, and while we look for a sense of normalcy, it's true that we really are all in this together. Cassie states, "Seeing folks show up for themselves and one another in an unprecedented way has been a consistently miraculous event. There is something to be said when we lose our fixation on waiting to be perfect, simplify, and simply give."

About Cassie Watson

Cassie's first draw to music was its ability to tell a story and communicate with listeners, both with and without words. Hearing the end of a harp cadenza spoke to her, and as a young adult, Cassie further developed an interest in the harp's complexity, tone, and expression. She takes inspiration for her music from the actions of those who are truly authentic within their craft and convey the fullness of their message and humanity. With her harp's strings, she has gone on to produce melodies embracing creativity and never misses a moment to have others swooning through her music's heavenly sounds.
Cassie expresses a love for playing everything from Patsy Cline and Prince to Domenico Scarlatti and William Grant Still, and she plays various types of events, such as weddings, funerals, recitals, recording sessions, and interpretive installations. Cassie also composes original music and mood pieces, conveying a desire to watch music transform, develop, and gain breadth before her very eyes and created by her own hands.
For more information, visit Cassie Watson's website: cassandharp.com