In late July of 2020, our readers near and far were allowed into the intricate world of New Orleans's own renowned jazz musician Big Sam Williams of Big Sam's Funky Nation. We learned about his daily life in the midst of the COVID-19 pandemic and new developments in his artistry. This year, we decided to follow up with Big Sam to see how life was treating him in this current phase of the pandemic. What he had to say was profound, honest, and thought provoking.
The simple question, "So, how have you been coping since we last talked with you in the Summer of 2020?" unraveled a veil of despair that many musicians have been shrouded in throughout the entire pandemic. The lack of a means of income because of COVID has impacted local New Orleans artists like Big Sam in a catastrophic way.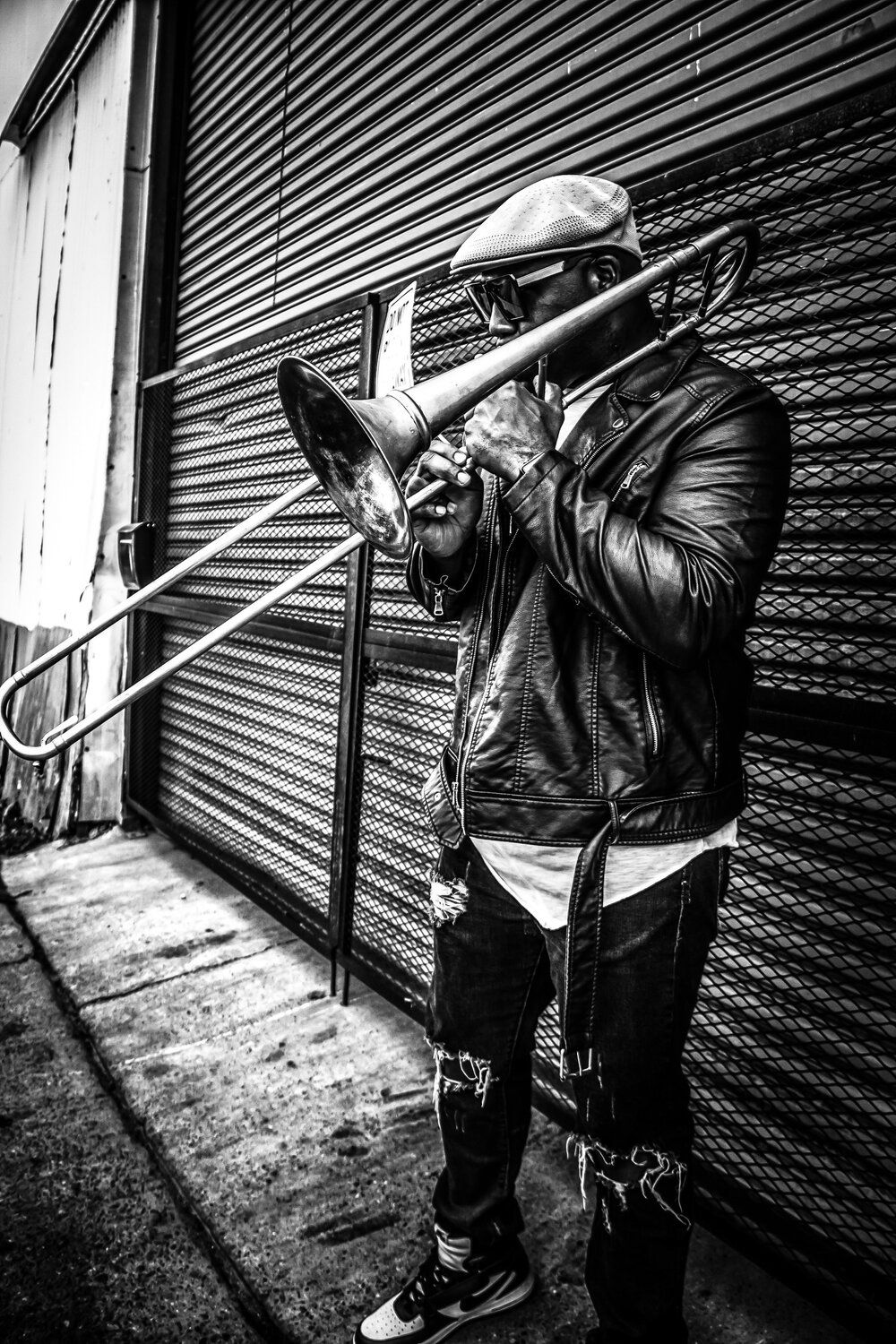 "Honestly, I'm just trying to make the best of where I'm at now. My entire livelihood has been affected by the series of events that have impacted this country within this past year," Sam said. "Even after the pandemic is over, I will be in the state of rebuilding my credit, finances, and my career," he mentioned after a brief discussion about the potential of our city opening back up again.
Big Sam's reality is like most individuals whose careers and livelihoods have been gravely affected by this global pandemic. The guiding light in our interview appeared when he spoke about his newfound appreciation for teachers and how this pandemic allowed him to spend a lot of time with his twin toddlers. "Teachers are so important, and after being home with toddlers since last March, I have a deep appreciation for teachers," he spoke candidly. While it has been a difficult year, spending time with his children and being able to focus more on his craft have been some positive aspects of the pandemic.
Now that the city of New Orleans has progressed to a modified phase 3, Big Sam is ready to get back to performing, but in a safe way. Every Wednesday night from 6:30 p.m. to 9 p.m., Big Sam will perform on the 3rd floor pool deck of the Royal Sonesta New Orleans on 300 Bourbon St. Tickets are $25 and can be purchased through Eventbrite. Upcoming performances are on March 17, March 24, and March 31. Big Sam said he desires for people to join together again and relish in the sultry tunes of jazz in a safe, socially distanced way.
Big Sam is also offering one hour of entertainment for anyone who is looking to have live music or shows for their event. In addition, he still offers live performances on social media every once in a while. When asked how can local New Orleanians show their support for his artistry, Sam said, "We can show our support by making people aware of the problem where it concerns artists of all kinds and help cultivate solutions to fixing the problem."
Big Sam continues to rally and show his support for New Orleans and its people, in spite of the challenges he has faced within this past year. He encourages everyone to stay safe, positive, and motivated with hopes that change is coming.
If you desire to support Big Sam and members of his Funky Nation band personally, direct donations can be sent through Venmo ($FunkyBigSam), Cashapp (@FunkyBigSam), or PayPal (Noladelic@gmail.com). If you would like to also support all our local musicians who have been affected by of this pandemic, consider donating to the Jazz & Heritage Music Relief Fund.