A Burst of Flavor for your Cocktail
Can bitters inspire better cocktails? Yes, just a few drops of these little boozy extracts add flavor to classic cocktails like an Old Fashioned or create a brand-new drink.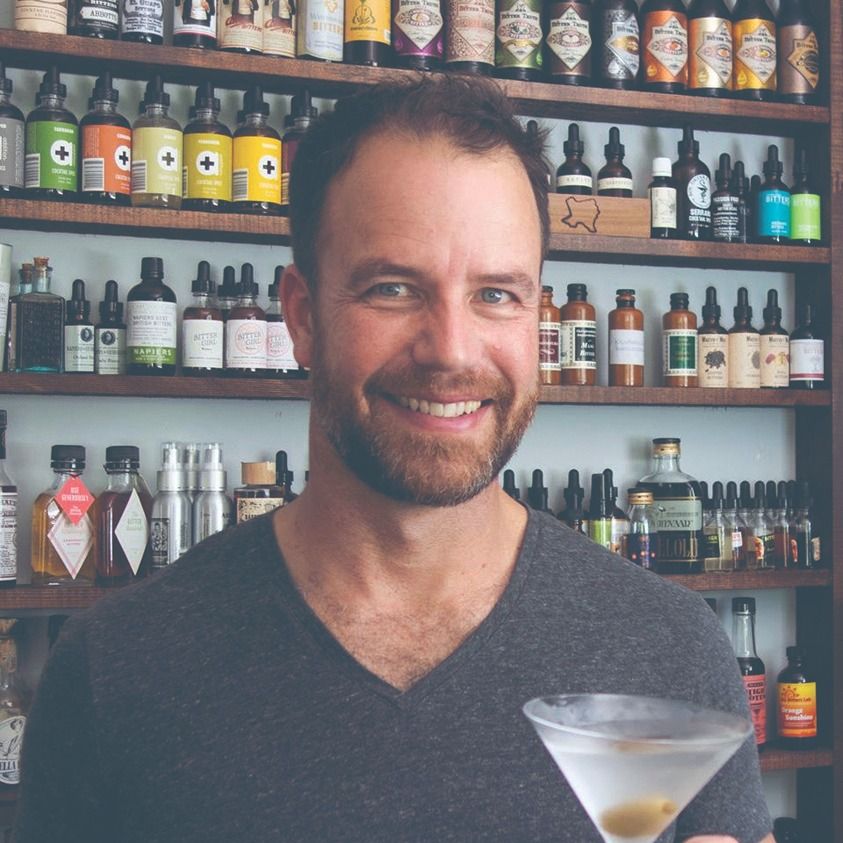 "Bitters are well established in the American cocktail scene," said Mark Bitterman, culinary salt expert and renowned author of the 2015 book entitled Bitterman's Field Guide to Bitters and Amari. "A Manhattan cocktail is not good without bitters. When you add citrus or orange bitters, for example, you now have a drink with aromatic complexity, and a flavorful combination."
What are bitters, you ask? They're only the most commonly used ingredient in cocktails and vital to modern mixology. These small bottles of spirits are infused with botanicals such as spices, bark, fruit, flowers, leaves, and herbs. Bitterman suggested that generally, bitters are concentrated flavor enhancers that amplify, accentuate, and add an extra kick to the cocktail mix.
"Bitters are to cocktails as salt is to food," said Bitterman, owner of the Meadow, a bitters, salt, and chocolate emporium with locations in Oregon and New York. "With food, you add salt to increase the flavor and complexity. Using bitters, you can make the most of your drink by increasing the focus of the flavor in your mouth and the sensation in your nose."
Amanda Thomas, a professional bartender and experienced team leader at the Sazerac House on Magazine Street in New Orleans agreed. "Bitters are essential behind the bar. You literally can't make an old-fashioned, Manhattan, or proper martini without them."
She also commented that bitters act like salt and pepper. "If you have a drink that's dull or a little flat, adding bitters can balance the sweetness, add new flavors, or really perk up the ones that are already there. So naturally, adding a few drops of bitters to a drink makes your tongue really pay attention."
Although bitters were popular back in the 1800s, many bitter companies closed during the American Prohibition era, except for Angostura, one of the oldest and most well-known bitter companies. "In the 1800's, thousands of bitters were sold as snake potions and various lotions," said Bitterman. "But Prohibition wiped out a bunch. Back then, bitters were drunk as alcoholic beverages."
On the average, a bottle of cocktail bitters is about 35-45% alcohol. Since most bitters are only used by dashes or in drops, the amount of alcohol content is minimal. However, bitters are concentrated and not meant to be drunk alone, unless it is a bitter called Amaro. These full-sized bottles of liquor called amari (plural for amaro), which means bitter in Italian, can be drunk straight out of the bottle or used as a mixer. A few examples of amari are Campari, Fernet Branca, Pimm's No 1, and Cynar.
"Amari is designed to be drunk as a beverage," said Bitterman. "Whereas bitters are more concentrated and not intended to be drunk."
In addition, certain bitters can serve as a digestive aid. "Bitters were bought back in the 19th century with the intention of settling your stomach," Bitterman said. "These compounds have a medicinal background. They were and are still used to soothe your stomach."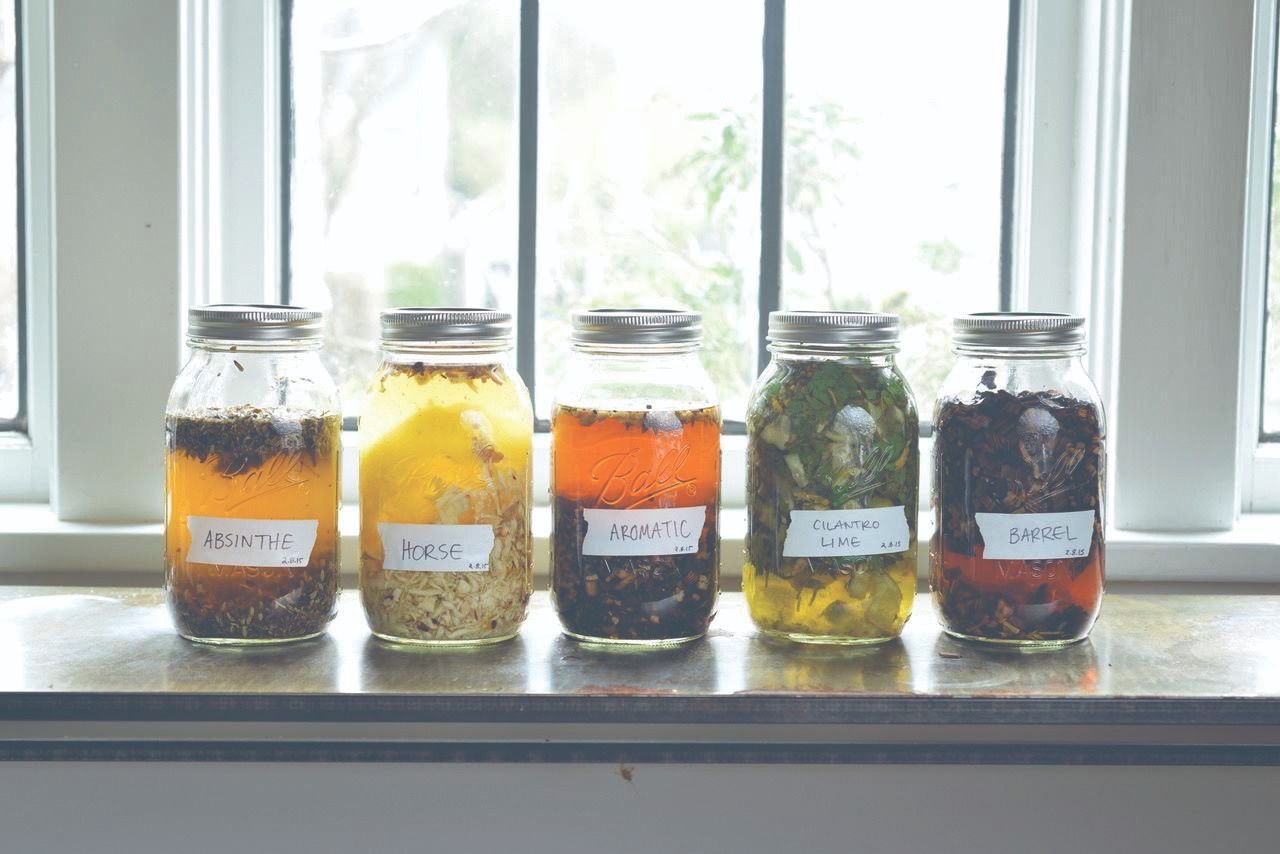 Today, Bitterman indicated that there are hundreds of different bitters with countless different uses. The most popular types of bitters are the Angostura aromatic bitters, Peychaud's bitters, and citrus bitters. Although the aromatic and citrus bitters are used often, there is an extensive selection of new flavors like celery, grapefruit, lavender, and chocolate. "Everybody at home will have aromatic bitters," said Bitterman. "Home and professional bartenders are finding a whole variety of aromatic bitters, bringing in lavender and floral bitters."
While the bitters market is emerging with new brands and exotic flavors, these three major bitter brands comprise the bartender's tool kit in order to make the following classic cocktails:
The Angostura Bitters Cocktails - old fashioned, Manhattan, whiskey sour, Trinidad Especial, Brooklyn's Finest
Peychaud's Bitters Cocktails - Sazerac, Vieux Carre, Seelbach, Cocktail a la Louisiane, Queen's Park Swizzle
Orange Bitters Cocktails - negroni, adonis, the opera cocktail, the revolver, apple cider cocktails
"You can make 90% of the classics with just three bitters: Angostura, Peychaud's, and Regan's Orange Bitters," said Thomas. "You absolutely can't make a proper Sazerac or Vieux Carre without Peychaud's Bitters. You need orange bitters, like Regan's, for the Manhattan and martini. You need Angostura for quite a few classics, including the Champagne cocktail, Pisco Sour, and an old fashioned."
It's important to note that these tiny bottles of bitters last for many years. "Bitters never really go bad, per se," stated Thomas, "but like spices in your cabinet, their flavors will fade over time—usually in the neighborhood of 5 years before you should get another bottle."
However, aspiring bartenders may opt to make their own bitters to fine tune the ingredient ratios and create the perfect complement to their cocktail menu.
Thomas added, "The entry for making bitters is pretty easy—if you can get your hands on spices and enough grain neutral alcohol, anyone can make them. Because of that, we've seen a flood of new bitters since the cocktail renaissance was kickstarted almost 20 years ago."
So before you mix up that unique cocktail, stock up your home bar with a good line up of aromatic and citrus bitters, par ticularly if you're recreating a Manhattan. "Orange bitters play very well in the Manhattan, giving it a powerful flavor with no acidity," said Bitterman. "You can try any classic recipe and swap out the bitters for a flavor combination that is incredibly successful."
EMBITTERED NEGRONI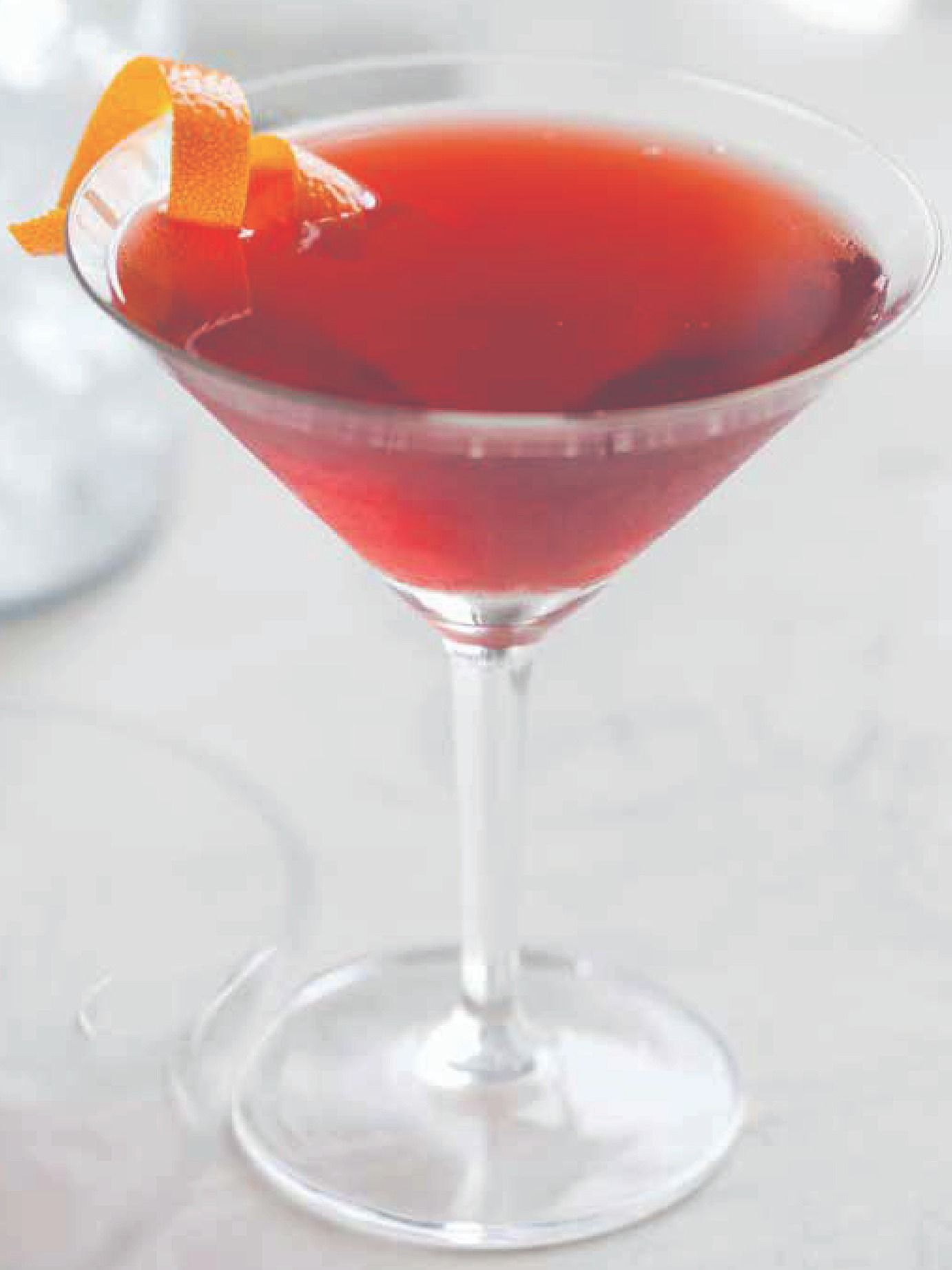 "A modernized, cleaner fresher, brighter, maybe slightly less bitter, but definitely less sweet, yet flavorful Negroni ."
—Mark Bitterman
• 2 ounces of London Dry Gin
• ¾ ounce of Campari
• ¾ ounce of sweet red vermouth
• 6 dashes of grapefruit bitters
• 1 orange twist for garnish
Pour all the ingredients except the orange twist over ice in a chilled mixing glass. Stir and strain into a martini glass. Garnish with orange twist.