Welcome to "Classic Movies for the Couch," a haven for prospective film-lovers in the New Orleans area and beyond. If you are reading this, then you are likely already a follower of old movies, or you are a movie fan who is ready to dip the proverbial toe into the water that is classic cinema. Either way, you'll enjoy these glimpses into a time unlike ours.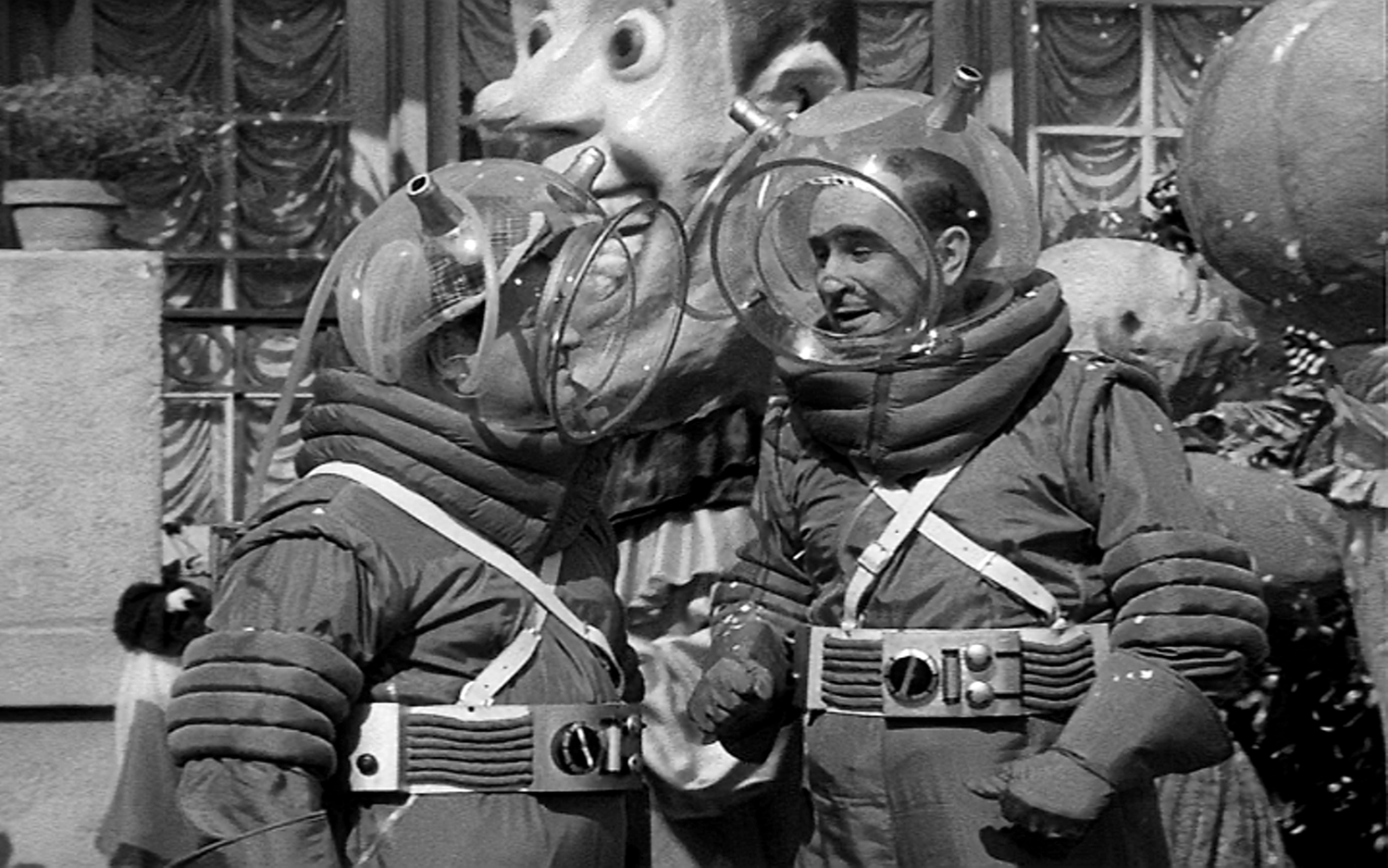 One of the zaniest adventures captured on film concerns those clown princes of mirth, Bud Abbott and Lou Costello. You would never realize that our opening film takes place at Mardi Gras judging from the title, but Abbott and Costello Go to Mars(1953) sees the duo play workmen at NASA who become stranded on a spaceship seemingly headed for the Red Planet, only to find themselves in New Orleans during Carnival season. Of course, with the colorful costumes and masks worn by everyone they happen to see after landing here, the two numbskulls become convinced that they've journeyed to the fourth planet from the sun.
An encounter with bank robbers during the festivities doesn't help matters any, and with no other means of escape, they're forced to go back into the rocket where they all head to Venus, which, of course, is inhabited only by women. Those looking forward to seeing the art director's idea of a 1950s-era Martian landscape may walk away disappointed, as the title is a complete misnomer. However, for sheer laughs, you could do much worse than spending nearly 80 minutes with one of Hollywood's all-time greatest comedy teams.
As spring continues, and you're hunkering down with a good bottle of hooch, think about one of the darkest periods in our nation's history: Prohibition. Imagine going 13 years without partaking in a relaxing adult beverage, in the name of the law. Unlucky as this time must have been, the 18th Amendment did more than just make alcohol consumption illegal; it also influenced some great plotlines for Hollywood films.
Only four years into the advent of talking pictures, Warner Brothers released The Public Enemy(1931), the studio's second attempt at a new type of sensational, gritty cinema (the first being Little Caesar) that glorified the Prohibition-era "gangster." In this film, James Cagney plays an ambitious young mobster who will do whatever it takes to keep his gang's brand of beer in Chicago speakeasies. What follows is an all-out war among these hardened "purveyors of pilsner." This film is a lot more fun on the outside looking in, with a last shot that is truly horrific. You may already be familiar with the famous "grapefruit" scene, where Cagney smashes the acidic fruit into his girlfriend's face (played by Mae Clarke) at breakfast.
Directed by William A. Wellman, The Public Enemy created a bona fide star in former vaudeville dancer Cagney, fashioning him into one of the screen's legendary tough guys who would forever be remembered alongside the likes of Humphrey Bogart and Edward G. Robinson. Indeed, these three actors all started under contract with Warner Brothers and would share the screen in various combinations throughout the next decade. You can catch this classic drama on May 2 on TCM.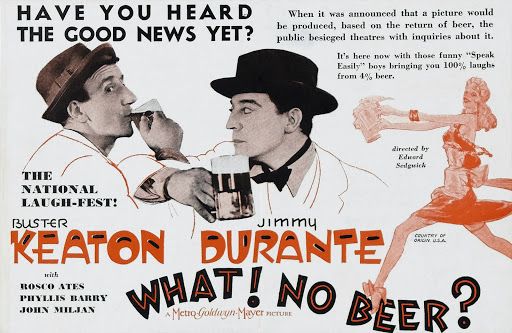 On a much lighter note, legendary silent-era comedian Buster Keaton teams up with Jimmy Durante ("Frosty the Snowman") as a couple of goofs who enter the illegal brewing business near the end of Prohibition in What! No Beer?(1933). With the light at the end of the alcohol-less tunnel seemingly in sight, a barber and a taxidermist spend their life's savings on a brewery. Unfortunately, they didn't happen to foresee a prospective entrance into the underworld with their much sought-after product. This one is hilarious, only slightly longer than an hour, and is available to watch on Vudu for less than $3.

Before you know it, the Lenten season will be over, and we'll be fully entrenched in all things Easter. I can tell you with absolute certainty that there is no better way for a classic movie-lover to celebrate this cheerful holiday than with Easter Parade (1948). Thanks to Renee Zellweger's Oscar-winning performance in last year's Judy, there is a rightful, renewed interest in one of the greatest entertainers who ever lived: the incomparable Judy Garland. Here, she acts opposite the screen's greatest dancer, Fred Astaire. Being that this is an MGM musical, it's not surprising that the action takes place in or around a Broadway show, where seasoned showbiz performer Don Hewes (Astaire) decides to make unknown Hannah Brown (Garland) into a star. Think My Fair Lady in tap shoes! This lavish, Technicolor romp features an Oscar-winning score with songs by Irving Berlin, including the title track and Astaire's signature anthem, "Steppin' Out with My Baby." You'll be able to catch this on April 12 on TCM.
Well, there you have it. Hopefully, you'll enjoy these works of art so much that Turner Classic Movies will enter your favorite channel lineup. There's also TCM Big Screen Classics (screening monthly at AMC Theaters via Fathom Events) and classic films twice a week at our very own Prytania Theater. Honestly, you'd be surprised at all of the selections from generations past that are free to watch in their entirety by simply visiting YouTube. By delving into this country's rich film history (as well as the world's), you will undoubtedly be rewarded with a lifetime of entertainment and enjoyment. So, what are you waiting for? Start watching!