Several years ago, French brasserie Couvant opened inside The Eliza Jane, a stunningly-renovated Hyatt property in the Central Business District. After surviving a two-year, pandemic-induced hiatus, the restaurant (and the hotel) swung back into business this spring with a new lead in the kitchen and inspired menus.
After spending time in Paris and New York sharpening his skills in acclaimed restaurants, native son Ryan Pearson has returned home to flaunt his culinary accomplishments as the Executive Chef at Couvant. Touted as "French-Southern dining re-imagined," dishes like Pearson's crispy skin Gulf fish, and blue crab gnocchi with sweet corn dominate the menu.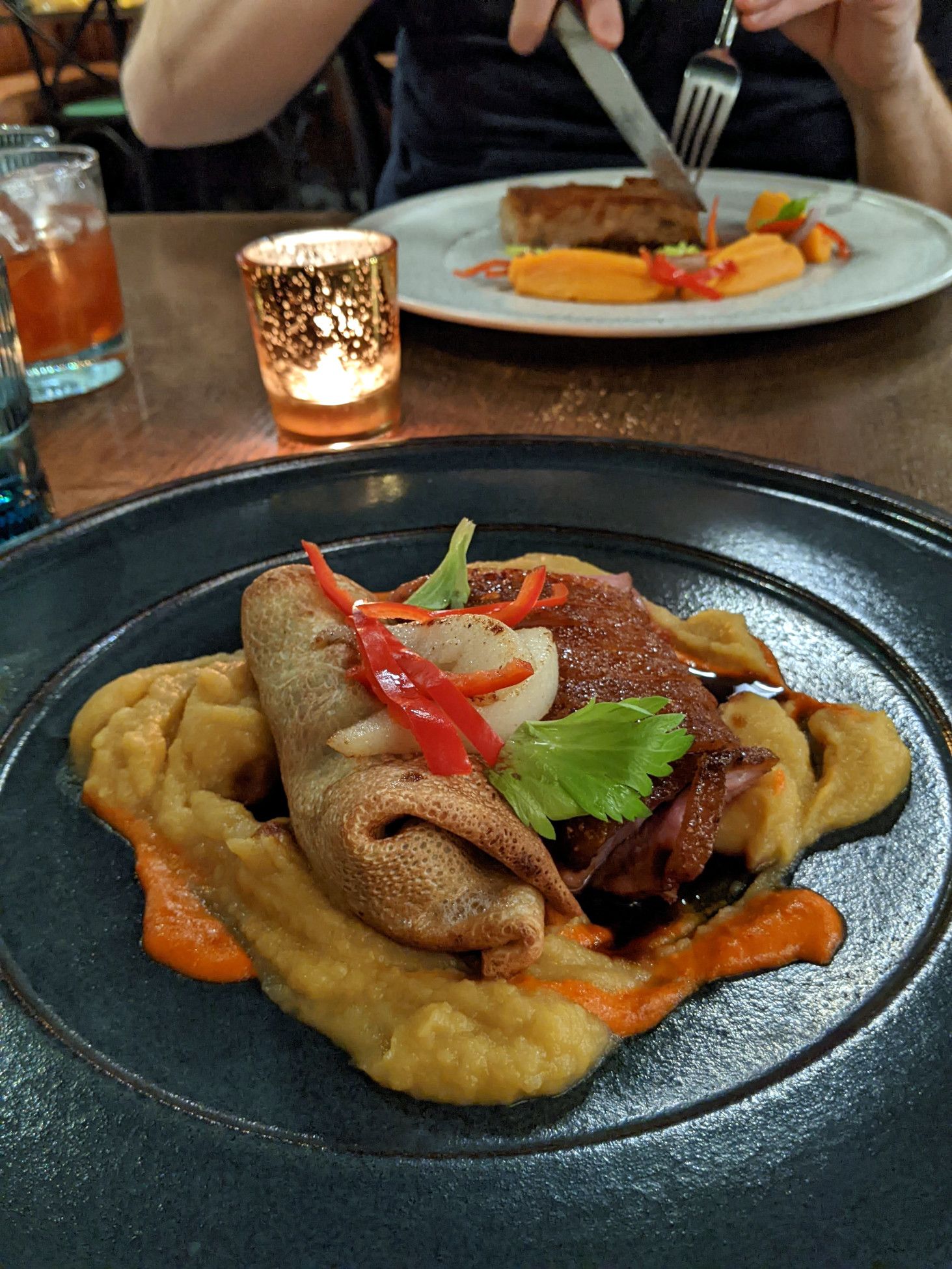 On a recent visit to the Magazine Street restaurant, this voracious eater was treated to a lavish sampling of some recent dishes added to the menu, from a cool, sweet beet salad with chevre mousse and candied pecans, to crispy cochon de lait with sweet potatoes and mustard sauce. Though many dishes were devoured that evening, two in particular shone brightly - the crisply-fried tête de cochon squares topped with deviled eggs, filled with Dijon whipped whirls of dizzying heights; and the controversial, yet absolutely amazing foie gras torchon (a.k.a. meat butter) served with pickled peppers and satsuma marmalade.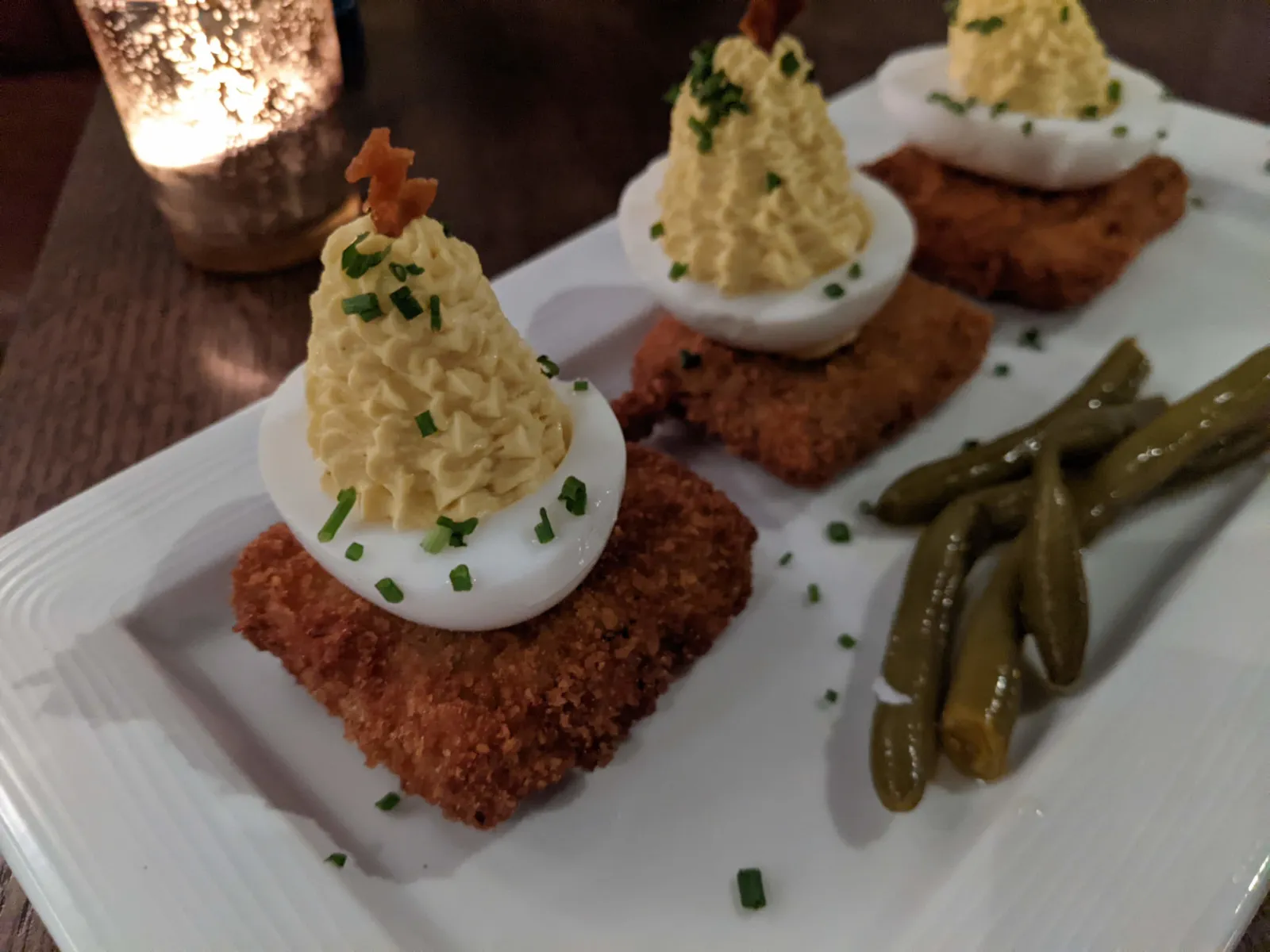 In true brasserie form, Couvant offers a casual atmosphere, designed in such a way that successfully embodies New Orleans elements blended with that of a modern French bistro. Elaborate tile work behind the cocktail and oyster bars flow right into an exposed brick wall and a bank of French doors leading out into a quintessential courtyard. A relaxed pace and comfortable vibe invite diners to kick back, take their time, and enjoy their meal - offering the perfect setting for any occasion, especially the upcoming holiday season.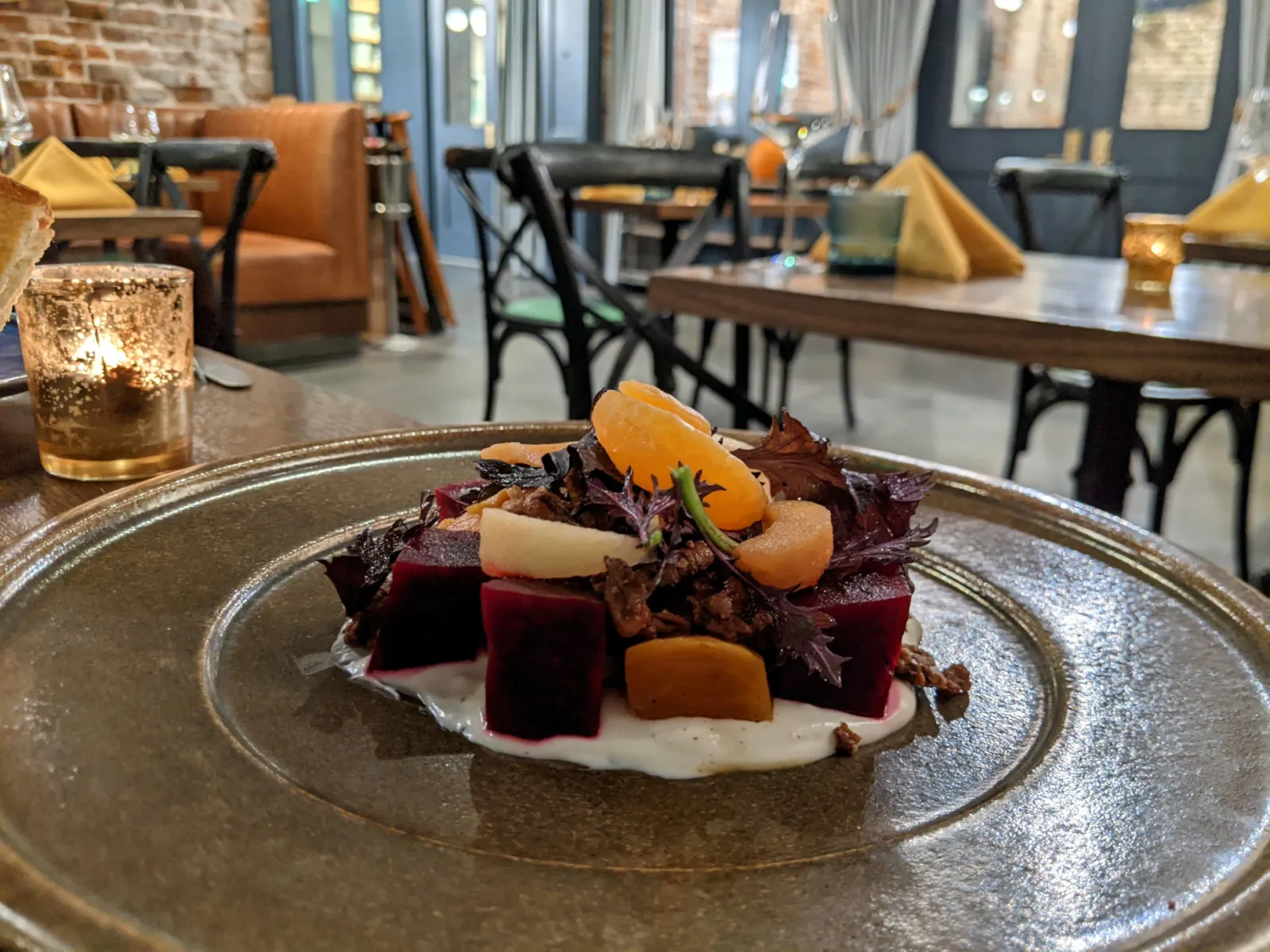 In fact, this coming Thursday, December 15th, Executive Chef Ryan Pearson is hosting a "Celebration of Black Truffle" through a five-course fungi feast and organic, bio dynamic wine pairings for each course. Dishes include braised artichokes with black truffle vinaigrette and arugula puree, and a dry-aged New York strip steak featuring Sauce Périgueux (a demi-glace with truffle oil) and potato fondant. Tickets are $200 per person, inclusive.
Couvant is also offering a Reveillon menu this year, another five-course extravaganza, though offered at a more affordable $88 per person. Prepare yourself for delights like truffled butternut squash soup, baked snapper in beurre rouge with Lyonnaise potatoes, and brioche-crusted veal with king trumpet mushrooms. (I also highly recommend springing for the foie gras torchon for an extra $8)
Finally, you can ring in the New Year at Couvant on December 31. The brasserie will be offering two seatings; the first ($80/person) will be available for reservations between 5:30 and 6:30pm and will offer three courses, featuring favorites from the dinner menu like dry-aged duck and cote de boeuf for two; the second seating ($125/person) will start at 8:30pm which includes a five-course meal with live entertainment and a champagne toast at midnight. Dinners begin with a couple of amuses, a Gulf oyster with Kaluga caviar and a cheesy, puffed gougere with truffled mornay sauce. If that doesn't draw you in, perhaps the celery root angoletti, dry-aged steak or chocolate souffle will.