Tipitina's, Uptown's renowned music venue, has announced Season Two of Tipitina's TV, presented by Crystal Hot Sauce. According to Tipitinas.tv, Season Two will include a six-week livestream concert series airing on tipitinas.tv on Saturdays at 8 p.m. CT, kicking off on October 31 and running until December 12. As the pandemic continues to shift and impact live musical performances, you can support artists and performers through the upcoming livestreams on Tipitina's TV. Tickets can be purchased at tipitinas.tv for the full Season Two package or for each individual show.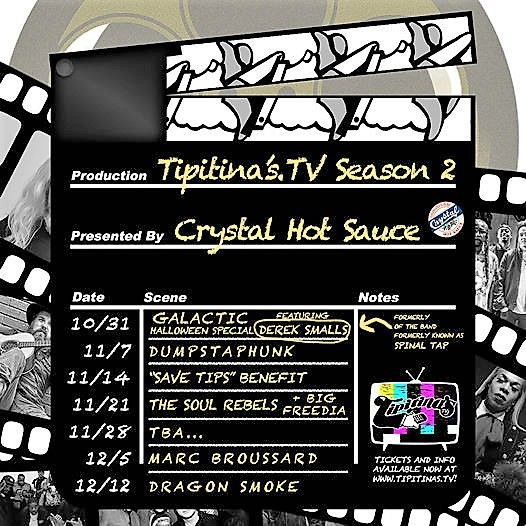 The livestream concert series starts with the band Galactic's Halloween Special on Halloween night, featuring Derek Smalls, formerly of the band Spinal Tap. The following Saturday performances include Dumpstaphunk (November 7), Save Tip's Benefit (November 14), The Soul Rebels and Big Freedia (November 21), a TBA performance (November 28), Marc Broussard (December 5), and Dragon Smoke (December 12). Though not included in the Season Two live-concert series, the rescheduled show of the band The Radiators will also be available to purchase and watch live on November 13. All of the Season Two performances are new, with viewers able to enjoy and experience never-before-seen performances live from the comfort of their own homes.

If you miss the livestream, the concert series can also be watched through Video on Demand access, and once playback has started, it will be available to view for 48 hours. Tipitina's broadcast partnership with nugs.net also allows for various viewing options and for their livestreams to be purchased as a gift through gift certificates on the Tipitina's TV website. Viewers can sit back, relax, and support bands and artists by tuning in to Tipitina's TV's new season of live musical performances.

For more information, visit tipitinas.tv.