"Art is everywhere," says Art4Now founder Bud Brimberg, whose company produces the official posters and clothing for the New Orleans Jazz & Heritage Festival presented by Shell.
Life Out Loud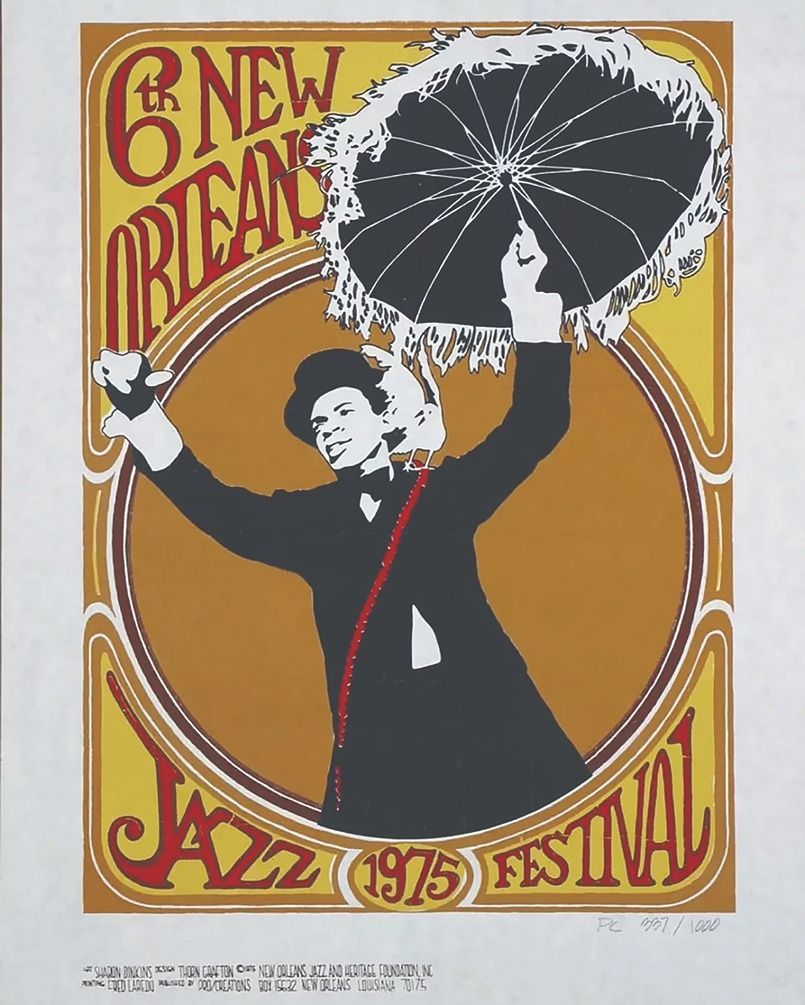 Brimberg's products have become treasured talismans for Jazz Fest regulars. "I love looking at art in the streets," he says.
Discovering an interest in entrepreneurial business classes, Brimberg abandoned law after passing the bar and set his new business sights on Jazz Fest in it's sixth year. Learning that former alum Quint Davis, "who was two years ahead of me at Tulane and in a band" was running the festival, Brimberg approached Davis for work with the New Orleans Jazz & Heritage Festival.
Colorful book illustrations along with Tulane theatre posters designed by J.R. Davis (no relation to Quint) inspired Brimberg to create his first Jazz Fest poster in 1975, with only a few months until the festival. When presenting his limited edition poster to his former schoolmate, Davis told him, "We already have one."
Determined, Brimberg said he was still going to sell it, offering to give the festival a percentage off the top. "Quint said, 'I'll take it.' That was the worst deal I ever made," Brimberg laughs, estimating "Jazz Fest makes more than me in gross, today."
After seeing his first 1975 Jazz Fest poster, originally priced at $3.95 ($21.79, adjusted to 2023), recently sell online for $2,400, Brimberg launched PrintXchg.com. The peer-to-peer poster sales site exclusively for Jazz Fest posters authenticates and ensures the limited editions art exchanges are safe and legitimate.
Wearing the Blues
But Brimberg's passion for representing Jazz Fest through art didn't stop there. Seizing a moment in another quick exchange with Quint Davis in 1981, he changed his business and Jazz Fest apparel forever. When again presenting his new poster design, Davis's innocuous reaction was unexpectedly inspirational, saying, "It's okay, but that's a cool shirt the guy's wearing in it."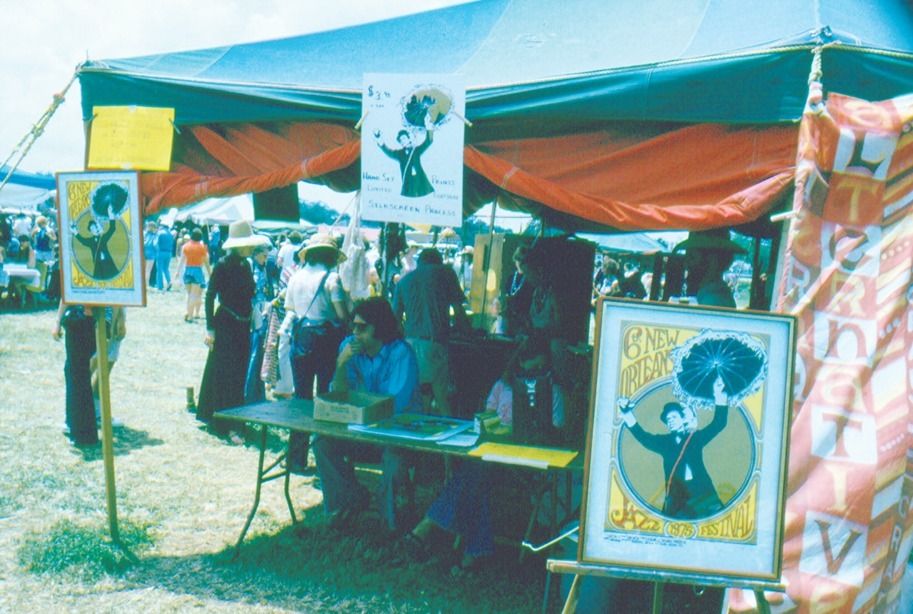 Brimberg's response: "Okay, I'll make a shirt." And Jazz Fest apparel was born.
That first year, his shirts—named HowAhYa Shirts as a homage to the original Hawaiian shirts and Louisiana dialects—did not have an auspicious introduction for audiences. "I knew nothing about printing on clothing, much less needing to have the ink set on the cotton material before wearing it," Brimberg recounts. "The first day of Jazz Fest was hot, with people sweating, so the ink ran. When they took the shirts off, they were the first Blue Man Group." While this may have dissuaded some, the excited New Orleans fans embraced the fiasco. "We put notes in the rest of the shirts: 'Set colors before wearing.' No one returned them."
Learning fast, the clothing mishap was corrected the next season and the clothing designs continued to evoke the Fest's poster design. "At some point, the shirt needed a life of its own." And in 1998, the line departed from the posters, evolving into BayouWear—the new brand expanding into shorts, aprons, dresses, unbrellas, and even a brief foray with satin-lined vests.
Button, Button, W
ho's Got the Button?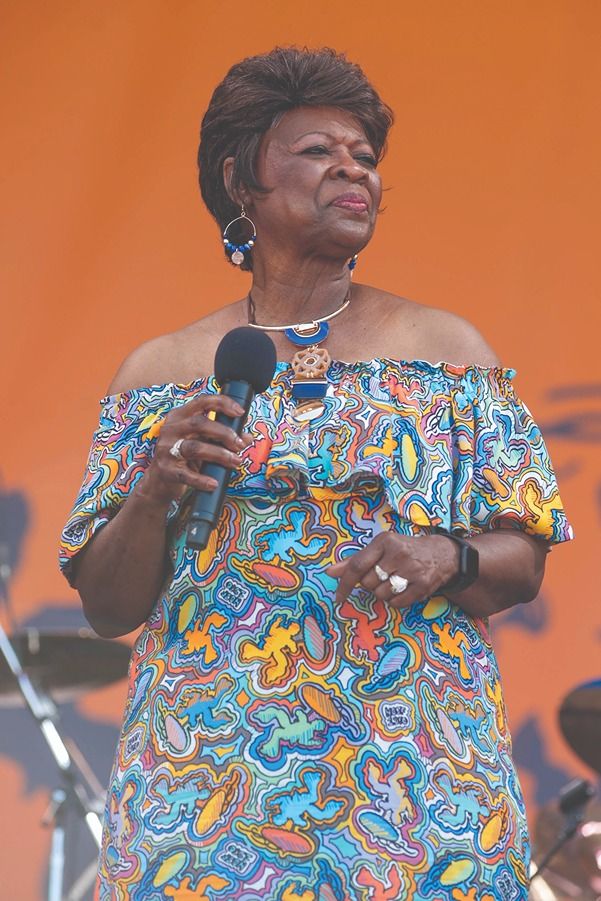 Inspiration struck again one day, when he spilled Camellia Red Beans out on a counter. "I noticed that they were the perfect size for a button," Brimberg says. This launched a new fan obsession. "People are now saying, 'We don't care what the shirt is—what's the button?'"
A gator tooth button followed the beans. When authentic alligator teeth he found at the Voodoo Museum store "were really ugly," Brimberg brought them to a cosmetic dentist to have him "fix it." With this signature twist, BayouWear's Jazz Fest clothing began including buttons emulating streetcar tokens, guitar picks, a compass rose, watermelon seeds, and even record albums. The 2023 shirts introduce the popular water meter cover as buttons.
Indeed, the concession staple is a badge of honor and a fashion statement. While it's possible to make purchases online, it's more about the bragging rights of walking into BayouWear's expansive tent at the Fair Grounds to purchase the newest shirt—and maybe a poster.
Art4Now = Art For All
While Brimberg takes pride in "profitably making clothes, always in the U.S.," his ultimate goal is to "present valid art that communicates" through his products. Brimberg refuses to accept a conflict between fine art vs. communication art. "The hope is to communicate across the breach," he says.
For that reason, Brimberg admits he often approaches artists to commission the posters. However, he insists "it's not a closed loop." He keeps "open channels" to consider artists' pitches saying, "If we're the way to get art into people's hands, then we've succeeded."
Posters are commissioned once a year, "months and months" ahead, but with enough time to allow for March delivery. Brimberg doesn't give much thought about the next year until the current festival is well under way, confessing a month before the festival, "2024 is vapor in my mind; I haven't a clue."
This Year
Similar to 1981's inspirational moment when the poster inspired the shirt, excited festival-goers will don colorful clothing depicting French Quarter buildings closely resembling the newest poster. However, a big difference is "this time, the shirt came first," Brimberg boasts. "It was an uncorrelated accident." Holding Forth painted by James Michalopoulos is the centerpiece of the 2023 Quarter (Love) Note—A Portrait of New Orleans' French Quarter poster.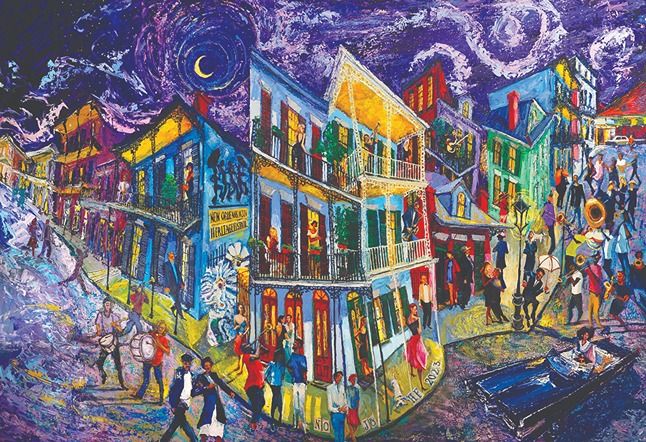 The artist's signature style, captures the neighborhood's "wavy-gravy surreal" quality, but "elevates his vision of the Quarter through a prism of Escher and Kafka," according to Brimberg.
New Orleans artist James Michalopoulos was commissioned to create the 2023 poster, and Brimberg broke with the vertical tradition to allow for only the fifth horizontal poster—others including landmark festivals including the 25th and 50th anniversaries when Brimberg felt it needed to "show the landscape" of New Orleans."
With most of his larger works topping out at 72 inches priced between $30,000 to $40,000, the poster's original art is the massive 96" x 144" painting, Holding Forth by James Michalopoulos "is a very rare and special piece that does not have a comparable comparison," says Michalopoulos Gallery's Cayman Clevenger. "There are truly no comparable works in terms of size or subject matter."
The original painting on display in the Michalopoulos Gallery has since been marked sold, and the gallery associate confided that "it was sold for a price in the high six figures."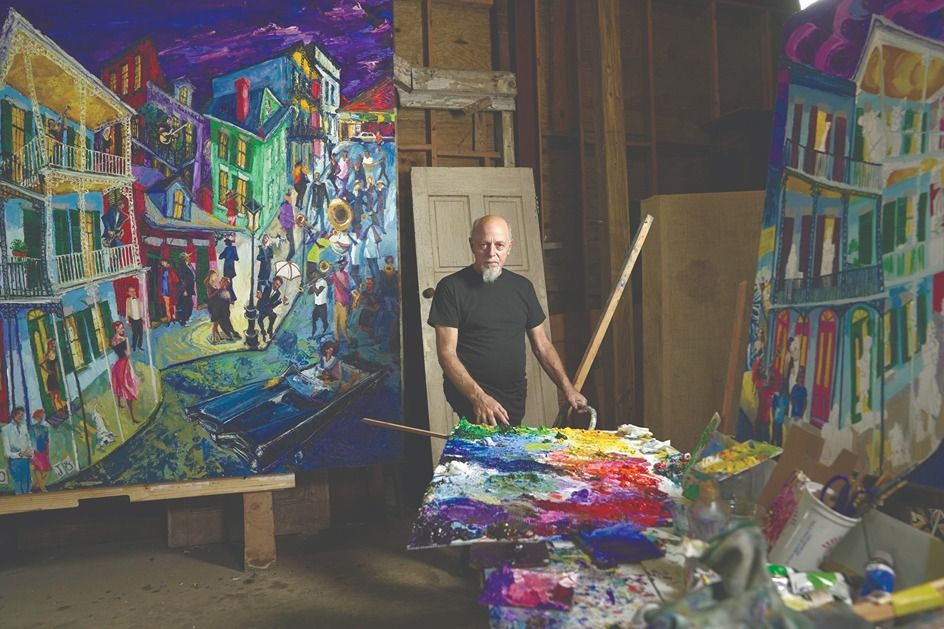 "The life of New Orleans at its root is foundationally musical, rhythmic," Michalopoulos says of his seventh painting featured on a Jazz Fest poster. With a palette of bright colors capturing the kinetic energy exuding from the city during Jazz Fest he conveys "the cast of characters in a sense, living and being lived in the Jazz Fest. The whole thing comes together as an observable phenomenon."
When asked to choose his favorite poster, Michalopoulas says, "While each of the pieces are special to me, I am always most partial to the piece I have worked on last, so in this case it would be the 2023."
Although contractually forbidden from divulging numbers, Brimberg insists "artists are compensated fairly for their work, scaled to what their work typically commands." But for him, the money is secondary. Art4Now's Jazz Fest posters and BayouWear are about the art conveying the inspiration of New Orleans culture for festival goers. Brimberg sums it up concisely: "A good meal, time with friends, a nice life."