Costumes and drinks and brunch—OH MY!
Clear your day on Friday, October 29, from 10 a.m. to 4 p.m. Broussard's Restaurant, located at 819 Rue Conti St., will be hosting a spine-chilling Halloween brunch and costume contest. Come out in your best, menacing costume and, of course, your mask. Invite your ghostly friends or your special BOO to enjoy the full brunch menu, spooky sparkling specials, and wickedly witchy-themed cocktails. The authentic sounds of the jazz ensemble, The Gumbo Trio, will fill your ears with some of the best music throughout the day.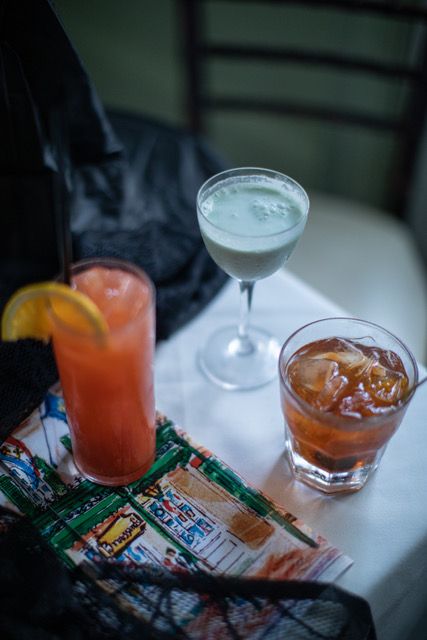 Specially priced champagne will be available by the glass and bottle, including Dom Perignon for $175 per bottle. Also included are three terrifying cocktails:
· Headless Horseman (Redemption Rye, pumpkin, orange, simple syrup)
· I'm Melting (Creme de Menthe Dark, Creme de Menthe Light, Creme de Cacao Dark, Creme de Cacao Light, Heavy Whipping Cream)
· Rated "Arrgh" (Don Q Rum, Passion Fruit, Lime, Grenadine, Soda).
Bet you can taste these specials now!
To enter the costume contest, post a photo of your outfit to social media (Facebook, Instagram, or Twitter) and tag Broussard's. The winner of the contest will receive a $100 Broussard's gift certificate and Broussard's gear. Talk about a win-win!
Broussard's restaurant opened in 1920 when local chef Joseph Broussard tied the knot with Rosalie Borrello, and both moved into her childhood home on Conti Street. The couple lived upstairs in the apartment while Broussard labored downstairs to create an admirable restaurant. He put his skills to work by combining local Creole cuisine with classic French dishes galvanized by his conventional Parisian culinary training. Taking over the restaurant in 1966 was longtime steward Joseph Segretto. The Marcellos eventually renovated it in the 70s. Evelyn and Gunther Preuss kept the restaurant in their care for decades beginning in the 1980s until the Ammari family took it on in 2013.
Today, Jimi Setchim is the executive chef of Broussard's Restaurant.
"It's an honor to work in a kitchen with so much history and culture," Setchim said on Broussard's website. "I'm fortunate to have the opportunity to create special menus for this year that will both honor and celebrate the past while moving forward for the next 100 years."
To make a reservation for the BOOzy Brunch or to find out more info, visit broussards.com/event/boozy-brunch.