Nicknamed the "Big Easy," New Orleans is known for its round-the-clock nightlife, live music scene, and spicy, succulent cuisine. However, since the pandemic, many of us have focused on other activities, particularly moving the body and getting outdoors.
We are all aware of the mental and physical benefits of exercise, but did you realize that there are additional advantages to exercising in the great outdoors?
Below are five amazing benefits of outdoor exercise:
You will improve your immune system and reduce depression. Exercising in the outdoor natural environment can increase your hormone levels of serotonin and dopamine, while giving you an adrenaline rush of endorphins.

You will burn more calories and tend to work harder. Such climate conditions as temperature, various terrain, and wind resistance may force you to push harder in your exercise routine.

Outdoor exercise provides a low-cost solution for fitness enthusiasts of all ages. While local gyms and health clubs may be expensive and restrictive, outdoor venues such as parks and neighborhoods offer free space to families to enjoy and exercise together.

Without the additional travel time, crowded gyms, or scheduling constraints, going outside to exercise may be the best alternative for a quick workout and safe environment.

You will get a burst of vitamin D while exercising outside. Exposure to sunlight elevates your vitamin D production, which may help boost your self-esteem and mood.
One of the simplest ways to exercise in the outdoors is to take a walk. With its flat landscape and year-round warm weather, New Orleans is a great place to enjoy exercising outdoors. Read on to find out where you and your family can create your own workouts for exercising outside, from the many local parks to the outdoor recreational spaces across town.
Nestled in the heart of the city, New Orleans City Park, a colossal and pristine park with 1,300 acres of workout possibilities and recreation, offers endless fitness opportunities for all ages.
"We see people walking, running, jogging, dancing, walking their dog, and exercising," said Amanda Frentz, the director of public relations at New Orleans City Park. "City Park is proud to be able to remain open during this difficult time—to be there for the people of New Orleans."
Frentz mentioned several places to exercise at City Park, including the long and winding Marconi Bike Path and the Peristyle, a Grecian-style open-air pavilion that overlooks Bayou Metairie. A Zumba class is held there each Saturday for group fitness. Also, families can explore the nature of the Couturie Forest, which, combined withScout Island, is a 60-acre park filled with native trees, scenic waterways, and fascinating wildlife.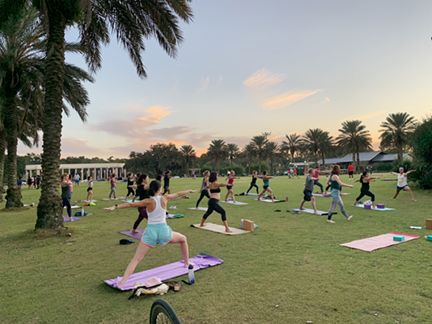 Everyone is welcome to participate in yoga classes at City Park, hosted by Crescent City Yoga on Wednesdays at 6 p.m. and Fridays at 5:30 p.m., near the Great Lawn, under the stadium light by City Putt. "We started Crescent Yoga in August 2020 after noticing that people were starting to get tired of Zoom classes and many studios were not offering in-person classes," said Lee Lemond (RYT-200), co-founder of Crescent City Yoga, a donation-based outdoor yoga community. "All of our classes are for all levels, all bodies, all ages, and by donation, with no minimum donation or requirement to pay. We average about 15 to 25 people and recommend that you bring a yoga mat and any other props you use for your practice. However, props are not required."
Another hidden treasure for fitness enthusiasts in New Orleans is Crescent Park, a 1.4-mile, 20-acre urban park that is located along the riverfront just beyond the French Quarter. This public recreational space provides native landscaping, bike paths, a dog run, and picnic areas for all to enjoy.
Located at the Sojourner Truth Neighborhood Center on North Galvez and at theJoe Brown Park in New Orleans East, the FitLot outdoor free fitness parks offer a mix of cardio and strength-training equipment designed for all ages and abilities to use. These community athletic parks are fun for the entire family and resemble an outdoor circuit gym with four chin-up bars, seated rowing machine, air walker, sit-up bench, and more. Check out FitLot.org/use for sample circuit-training workouts, instructional movement charts, and a library of instructional videos.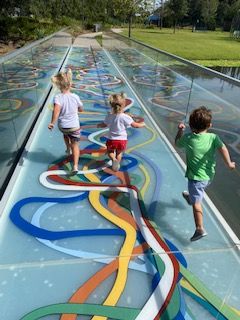 "As city-wide restrictions have eased and parks and playgrounds have opened back up, more people have been utilizing the outdoor fitness parks as a safer option to get outside and exercise," said Adam Mejerson, founding executive director of FitLot, a New Orleans-based organization that is dedicated to helping communities throughout the country build outdoor fitness parks. "Staying strong and healthy, both physically and mentally, is a major priority for many people right now, and we are glad that FitLot can serve as a tool and resource for the neighborhood."
Explore Audubon Park with its open green space, multiple playgrounds, and workout equipment. This is a favorite spot for families to gather and exercise amid the series of live oak trees. It features a 1.8-mile jogging path, tennis courts, soccer fields, expansive golf course, and pool.
In Metairie, you can visit Pontiff Playground, with its winding trail around the park and running track for public access. Or try the two-mile jogging trail, for some cardiovascular exercise, at Lafreniere Park. Young and old, athletic and recreational, everyone can enjoy the open green space, family picnic areas, landscaped gardens, championship Frisbee golf course, carousel, and sports fields.
Finally, Lakeshore Drive is a New Orleans favorite outdoor spot to exercise. Take a breathtaking bike ride along Lake Pontchartrain. Or create your own marathon by running from West End to Gentilly Boulevard while taking in the beauty of the lake and the enormous houses nearby.
Whatever you choose to do, New Orleans provides an oasis of endless exercise options for you and your family. Now that you are aware of our city's spectacular workout spots, get out there and move your body!
Celeste Turner is a writer, blogger, and fitness guru who was born and raised in New Orleans. Please email comments, suggestions, or ideas for articles to cmturner10966@gmail.com or check out her website: celestefit.com