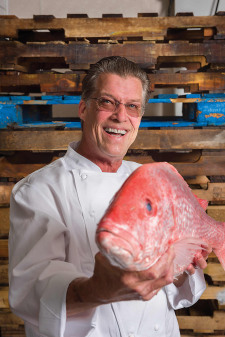 A great recipe is gold in these days of self-quarantine and social distancing. Amateur cooks all over the country are trying to re-create favorites from restaurants we can no longer visit … at least, not in the way we used to … not quite yet.
To aid us in our epicurean plight, Chef Frank Brigtsen, owner and operator of the beloved Brigtsen's Restaurant in the Riverbend, has just released his "'Stay at Home' Cooking" cookbook(let) last week. Self-published in paperback and sold online from Brigtsens.com, fans both near and far can now make some of their favorites with instructions from the master himself. Recipes include Caesar salad, shrimp and okra gumbo with andouille sausage, seafood jambalaya, crawfish mac 'n' cheese, crawfish étouffée, and even Brigtsen's acclaimed chocolate pecan pie.

To ensure just the right flavors, Brigtsen's also offers a couple of their own seasoning blends. "Veggie Mojo" is a great vegetable-brightening blend that can also be used as an all-purpose seasoning salt and "Mojo Blanco" is made for fish and shellfish.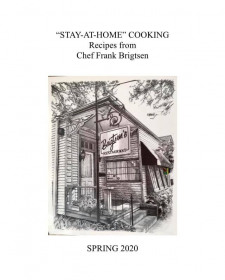 In addition to the cookbook and seasonings, Brigtsen has also been offering virtual cooking demos on Facebook, similar to what he has previously done live at the New Orleans Jazz & Heritage Festival in past years. Demonstrating recipes step-by-step straight from his new cookbook, Brigtsen has so far made succotash and Thai vegetable curry.

We're hoping he'll keep this up with future editions, but as it is Brigtsen's "'Stay At Home' Cooking" cookbook for $25 is guaranteed treasure. Unfortunately, home cooks won't be able to re-create the warm, welcoming environment that can only Frank and his wife Marna can provide, but that just means you'll have to visit when they reopen in the hopefully not-too-distant future!

**Photo of Frank Brigtsen by Romney