Bourbon Street is named after a royal family of France, but these days, it's not a place associated with regality. The notorious 13-block street was a residential area for the upper crust, with fabulous restaurants, in the 1800s. After the nearby legal red-light district Storyville officially shut down in 1917, Bourbon Street became the hotspot for debauchery, with a handful of high-end restaurants and lounges nestled within. By the 1950s, it was thick with nightclubs that had live music, bawdy entertainment, and striptease shows. Tourists come from all over the world to experience Bourbon Street, and this is where they can still go to hear that live music that they're so excited to experience.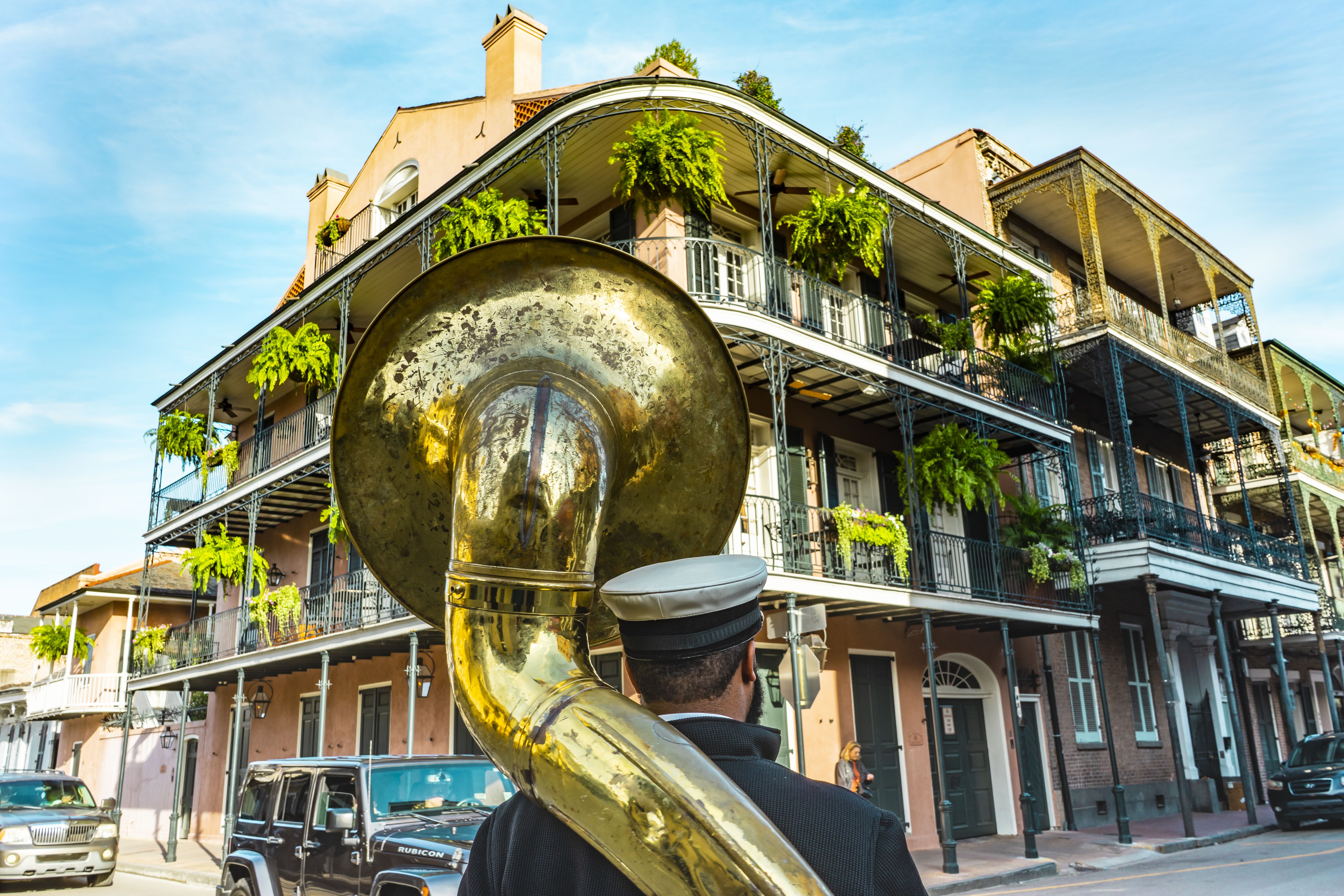 Starting from Canal Street and walking east down Bourbon Street, you'll encounter the Bourbon Street Drinkery at 217 Bourbon St. You can often catch a group of musicians like Mike Perez & The R&B Kings playing a variety of tunes right inside the bay window that faces the street. On the next block, The Jazz Playhouse is nestled within the Royal Sonesta Hotel at 300 Bourbon St. This dimly lit lounge harkens back to a time when crooners reigned on small, intimate stages at luxurious clubs. You can hear live jazz and brass music every single night of the week, or you can see a scintillating burlesque show.
Just across the street, you'll find the picturesque and one-of-a-kind New Orleans Musical Legends Park at 311 Bourbon St. The open-air park features statues of prominent local musicians, including Fats Domino and Pete Fountain, and you can usually hear the sounds of ragtime jazz softly wafting through air that is scented with the aroma of classic New Orleans dishes being served within the park. For those desiring a rowdier venue, Prohibition (333 Bourbon St.) often features a rotating roster of live bands and an open balcony for bead-throwing.
Famous Door, at 339 Bourbon St., lies on the corner of Conti Street; this long-running venue is a hit with tourists because they can easily walk into one of the two wide-open doorways and start dancing to a live band playing the top songs of the past few decades. This bar is "famous" because it regularly attracts celebrities of all sorts. The names of just a few of their better-known patrons are ensconced on one of the doors. Early in 2018, Steven Tyler of Aerosmith jumped up on stage to sing his hit "Walk This Way" with Sledgehammer, one of the resident bands. The band's vocalist Sonny Kane recalled the viral event: "I was watching an interview he did a week after that, and he said he couldn't hear it, but his friends could and dared him to go inside. He jumped up on stage and grabbed the microphone. I went into business mode, thinking how we could keep him here. I got up the next morning, and my friend in Philadelphia called me and said, 'Don't mess with me. Is that you on TV with Steven Tyler?' Before I even got up, the TMZ video had a million hits already."
He also named Bill Murray, Saints players, and Valerie Bertenelli among stars whom he has personally seen in Famous Door. "It's one of the rare places left in the world where you can go and still make a decent living. I have a little boy; he's 11. I've been raising him by myself since he was a year old," said Kane. "This allows me to do what I do for a living. If you can survive it and not kill yourself enjoying the party, it's a good time."
Surviving Bourbon Street as a full-time musician is easier said than done. Hundreds of musicians work on the strip at any given time, and they can be scheduled to perform for two hours, four hours, or, most likely, eight hours at a time. Many musicians also work several days of the week. "This is much harder than any other gig anywhere else because it's long. Anywhere off this street, the most you're going to play is three hours. Here, we're playing six hours, five nights a week," commented Ross Stephens from the Quarter Notes Band, which also performs at Famous Door.
His bandmate Kevin Noonan elaborated, "We played eight sets today, so we've been going at it since 12:00." However rigorous their working days can be, making a living as a working musician on this street does have several perks. "Instead of you going on tour, the tour comes to you. It's always a different crowd; they're always from somewhere else. We can just go in our backyard and play. We feel lucky that we get to do what we love for a living," Noonan concluded.
These musicians love playing music for the masses, yet they receive a wealth of criticism for performing cover songs as opposed to original music. The bands will tell you that well-known tunes are simply what people want to hear, and it's not as easy playing other bands' music as it seems. Vince Reeves of the known Bourbon band RockBox, currently performing at Fat Catz at 440 Bourbon St., stated, "RockBox has been around damn near 20 years. We have a huge repertoire, and just for me to be considered to be hired by this band, I had to learn like a hundred songs on top of the hundreds that I already knew. It's work. We just played three hours, and we've got to go back and play three more. I feel like a lot of musicians in the city look down their nose at us because we play covers. The fact of the matter is, people go out and do the tourist thing all day; they listen to jazz and blues. Once they have dinner and have had a few drinks, they want to hear what they know, and that's where we come in. We're providing a service that the other musicians in town don't."
Reeves was also visited by a rather famous musician while he was performing on Bourbon. He recalled, "One Jazz Fest, Billy Joel was in town. I happened to glance over to my right, and who should be standing there of all 10-12 people in the club but Billy Joel! My joke from there on out was, 'I've never seen Billy Joel, but he's seen me.'"
Another member of RockBox further explained how grueling it is being a full-time Bourbon Street musician and how playing here can be the ultimate test of anyone's commitment to making music. Eric Knight explained, "It's not like people who aren't on Bourbon Street, who only have to play for an hour and a half, maybe three at the most, because they can hold it together for that long. The thing about being on Bourbon Street is that we have to be at the top of our game all night long. We have to play AC/DC's greatest hits, Guns N' Roses' greatest hits, Journey's greatest hits, and we have to play them for seven to eight hours a night. No other bands in the country have to do that. Nobody else has the ability to play the hours that we play at the level that we play, and it's not just RockBox. It's across the board on Bourbon Street."
Knight said that musicians here are called "combat musicians" because of the sheer physicality of the job. The musicians play not only for long hours, keeping their energy at a very high level, but also in bars that are often the same temperature that it is outside. "You have to be so good that people are willing to walk in for free and stay for hours. That's how good you have to be to be here. The competition for bands on Bourbon Street is so expansive that you have to be so good all the time to keep their attention. That's what people don't understand about what we do. This is a good training spot for your chops. Bourbon Street is a very underrated job," he said.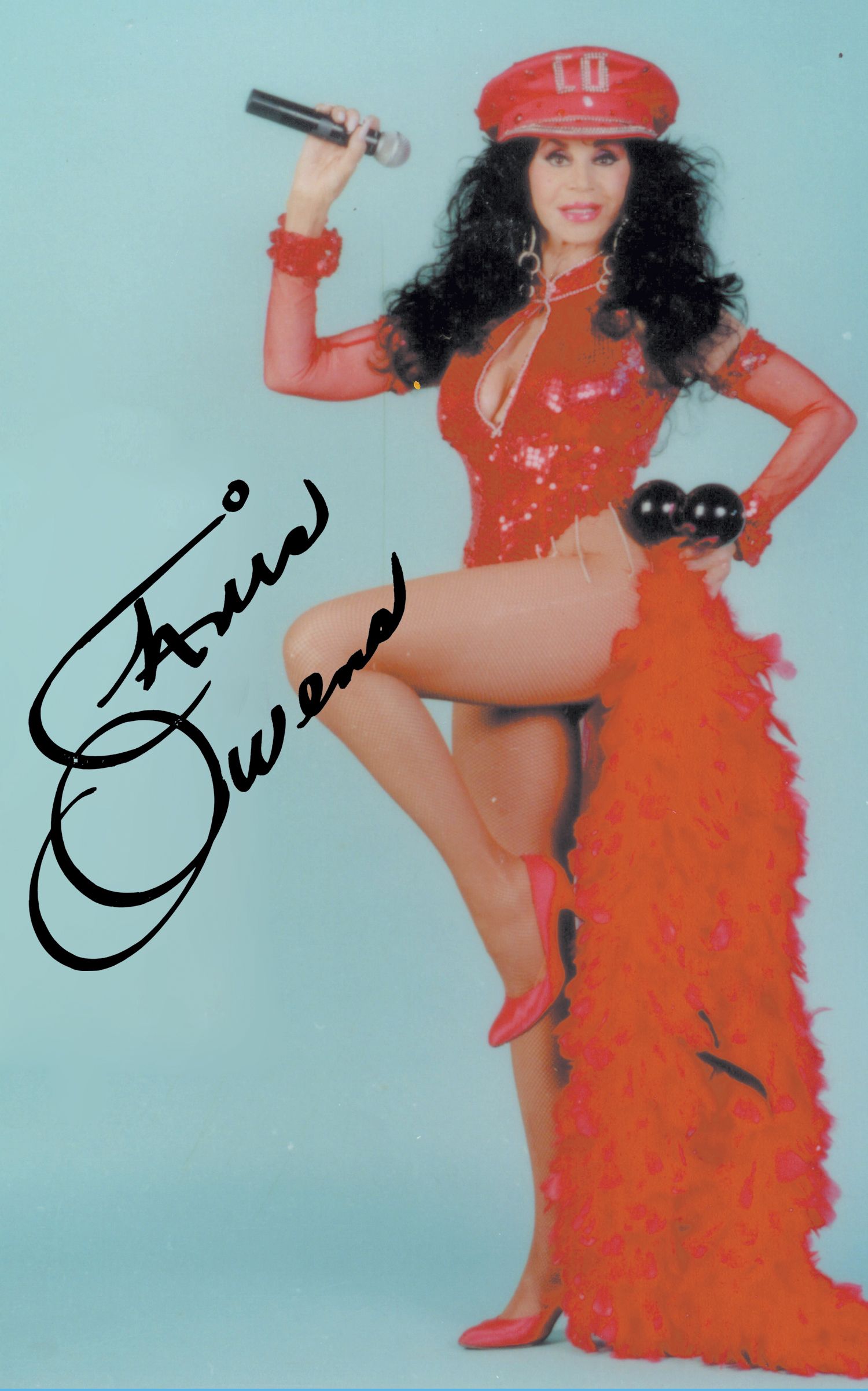 Chris Owens may not be as well known for her musical talent as for her dancing and dazzling talent, but she's been a part of the show at The Chris Owens Club at 500 Bourbon St. since the 1950s. You can still see her perform with a backing band playing Latin tunes on most nights of the week. Funky 544 is an open-door bar with live musicians and emcees pulling people in from the street.
As you wander down Bourbon Street in the middle of the French Quarter, you'll find most of the Tropical Isle clubs. The Original Tropical Isle and the attached Bayou Club at 600 Bourbon St., Tropical Isle Bourbon at 721 Bourbon St., Little Tropical Isle at 435 Bourbon St., and The Funky Pirate at 727 Bourbon St. are popular spots to grab the infamous Original Hand Grenade. However, the music coming from the bands is even sweeter. Owners Earl Bernhardt and Pam Fortner employ dozens of bands to perform at each of their locations along Bourbon Street, and most of the bands play original music, especially Cajun and zydeco music.
Tristan Harrell is a regular performer at The Bayou Club, playing with or fronting several bands that are scheduled there; musicians have a way of flowing from band to band on this street. Harrell, a New Orleans native hailing from Uptown, started playing at Tropical Isle after busking in the streets of the Quarter. "That was my full-time shtick. When you first start busking, you have a lot of energy, and you want to do it all the time, but it does wear you out because it's an intense hustle. I still do it just because the camaraderie is nice. You meet a lot of people that you otherwise would not have met. I met Jessica Lange like five times busking," he said.
Harrell chose to move indoors to one of the Tropical Isle clubs because they would allow him to play something dear to his heart. "This is my only experience playing regular gigs, and this is the only club that plays Cajun music. In that regard, I love it, because Louisiana culture is my culture."
Despite the constant flow of tourists buying Hand Grenades, it can still be challenging to keep people from leaving. He continued, "The people who come to dance generally stay a long time. The people who come to sit and listen-it just depends. Bourbon Street is constant unpredictable activity. It can be calm, it can be super crazy, but it can also be dead. It's sort of a litmus test to how the rest of the city is. You know how busy things are in the city if you look out on Bourbon Street. I'm from here, so I've always known about Bourbon Street. I get it. It's fun, but you have to play music and keep a crowd. People come in, and you've got to keep them there."
Big Al Carson has been a big draw at Tropical Isle's The Funky Pirate for many years, with his band The Blues Masters, and he feels "blessed" to be part of a well-known Bourbon Street act. He credits the Tropical Isle Corporation for keeping the music alive on this street, especially in the wake of Hurricane Katrina. He said, "We were right there a month and a week later. We were back on the bandstand playing for the troops, for the workers, for whoever was out there, and obeying the curfew. We are making people aware that the blues is still a part of the scene here in New Orleans. Musicians are the ambassadors of jazz and blues by just being from New Orleans."
There are even more places to see live music in addition to all of these bars. There's the Old Opera House (601 Bourbon St.), My Bar 635 (635 Bourbon St.), Krazy Korner (640 Bourbon St.), Maison Bourbon (641 Bourbon St.), and Fritzel's Jazz Pub (733 Bourbon St.). At the very end of the commercial section of Bourbon Street, there's always a piano player taking requests at Jean Lafitte's Blacksmith Shop at 941 Bourbon St.
These working "combat" musicians have passion, dedication, and tenacity for their craft and for the city. Without Bourbon Street, New Orleans would be an entirely different city. And Bourbon Street would not be known the world over as a must-see destination if it weren't for each and every musician playing his or her heart out every single day and night.