[updated: 3/11/2020]
Bourbon Festival postponed. More info on organizer's website: https://www.neworleansbourbonfestival.com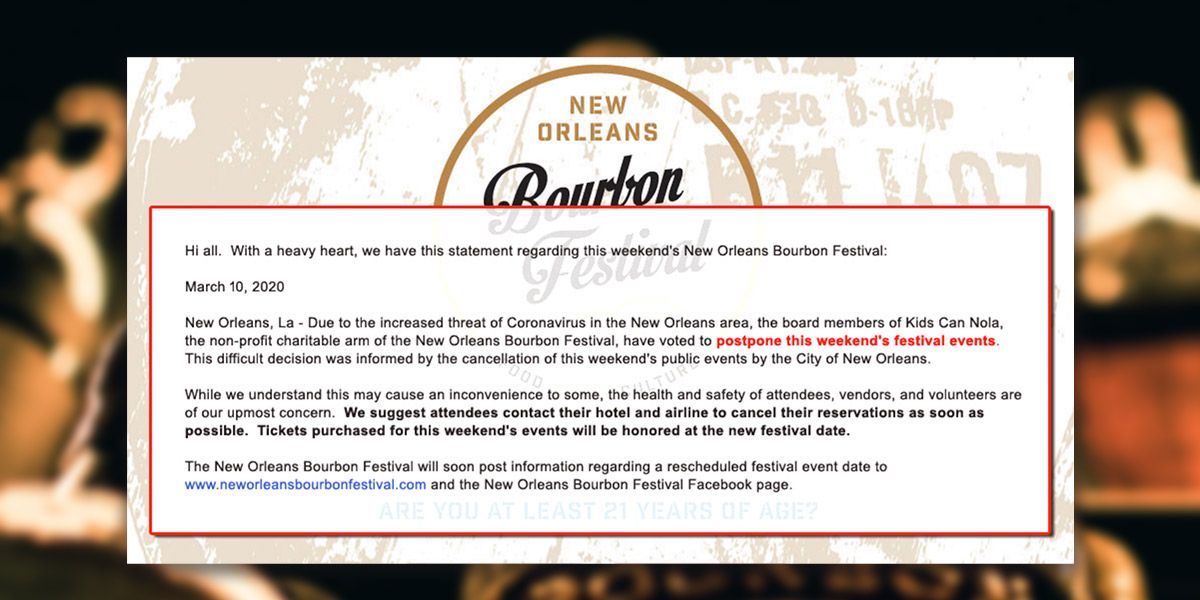 [original post date: 03/06/2020]
Bourbon Festival will be held at the Contemporary Arts Center and the Hilton New Orleans Riverside hotel from March 11 through March 14, 2020. Experience food, spirit, and the culture of New Orleans at the 4th Annual New Orleans Bourbon Festival presented by Beam Suntory. Festival-goers will enjoy bourbon from the finest distilleries and restaurants in the city in addition to world-renowned food, music, and culture.

Guests are invited to participate in a number of events, one of which is a Bourbon Seminar Series, that will take place at the Festival Headquarters. Learn about topics like Bourbon History, Master Distiller Talks, Women in Bourbon, Food Pairings, and beyond surrounded by fellow festival-goers. During the Grand Tasting, guests are invited to sample the finest Bourbon in the city and enjoy authentic New Orleans cuisine at a New Orleans themed 1920's speakeasy. Shop for Bourbon-inspired trinkets and souvenirs from the vendors set up in the courtyard just outside the speakeasy.

Those in search of the best Bourbon and New Orleans culinary experience should sign up for one of the many Sponsored Bourbon Dinners offered. Several premier New Orleans restaurants such as Emeril's Delmonico, Cochon, and Briquette, plan to provide guests with a one-of-a-kind dining experience, featuring some of their menu's best dishes paired with Bourbon from some of the city's finest distilleries.
Guests are sure to be entertained by Bourbon & Burlesque with Trixie Minx, a burlesque show presented by Old Forester, or "The Jim Beam Bourbon Brawl." The competition is as follows: eight bartenders will compete for a first, second, and third-place prize and bragging rights. The 2020 Bourbon Brawl bartender competition will take place at Masquerade at Harrah's from 7:00 pm until 9:00 pm on March 11. Tickets to Bourbon Festival are available for purchase here.