The Musicians' Clinic & The Blood Center Community Blood Drive Series are hosting weekly summer blood drives at a different temporarily closed live-music venue every week, every Saturday in June, from 10 a.m. to 7 p.m. The blood drives are being held in hopes of giving back to New Orleans as hurricane season approaches and a blood supply is needed.
"Clubs and venues are such an important part of New Orleans's cultural ecosystem, so while they remain essentially shuttered, we figure we should do some good and help collect blood at a time when New Orleans really needs it," said Erica Dudas, the managing director of New Orleans Musicians' Assistance Foundation, which is the community health nonprofit behind the New Orleans Musicians' Clinic, a 22-year-old medical service for local musicians in New Orleans.
The venues will change each week, starting at Tipitina's on June 6, then moving to The Howlin' Wolf on June 13, followed by Snug Harbor & d.b.a. on June 20, and ending with Ashe Cultural Arts Center on June 27. To sign up to donate blood, go toneworleansmusiciansclinic.org/blooddrive.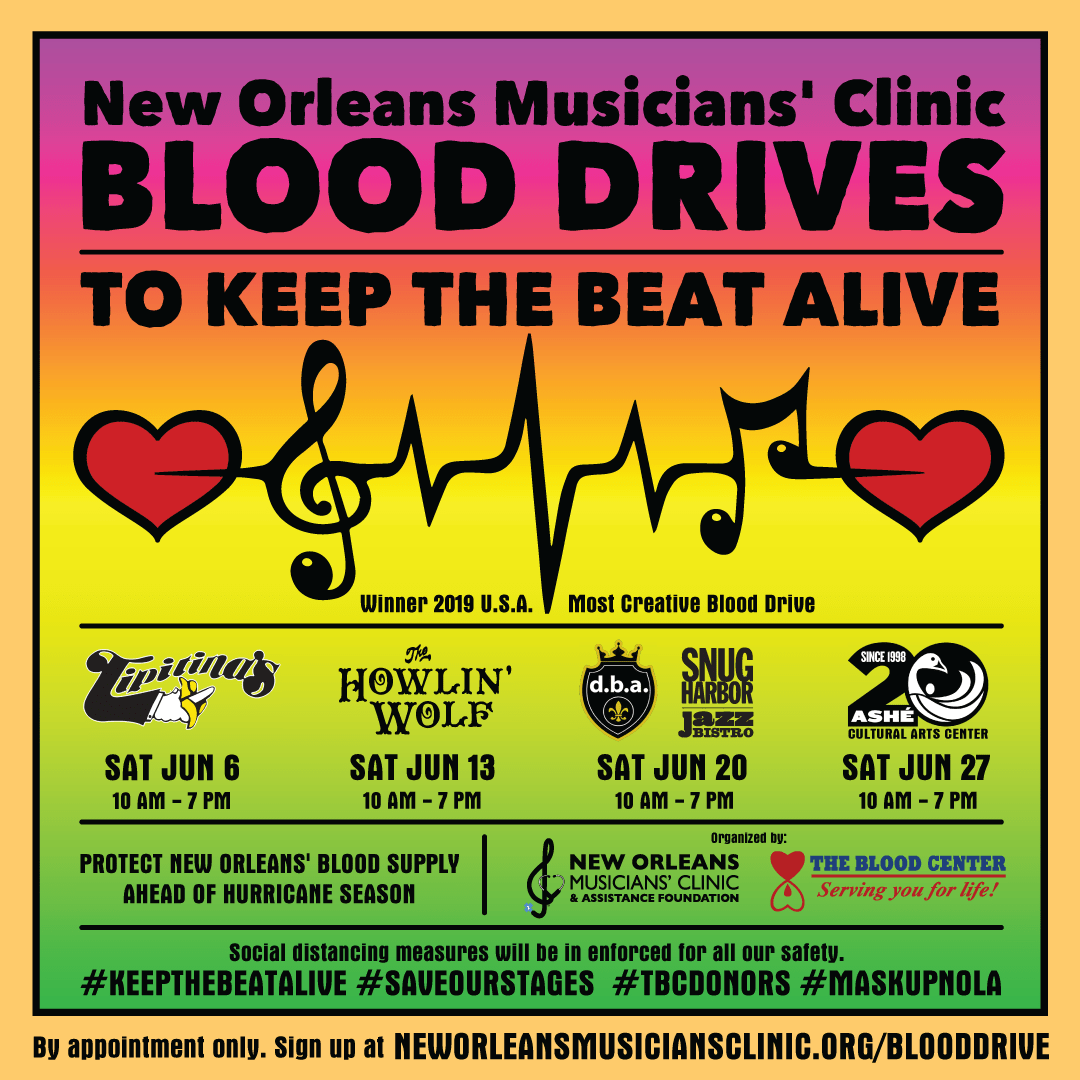 "The musicians, fans, and those who take care of them are what makes New Orleans the most magical place on earth," Howie Kaplan, owner of the Howlin' Wolf, said. "While we may not be open for live shows, hosting the Blood Center is even more important. Many of our performers count on the Center and the Musicians' Clinic to help. I'm proud that during this time, we're able to assist in some way."
Donations will be tested for COVID-19 antibodies. All donors will be required to schedule their donations in advance, so staff and donors can practice social distancing.

"When The Blood Center reached out, their idea was to find one venue that could accommodate a large amount of blood donors while keeping everyone safe and adhering to social distancing policies," Dudas said. "But we knew that with hurricane season approaching, we could do more. So, we called on some of the venues we work closely with in New Orleans and asked for help. Within a few hours Tips, Howlin' Wolf, Ashe, Snug, and d.b.a. were all on board."
Many of New Orleans's beloved artists, such as DJ Soul Sister; Derrick Freeman, the leader of the Soul Brass Band; and Stanton Moore, have created playlists for backdrop at the donating venues, in place of the live music we all miss.
The Blood Center is a nonprofit organization that is a primary supplier of blood and blood components for more than 50 areas throughout Southeast Louisiana and Southern Mississippi.
For more information, call 1-(800) 86-BLOOD or visit TheBloodCenter.org.For information regarding the New Orleans Musicians Clinic, visit neworleansmusiciansclinic.org.