If you've ever been told that money is power, you know that where you spend your dollars is important. The choice between driving to Walmart and trekking to your local corner store is also a choice between supporting a corporation and supporting your community. In the midst of the Black Lives Matter movement, more and more people are looking to spend intentionally, by supporting black-owned businesses and giving to organizations supporting black individuals.
The New York Times reports that the movement to "Buy Black" has been around since the Reconstruction Era. As black businesses began to thrive and black Wall Streets popped up throughout the country, civil rights leaders urged followers to put dollars back into the black community. It was seen as both resistance and empowerment. White people often saw these black hubs of socioeconomic activity as threatening and committed acts of violence against these communities, most notably in the Tulsa Greenwood Massacre. In spite of all the adversity they faced, black entrepreneurs continued to innovate. Now, people across the country are looking to support black-owned establishments, and they have countless resources at their disposal.
New Orleans is lucky to have a bevy of black-owned businesses, from restaurants to salons, candy stores to tour companies. Here are just a few highlights. Of course, there are many, many more than we could also list here, and we encourage you to find your own local favorites.
Restaurants, Cafés, and Bars
Morrow's
Morrow's is relatively new to the scene, opening in 2018, but it's already making waves. The restaurant, which serves authentic Korean and New Orleans dishes, was started by mother-son team Lenora Chong and Larry Morrow. It's received attention from across the country: The New York Times lists it as the number-one spot to visit in New Orleans. It's definitely worth checking out. 2438 St. Claude Ave., (504) 827-1519, morrowsnola.com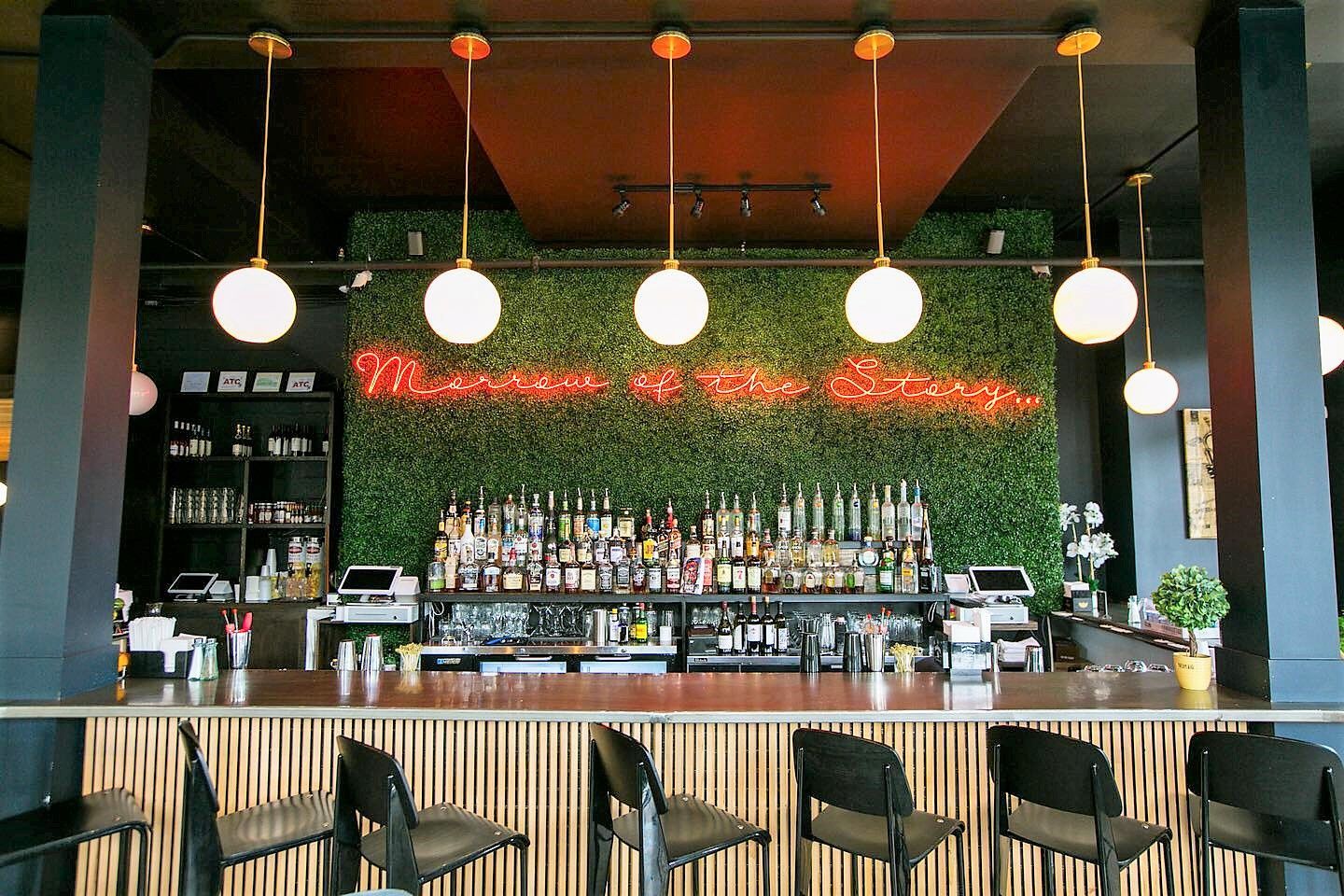 Vegan Wit' a Twist
According to WDSU, this relatively new restaurant was started after Roy Joseph, then a barber, brought vegan food to his coworkers Ryan Billew and Ollie Williams. All the food is plant-based, and the "twist" is, of course, New Orleans seasoning. Their food both tastes and looks delicious, and their 21,000 Instagram followers agree. 3735 Ulloa St., (504) 766-0336, veganwitatwist.com
Backatown Coffee Parlour
Backatown's charm is hard to measure. In an interview with Very Local New Orleans, co-owner Alonzo Knox spoke of the importance of presentation: All of Backatown's plates come with some type of garnish. They coffee joint is located in a building that used to be housing projects, and Knox says that this was important to him and his wife; they wanted to revitalize the community they loved. Backatown hosts community events, such as political talks and book signings, and they're exactly what a coffee shop should be. 301 Basin Street, Suite 1, (504) 372-4442, backatownnola.com
Café Abyssinia
For authentic Ethiopian food, Café Abyssinia is a must. Located on Magazine Street, this cozy establishment offers outdoor seating and delicious dishes at an affordable price. Founded by Ermias Alemu in 2010, Café Abyssinia has become a New Orleans favorite. In an interview with NOLA.com, Alemu noted that when he arrived in New Orleans from Chicago, there was no Ethiopian restaurant in the city. Café Abyssinia changed that, and New Orleans is better for it. 3511 Magazine St. #B, (504) 894-6238, facebook.com/CafeAbyssiniaNola
Lil' Dizzy's Cafe
Although Lil' Dizzy's Café opened in 2005, it has decades of history behind it. Their website tells the story of owner Wayne Baquet, whose father was the namesake for Eddie's, a now-closed New Orleans classic. Their menu features the phrase "Always Hot & Straight from the Pot," and even thinking about their Creole and soul food should make you hungry. 1500 Esplanade Ave., (504) 569-8997, lildizzyscafe.net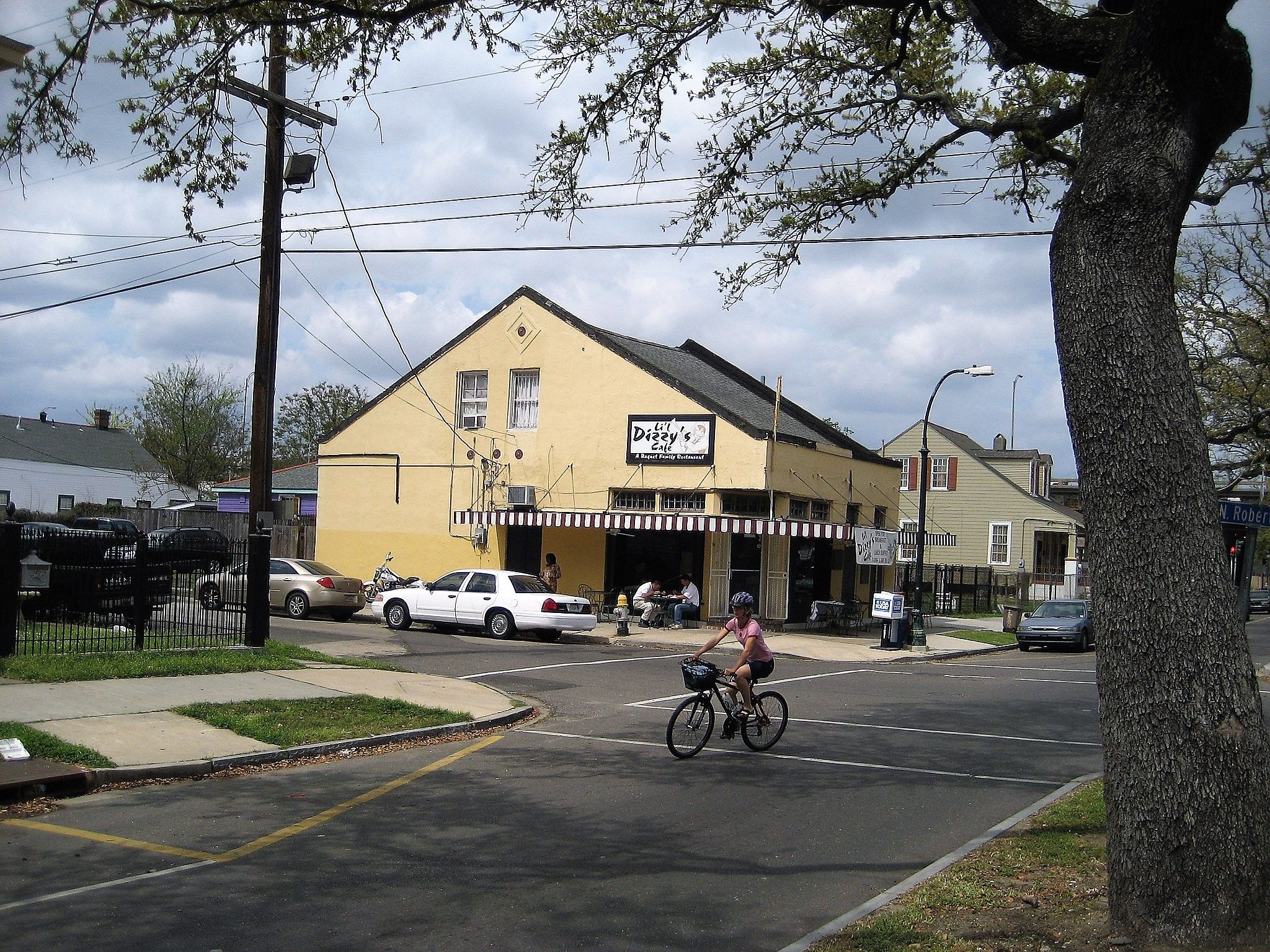 Shops
Loretta's Authentic Pralines
If you're looking for something sweet, Loretta's is the place to go. Because of the coronavirus, they're currently mailing all orders (and who wouldn't love for some peanut butter pralines to arrive at their doorstep?) and offering pick-up services. Loretta's also sells cookies, treats, king cakes, and gift baskets, so they've got your sweet tooth cravings covered. 2101 N. Rampart St., (504) 944-7068, lorettaspralines.com
Mona's Accents
The floral arrangements from Mona's Accents could brighten up anyone's day (and if you're feeling down, you could even buy some just for you). These fun and festive flowers are stunning, and Mona's is currently offering internet ordering and contactless delivery. Designs are available for every occasion, but they're also happy to help you create something all your own. 2109 N. Claiborne Ave., (504) 944-7001, monasaccents.com
Community Book Center
More and more people have been discussing race and racism, but the founder and owner of Community Book Center, Vera Warren Williams, notes that Community Book Center has been doing that for 35 years. The store sells not only books, but also art, fabrics, and gifts. They're open for business Tuesday through Saturday, so head on over to discover unique stories, further educate yourself, and continue the conversation that Community Book Center has been having for decades. 2523 Bayou Rd., (504) 948-7323, readcbc.com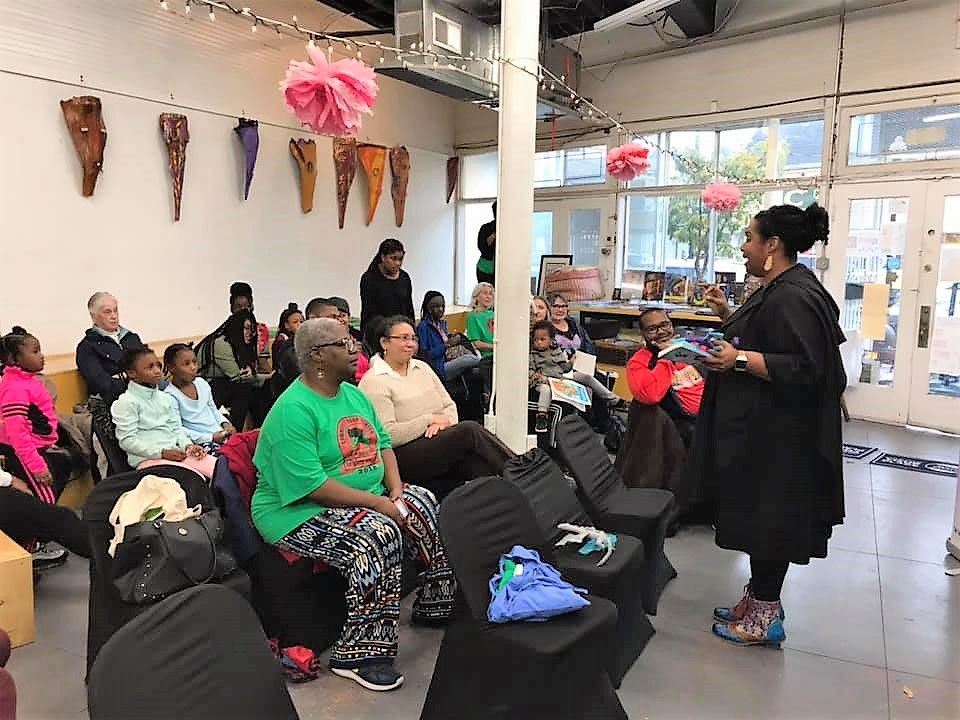 Material Life
Because they sell everything from décor to jewelry, it's hard to define Material Life, but it's clear that they support black creators and the larger black community. Their Instagram page has long featured black artists, many of whom are from right here in New Orleans. If you're looking for something one-of-a-kind, either to hang on your walls or rock on your next date night, Material Life is the place to go! 2521 Bayou Rd., (504) 383-3281, material.life
Products and Services
Ole' Orleans Wines
Founded in 2018 by Kim Lewis, Ole' Orleans Wines aims to make high-end, elegant wine inspired by the legacy of New Orleans. According to Travel Noire, only about 1 percent of wine companies are owned by black women, so Lewis is already breaking barriers. Currently, she has two wines available: Ole' Carrollton and La Villiage de Chapitoulas. And you can find stores that sell them through the store locator on the Ole' Orleans webpage. P. O. Box 750423, oleorleans.com

Magnolia Yoga Studio
Magnolia Yoga Studio strives to offer a sense of community to its patrons. In an interview with Shoppe Black in 2017, owner and founder Ajax Jaxon revealed that she first found her passion for yoga in Iceland and that bringing it to New Orleans was quite the journey. The community couldn't be more thankful for her work. Because of COVID-19, Magnolia Yoga Studio is offering Zoom classes and limited-capacity outdoor classes. More information is available on their webpage. 301 Basin St #2, (504) 302-2304, magnoliayogastudio.com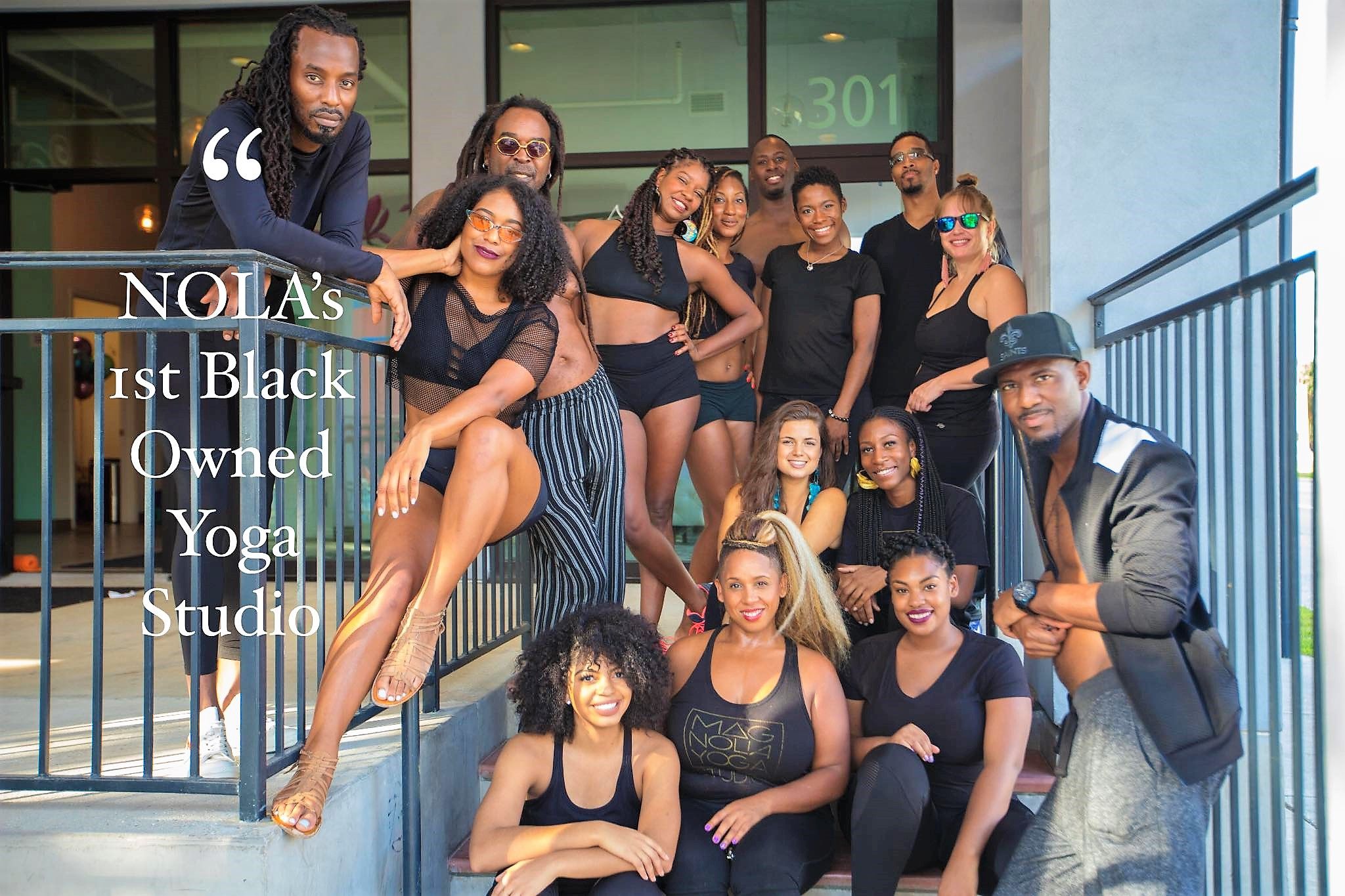 Esthetique Facial Spa
Since 2008, Esthetique Facial Spa has been providing customers with services from waxing to facials to threading. Their website is full of testimonials from a wide range of individuals, and it's clear that people leave more than satisfied. So whether you're looking for someone to apply lashes, wax your beard, or offer you a soothing facial, Esthetique is the place to go. 714 Adams St., (504) 896-1006, efacialspa.com
Aart Accent Tattoos
Aart Accents is the oldest tattoo shop in New Orleans, and they leave quite the legacy. Inked Magazine reports that owner and artist Jacci Gresham was the first-ever black female tattoo artist in America, and she's been inking people for over 40 years. Official Black Wall Street notes that Gresham is extremely respected for her work with color and corrections, which means Aart Accent has you covered if you're hoping to hide an old piece, or if you're looking to start with a blank canvas. 1041 N. Rampart St., (504) 581-9812, bestprosintown.com/la/new-orleans/aart-accent-tattoos-and-piercings, facebook.com/Aartaccent504
Cajun Fire Brewing Company
Cajun Fire Brewing Company is the first black-owned brewery in the Big Easy, and the fifth black-owned brewery in America—ever. Currently, they're offering two brews: Honey Ale and Big Chief Crème Stout. It's clear that New Orleanians want to get their hands on Cajun Fire products; after first selling in stores in 2019, Very Local New Orleans reported that they sold out within 72 hours. Check out the locator on their website to find Cajun Fire beer near you. 10555 Lake Forest Blvd., Ste. 3D, info@DrinkCajunFire.com, drinkcajunfire.com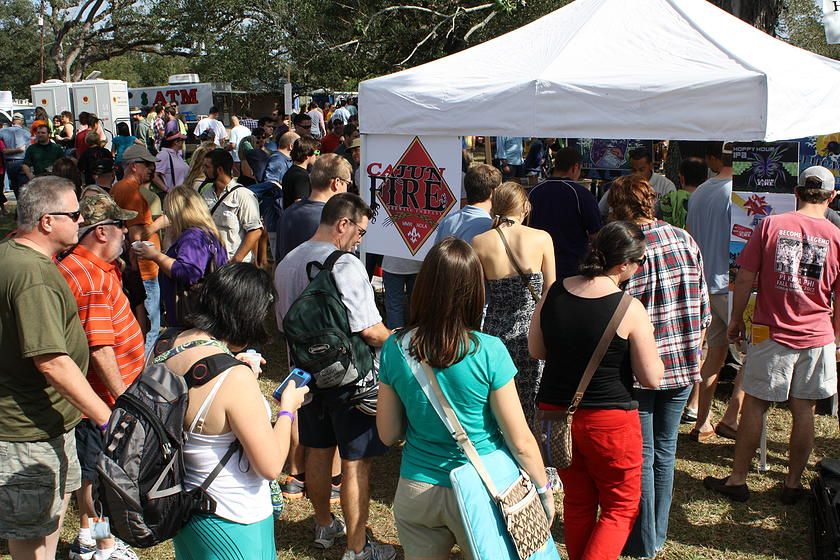 Galleries and Museums
The Backstreet Cultural Museum
The Backstreet Cultural Museum began in Sylvester Francis's garage and now has grown into a historic, important museum that celebrates everything that makes New Orleans special. Its permanent collections center around the Mardi Gras Indians, jazz funerals, and social aid and pleasure clubs. The museum also has educational programs and engages the community throughout the year, outside of museum walls. With admission set at $10, The Backstreet Cultural Museum is perfect for a day trip, whether you live in the Big Easy or are just visiting. 1116 Henriette Delille St., (504) 657-6700, backstreetmuseum.org
Stella Jones Gallery
From pharmacy to gynecology to art curation, Stella Jones has done a little bit of everything. Her renowned gallery displays contemporary African, African American, and Caribbean art. For Jones, owning an art gallery is more than a job. It's a passion and a dream she shared with her late husband. Past and present exhibitions are featured online, but, of course, nothing beats seeing the art in person, so head on over to the Stella Jones Gallery, which is currently featuring a collection called "Just Above My Head," by Charly Palmer. Place St. Charles, 201 St. Charles Ave. #132, (504) 568-9050, stellajonesgallery.com
Treme's Petit Jazz Museum
Treme's Petit Jazz Museum was founded by Al Jackson, who grew up in the Treme himself. Jackson was always surrounded by the rich history of the Treme, and after multiple other careers, including working in the city government, he decided it was time to share that history with the world. His museum tells the story of the origin of jazz, and its location in the Treme neighborhood is significant. There's something powerful about learning how jazz music came to be, right where it all began. 1500 Governor Nicholls St., (504) 715-0332, tremespetitjazzmuseum.com
Gallery Cayenne
If you're looking to see awe-inspiring artwork by a world-renowned artist, Gallery Cayenne is the place to go. Featuring the art of Shakor, a New York native who moved to New Orleans in 1990, Gallery Cayenne is located in the French Quarter and easily attracts tourists. Shakor owns and operates the gallery, selling a number of art pieces, including valuable giclee reproductions. 702 Decatur St., (504) 585-1050, gallerycayenne.com
Nonprofits and Charitable Organizations
BreakOUT!
BreakOUT aims to support New Orleans's LGBTQ+ youth of color, specifically working to end their criminalization, through a variety of programs and initiatives. Some of their programs work with youth currently enrolled in local high schools, whereas others offer educational opportunities to those pushed out of schools. They actively fight against increases in policing and support undocumented workers through their VICE to ICE campaign. Check out their website to see more about their work, to volunteer, or to donate. 4327 Canal St., (504) 252-9025, youthbreakout.org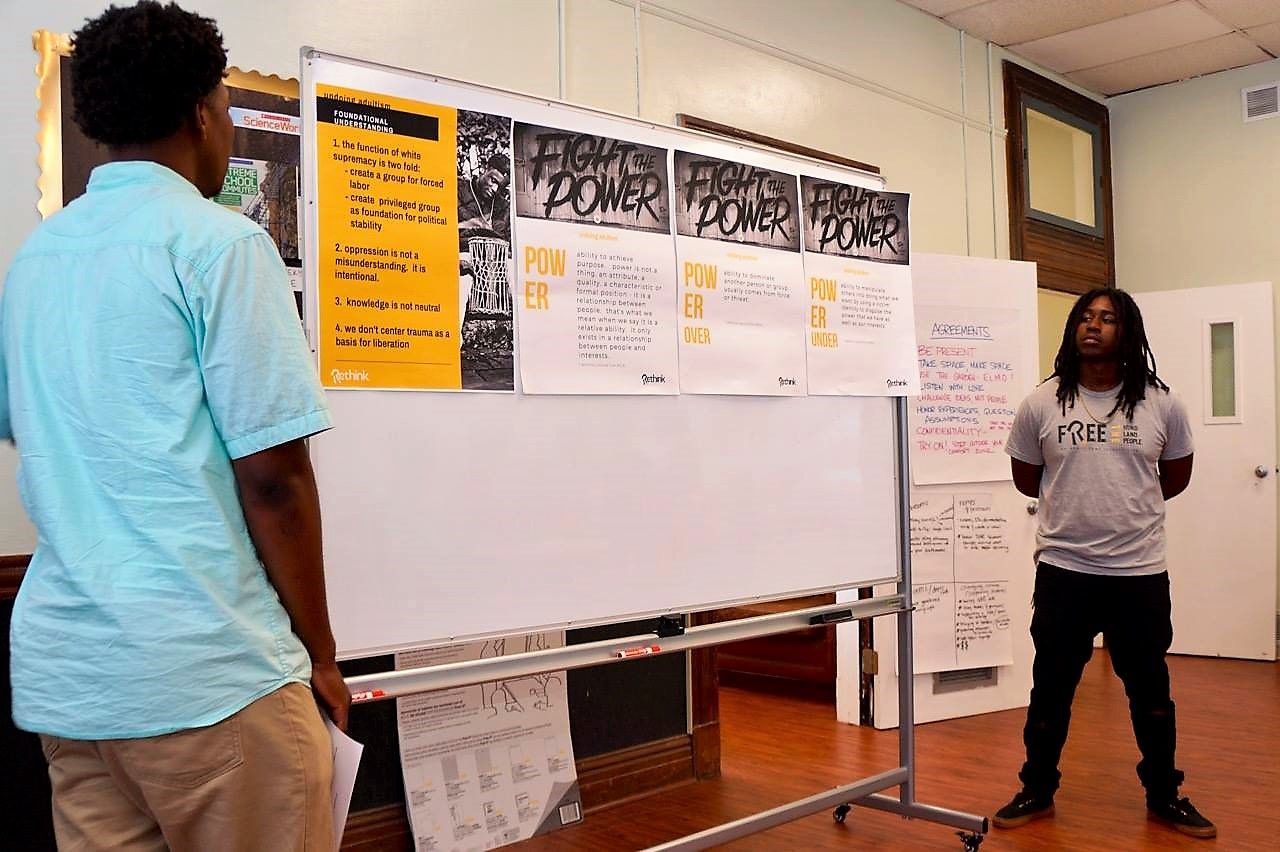 BENOLA
Black Education For New Orleans, or BENOLA, aims to create a better educational system for black students by empowering black teachers and institutions run by black educators. Their website notes that studies have proven that students do better when taught "by professionals who look like them." BENOLA's programming includes a Black Education Summit, which encourages discourse about what a better educational future looks like. For more of their work or to donate, be sure to head over to their webpage. blackedunola.org
The 100 Black Men of Metro New Orleans
The 100 Black Men of Metro New Orleans is a chapter of international organization 100 Black Men of America. The New Orleans chapter allocates their time and resources to focusing on mentoring, education, health and wellness, and empowerment. Their work includes everything from scholarships to health workshops. To read more about their mission and initiatives or to offer support, click on the link to their website. 6600 Plaza Dr., 203rd Fl., (504) 208-9337,100blackmennola.org
Women With A Vision
Women With A Vision began in 1989 as a response to the AIDS crisis, which was disproportionately affecting communities of color. Since then, the organization has maintained its commitment to ending the AIDS epidemic and grown to do so much more. Among other initiatives, the organization aims to reform drug policies, end sex-work criminalization, and encourage civic participation. To volunteer, donate, or read more about the work of Women With A Vision, check out their webpage. 1226 N. Broad St., (504) 301-0428, wwav-no.org