Created to provide opportunities to "inspire, mentor and enable youth to reach their full potential through culinary, nutrition and arts education," the Emeril Lagasse Foundation has recently announced their commitment of $500,000 in grants to support youth organizations, families of hospitality workers and to fund community meals in Louisiana, Nevada and Florida in response to the pandemic.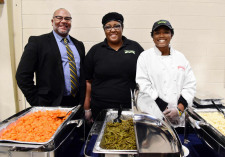 The local non-profit founded by Chef Emeril Lagasse and his wife Alden has already rolled out $150,000 in grants to organizations providing services to vulnerable communities such as Second Harvest Food Bank of Greater New Orleans and Acadiana, Covenant House, Café Reconcile, Café Hope, Liberty's Kitchen, Youth Empowerment Project, and Three Square Food Bank of Las Vegas. In addition to the immediate grant funding, the Foundation is collaborating with Emeril's Homebase to provide weekly meals to youth in the community, as well as, to Emeril's restaurant team and family.

"The need to support the youth in our community is a priority of Alden and I through the work of our Foundation. The need is more overwhelming than ever," says Emeril Lagasse. "We are committed to our mission of helping disadvantaged youth during this extraordinary time."

Understanding that we are far from clear of the economic impact of COVID-19, the board of directors at the Foundation have allocated $125,000 in grand funds for local hospitality industry workers to be disbursed this fall. For more information or to offer your donation to the Emeril Lagasse Foundation, please visit their website at Emeril.org.