Valentine's Day isn't about chocolates and hearts and fluffy, huggable stuffed animals, though I very much enjoy those things—please bring them to me! Valentine's Day is about showing someone you love that you love them. It's about carving out a bit of time and doing something personal, something special. In my book, nothing says "I love you" more than a messy picnic and a batch of badly burnt cookies.
I've decided to tackle an unnecessarily complex double-tiered, almond flour-based, jam-filled baking recipe, because I enjoy a challenge and because that's always been my mom's favorite sweet treat.
Speaking of moms, every mom deserves some recognition on Valentine's Day. It's often stated that a mother's greatest love is her child, so reciprocate. Call her up. Send her a card. Pick out a bouquet of her favorite flowers. (Not everyone is a long-stemmed-red-roses kind of gal.) What's your mom's favorite? Irises? Dahlias? Peonies? Tulips? Come on, you should know this! She's your mom.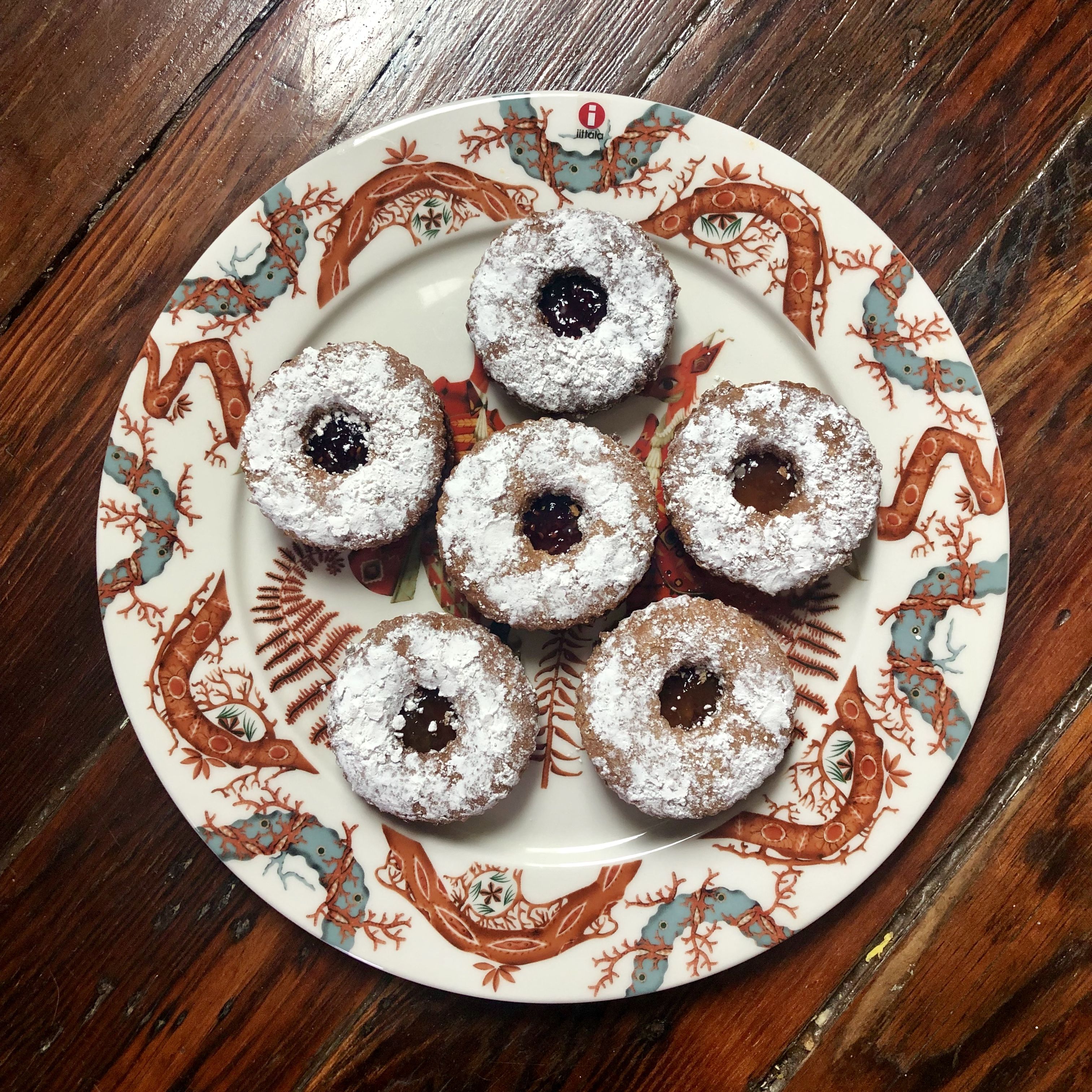 This valiant attempt at raspberry almond Linzer tarts is the Valentine's Day card for mine.
WhatYouNeedtoStockYourKitchen:
1 large egg
1½ sticks (unsalted) butter
1½ cups all-purpose floura
¾ cup almond flour
½ cup sugar (I used brown sugar)
1 tsp cinnamon (I've heard that you can also sub,
with lemon zest, which is exciting, so maybe try that!
1 tsp vanilla extract
¼ tsp salt
Some raspberry jam for filling (as much as you want!)
Or apricot jam (go crazy with your flavor choices! This one was yummy, too.)
Confectioner's sugar
Preparation:
Making the dough itself is pretty straightforward. I beat all the ingredients together—wet first, then dry, and just sort of made a mess of it. Officially, you're supposed to separate the ingredients to do it properly, so let's try it that way.
Whisk the 1½ sticks of (unsalted) butter, ½ cup of white (or brown) sugar, and 1 tsp cinnamon (or lemon zest) together, creating a fluffy texture. Add in the egg and 1 tsp vanilla extract and continue to beat until absorbed.
In a bigger bowl, whisk together the 1½ cups of all-purpose flour,¾ cup of almond flour, and ¼ tsp salt.
Combine all of the ingredients together, without overmixing.
Pat the dough into large pancakes, cover in plastic wrap, and refrigerate.
*This is where I will mention that the recipe naturally lends itself to being gluten-free. If you substitute the 1½ cups of all-purpose flour with a gluten-free version, like Bob's Red Mill Natural Foods or Trader Joe's or King Arthur's brand, it doesn't change the texture much (which is usually the big issue with gluten-free baking). Because of the almond flour, it still retains its integrity, and I served the final product to several unsuspecting friends who had no idea that they were eating a gluten-free dessert.

Once the dough has hardened in the refrigerator, let it soften on the counter for 5 to 10 minutes. It should be soft enough to work with, but not sticky.
Roll out the dough between 2 sheets of wax paper, then recycle the paper by using it to line the baking sheets. The thickness of the dough and the size of the cookie cutters is really up to you. (You can even use a round cup to cut out the outer circle of the cookie and a knife to cut a hole of any shape in the center, by hand). As long as all of the cookies are uniform, it'll be right.
Preheat the oven to 350°F. Make sure that you have an even amount of simple round cookies and round cookies with center holes. Bake them for 11 minutes if small and up to 18 minutes if larger.
Wait for the cookies to cool. Coat each circular cookie without a hole, upside down, on its flat side, in jam. (Raspberry is the classic, but every flavor is pretty delicious, so feel free to experiment. I like apricot as an alternative.)
Sprinkle the cookies with the holes in the middle in confectioner's sugar. Go crazy! It looks pretty. It tastes good. This is not the scientific part of the process.
Lightly place the sugared cookies on top of the jam-covered cookies.
We have reached the end of our baking adventure. The Linzer tarts have now been baked and constructed and should look like tiny works of art.
*This recipe is ambitious, and I messed up my whole first batch, so the most important thing is to spend Valentine's Day with someone who will tell you that you're wonderful, even if your cookies aren't. When you get them just right, however, they're out of this world!
Picnicspotsuggestions:
All right, now that you've made your fancy dessert, give yourself a break and pack sandwiches and fruit or takeout from your favorite restaurant in the picnic basket.
Be careful to bring plastic cups and plates, so you're not dealing with broken glass and a crazy mess when things tip over.
Find a private spot in a grassy place. There are so many hidden ones in City Park, Audubon Park, Louis Armstrong Park, Lafreniere Park, by the bayou, the waterfront, and the End of the World.
If you're looking for even more solitude, there are a ton of nature preserves, less than an hour from the city: Bayou Sauvage, Chalmette Battlefield, St. Bernard State Park, Bayou Segnette, Bogue Chitto—each one of them has spots that you can share with your loved one, some birds, and an alligator or two. Enjoy the day. Enjoy every day.
Happy Valentine's Day!!