Releasing his first album in 2010, Anderson .Paak, has continued to grow as a multi-talented artist and he shows no signs of slowing down. With a sound heavily inspired by funk, jazz, blues, rap, gospel and a sprinkle of hip-hop, the once homeless artist grabbed the attention of Dr. Dre after the legend stumbled upon his song "Suede." He signed him almost immediately which prompted a deserved sky-rocket in his career. He can rap, sing, write songs, produce, play multiple instruments, dance and proven Saturday night at jaw-dropping show in Champion Square, he can perform. It was the kind of performance that made you want to have as much fun as he was having on stage; the kind of performance that had you and everyone around you dancing from start to finish; the kind of performance that's so good, it's worth being drenched in sweat from some good old NOLA humidity; the kind of performance that, even after over 20 songs, leaves you yearning more.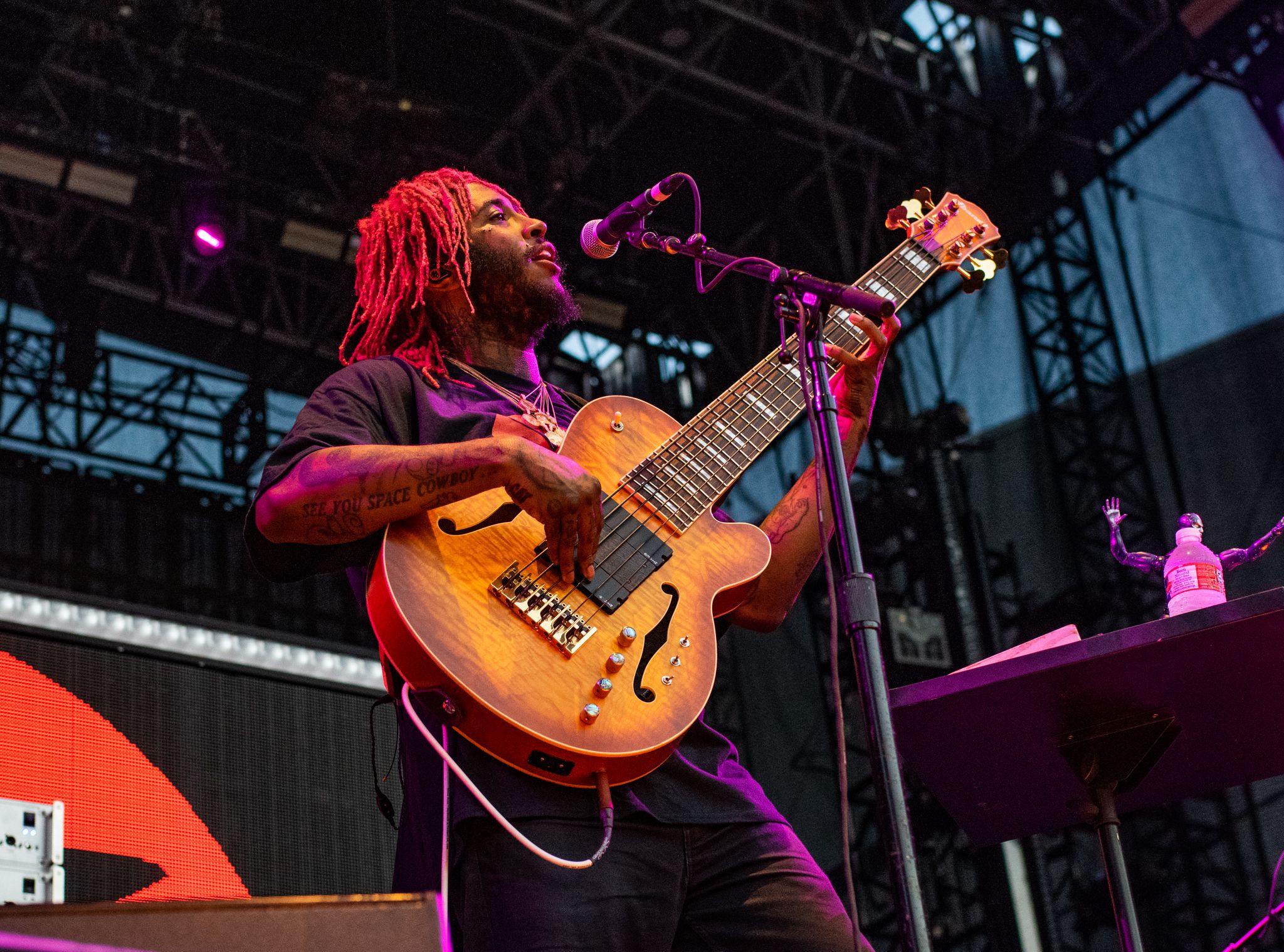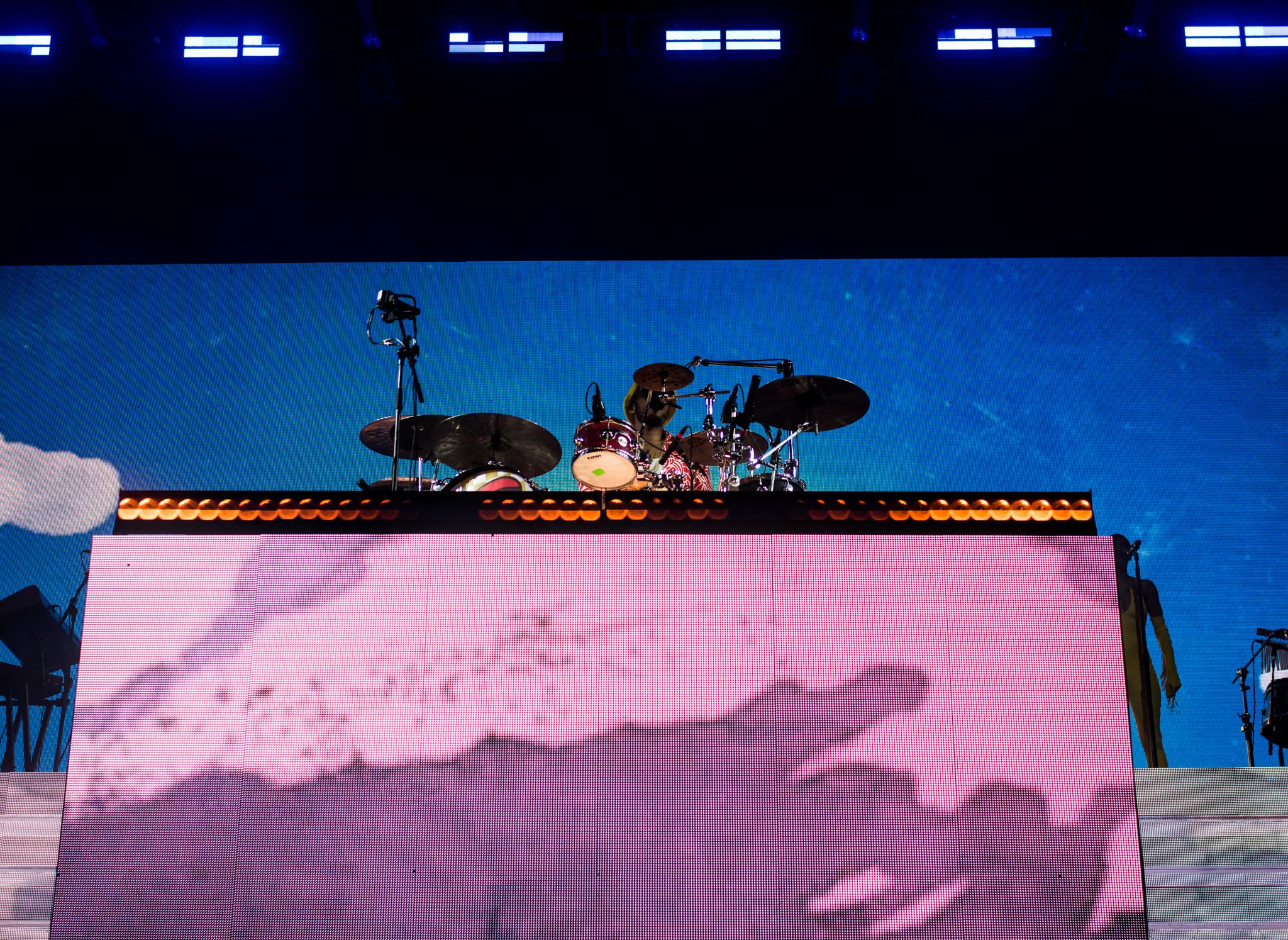 The night opened with acts from Thundercat, a Grammy-winning singer/bassist, followed by Noname, a poetic female rapper and record producer. Both their sounds and styles share similarities with .Paak's, and their smooth, soft natures were perfect warm ups for what was to come: a high-energy night.
After the first two acts, Champion Square slowly but surely filled, and that full crowd erupted upon .Paak's grand entrance. A cube-shaped platform situated center stage elevated he and his drum set feet in the air, high enough to tower over Champion Square. Appropriately, it was almost as if he was performing from a sort of throne. He exerted enough energy and liveliness for his stage presence to be enough in itself, but in addition, the front of the platform had a digital screen that correlated with the larger screen that flashed behind him, his band and his back up vocalists. There was an eclectic array of multimedia images projected, ranging from animated clouds floating in cotton candy-colored skies, to dollar bills, to beach waves crashing a shore, adding lots of visual-entertainment.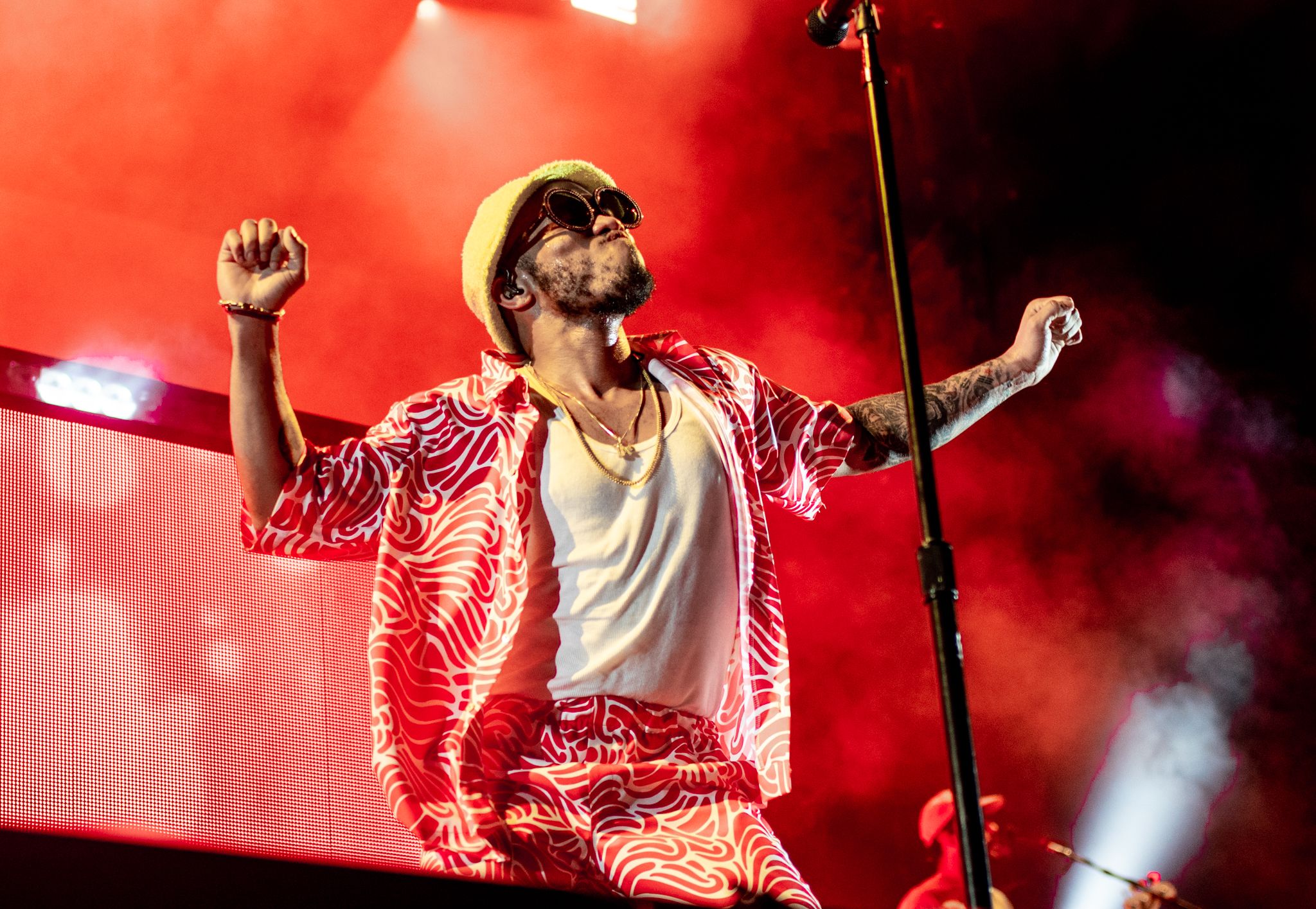 He started off the night with the fan favorite "Heart Don't Stand a Chance" from his album Malibu. He continued the first half of his set with a mix of songs from the same 2016-born project, "Y'all mind if I get into a little Malibu?" he asked the roaring audience before continuing to songs like "Put me Thru," and "The Waters." He also ran through hits from his subsequent 2018 album Oxnard (named after his hometown in California) like "Anywhere," "Saviors Road," "Trippy," and "6 Summers," the relevant, politically stirring song that leads with the lyrics "Trump's got a love child, and I hope that b*!?# is buckwild!!"
Halfway through the show, you wonder "How is he not tired?!" He spent maybe about 60% of his 90-minute set up on his platform passionately drumming away while effortlessly singing and rapping, and when he wasn't on his throne, he'd use the entirety of the stage dancing and bopping from one corner to the other. A highlight of the night was when he performed the upbeat banger "Bubblin'," which he won a 2018 Grammy for "Best Rap Performance" (no shocker there)! He reenacted some memorable dance moves from the single's music video, prompting continued thrilled reactions from the crowd. Another notable moment was when he descended and disappeared from his platform and before anyone could wonder "Where'd he go?", he almost magically appeared within the the crowd, giving him time to intimately interact with eager fans on the ground.
In addition to his moment in the audience, .Paak's performance relied heavily on crowd interaction. He made you feel loved and appreciated for partying with him.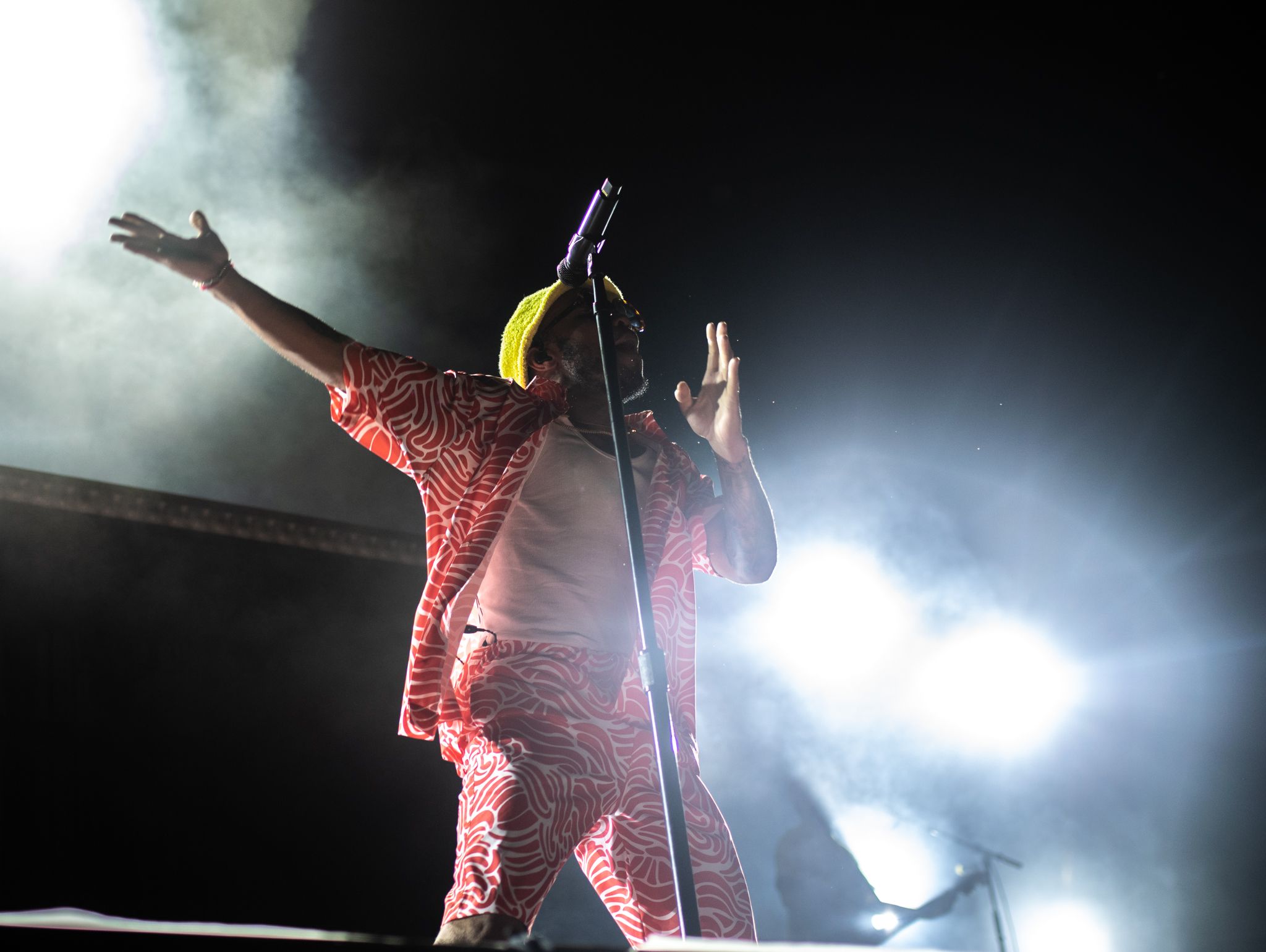 "I know its hot out there New Orleans but y'all still gonna dance with me, right?!" he screamed.
He later made another comment that insinuated inclusion, he let it be known that no matter who you were or what you were, or what you looked like, that you were beautiful and were there for the same beautiful reason as the stranger behind and front of you: to dance the night away to some good music.
"All my black people are looking real beautiful tonight, but you know what? All y'all look like black people right now to me!" he exclaimed to the crowd that was only illuminated by stage lights.
The remainder of his set focused on his most recent release, Ventura (released just April of this year) as he performed songs like "Make it Better," "Reachin' 2 Much" and "Jet Black." The release of this year's highly anticipated album exemplifies the respect he has in the music world as he landed features with greats like Smokey Robinson, Andre 3000, Brandy and Nate Dogg.
With the currents state of hip-hop saturated with similar sounds, Anderson .Paak's unique talent is a breath of fresh air; he has gotten the recognition he deserves for his creative lyrics, wide vocal range and versatile style. If you don't yet know him, he is certainly one to keep up with, but further, if you are a lover of passionate performances, his is one you want to experience. The Best Teeth in the Game Tour has 13 stops remaining through August. Catch him if you can, and if not, be hopeful and on the lookout for his return to the Big Easy.