Streaming services like Amazon Prime and Netflix are the favored option for most people when assessing the entertainment choices on offer in 2021, but so too is mobile gaming. Everyone has a smartphone these days, opening up a range of games at the touch of a button in the process.
The gaming landscape has never been in such good shape. As consumers, we are able to access a wider variety of games than ever before. The devices we can play them on are more sophisticated than previously, plus there is an array of additional accessories and online platforms capable of elevating a gaming experience even further. Dramatic progress has been made.
Mobile gaming is a prime example of this. In a matter of seconds, gamers can download a comprehensive selection of games from Google Play or App Store, opening up gaming on a phone to a whole new community in the process. Games like blackjack at www.casino.com/ca/blackjack/ can be enjoyed online, alongside puzzle creations, brainteasers, augmented reality releases like Pokemon Go, and even console classics like Fortnite and PUBG Mobile, two games which have made the transition over to mobile successfully.
With mobile phone gaming is in good shape and an array of games are being downloaded in 2021 already, we thought we'd give you some gaming inspiration for your phone by recommending a few fun and entertaining android releases which are out right now.
Hatoful Boyfriend
We are kicking things off with a distinctly odd game called Hatoful Boyfriend, but it is strangely compelling. A pigeon dating simulator, Hatoful Boyfriend is a puzzle creation where you are tasked with unlocking different endings for the many different pigeon lovers that are in the game. An odd but funny game to play, you definitely won't have played a game like Hatoful Boyfriend before.
Mario Kart Tour
If you haven't played Mario Kart before, then chances are you haven't lived. A much-loved series of games, Mario Kart has now found its way onto mobile. After some initial teething problems, the game is gathering further momentum and growing in terms of popularity on a daily basis. It comes with online multiplayer, the familiar characters we all know and love, and it's free to play and easy to grasp. If you have enjoyed Mario Kart games in the past, then you'll love having Mario Kart Tour on your phone.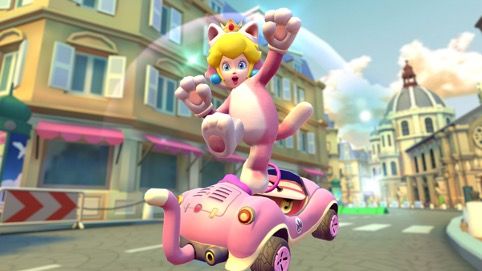 (Image via https://twitter.com/mariokarttourEN)
Animal Crossing: Pocket Camp
We promised fun and entertaining games and Animal Crossing: Pocket Camp is exactly that. As you explore a friendly world, you can collect various items, make friends along the way, and dodge loan payments, all while building up your campsite and putting your very own stamp on the world. A free to play game, it's fun for all ages and will keep you entertained for hours on end.
Monument Valley 2
When it comes to impressive design and stunning visuals, it's impossible to look past Monument Valley 2 at this moment in time. An indie puzzle game developed and published by Ustwo Games, Monument Valley 2 is a soothing release capable of keeping you engaged for hours on end thanks to its storytelling and amazing graphics.
Hearthstone
One for the World of Warcraft fans among us, Hearthstone is a card-based strategy game which features the characters from World of Warcraft as you're tasked with building decks and coming up with the best strategy possible. It isn't easy, but it's certainly compelling, especially if you manage to unearth the best plan possible.
Other Android games worth downloading are Stardew Valley, Impossible Road, Pokemon Go, Minecraft, Among Us, Drop Wizard, AnimA, Battle Chasers: Night War, and Wayward Souls.