Seasoned costume-makers and seamstresses are breaking out the Singers to sew their way through the quarantine, making masks to make ends meet and save lives.
Every year, thousands of New Orleanians are sewing, beading and glittering their their hearts out in preparation for Mardi Gras, St. Patrick's Day, Super Sunday, Halloween, Easter, etc. Literally any excuse to dress up and revel with our friends is a good one, even if that, in and of itself, is the only reason. Members of Mardi Gras Indian tribes spend years sewing incredible costumes with elaborate bead-work and colorful feathers; the city's many marching krewes are stitching together ideas for next year's costume before this year's celebrations are over; and your "average Joe" parade watchers and revelers are getting their outfits together to get in on the fun while showing their support. New Orleans knows how to sew, and now we're in the position to take our tailor-made talents and once again make masks, but this time it's not to celebrate, it's to save.

Both amateur and professional seamstresses and costume-makers in the Greater New Orleans Area have taken the initiative to sew their own face masks, mostly using scraps of leftover fabric, to sell and/or donate since Governor John Bel Edwards issued the stay-at-home order almost a month ago. Rather than take the medical-grade or N95 masks out of the hands of people who truly need them, these folks are providing safe, affordable, and sometimes even fashionable alternatives for the general public. Why use a hastily-tied bandana or scarf when you can get a hand-made mask locally while supporting your neighbor at the same time?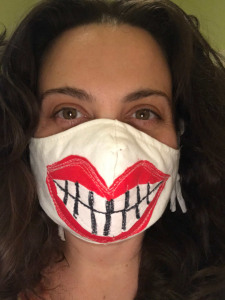 Karina Nathan, a.k.a. Katrina Brees, is a local artist who among other things is the founder and Mother-Shucker of the Bearded Oysters, a parade organization "devoted to sisterhood, fun, art and personal growth" that's been rolling around town since their first parade in 2004. Brees is also the leader of the Krewe of Kolossos which features fantastically creative trikes, designer of Fantastic Caskets and the Mardi Bra and the author of the "no-gun" self registry initiative called Donna's Law.

With the onset of the COVID-19 pandemic and stay-at-home mandate, Brees found herself back in front of the sewing machine. "I started making them [face masks] to give to nurses in my krewe and began making them available to my neighbors on Nextdoor" Brees explains. "My phone blew up with neighbors wanting to buy them last week!" Since she began her new cottage industry, she's had demands for hundreds upon hundreds of masks, and she's sewing like mad while trying to navigate the safest way to deliver her much-needed product, even to the point of hiring an assistant. Creating the face masks has been both an emotional and financial boon to Brees, and she's grateful that due to the demand, she doesn't need to file for unemployment like so many others. "It's also connecting me to millions of people around the world, amping up production of covid-era protective gear," says Brees "[We're all] fighting this pandemic united, but strangely apart." For those interested in ordering one of her $10 cloth, reusable face masks, you can contact Katrina at facemasksnola@gmail.com.

Another local mask-making organization called Mask Dat popped up in early April. Local sewing manufacturer Tam Huyhn and her team are making 100% cotton masks, many of which are created from colorful African wax print cloth collected by the team's founder Rhonda Findley, who also happens to be the owner of Decatur Street boutique shop Funrock'n & Pop City. Not only do customers receive two Breathe Easy(sm), reusable, double-layer masks for $22, Mask Dat donates one mask per order to a New Orleans first responder.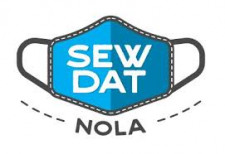 Mask Dat, among other local mask-making organizations, have recently become part of SewDat.com, an online directory of mask-making folks launched through a partnership of the New Orleans City Council, the Mayor's Office and the New Orleans Department of Health. The site provides an outlet where residents, non-profit organizations and businesses sewing masks can offer donations to non-medical essential employees around the state, from public transportation workers and volunteers at food pantries to grocery store employees. SewDat.com also offers a place for residents to purchase masks for themselves in the hopes of reducing competition for N95 and surgical masks which are in high demand for healthcare professionals across the state.

Finally, about a month ago Cathy Dickey founded the Facebook group Face Mask Shortage (New Orleans local area) Sewing Initiative. According to Nola.VeryLocal.com, members of the group are seamstresses, artists and creators from Mardi Gras krewes all over the area who are donating their time, money and skills to making masks for all of those hardworking folks on the frontline, from doctors and EMTs to delivery drivers and funeral home employees. By their last count, the group has made and distributed 2,270 masks, has over 500 members and has helped "first responders from as far as California find groups able to make them masks locally."
If you have the time, skills, or even the desire to learn, it's past time to get ready to sew!