A global pandemic sure takes the fun out of life. Everything's been cancelled, from family gatherings and local festivals to seeing the parades roll down St. Charles for Mardi Gras. While we won't be huddled along the Avenue this year, swilling brews and stuffing our collective faces with king cake while we watch the marching bands and colorful floats roll by, arms raised in the hopes of catching yet one more plastic bit of Carnival treasure, that certainly doesn't mean we can't drink our desserts and eat them, too.
Of all the wonderful booze-infused desserts available to us here in New Orleans, from Cherries Jubilee and Bananas Foster to chocolate bourbon pecan pie, one of the most prolific would have to be the oh-so-modest bread pudding. Born almost a millennium ago in the 11th and 12th centuries, bread pudding started out life as a "poor man's" dessert, a frugal—and notably fabulous—way to use up stale, leftover bread. Like many recipes, it has evolved over the years to include more expensive ingredients, from employing different types of breads and pastries (such as Boucherie's noteworthy Krispy Kreme Bread Pudding) to the addition of liquor-heavy sauces. In fact, in most current bread pudding recipes, it's de rigueur to include a "hard sauce," which is essentially butter, sugar, and some kind of booze, such as rum or whiskey.
In this city, it's difficult to find a menu that doesn't include a bread pudding dessert, especially at the old-school Creole restaurants, but they are found in less-conspicuous places as well. Take, for example, Parkway Bakery in the Bayou St. John neighborhood. Famous for serving po-boys to visitors and locals for over a century, they also offer a delightful bread pudding. Seriously though, when you think about it, what else would they do with their leftover loaves of Leidenheimer French bread? The result is a dense, raisin-studded bread pudding drenched with sweet crème rum sauce made with Bacardi Silver. For only $5.50 a slice, you can enjoy this classic dessert after a small roast beef po-boy and still come in under budget.
At Mother's Restaurant, another well-known spot for po-boys, they also offer a mouthwatering mound of bread pudding made with leftover Leidenheimer French bread, though this Warehouse District restaurant's recipe has a Depression-era twist. Since 1938, their bread pudding has included the addition of fruit cocktail, a sure-fire sweetener at just the right price. It comes out to only $6.75 for a brick-sized slab of bread pudding drenched in a buttery E&J Brandy sauce. If it's not broke, don't fix it!
In the historic French Quarter, you could be blindfolded and throw a string of purple beads in any direction and nearly hit a restaurant that serves a boozy bread pudding. For instance, on the first block of Bourbon Street, the appropriately named Bourbon House by Dickie Brennan offers a sticky pecan bread pudding, a dark $8 confection soaked in a Benchmark Bourbon butterscotch sauce and sprinkled with sugared pecans.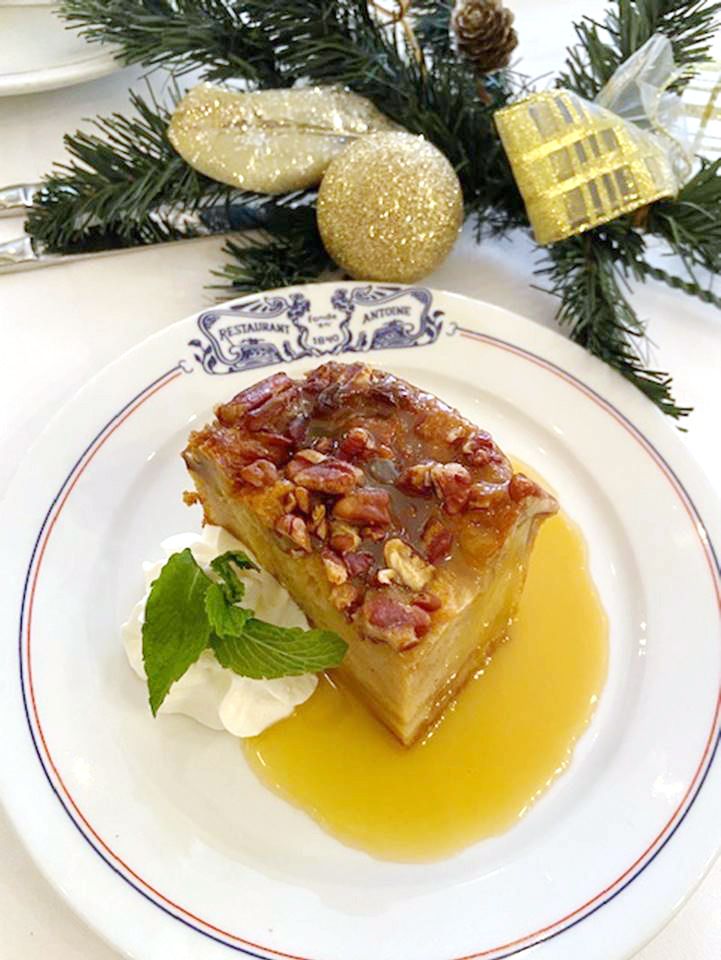 Only three blocks away at Antoine's, one of the country's oldest family-run restaurants, they offer an uber-traditional bread pudding (made with Leidenheimer, of course). For $9, diners can enjoy a thick slice dotted with raisins, topped with crunchy pecans, and draped in a butter rum sauce—the type of rum wholly dependent upon the chef's mood that day.
Just around the corner from Antoine's, in their iconic pastel-pink building on Royal Street, the folks at Brennan's offer their bread pudding in bite-sized pieces swimming in a buttery, whiskey-laden hard sauce and served with a scoop of rum raisin ice cream. At $10, the bread pudding is a pricey endeavor, but you could still swing a café au lait to sip along with it.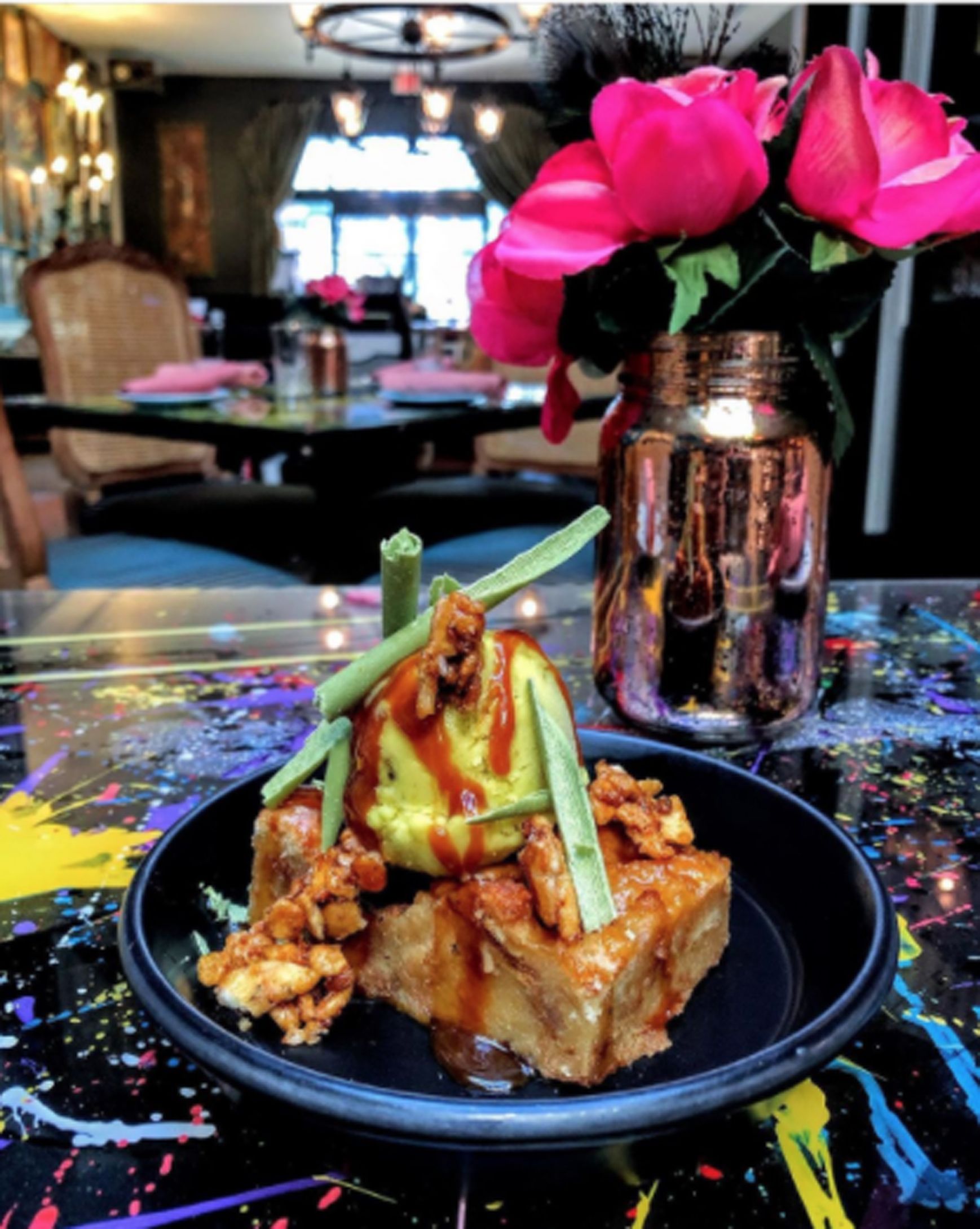 Then, only a hop and a jump more will take you to Muriel's Jackson Square on the corner of St. Ann and Chartres Streets. With a view of the glorious square, you can enjoy their signature white chocolate bread pudding bejeweled with candied pecans and draped in a Ron Pontalba rum sauce. While the restaurant is large enough to practice social distancing, you may get up-close and personal with longtime guests of a more spectral variety.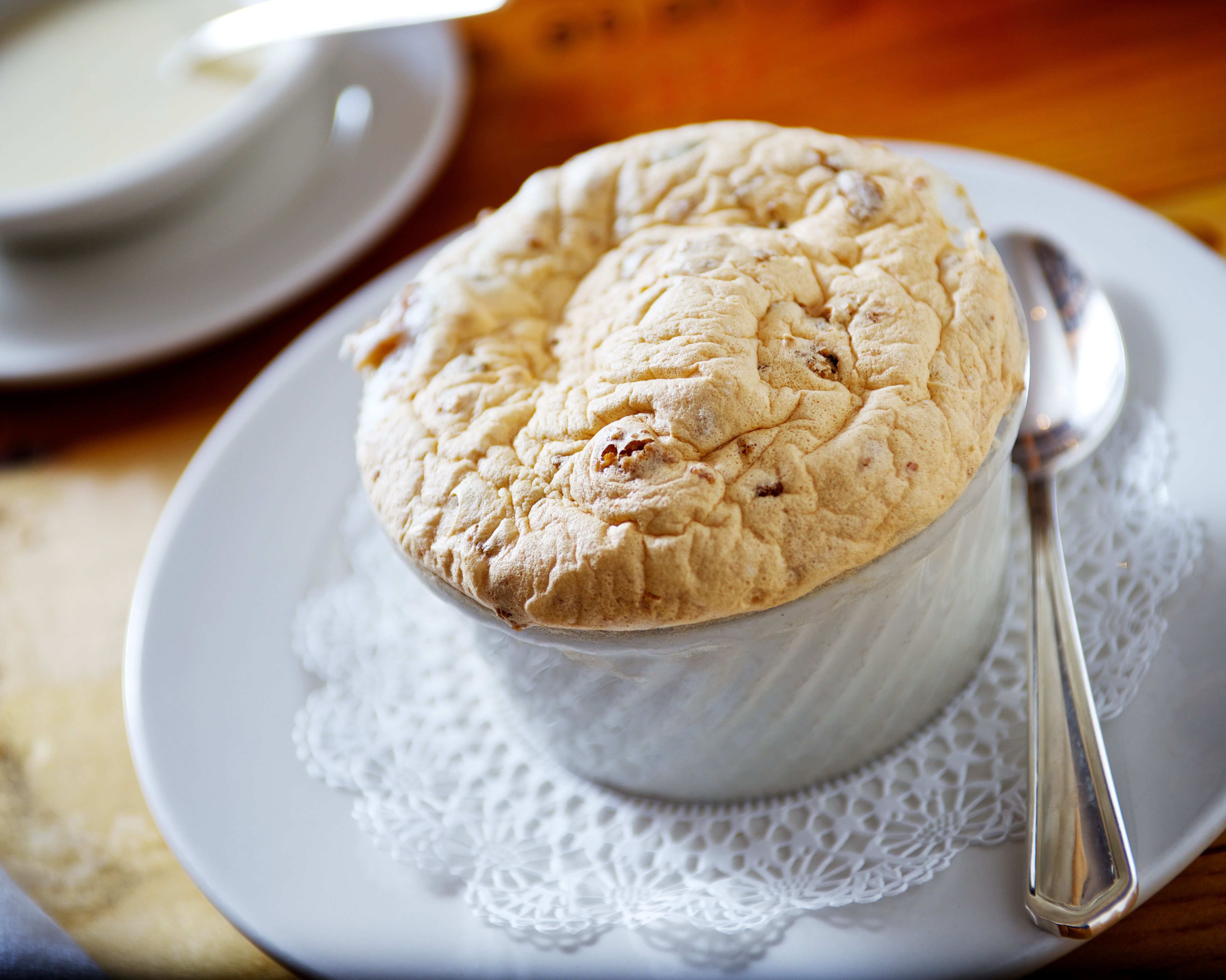 Head Uptown to the Pontchartrain Hotel on St. Charles Avenue for another take on the classic at Jack Rose. Whether you sit in their lush, greenhouse-like dining room or get it to go, you won't soon forget the "Banana Dulcey Bread Pudding." Dulcey, in case you were wondering, is a type of Valrhona-brand white chocolate with a warm blond color and nutty flavor. Served with a banana curry ice cream and a Meyer's Original Dark Rum caramel sauce, this version of bread pudding is one you won't soon forget, especially since it will set you back $11 just to enjoy a bite!
Finally, though you'd think it would be more expensive, it's only $9.50 to delight in Commander's Palace's interpretation: their Creole Bread Pudding Soufflé. Dubbed "the Queen of Creole desserts," this light, fluffy creation becomes an experience when your server finishes the soufflé table-side, breaking open the top by ladling large spoonfuls of their warm Buffalo Trace whiskey crème anglaise (a thick vanilla sauce or pouring custard) over the top.