The first time I tried Thai food, I was craving a burrito. It was a lazy summer Saturday at my parents' house, and my sister and her husband were over, just hanging out till dinnertime rolled around. After only a little discussion, everyone agreed on that typical, Northern California fast-food fallback: the Mission burrito. We drove to a particularly good taqueria we all frequented, only to find the tiny restaurant was closed that day due to an illness in the family. My brother-in-law, who has always preferred eating sooner rather than later, suggested we all go to the Thai restaurant only a few doors down, one that both he and my sister highly recommended.
Though I grumbled about it—my belly was geared towards a "super" grilled chicken burrito with extra cheese and pickled jalapenos—I cried uncle. And it was easily one of the sweetest surrenders of my life.
Excited to introduce my mom and me to a cuisine we'd never enjoyed, my brother-in-law ordered dish after dish for us all to share. As the plates poured out of the kitchen, I was as overwhelmed as our tiny table, which could barely hold our bounty. Every dish we tasted was like nothing I'd ever eaten before, an endless variety of tangy, spicy, salty, and sweet, supported by a dense, sticky rice and washed down with that wonder of wonders: "cha yen," or Thai iced tea.
While New Orleans has its own fabulous cuisine, a culinary dialect unlike anywhere else in the country, I must admit I lamented the lack of global flavors—something I was used to in the Bay Area. But over the last decade, this small Southern city has grown by gastronomic leaps and bounds, including a hefty infusion of Thai restaurants.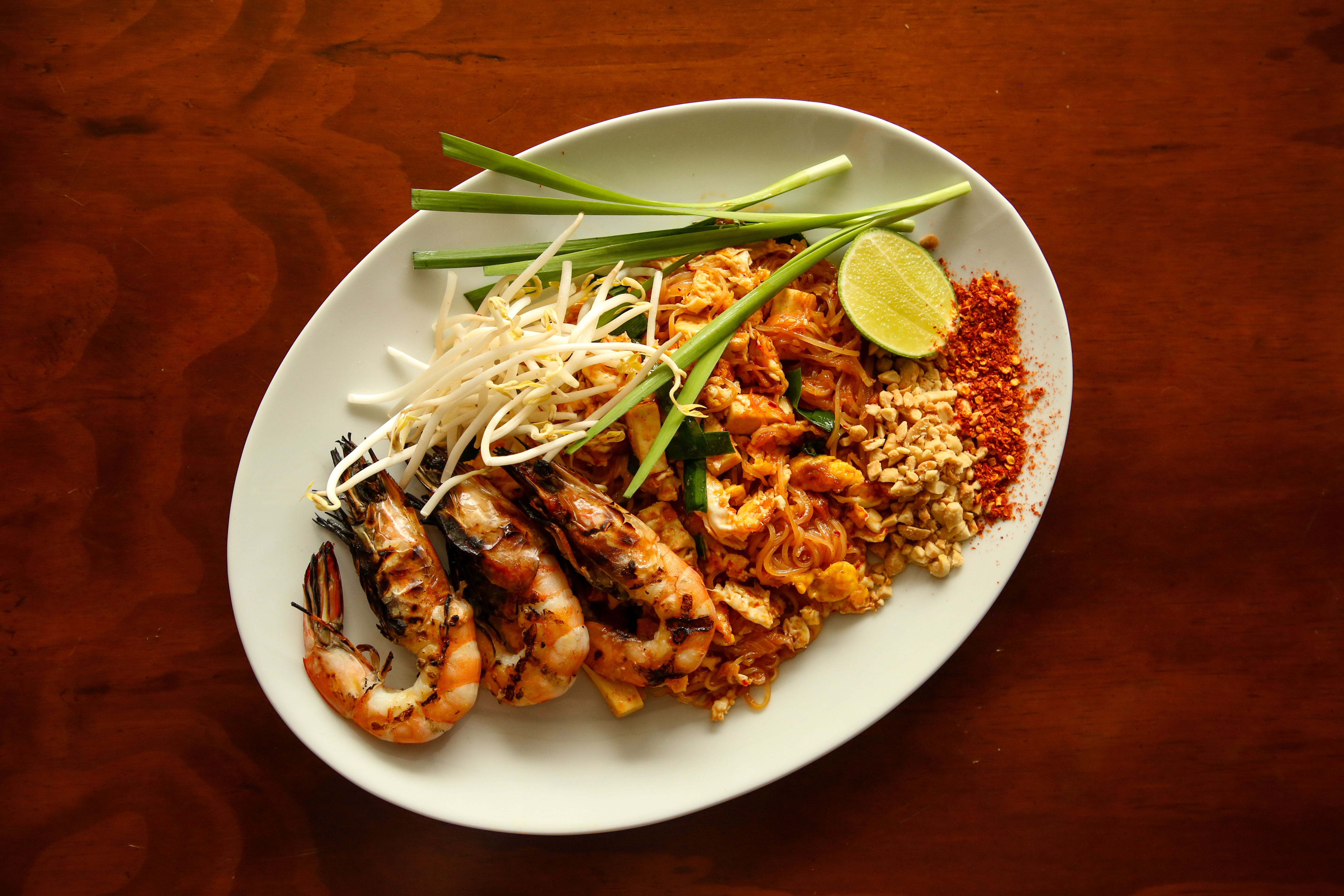 Probably the most recognized Thai spot in the area would have to be Banana Blossom. Opened over a decade ago inside a strip mall on Belle Chasse Highway, the Gretna restaurant launched by owner Jimmy Cho has been a Thai go-to ever since. Along with moving operations a few years ago (Banana Blossom is still in Gretna, just closer to the river on 9th Street), Cho recently joined forces with BRG Hospitality to open Cho Thai on Magazine Street. Featuring many of the same dishes, such as their spicy clams and Shrimp Tom Yum, Cho Thai is an Uptown version of the Westbank favorite. Though it's slightly more affordable on the other side of the Mississippi, it would be a mistake to miss their spicy drunken noodles with chicken, wide rice noodles, and eggplant, for $18.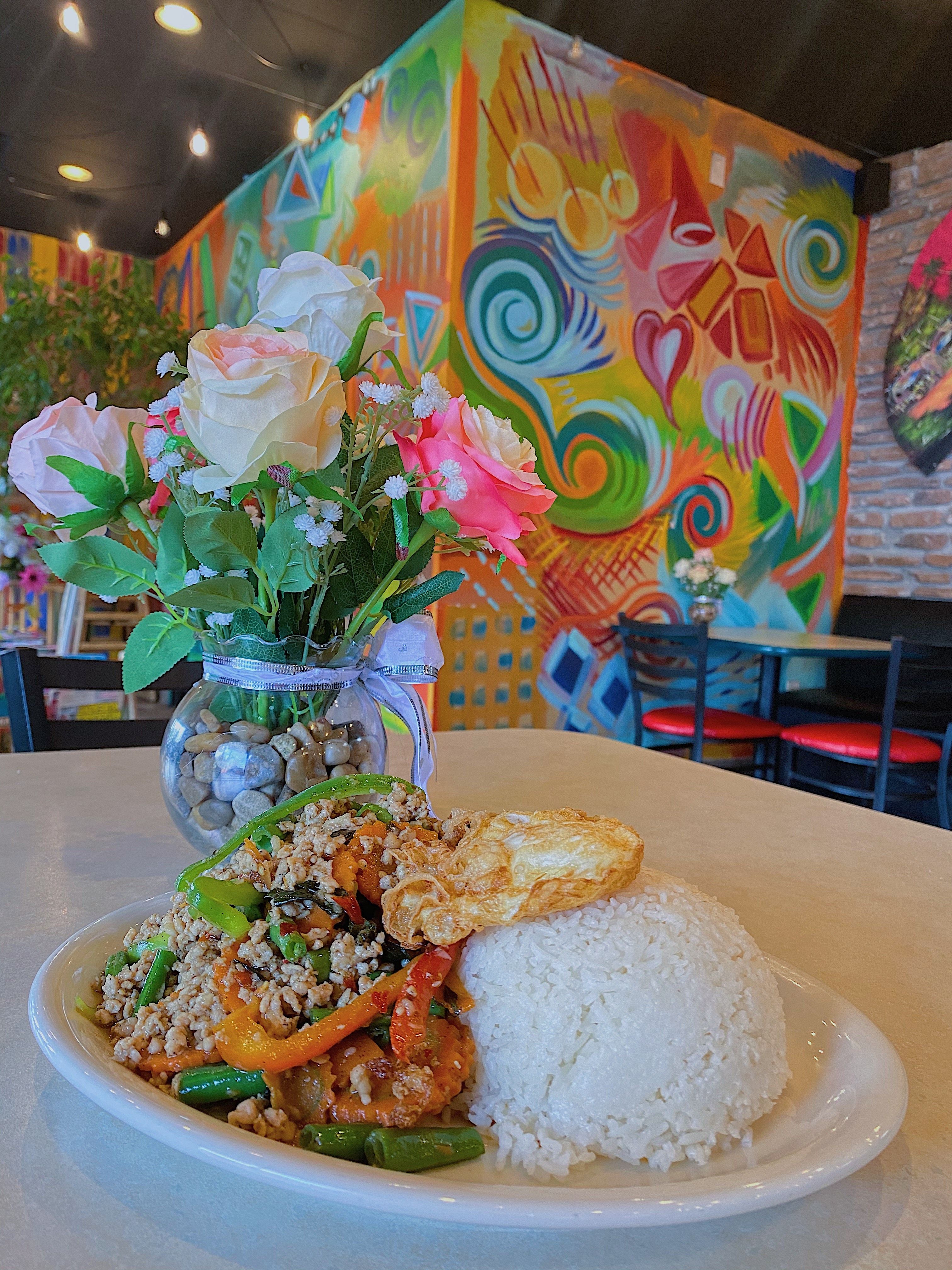 It's more than worth the road trip out to Chalmette to enjoy what is indisputably the most authentic in the Greater New Orleans Area: Secret Thai Restaurant. Not only are the prices ridiculously reasonable (likely due to their locale), but the flavors will keep you coming back, especially if you can stand the heat. Thai curry dishes, my personal favorite, are extremely spicy, and like many other Eastern cuisines, the flavors are often tamed for the Western palate—but not at Secret Thai. Of course, they recommend new diners try dishes at their lowest level of heat, but if you're brave, you can always try kicking it up a notch. I'm all over their green curry with hefty chunks of eggplant and bell peppers ($12.95), but if you've never enjoyed Thai cuisine before, you might want to opt for the Pad Ga Pow or basil stir fry, with your choice of meat (pork, beef, chicken, or shrimp), cooked with green beans and carrots and served with aromatic jasmine rice topped with a fried egg ($11.95).
What began as a hobby blossomed into a business after folks got a taste of May Mananya's home-cooking. Mananya and partner Kirk Cohen's pop-up dinners quickly gained a following, and, in 2019, the duo opened a stand at the Warehouse District food hall Auction House Market. But early in 2020, they stretched out into their own brick-and-mortar, opening up Long Chim in the spot that formerly housed the Superfood Bar on Magazine Street. Touting the Thai street food, the tiny locale offers a small menu of favorites, from chicken satay (turmeric- and coconut milk-marinated chicken baked and served on skewers, with peanut sauce, for $10)—to their khao soi noodle, a coconut curry with pickled mustard greens, which ranges from $14 to $16, depending upon your choice of topping: baked tofu and mushrooms, chicken drumstick, or shrimp.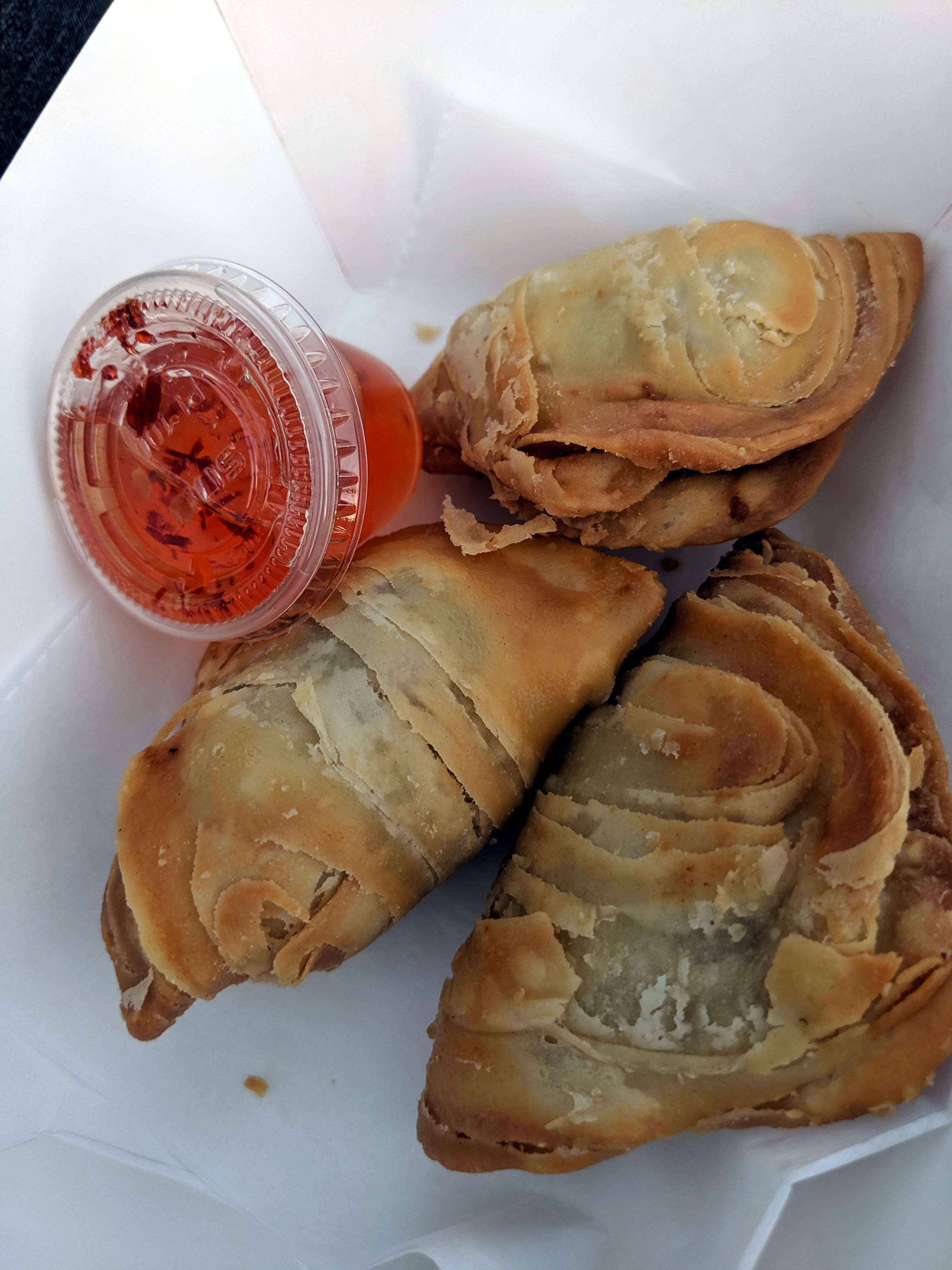 Giving Banana Blossom a run for its money, Thai D-Jing opened on the Westbank only a few blocks away last August, against all odds during the pandemic. Chef Suda Ounin and her husband Jeerasak Boonlert, both natives of Thailand, started out on their own venture, selling dishes from their food truck at the Gretna Farmers Market. Now in a bright pink house-turned-restaurant on 5th Street, the couple is slinging everything from their signature chicken curry puffs ($7) to the classic pad thai with rice noodles, egg, red and green onion, and D-Jing's special sauce.
Finally, while there are a few other Thai spots around town, I would be remiss if I didn't mention a popular Pal's Lounge pop-up (soon to be brick-and-mortar in the Marigny): Budsi Authentic Thai. Chef Budsaba Mason and her husband Jared plan to offer counter service with late-night meals in the offing, when they launch their N. Rampart location, but for now, they're popping three nights a week—Friday, Sunday, and Tuesday—offering pick-up and delivery, with their offerings posted regularly to Facebook and Instagram (@budsiauthenticthai). As of writing this article, recent dishes include "gaeng om issan" soup with chicken, dill, yu choy (Chinese leafy greens), green papaya, and fermented fish sauce; pork dumplings; and that simple yet spectacular Thai dessert: mango sticky rice.