Sweat is dripping into your eyes, your shirt is stuck to your back, and your face is turning a beet-like shade of red when you pick up the August issue of Where Y'at Magazine only to find an article on soup? You laugh to yourself, a little dizzy from both the heat and the absurdity of it all, and think, "Who eats soup in over 90° weather?" While most New Orleanians would be more than willing to slurp down a piping-hot bowl of gumbo, regardless of the weather, we also share a love for cool, savory soups, a meal that goes down just right during our notoriously sweltering summers.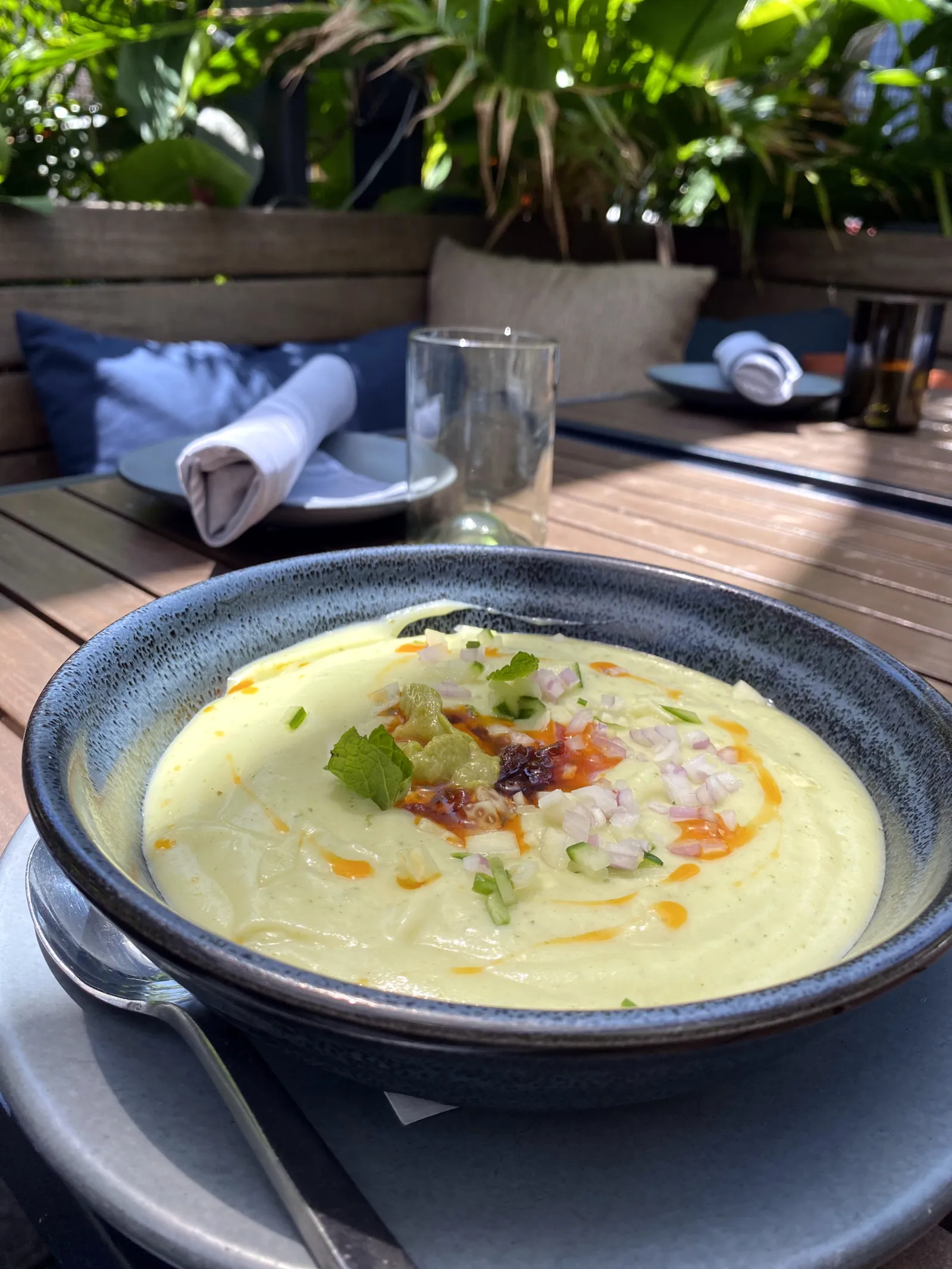 Early this summer, Chef Amy Mehrtens at Poydras Street gem Copper Vine had the sticky-hot weather in mind when she changed up the menu to include chilled soup. Along with a sunflower arugula salad and half a Creole tomato sandwich, diners can enjoy a delightful green garlic vichyssoise for lunch, all for only $13! Vichyssoise is a classic French recipe for a smooth, chilled soup made with leeks, potatoes, chicken stock, and lots of cream. But Mehrtens has given it a Thai twist using coconut milk, creamy avocado, and green garlic, and topping it with chopped cucumbers and a spicy, fried shallot sambal.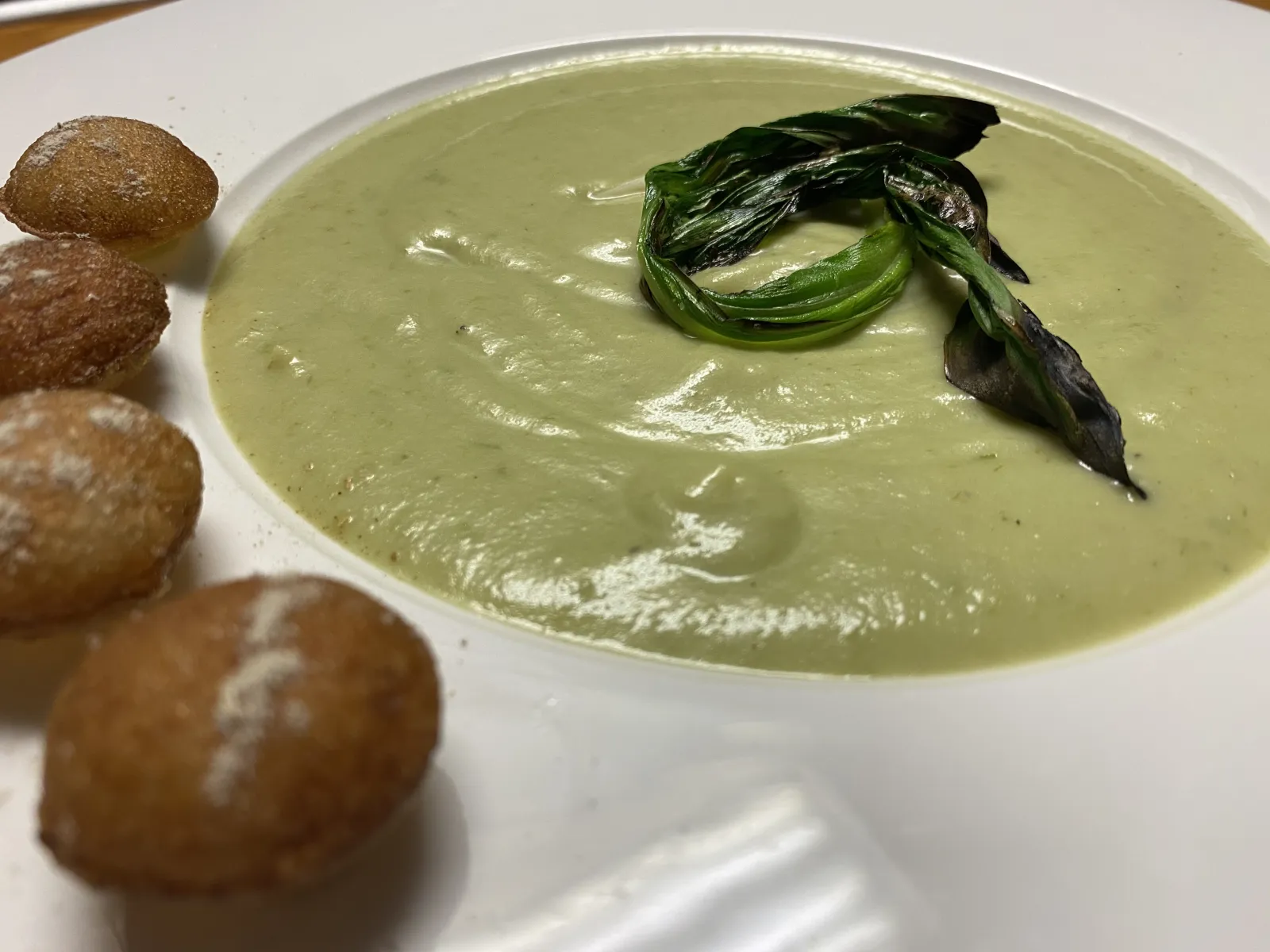 If you journey all the way Uptown to the Carrollton neighborhood, you'll discover unusually affordable, white-linen-tablecloth-level cuisine at Boucherie. For the last decade, chef and co-owner Nathanial Zimmet has long made it a point to offer high-end eats at reasonable prices, and though the pastel-purple themed eatery had moved from Jeanette Street to around the corner on Carrollton and back again over the years, the menu has remained consistently excellent. Since the beginning, patrons have discovered chilled soups on the menu, one particularly memorable version offered way back in the summer of 2010 was a watermelon and Creole tomato gazpacho topped with kafir-lime tuna ceviche. These days, there's an avocado ramp vichyssoise featured on the menu. Ramp, in case you were wondering, is a wild onion-type plant that pops up in the springtime, similar in flavor to leek or shallots, but stronger and more garlic-like than both. The cool, creamy, flavorful soup is served with an old French favorite, pommes soufflés or potato puffs, and a bowl will only set you back $12.
When considering French cuisine in New Orleans, you can't pass up the classics offered at Cafe Degas. Located near the Bayou St. John on Esplanade Avenue, this quaint bistro named after the impressionist painter Edgar Degas (who once lived for a spell just down the street) has been around for 35 years. This tiny cafe offers only outdoor seating in a well-shaded and enclosed arbor and is easily one of the most romantic dining spots in town. Along with escargot and quiche, the seasonal menu features a classic, cooled vichyssoise, a velvety-smooth potato and leek soup. Along with toasted New Orleans French bread, butter, and a glass of wine, it's a meal, and an experience, you won't soon forget.
Speaking of classics, just down Esplanade, headed towards City Park, there are two spots where you can score the quintessential gazpacho. First, there's Santa Fe Restaurant. Known for its ceviche and icy margaritas, the Spanish and Southwestern-influenced spot also offers a wonderful, classic gazpacho, a chilled soup traditionally made with stale bread, tomato, onion, garlic, bell peppers and cucumbers. It used to be that all of gazpacho's ingredients were ground together in a large mortar with a pestle, but these days, most cooks use a food processor. At Santa Fe, you can cool down with a bowl for only $9, but it's highly recommended you up your gazpacho game with a generous topping of jumbo lump crab for only $3 more.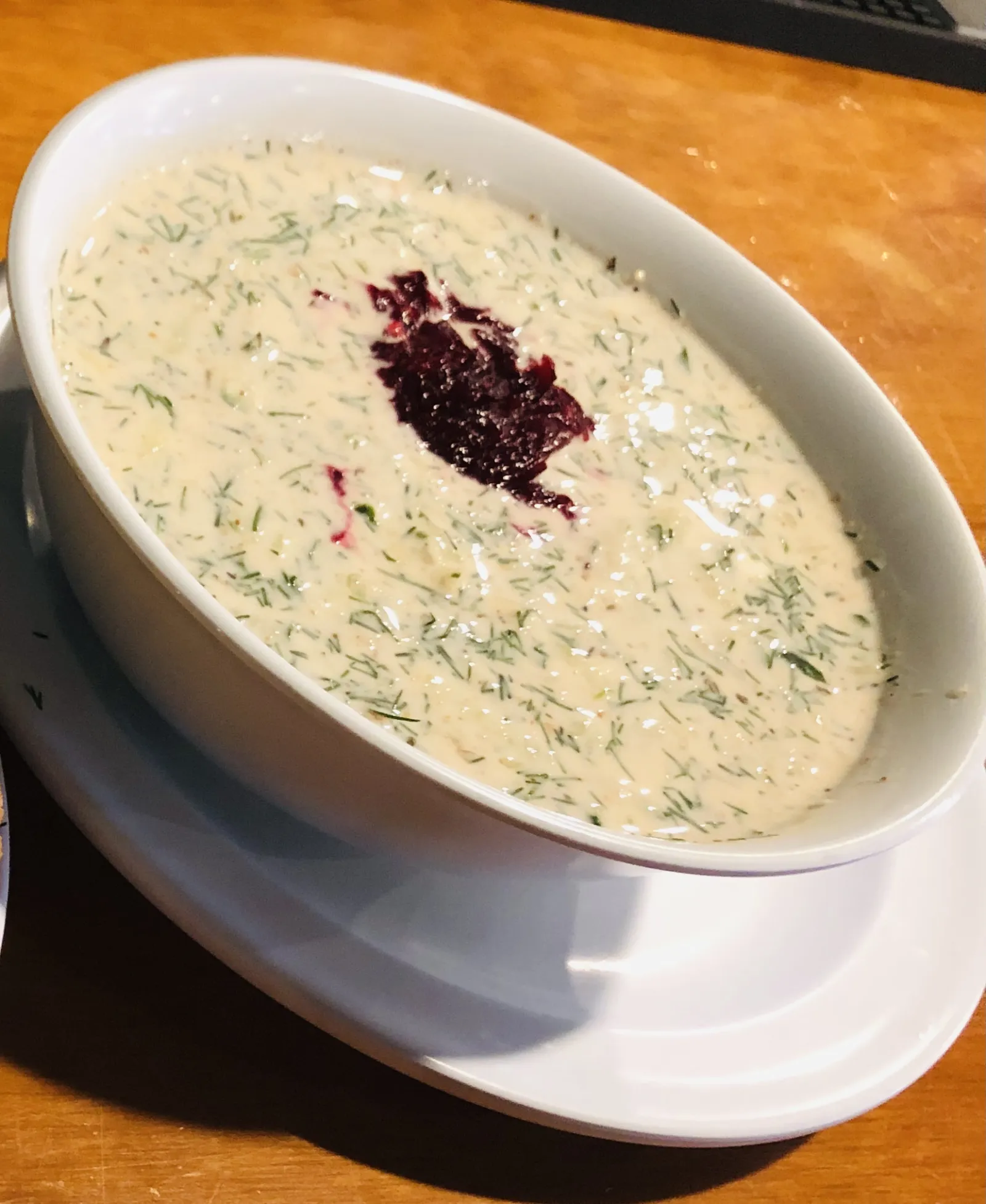 Secondly, there's another restaurant on Esplanade offering gazpacho, a place which really needs no introduction, called Lola's. For almost three decades, this unassuming little spot on the avenue has been regaling New Orleans diners with true Spanish cuisine. Though its most popular dishes would have to be its paellas, it would be a mistake to pass up the chilled gazpacho. As an added bonus, you can also try an Andalusian "white" gazpacho made with a base of crushed almonds as opposed to tomatoes. Both soups are offered for $9 a bowl, and it would be a mistake to forgo a 50¢ up-charge for a crusty pistolette served with Lola's "famous" garlic aioli spread.
Among the new guard, Empanola is another restaurant that serves gazpacho during the hot, Crescent City summers. Brainchild of Patricio Garcia and Jimena Urrutia, Empanola started life in 2017 as an empanada vendor in the Marigny's St. Roch Market. These days, they have their own brick and mortar on the river side of Freret, between Broadway and Carrollton, with a new Magazine location coming soon. Known primarily for creative empanadas, we're talking Peruvian Chicken with pecans and olives, or ham with havarti, mozzarella, and cream cheese, the restaurant also offers a tasty, seasonal gazpacho when the temperatures begin to soar. Always made with fresh, high-quality ingredients like ripe tomatoes and olive oil, Empanola's gazpacho goes perfectly with a couple of savory hand pies, and it even offers a soup and empanda (2) deal for only $11.
Over on St. Bernard Avenue, just a few blocks from the French Quarter, The Green Room Kukhnya (a.k.a. kitchen), owned and operated by chef Matt "The Hat" Ribachonek, serves "working-class American pub fare and Eastern European comfort food." What began as a kitchen installation, serving unique grub for almost seven years out of the now defunct Siberia Lounge, this Slavic-inspired restaurant scored its own digs not long ago in May of 2019. Among dishes like pierogi, blini, and golubtsy (stuffed cabbage), The Green Room Kukhnya also offers both a vegetarian and beef borsch, which during the summer months is gladly offered chilled. Slow-cooked beets and vegetables (carrots, onions, cabbage, and potatoes) make up a chunky, hearty chilled soup topped with a dollop of sour cream and served with an onion roll. Also during these sticky summer months, the restaurant will offer okroshka,
a cold cucumber dill soup made with kvass,
a traditional Slavic fermented, non-
alcoholic beverage made from rye bread. Less than $9 per bowl, you could easily add an excellent corned beef Rueben or grilled ham and cheese sandwich, and still stay within budget.
Finally, we can't walk away without mentioning Chef/Owner Michael Gulotta's recently featured chilled soup at his South Market District restaurant Maypop. Offered as a special, the talented chef created an eye-popping dish of sea scallops served in a chilled blueberry and curry leaf consommé with Grand Isle sea beans, watermelon radish, and bronze fennel.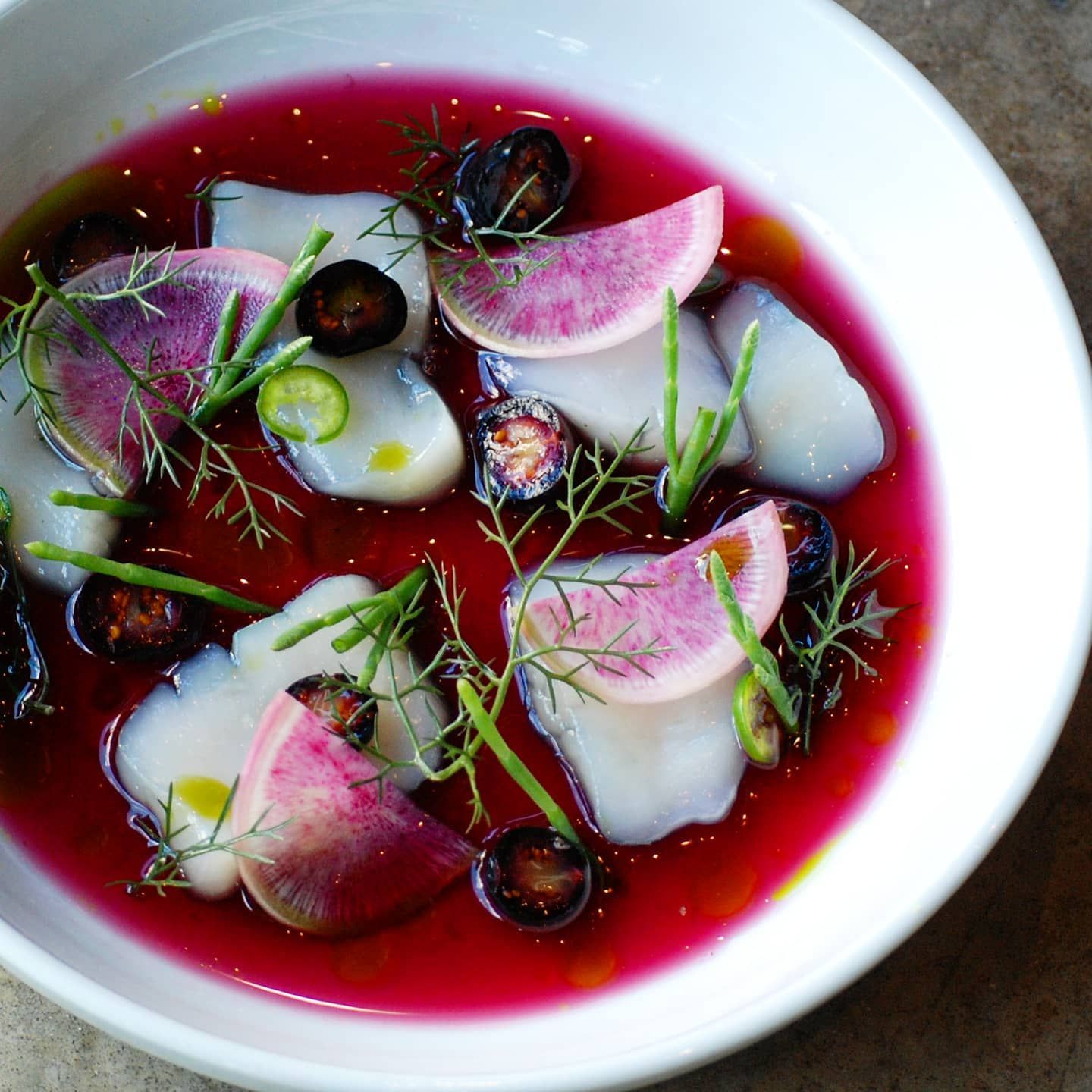 All we need to do is just chill, and our local chefs will continue to wow us, whether their dishes be hot or cold.