There are five elements: earth, air, fire, water, and garlic." -Louis Diat
If a recipe calls for two cloves of garlic, do you triple it? Are your steaks lavished lovingly in a heavy drizzle of garlic butter? When dining at an Italian restaurant, do you load up on the garlic bread? Are garlic knots a necessary prelude to any pizza? If you answered a resounding "yes" to all of these questions, you may just be a garlic-lover.
Garlic is an endlessly amazing, bulbous, flowering plant in the same family as the onion, shallot, or chive, but it truly belongs in a category of its own. Not only does it add depth to almost any dish, its flavor varies drastically depending upon how it's prepared, ranging from sharp and spicy all the way to buttery and sweet.
If the flavor isn't enough to get you wrapped up in the glory of garlic, consider the health benefits. Forget that garlic has been used for several millennia as medicine: Recent studies have proven it to significantly boost your immune system, not only reducing the number of colds you catch but significantly lowering their duration. It can also lower your blood pressure, cholesterol levels, and may even reduce the risk of brain disease like Alzheimer's and dementia.
This aromatic bulb can be found in almost any dish around town. Take, for example, a simple side dish found at Blue Oak BBQ on N. Carrollton Avenue. It's highly likely that co-owners and cue-masters Philip Moseley and Ronnie Evans use prodigious amounts of garlic in their dry rubs and sauces, but a singular, standout for that savory bliss would have to be the roasted garlic mac-n-cheese. Ooey gooey and loaded with the sweet, butter flavor of roasted garlic, this stupendous side costs less than $5, and when paired with a smoky chicken leg and thigh, plus a ginger sesame slaw, costing a total of $12.25, it's a meal worth raving about.
Speaking of sides, one singular sensation is the crispy French fries served with a hefty dollop of toum at 1000 Figs. What is toum, you ask? Also called Lebanese garlic sauce, toum is a mayonnaise-like emulsion made with garlic, lemon juice, salt, and a neutral-flavored oil, like grape seed or avocado. Fresh garlic cloves and a little salt are blended into a paste and slowly emulsified with lemon juice and oil, resulting in creamy, garlicky clouds of white mana. While there's plenty to rave about at 1000 Figs, from their fantastic falafel to a drool-inducing chicken salad sandwich, if your order doesn't include a hefty dose of toum, you're doing it wrong.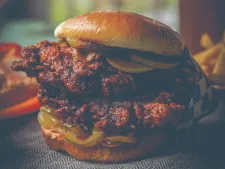 You've probably seen them parked close to the route during Mardi Gras, but quite often you'll find Bonafried (@bonafried), a fried chicken sandwich food truck, outside Tulane Medical Center. If you love that sweet and savory combination, it's hard to resist "The Southern," a crisp, fried chicken sandwich drizzled with honey and topped with bread and butter pickles, but "The Hot" is a garlic-lover's dream. Made with a juicy mix of dark and white meat, the crisply-fried chicken is generously doused in garlic chili oil, topped with pickles, and served on a jumbo, pitmaster bun. Grab a side of fries to go with it and this deep-fried beauty will only set you back $16.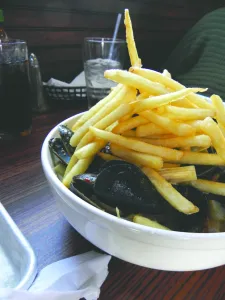 Like oysters, mussels sidle up quite nicely to garlic, or is it the other way 'round? Regardless of your point of view, there's mahh-velous mussels to be had around town and Fharmacy makes some of the very finest. Located in a small shotgun house-turned-restaurant on Banks Street, this neighborhood gem is owned and operated by New Orleans natives Chien Nguyen and Nhat Nguyen. A mish-mash of comfort food makes up the menu, everything from tacos and wings to imaginative burgers, wraps, and sandwiches. Among other appetizers like boudin balls and loaded tots, Fharmacy offers an almost overflowing bowl of brilliant, steamed mussels and a pile of fries in three different flavors, all of which are delicious, but for the purposes of this piece, why not try the garlic parmesan? You can share it with the whole table or make a meal out of it and keep it all for yourself, but you'll have to guard it diligently. Those plump, savory mollusks are difficult to resist.
Easily one of the most affordable ways to enjoy a glut of garlic can be found at almost any pizzeria across the city—the ever-present garlic knot. Typically found in the $5 range, this appetizer can easily be a carb-heavy meal all its own—warm chewy dough doused in garlic olive oil or garlic butter and served with marinara sauce (garlicky in its own right) is a well-known comfort food, make no mistake. But, if you're looking to up the ante, so to speak, why not try the knots at Pizza Domenica? Sure it's twice the price, but the creamy, aged provolone fonduta elevates those tasty knots to a whole different level.
Being that it's spring, we'd be remiss if the garlicky bounty found in your average crawfish boil wasn't mentioned at least once. While a sack of crawfish will typically run much higher than our $20 budget, it's a meal to be shared with lots of family and friends. Aside from those beautifully boiled crawfish, no boil is complete without a thick smear of buttery soft garlic on a well-seasoned red potato. Oh! And don't you dare worry about your breath. If everyone you love is loading up on garlic, there's absolutely nothing to fret about.