Vue Orleans, New Orleans' first and only 360-degree observatory is now open!
The high rise offers stunning indoor and outdoor views in every direction with a unique perspective. From seeing how the mighty Mississippi River weaves through the city, from the full-length historic Canal Street to the iconic French Quarter, Algiers Point, and many other landmarks, this observation deck is sure to provide an enriching experience whether you are a local, tourist, or repeat visitor. The high rise offers stunning indoor and outdoor views in every direction with a unique perspective.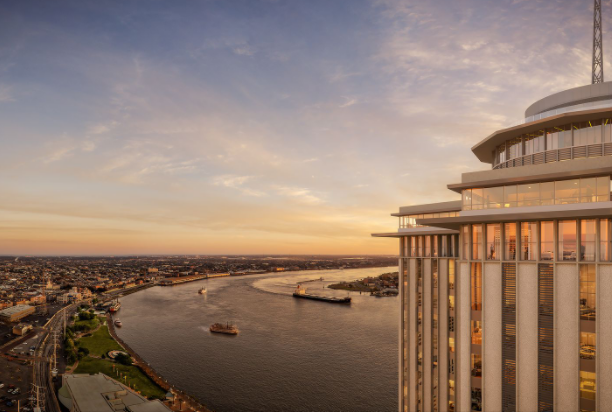 Vue Orleans is more than just an uninterrupted, breathtaking view. There are also several exhibitions on view that utilize engaging technology and stunning visual effects to tell stories and highlight story makers that have helped NOLA become what it is today.
In the "Confluence of Cultures" exhibit, visitors can meet the historical figures who have shaped the city and its cultural customs and traditions. Tall exhibition panels with images rich with color make this an exhibit family friendly and it is sure to please people of all ages. In another exhibit, "Dress for the Fest," patrons can learn more about the dazzling array of costumes worn at famous New Orleans festivals. Here, they can also use the digital outfitter to see how they would look in full regalia.
The Vue also celebrates two essentials that make New Orleans, New Orleans: the food and the music. At "The Story Café," you'll be able to learn more about the classic dishes and drinks that represent the diverse cultures of this city. Sadly, there are no samples but that will just motivate you to support the robust restaurant industry here in town. In the "Our Music" section, you can discover musicians and composers through interactive displays that have helped to give the Big Easy its own sound. Visitors will of course learn about how those musicians and composers contributed to jazz, but also other genres unique to the area, such as brass and zydeco.
After learning more in these interesting exhibits, visitors can sit in The Vue River Theatre, where a compelling story is shown about how the Mississippi River plays an integral part in the past, present, and future of New Orleans. From the importance of the port it creates, to the scenic recreation spot it offers at The Fly, you will learn about how integral this body of water is to the city.
Another exciting part of this new attraction is the "Vue Elevators," which ascend 34 floors in just 60 seconds. This is more than just a routine ride; it takes guests through time from the formation of the city to the modern-day metropolitan area that it is.
The price of an adult ticket for the Vue Orleans is on par with other Crescent City attractions such as the National World War II Museum, coming in at $30. Discounts are available for seniors, military personnel, college students with ID, and even Louisiana residents. Timed ticket reservations are currently required and can be purchased at vueorleans.com.
The Vue Orleans is located at 100 Convention Center Blvd. You can also learn more by calling them at 504-285-3600 or visiting vueorleans.com.