With the high and humid temperatures present in New Orleans from the beginning to the end of the summertime, locals are always looking for ways to beat the heat. For some this might mean doing indoor activities or hosting a pool party for your friends and family. However, the main way locals seem to beat the heat is simply by stopping by their local snowball stand. Whether it's Casey's, Lou Lou's, SNO-LA, or Sal's, no snowball stand is short of patrons or excellent flavors. That being said, many are eager to know which snowball is the best.


Ice Fight: Jefferson Parish's Sno-Ball Blitz
This summer, Jefferson Parish of New Orleans is hosting its 2022 Sno-Ball Blitz. The 2022 Sno-Ball Blitz is a contest where locals get to vote on the best snowball flavors from local snowball stands! The voting and contest will begin July 15 and continue through August 15 with the winner receiving the "Best in SNO" award on August 16. The contest has been narrowed down to nine well-known and popular flavors loved by locals all over the Big Easy.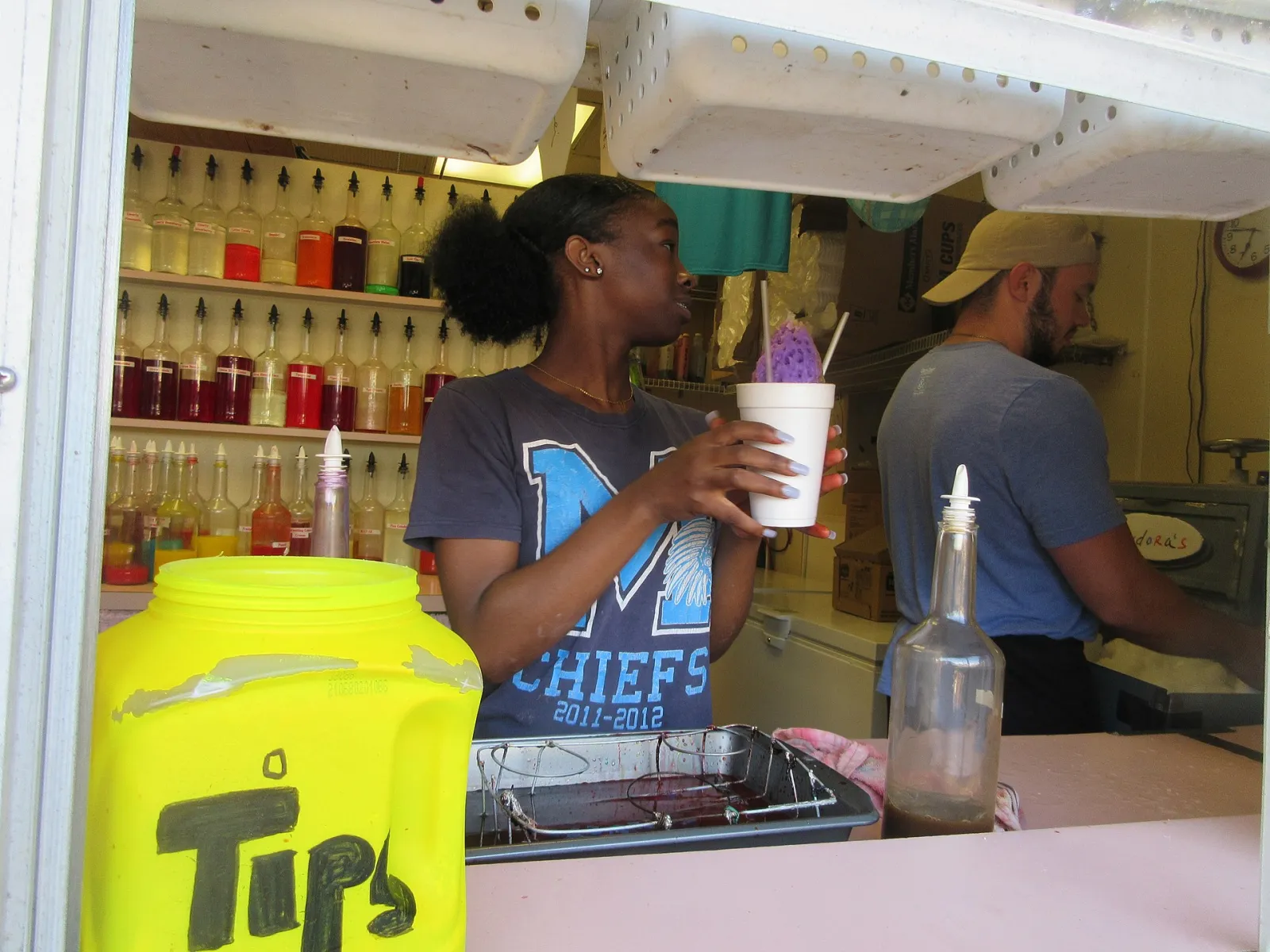 The Contenders
The Big Chill Snowball's Fruit Snowball
Now who are the nine contenders, you ask? The first contender is The Big Chill Snowballs and Ice Cream Inc.'s Real Fruit Snowballs. Big Chill Snowballs is located on 2413 David Drive in Metairie, and they are proud to serve their customers snowballs made with real fruit flavors. Open every day for 2 p.m. to 9 p.m. find your fruit fix at The Big Chill and see if they can earn your vote.
Ro-bear's Chocolate Snowball
Another flavor in the running is Ro-bear's chocolate snowball. Ro-bear's is located on 6869 Jefferson Hwy in Harahan and serves delicious New Orleans style treats. Their chocolate snowball is known for its sweet and totally chocolate taste almost like you are eating a slice of chocolate cake or decadent chocolate bar. Ro-bear's is open from 12 p.m. to 9 p.m. every day except Mondays, where they close at 10 p.m. A true local favorite!
Constanza's Chocolate Snowball Stuffed with Cheesecake
The competition only gets harder when adding Costanza's Chocolate Snowball stuffed with cheesecake. A true expert in their craft, Costanza's has over 100 snowball flavors while also serving soft serve ice cream, malts, sundaes, floats, nachos, and what they call sno-shakes. Their chocolate snowball stuffed with whipped cheesecake is the perfect sweet treat for anyone on a hot summer day. Located on 5211 W Napoleon Avenue, see if Constanza's freshly whipped cheesecake stuffed snowball will leave you still wondering who is the best.
Don Cruz's Snowballs and More's Specialty Rainbow Fruit Sno-Ball
One of the contenders who is fiercely competing to be named the favorite snowball is Don Cruz's Specialty Rainbow Fruit Sno-Ball. Known as the hottest spot in Kenner, Don Cruz's Snowballs and more serves anything from snowballs to roasted corn and fruit cups. Their rainbow snowball is a packed with fruit flavor with a fruit kabob added to the very top of the snowball. With their colorful exterior and fresh and quality flavors you might forget any other snowball you have tried.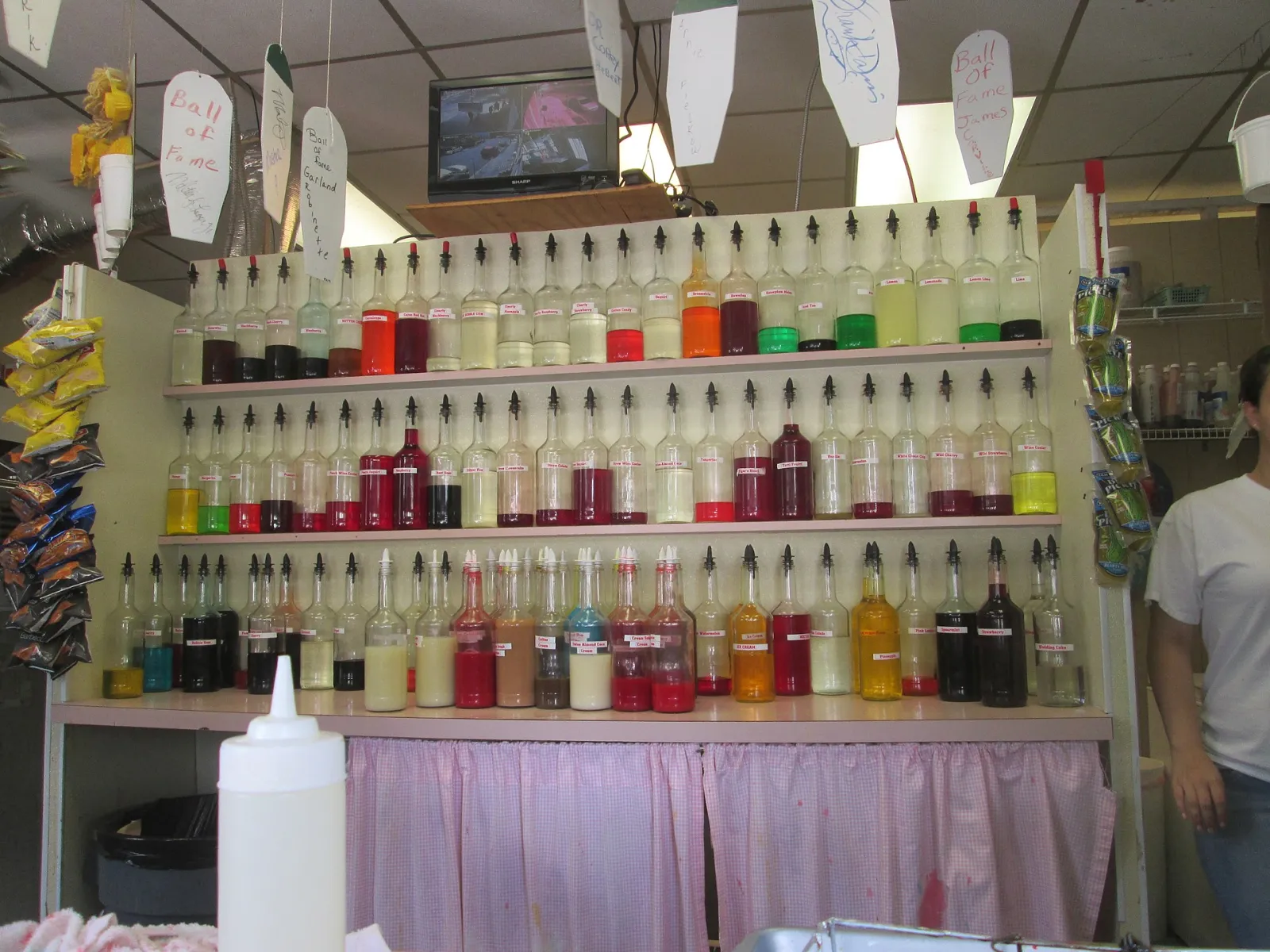 Droopy's Droopy Snowball
Droopy's Snowballs puts up a tough fight with their famous Droopy Snowball. This family-owned establishment has been keeping New Orleans cool for over thirty years. Droopy's Snowballs uses powder soft ice and their famous "Secret Syrup" to win the hearts of families in the area. Follow Droopy's on Instagram @droopyssnowballsnola to learn more about special events, new menu items, and to see pictures of your favorite furry friends. Find Droopy's at 1133 Hickory Ave. in Harahan, Louisiana!
Flavors' Ultra Strawberry Sno-Ball
Head to Kenner for Flavors Snoballs! Their Ultra Strawberry Sno-ball has been making its mark on countless snowball enthusiasts. Since 2010, the creators of Flavors have prided themselves on their snowball recipe, which includes smooth shaved ice stuffed with GG's homemade cheesecake or ice cream. Feel free to also order one of their other delicacies, including soft serve ice cream, dole whip, malts, shakes, sundaes and snacks! Head to Flavors' location in Kenner at 500 Vintage Drive.
Lou Lou's Natural Strawberry Snoballs
Hailing from Metairie, Lou Lou's is ready to bring on some icy competition! Their all-natural Strawberry Snoball is packed with fresh strawberries and only the best of ingredients. Try any of Lou Lou's tasty flavors everyday from 12:00 p.m. to 9:00 p.m. Lou Lou's boasts an ultra-friendly staff and plenty of delicious flavors. You can find them at 3846 Johnson Street in Metairie. Don't wait! Try any of their heavenly snowballs today!
Sal's Robin Sno-Ball
Sal's Sno Ball Stand is a long-standing favorite. Nestled in Old Metairie, the stand's friendly neighborhood presence gives it a real edge in this competition for the greatest Snowball recipe. Sal's is named after the original owner, Salvador "Sal" Talluto. The Robin Sno-ball was named after one of Sal's granddaughters. It really tasty and includes two of her favorite things: nectar and ice cream. Stay on the lookout for Sal's at 1823 Metairie Road.
Sweet Shack's Pink Lady Snowball
Out in Terrytown, Louisiana, Sweet Shack Snowballs remains a competitive rival in this competition. The Westbank shaved ice shop has been serving up smiles since 2010. The Pink Lady Snowball is a specialty flavor of nectar and cream - and yes, it does get its name from the ice's beautiful rose color. Sweet Shack's menu also includes kids favorites, milkshakes and snacks. Find their location at 1720 Stumpf Blvd. in Terrytown.
How to Vote
These are just some of the many contenders competing for your vote as best snowball. While each has something to offer, only one can be crowned by Jefferson Parish as favorite specialty snowball. After visiting the places mentioned as well as the other snowballs fighting for first place, visit either the Jefferson Parish website or vote directly via this google form. Make sure to visit each snowball stand to sample a snowball, and cast your vote before August 15. Remember, only one vote is allowed for patron, so choose wisely.