We love a good fish fry, but must admit, it's not the easiest dish to whip up at home. Not to mention that the delicious smell lingers, clinging stubbornly to your clothes long after dinner is done. To spare you of that small hardship, let us guide you through five fish fry spots we adore. Many locations offer take out and outdoor seating options so you can enjoy this blip of spring weather to the fullest. Four of them (Chef Ron's, Carmo, Desire, and Picnic) are participating in the Fish Fry Fridays benefit for Hospitality Cares, donating $1 from every entree served, allowing you to give back to the community and get fed.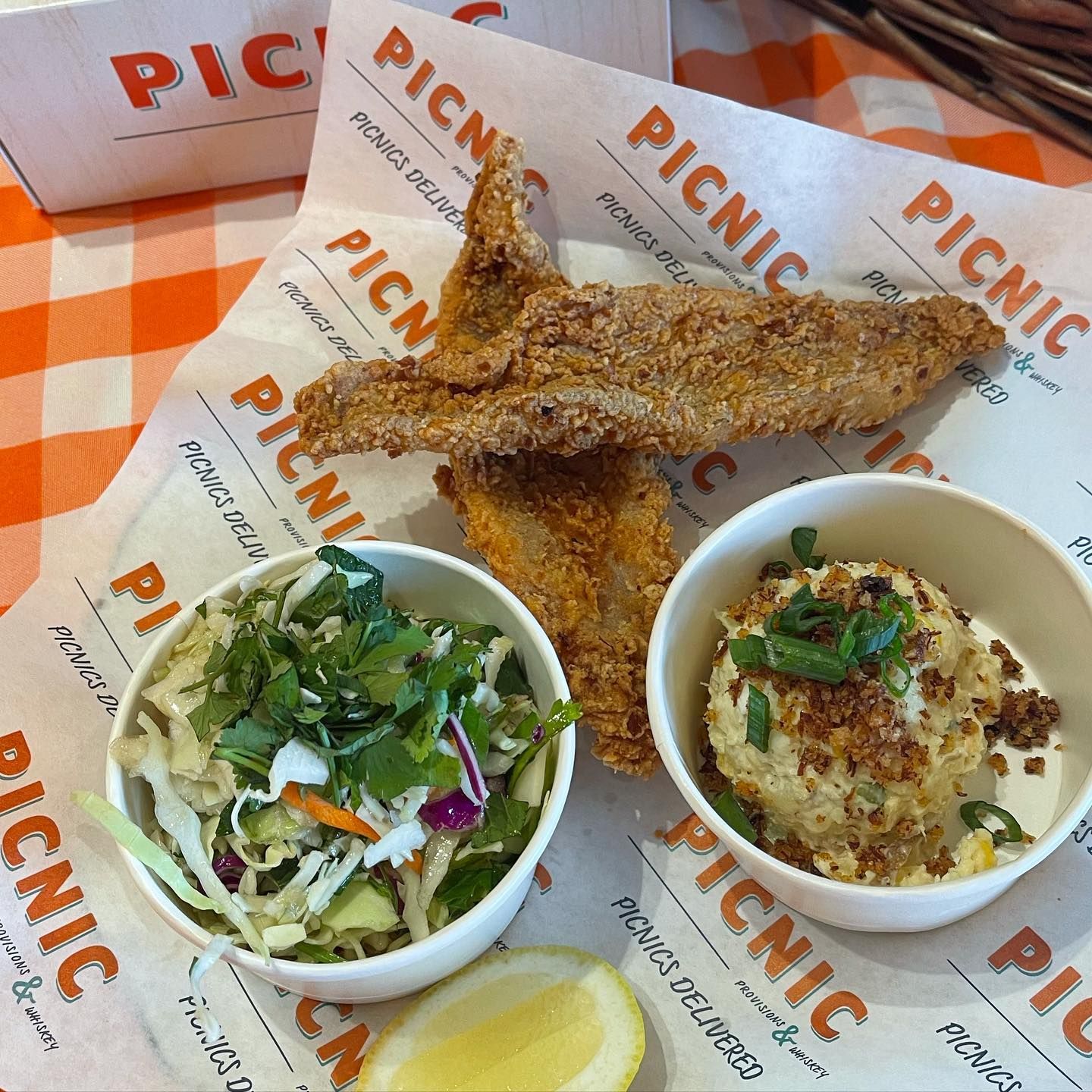 Chef Ron's Gumbo Shop
The funky blue and white sign for Chef Ron's Gumbo Stop heralds this beacon destination, crowned a TripAdvisor Travelers Choice 2020 restaurant. Known for comfort food and nine different types of gumbo (Classic Seafood Gumbo, Mambo Gumbo, Chicken & Sausage Gumbo, Gumbo Monceaux, Yumbo Mumbo Gumbo, Stuffed Gumbo, Freckled Gumbo, Mega Gumbo, and Ultimate Gumbo), you can bet that they have a mean fish fry. Whether you want a platter or a po-boy, their golden fried catfish will hit the spot. Better yet? Chef Ron Iafrate proudly serves dishes made with locally sourced ingredients.
2309 N. Causeway Blvd., Metairie, 504-835-2022, gumbostop.com
The Larder
The Larder is Metairie's new gourmet market and eatery that specializes in everything artisanal. Housed in the building that was once a New Orleans Coffee & Beignet Co. and a Mooby's set for the Jay and Silent Bob Reboot, The Larder is Party City's elegant neighbor. From breakfast to dessert, this is the place you'd go to for packing a dream picnic. On Fridays, The Larder has a fried fresh catch family meal. While admiring the beautifully stocked shop is a giddy adventure in itself, you can also get the gourmet experience by ordering online and picking up through the drive-thru window.
3005 Veterans Memorial Blvd., Metairie, 504-766-6763, lardergourmetmarket.com
Carmo
In the Warehouse District, Carmo serves up creative dishes inspired by tropical locations around the world. Carmo's global interest looks to local ingredients, making it one of NOLA's most exciting restaurants for over a decade. The Fish Fry Friday contribution is Fish 'N' Chips made with the freshest Gulf fish dipped in beer and cider batter, fried to golden perfection, and served with fried onions and house-cut potatoes.
527 Julia St., 504-875-4132, cafecarmo.com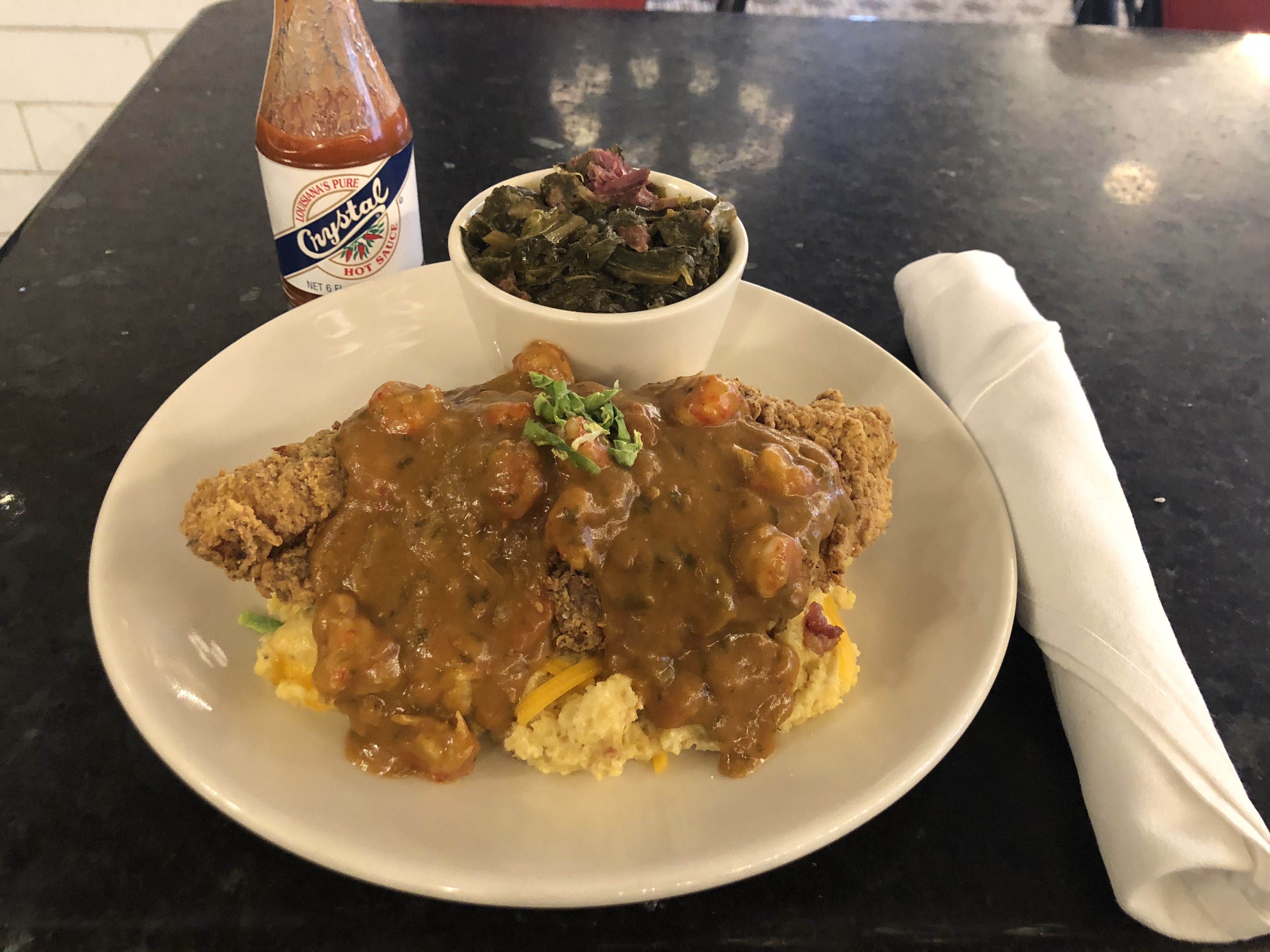 Desire Oyster Bar
On Bourbon Street, the Broadway-style marquis for Desire Oyster Bar brings some glamour to the block known most for Hand Grenades. While the raw bar is what the place is named for, Desire's Fish Fry Friday entree is a Crazy Cajun Catfish, which is a deliriously delicious dish. The elaborate preparation has the catfish marinated and blackened, then crusted with cornmeal, and deep fried until golden. Chef de Cuisine Robert Youngblood's catfish masterpiece is then played upon a bed of bacon cheddar grits, from which it is generously topped with crawfish etouffee sauce. For a finishing touch, it's served with a side of Southern greens.
300 Bourbon St., 504-586-0300, sonesta.com
Picnic Provisions & Whiskey
Picnic Provisions & Whiskey, the popular restaurant off Magazine Street, embodies the feeling of summer air and green, green grass without summer or grass necessarily included. The fun attitude carries into everything the restaurant does, including its You Make Me So Happy Hour and its Ducktails (lemon lime soda and sour blue raspberry ice cubes with a rubber duckie). On Friday's, pick up a Picnic Fish Fry, which will get you a Fried catfish with an unforgettable Cajun potato salad and sugarcane slaw.
741 State St., 504-266-2810, nolapicnic.com