I was enamored with scratch-and-sniff stickers as a child. They took stickers to another dimension, and the ones that corresponded to my favorite TV shows or cartoon characters allowed me to really pretend like I was tasting Garfield's lasagna or smelling the Garbage Pail Kids. As an adult, I've long wished for a television program that immerses you by letting you pre-order a box so you can taste what the Top Chefs have served up or what Gordon Ramsey has criticized (okay, maybe the former and not so much the latter). It's quite ironic that I'm usually eating fast-food or my own crude basic dinner while watching a 5-star masterpiece on the Food Network.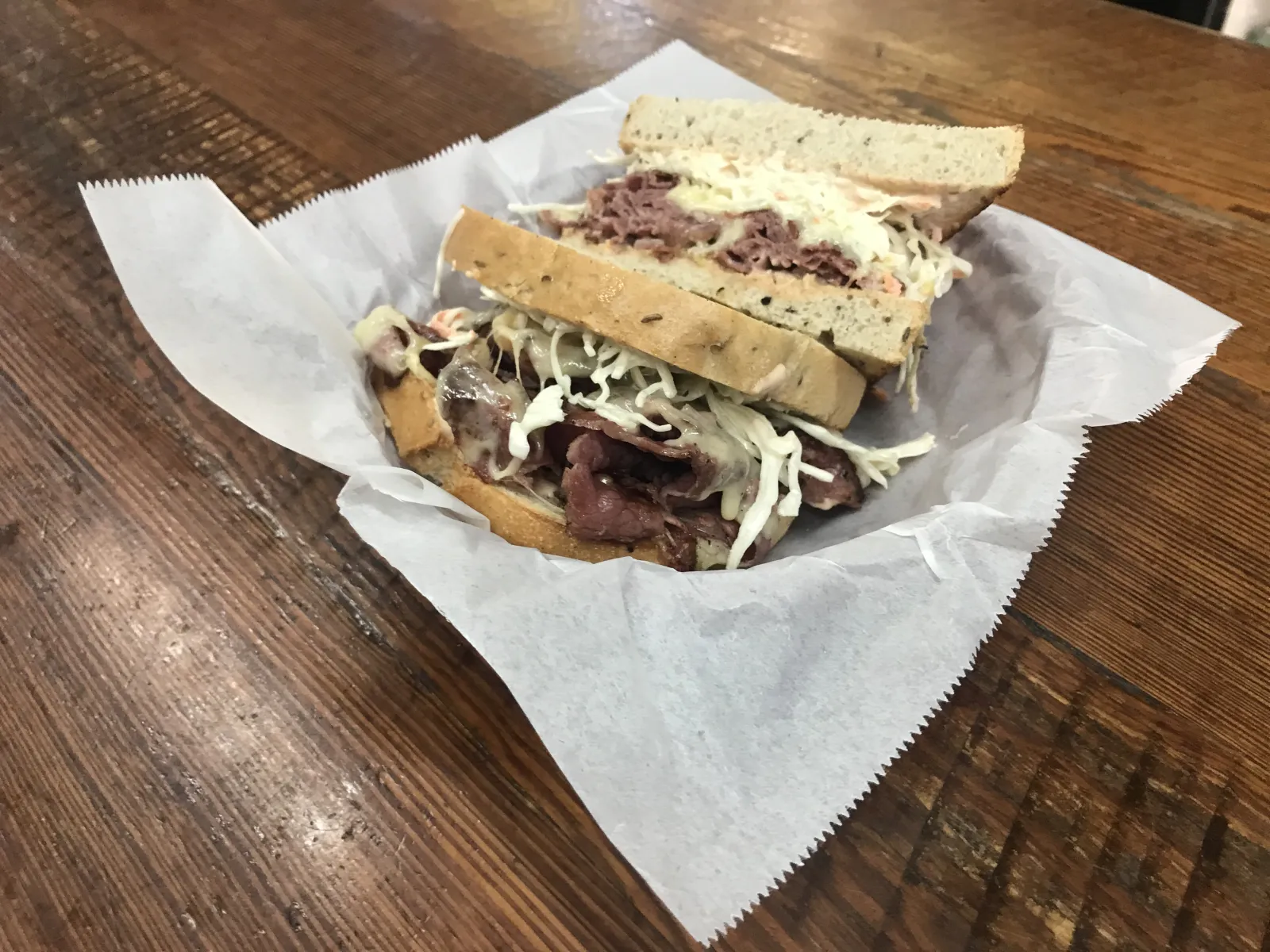 New technology has allowed many things to be within our reach, but, unfortunately, we haven't mastered televisions that can transmit food. Fortunately, the market has recognized that people would love to recreate favorite film foods, and not so much just the ones we see on cooking shows. We'd love to eat and drink what our favorite characters imbibe—there's a reason Butterbeer is so popular at Universal Studios and Serendipity's frozen hot chocolate attracts loads of fans in the Big Apple each year.
Here are some of my top picks for finding your favorite big screen foods in The Big Easy:

Sally's Corned Beef Sandwich, When Harry Met Sally—Okay, so we all know that it wasn't the sandwich that had Meg Ryan's character moaning in When Harry Met Sally, but as it's the title of this piece, I'd be remiss if I didn't mention that I heard you can get a comparable one at Stein's Market and Deli on Magazine, as well as at Verti Marte in the French Quarter.

Vampire Blood Bags, The Vampire Diaries—If you've watched The Vampire Diaries, you may have seen Elena drinking from a bag of blood. At the New Orleans Vampire Cafe, you can taste, smell, and drink all things monstrous—including a cocktail made to look like a serving of your favorite blood type. If blood isn't your thing, they also have a menu of another thing that vampires truly love—bites! The Vampire Cafe is located at 801 Royal St. behind St. Louis Cathedral.

Negroni, Searching For Italy—Stanley Tucci nearly broke the Internet last spring when he revealed his negroni recipe on his television special, A Taste of Italy. You can find a great negroni in New Orleans at Cure (4905 Freret) and Apolline (4729 Magazine).

Everlasting Gobstopper, Willy Wonka & The Chocolate Factory—Willy Wonka's magical Everlasting Gobstopper did more than just show him who was not to be trusted. It always truly tasted delicious and apparently was for children "with very little pocket money" because it lasted forever. This one isn't specific to New Orleans, but I'm pleased to report that the Nestle company sells the Everlasting Gobstoppers commercially, and they are available on Amazon.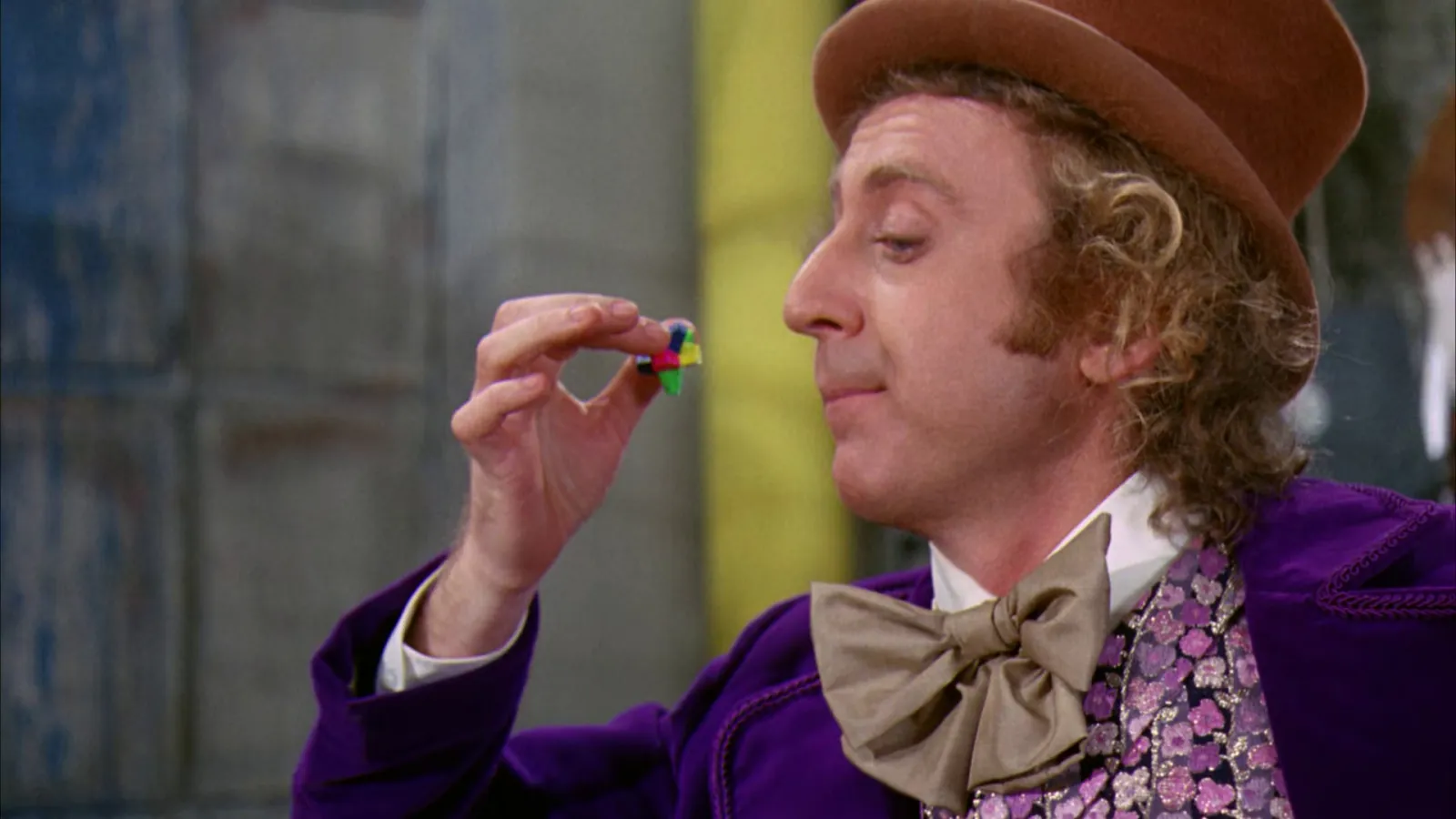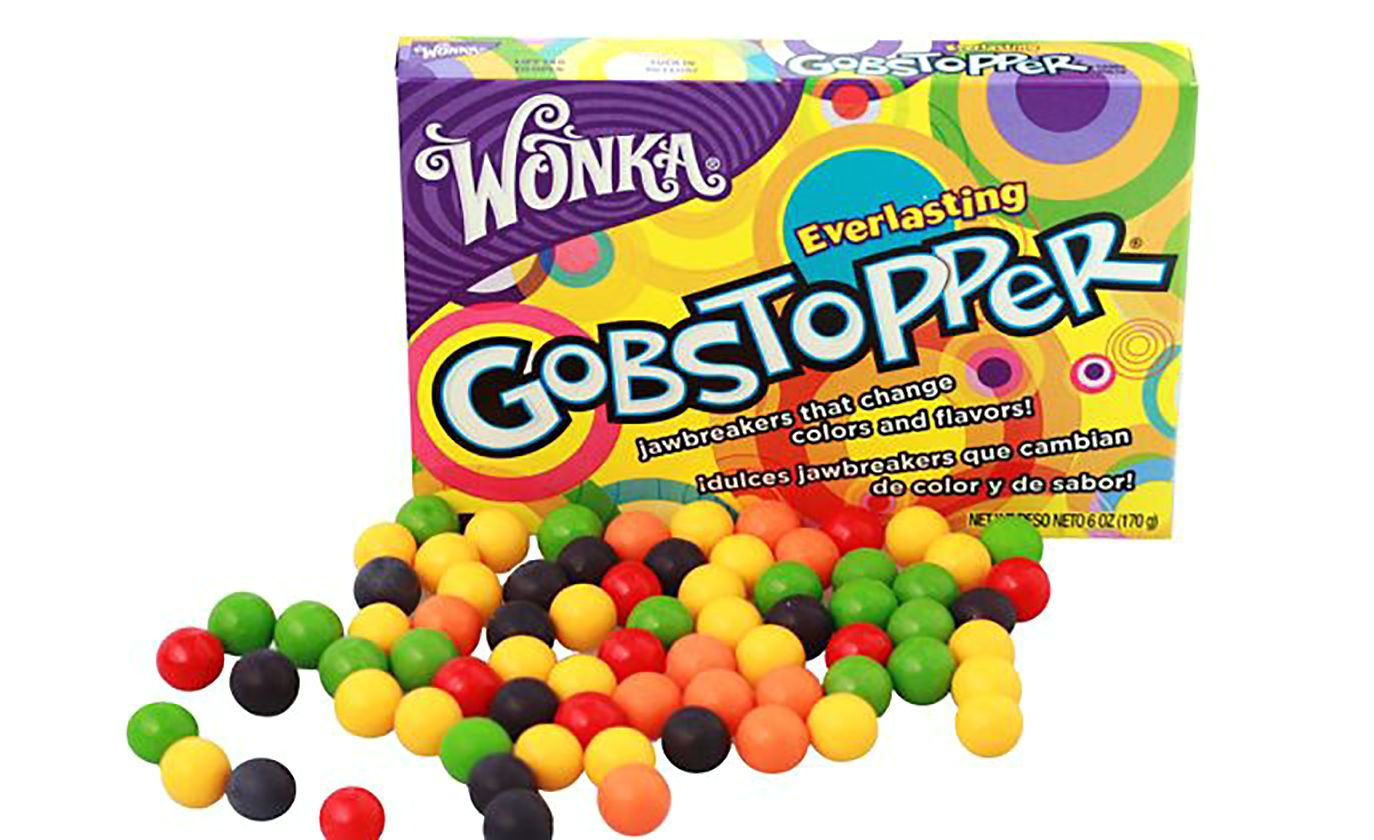 Bueno Nacho, Kim Possible—We were all jealous when Kim Possible's friend, Ron, took his pile of nachos and somehow wrapped them around themselves, even though they were bursting at the seams with ingredients. Although this seems like it would only be possible for a cartoon, the closest I've ever had is the Illegal Burrito at Izzo's, with locations on Veterans in Metairie, on Magazine Street in Uptown, as well as in Harvey on the Westbank.

Krabby Patty, Spongebob Square Pants—If you've ever watched he "who lives in a pineapple under the sea," you've probably seen a Krabby Patty, reportedly made of a meatless burger with pickles, lettuce, tomatoes, cheese, ketchup, mustard, and onions on a bun. While the actual veggie patty recipe is top secret, I'm told you can find a really great one at Cowbell, located at 8801 Oak St.

As for some lagniappe, you can also try the following foods that were featured on TV as originating in New Orleans. The food inspired the TV, and not the other way around, but it still counts and the foods need to be tried:

Smoked Duck Sandwich, Treme—"Duck, cashew butter, and pepper jelly sandwiches. Who knew?" Treme's Delmond Lambreaux ponders as he feasts on Susan Spicer's famous sandwich for lunch, claiming all he'll need for dinner after that is soup. If you want to try the smoked duck sandwich yourself, you can visit Bayona at 430 Dauphine St.

1000 Things About New Orleans, The Simpsons -- If you're big on social media, you may remember a viral video from last year that was made by two Swiss women visiting New Orleans for a week. Covering 54 restaurants in just under a minute and a half, the video perfectly replicates a sequence from The Simpsons episode entitled "Lisa Gets the Blues." It starts by Homer saying, "And then you discover 1000 things little things you love about the city of New Orleans…" and going on to list nothing but some of our most famous foods with Homer enthusiastically trying them. The video was recreated frame by frame and took careful planning by Janine Wiget and Katrin von Niederhausern, making sure they hit all of the right restaurants at all of the right times (king cake was unfortunately out of season). To watch the video (and make your own list), search YouTube for "Homer, Katrin, and Janine eat their way through New Orleans." There are too many foods for me to list all of them here, but some highlights include Cochon De Lait Po-boys from Cochon, Muffalettas from DiMartino's, Alligator Po-boys from Jacques-Imo's, and Crawfish Almondine from Mulate's.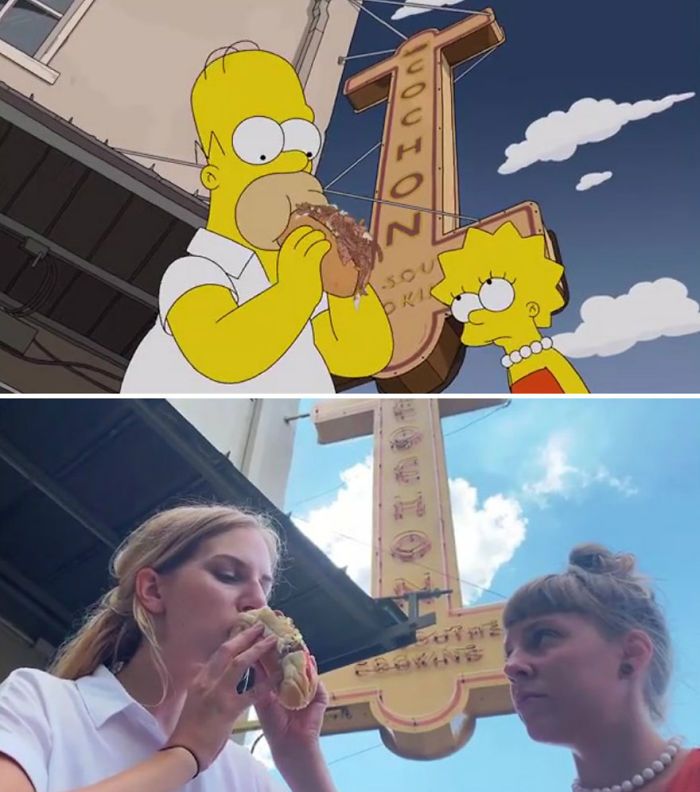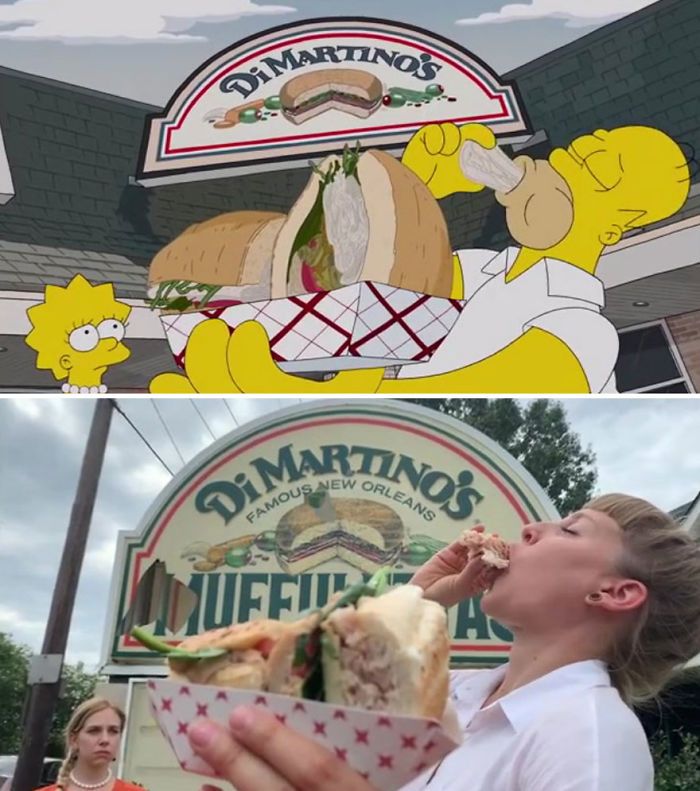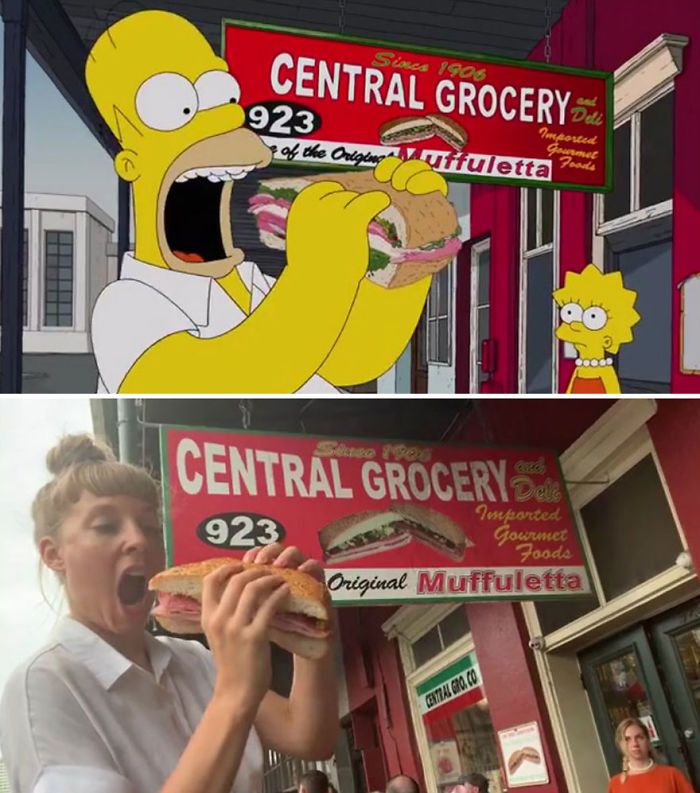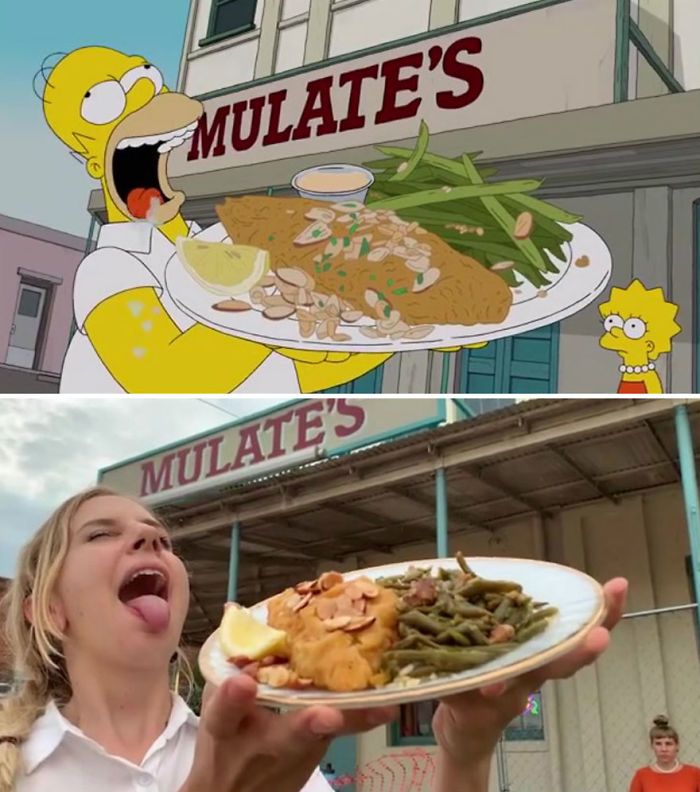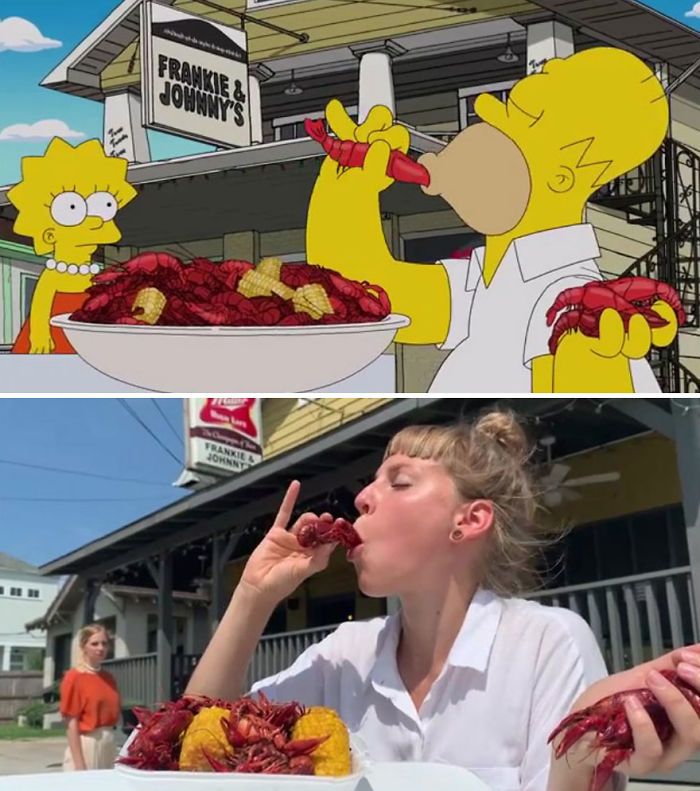 Whether discovering food made famous by television or eating food that television couldn't help but applaud, one thing's for sure—in New Orleans, your eyes will be bigger than your stomach and possibly even as large as the big screen.