A Different Kind of Dog
Delightfully novel ways of enjoying our favorite frankfurter in and around New Orleans.
Regardless of their offal ingredients, it's hard to deny the delicious nostalgia of a great hot dog. Just seeing an image of a frank slapped between its signature split bun, decorated with zig-zags of mustard and (sorry Chicagoans) ketchup, is enough to elicit endless memories of springtime backyard barbecues with dad at the grill and mom dumping bag after bag of potato chips into a huge, never-ending bowl. The aroma is unmistakable, whether it's pork or beef, and everyone has their preferred topping from mus-tard and onions to chili, sweet relish, or dill pickles.
Though there's a cannon of flavors and textures one expects—think corn dogs, chili dogs, Chicago dogs with mustard, tomatoes, onions, and a pickle spear on a poppy seed bun—there's a ton of alternatives available encouraging you to shake your doggy dining status quo.
For example, have you ever had a wiener-stuffed crepe? Bet you haven't. Unless, that is, you've been to T-Swirl in Metairie. Recently opened on Severn across from Lakeside Mall, this Japanese street food crêperie got its start in New York and has since franchised with more than 30 locations across the country. Typically, Japanese-style crepes are made with wheat flour, but T-Swirl and its co-founder Jerry Lin have created and perfected a batter using rice flour, making for a gluten-free crepe which is as crispy and flavorful as its wheat-based counterpart. T-Swirl's highly portable crepes offer lots of fillings of both the sweet and savory variety, but we're talking dogs, right? Dive straight into their Okinawa hot dog—filled with sliced, all-pork Japanese wieners, carrots, cheddar, sliced red onion, red bell peppers, corn, and banana ketchup. Don't forget dessert. Their sweet crepes come in a small size, so, for an additional $6.50 (all together under budget), you can add a mini-caramel Fuji apple with custard cream, whipped yogurt, and granola.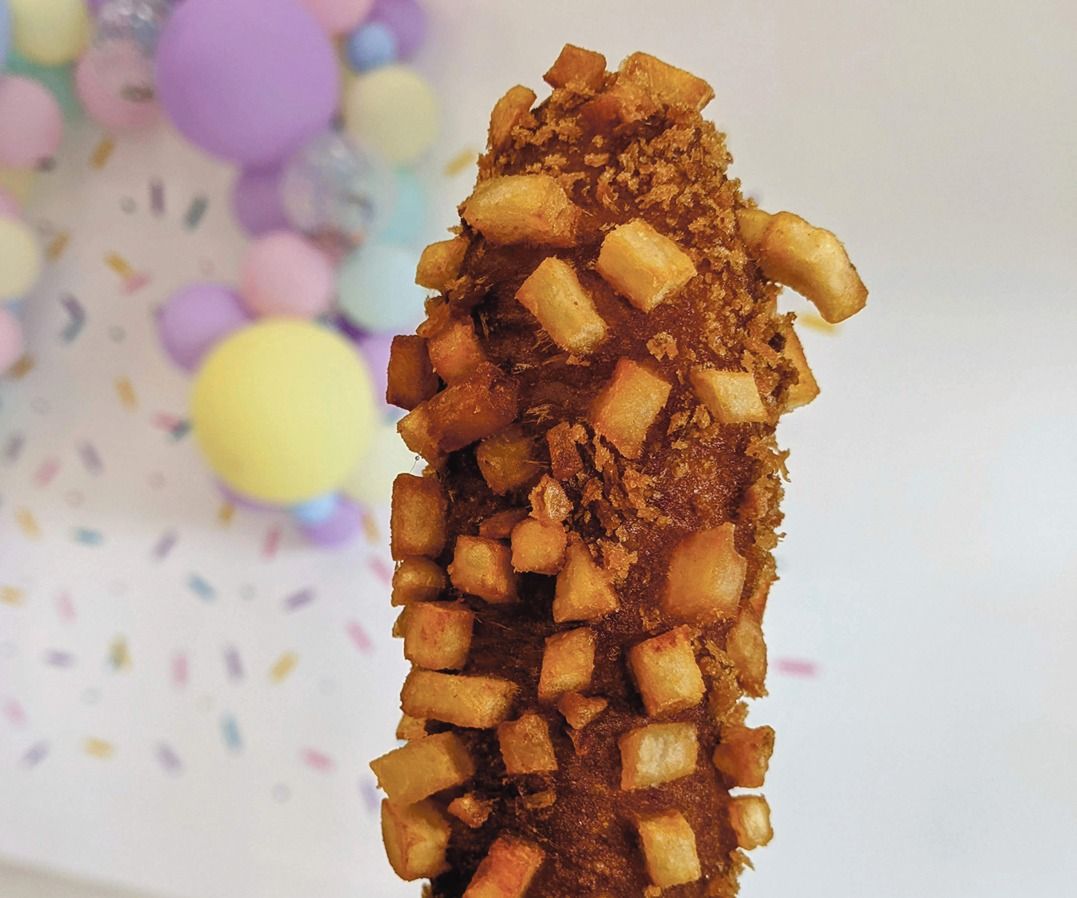 Another Asian take on the "all-American" hot dog—or corn dog rather—is the Korean rice dog. Though the trend hit stateside in 2021, it hasn't really taken hold here in New Orleans. There was a pop up for a bit at Little Korean BBQ, but it just faded away. Now, with the recent opening of Mochinut (also on Severn), you can have a Korean rice dog anytime you want. Mochinut is a massive chain with over 100 locations in the US alone whose main focus is, well, the mochinut—a donut made with mochi—a Japanese rice cake made from sticky rice that's been pounded into a chewy paste. In addition to this incredible donut sensation, Mochinut also offers Korean dogs, which are essentially like corn dogs, but dipped and fried in a rice flour batter. What's even better are the many ways this simple recipe is expanded, with the addition of crispy diced potatoes, a heavy dusting of sugar, fried ramen noodles, or even spicy Cheetos. Plus, the dogs (before being battered and fried) can be wrapped in cheddar, halved with mozzarella, or the dog can be replaced with mozzarella altogether. While you're there, you really should get a Mochinut or three. You should always save room for dessert.
A New Orleans hot dog article that didn't mention Dat Dog is really not a hot dog article at all. Originally opened inside an itty-bitty space on Freret Street in 2011, Dat Dog has become the name in hot dogs across the city and are known for their huge, juicy franks and bright orange and blue buildings. With a hefty array of toppings and several kinds of sausages, diners are able to mix and match to their stomach's content, making this a popular spot for a big, affordable bite. Dat Dog also has several of their own creations regularly on the menu, and it's always fun to check the specials for concoctions like their recent holiday dog with duck sausage, andouille sauce, cornbread dressing, and cranberry sauce.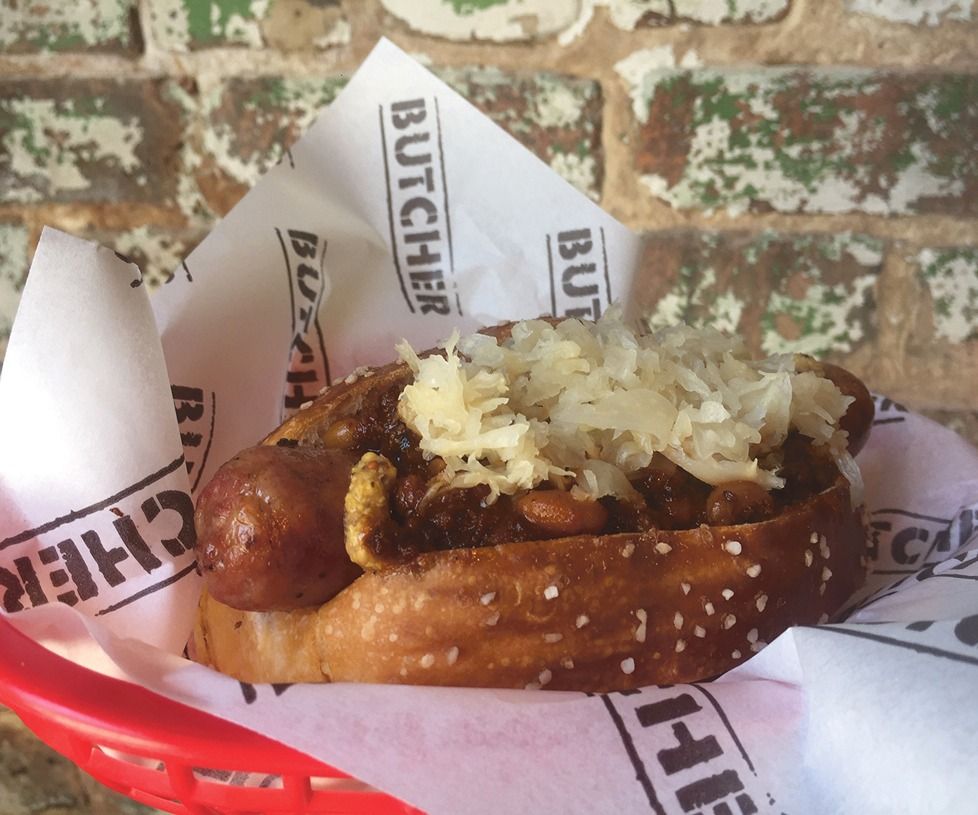 Another dog more than worth its bark is at Cochon Butcher. Unlike most hot dog purveyors, Butcher makes everything in-house, including their porkalicious links. Called a Cajun pork dog, this meaty stunner is nestled in a pretzel bun and served with black-eyed pea chili and piled high with sauerkraut. With a side of house made potato chips and a frosty can of Huhu's Ginger Brew, you've got a howling-good lunch.
Because of their versatility and relative affordability, hot dogs frequently pop-up at spots you wouldn't expect. You only have to keep your eye peeled. Only a few months ago, Mason Hereford's famed sandwich shop Turkey and the Wolf offered a special dog sourced from North Carolina's Brasstown Beef, slow-cooked in chili and topped with American cheese sharing space in the Weiss Guys, split-top bun with a black bean tostada, and sweet pickled jalapenos. What a hot diggety dog.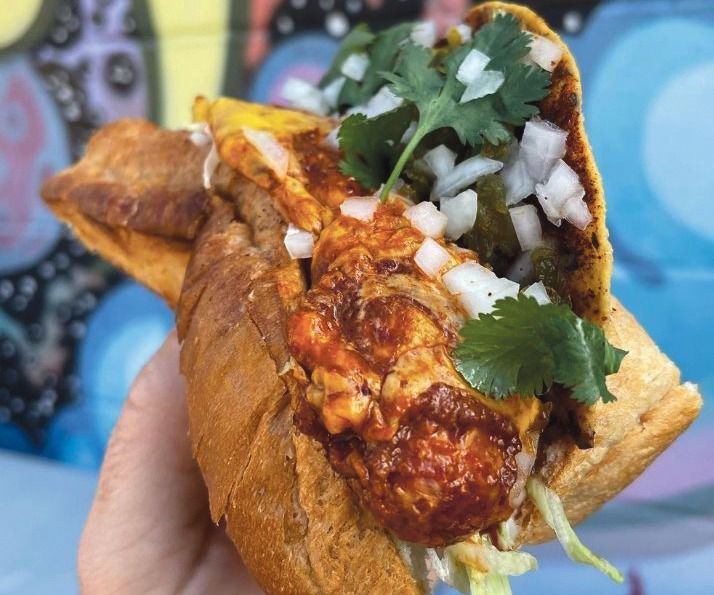 Strut Your Stuff!: $20 and Under in New Orleans

There's little in this world you cannot stuff. You can stuff your face, a teddy bear, your house (with all kinds of stuff), a mattress, your butt into a tight pair of jeans. The possibilities are endless. Of all that's available, arguably the best (and tastiest) stuff to stuff with other stuff is food.
Humans have a long history of stuffing foods with other foods. The earliest known reference can be found in a Roman cookbook, also known as the Apicius, that's is believed to have been compiled in the fifth century AD, with recipes for stuffing everything from chicken to a dormouse with veggies, herbs, spices, nuts, spelt (hulled wheat), and organ meat. Even before we were writing recipes, it's not hard to believe we've been stuffing foodstuffs since we developed opposable thumbs, as we quickly realized that a lot of foods just taste better when you combine them with other foods.
Not only is stuffing food with other foods delicious, it's also a fairly simple and economical way to cook. Everything is in one delectable package ready for copious consumption.
While New Orleans, and the late great chef Paul Prudhomme, is known for that great stuffed marvel the turducken, there's a ton of other stuffed dishes around town worthy of your consideration, palate and your ducats.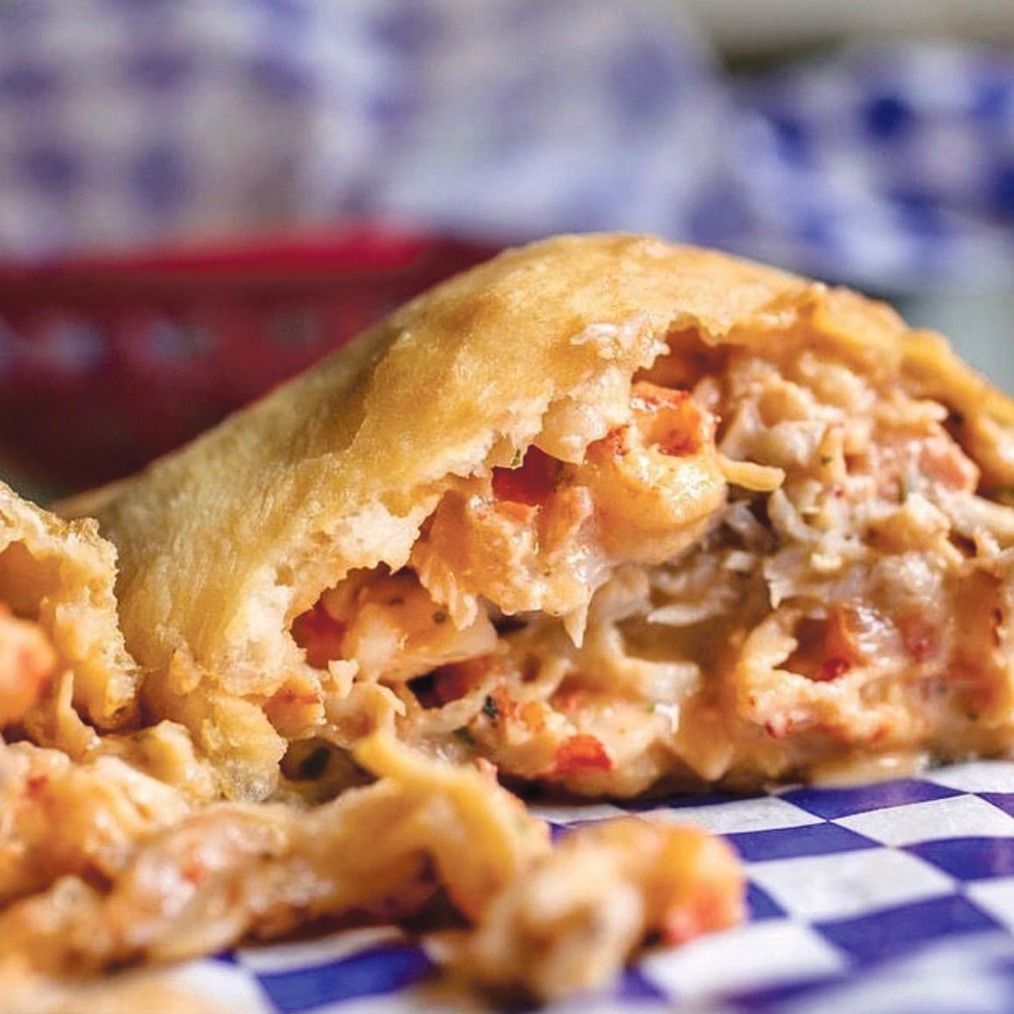 Stuph'D Beignets & Burgers
Divine inspiration came from a little place on St. Claude Avenue dubbed, most appropriately, Stuph'D Beignets & Burgers. Owned and operated by Duana Lawrence, the Bywater eatery offers lots of non-stuffed items like wings, fried seafood Fridays, burgers, and po-boys, but her signature dishes are sweet and savory beignets stuffed with, well, all kinds of stuff. If you're feeling sweet, go for a beignet stuffed with Oreos or pecan pie. And on the savory side, you can get a crisp, hot beignet filled with everything from veggies and cheese to grilled shrimp, Philly cheese steak and, the pièce de résistance, a Creole Queen filled with crab meat, crawfish, and shrimp. All of Stuph'D's beignets are bigger than you might imagine and fully, most gloriously, stuffed with goodness.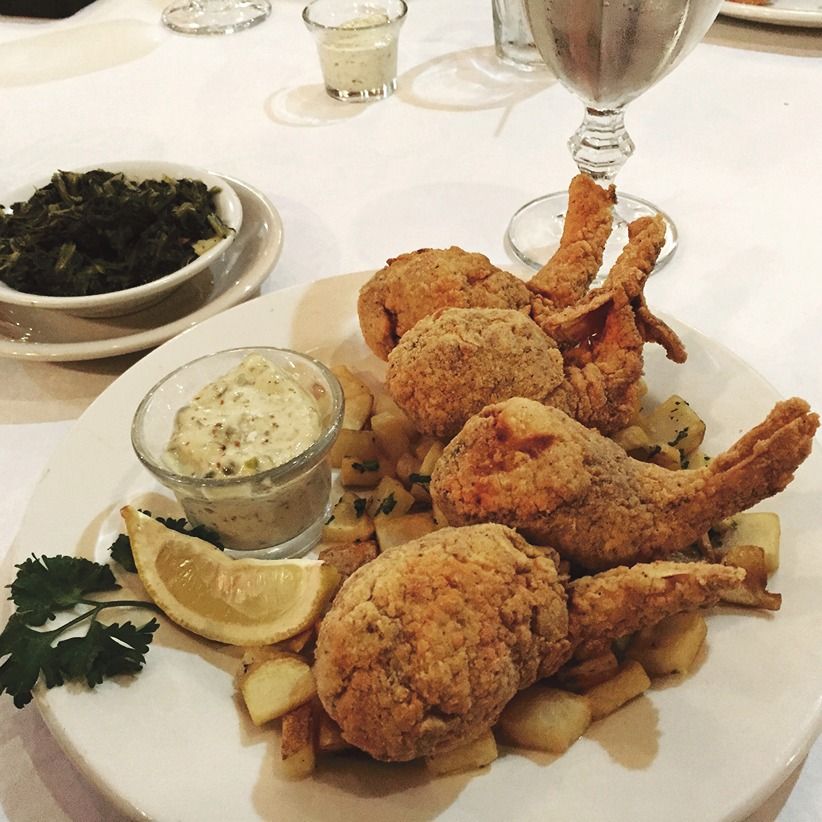 Dooky Chase Restaurant
People from all over the world head over to the Creole classic Dooky Chase Restaurant in the historic Tremé neighborhood. For over 80 years, millions of people have enjoyed this New Orleans' gem serving dishes like grillades and grits, crawfish etouffee, Southern fried chicken and Creole gumbo, but did you know they also serve a lot of stuffed stuff? Along with overstuffed potatoes and stunning stuffed crab, one of their featured favorites are the stuffed jumbo shrimp. How does one stuff shrimp, you may ask? Easy. The Gulf shrimp are butterflied, packed with crab meat dressing, battered, deep fried and served with their house tartar sauce.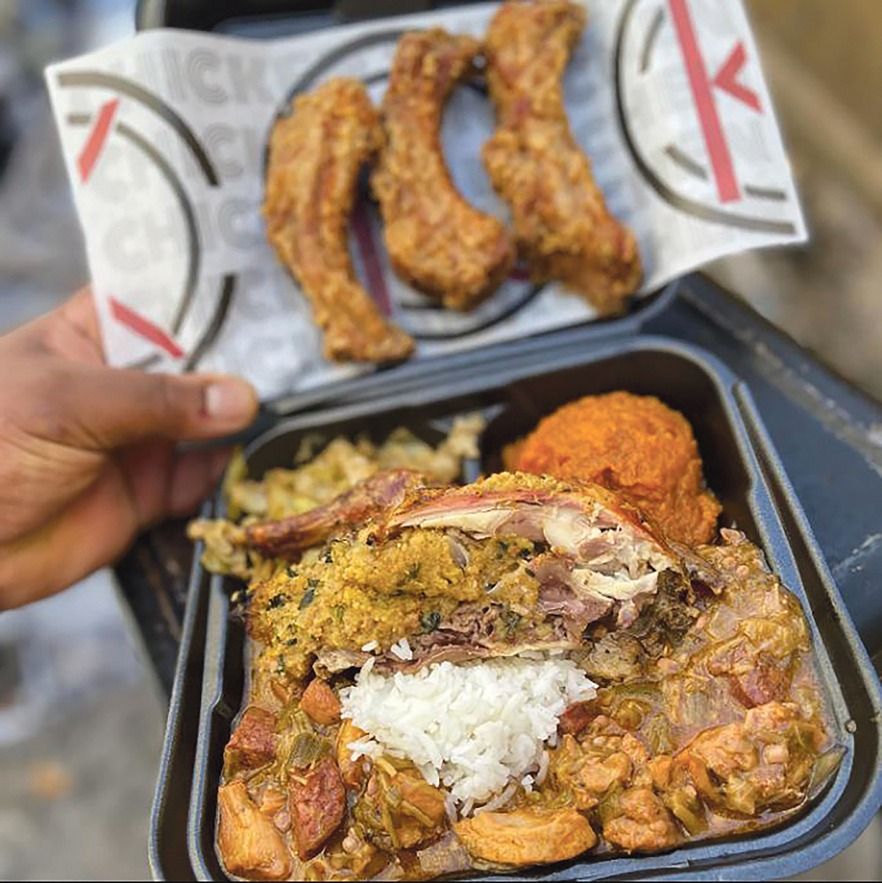 Chicken's Kitchen
A relative newcomer to the local restaurant scene, Chicken's Kitchen is a spot serving up hot plates to the masses across the river in Gretna. You can always tell when this takeout-only eatery is open because a line forms outside the door and trails all the way down the block. Self-trained home cook Marlon "Chicken" Williams opened the popular Westbank restaurant with a lot of help from his community, and everyday he returns the favor kicking out amazing plate lunches, most of which don't rise above $15. Along with his famous fried chicken and eternally sold-out braised oxtails (only served the first Tuesday of every month), the kitchen also offers stuffed stuff like seafood-stuffed catfish and a hearty half of Cornish game hen stuffed with turkey dressing. Each entree comes with one large side, such as his "five star mac" or seafood-smothered okra and rice, and two small sides, which includes everything from buttered carrots and potato salad to sweet peas and candied yams.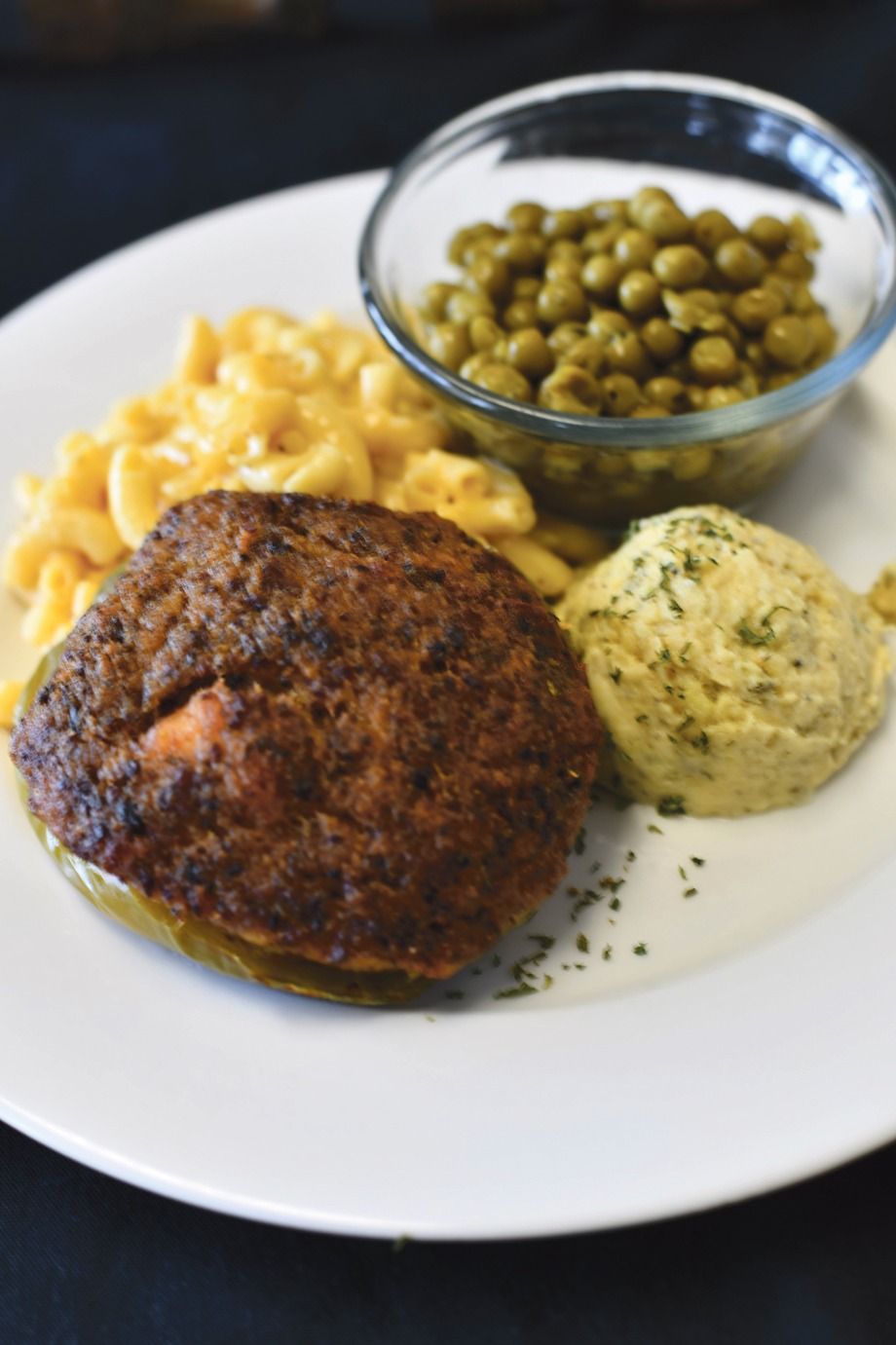 Heard Dat Kitchen
Located over in Central City, Jeffery Heard, (along with his daughter Chef Tia) has definitely made a name for himself at his popular restaurant Heard Dat Kitchen. You'll discover lots of New Orleans' classics on the menu, made with their own special twist, including BBQ shrimp fries and filé gumbo served with a grilled cheese sandwich and potato salad, but we're here to get stuffed, right? In that case, we recommend "dat plate'' with a beautiful bell pepper stuffed with pork sausage, shrimp, onions, garlic, bread crumbs, and their own special blend of seasonings served with mac 'n' cheese, sweet peas and potato salad for only $13. We heard dat.
French Toast
Finally, because no great meal is truly finished without a little something sweet, take a brunch trip to the French Quarter and visit the aptly named French Toast restaurant on Decatur Street. Long have praises been sung to Cara and Evan Benson for their bread-laden, breakfast blowouts, from aebleskivers and eggs baked in brioche to marvelous Monte Cristo sandwiches and banana nutella crepes, but they've gone even further. Naturally, they serve French toast dotted with fresh berries and dusted in powdered sugar, but they also feature French toast stuffed with coconut cream and topped with bruleed pineapple, candied macadamia nuts, and a dollop of tangy lemon curd. It's served with maple syrup, but honestly, do you really need it?
Food lovers, get out there and get stuffed.
----------------------------------------------------------------------------------------------------------------------------------------------------------------------------



Pumpkins: $20 and Under in New Orleans
Along with ginger-hued leaves, bright red apples and football, pumpkins are one of the most prominent autumn archetypes. After all, what would fall be for us without pumpkin pie, spookily-carved jack-o-lanterns, or pumpkin spice lattes? It would be a sad season, indeed.
Native to North America, pumpkins are a winter squash and in the United States, over 1.5 billion pounds are produced annually. An excellent source of beta-carotene and vitamin A, pumpkins can be both a healthful and flavorful feast and you can eat almost all of it, from the fleshy shell and seeds to the bright orange flowers and even the leaves. Though the mirliton is the most preferred squash to devour during the fall months in New Orleans, pumpkin is still very much in the running, so much so that there's regulars available to gourd-mandize season after season.
Breads on Oak
Case in point, the pumpkin cheddar biscuits at Breads on Oak. With a second location downtown on Carondolet, the rising bakery is proof positive vegan food can be both delectable and wholesome. One of its most popular sellers, the flaky, pumpkin cheddar biscuit, made with organic pumpkin and vegan cheddar, is made even more desirable as a breakfast sandwich stuffed with a sprouted tofu scramble, "andouille sausage," and fresh tomato. This time of year, they've also been known to offer a pumpkin spice brioche eclair with a maple glaze and candied pepitas.
The Italian Barrel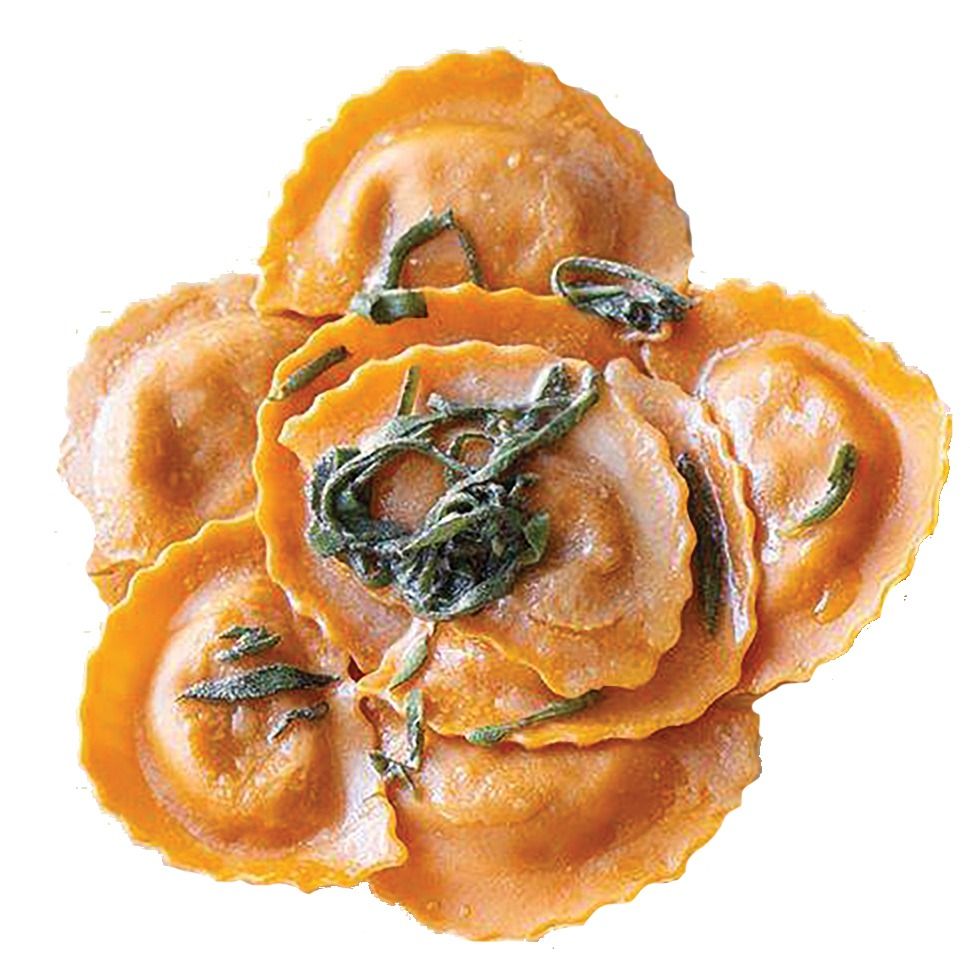 Quite often, the simplest dish is best as French Quarter restaurant The Italian Barrel has shown with one of their most popular plates, re-gourd-less of the season. It will only set you back $18 for chef/owner Samantha Castagnetti's toothsome pumpkin-stuffed raviolo sauteed in brown butter and sage. Can you smell this dish in your mind's eye? Can you taste it? Stop fantasizing and go.
MoPho and Maypop
As we anxiously await the opening of his latest restaurant Tana (a new Italian eatery slated to launch in Old Metairie early 2023), Chef Michael Gulotta has been known to pop pumpkin into the menu at his other two spots. In fact, an Indonesian pumpkin curry with spicy apple sambal, sweet soy and crunchy pepitas has made an appearance from time to time at both MoPho Mid-City and Maypop. We understand keeping the menu fresh, but there are many who wouldn't mind seeing that dish come 'round again—and again.
Creole Creamery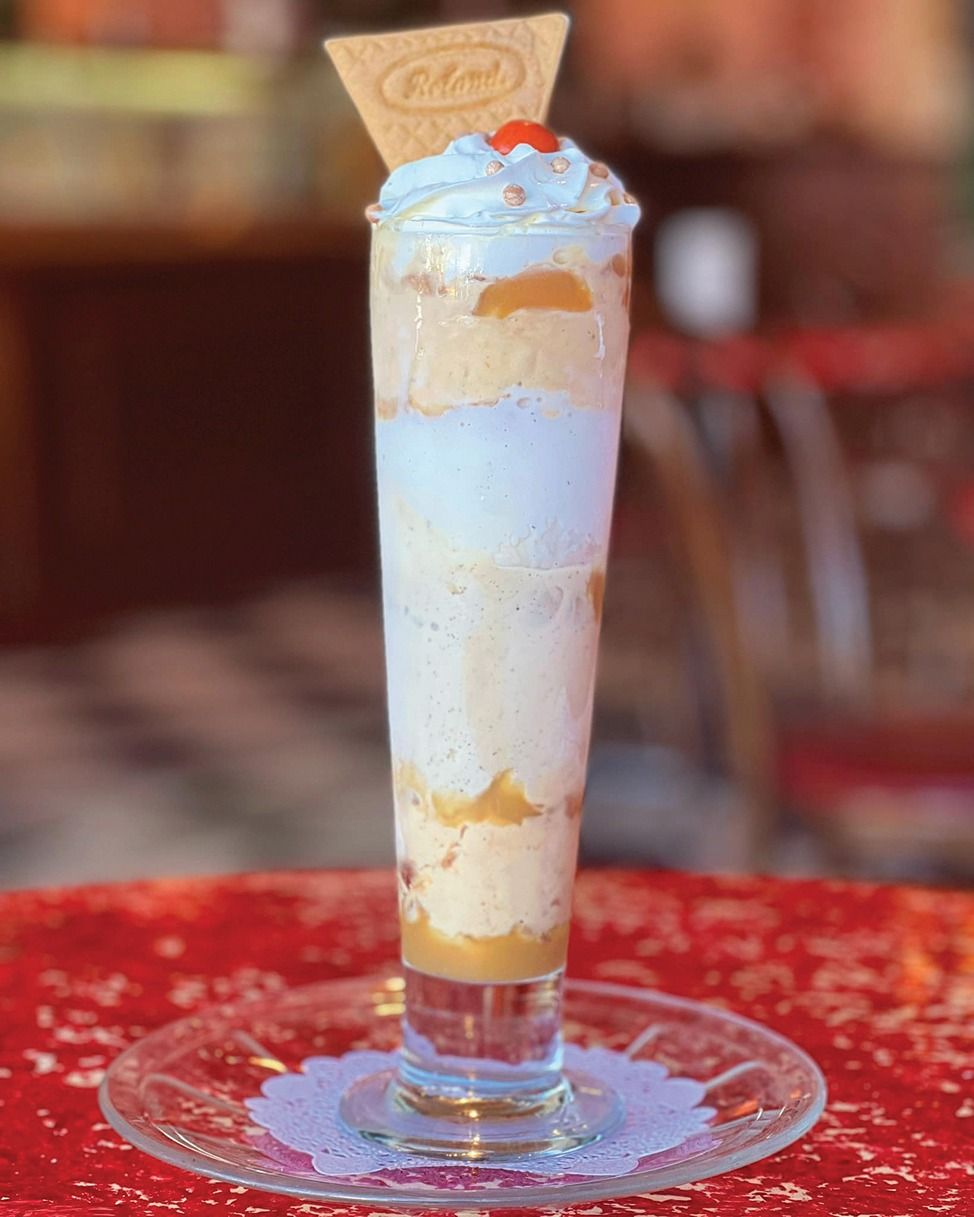 While it's hard to predict what savory dish New Orleans chefs will create from year to year, or even day to day (like the brief appearance of smoked lamb ribs over pumpkin congee at Marjie's Grill), there always seems to be more annual continuity on the sweeter side of things. For example, pumpkin praline ice cream makes a regular showing at Creole Creamery, and with four locations (one in Bay St. Louis, Mississippi), it's hard to miss. If you pair it with a scoop of Creole cream cheese and brown butter pecan, it becomes a fall-icious split.
District Donuts Sliders Brew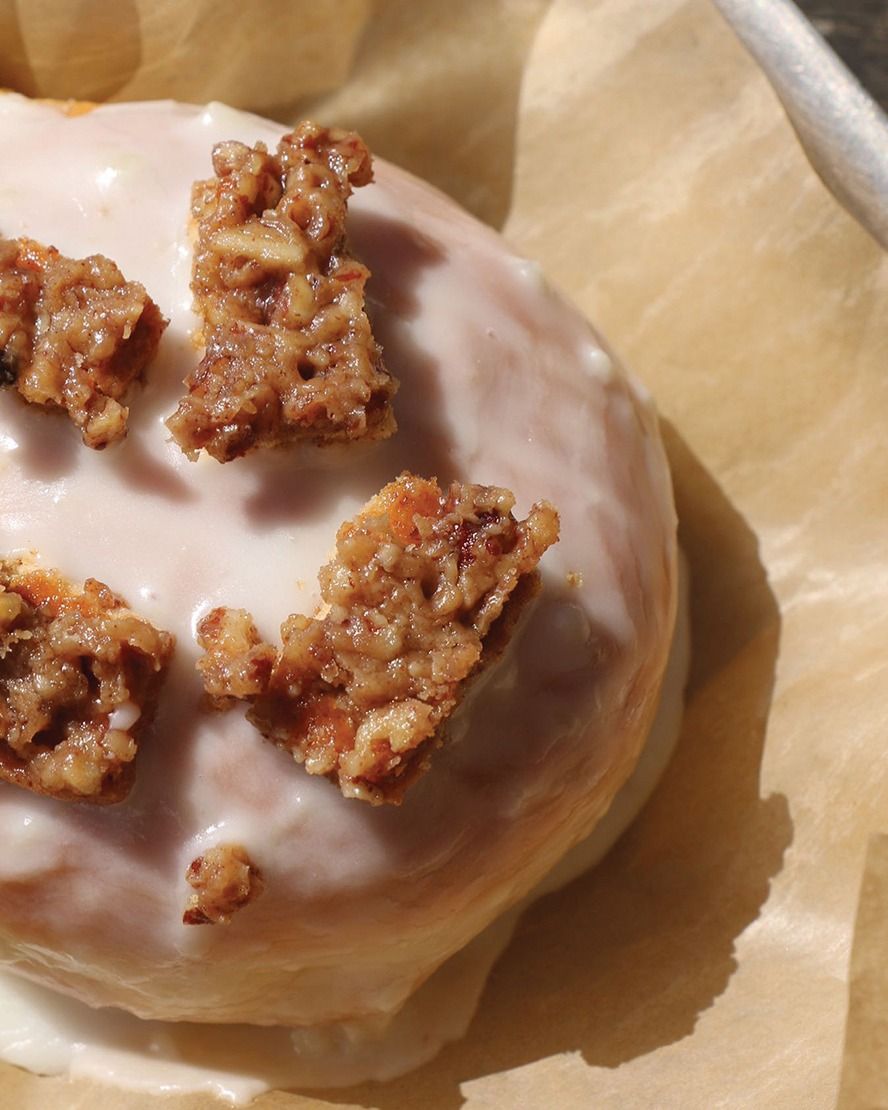 You can always count on District Donuts Sliders Brew to jump on the yearly pumpkin procession, with alacrity. Since it opened on Magazine Street almost a decade ago, this specialty coffee shop has featured golden gourd-inspired donuts like pumpkin cheesecake with candied pepitas and ginger beer glaze, pumpkin spice latte crème brulee, "The Great Pumpkin" with pumpkin pie filling and brown butter glaze, and pumpkin pecan rolls—not to mention a caramel pumpkin spice latte with pumpkin spice marshmallows because why not guild the gourd?
Gracious Bakery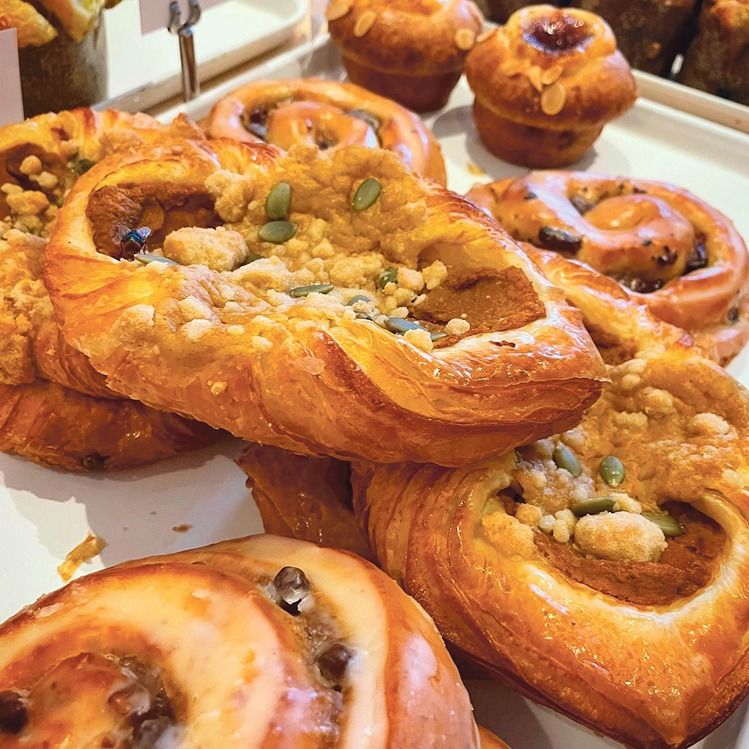 Another spot that loves its annual frolic in the pumpkin patch is the Gert Town-based Gracious Bakery. When the leaves start falling and the holiday season is close at hand, you can bet the farm that owner/pastry chef Megan Forman and her happy krewe will be rolling out delights such as pumpkin danishes sprinkled with pepitas, maple pumpkin knots, pumpkin bread, pumpkin cheesecake, and pumpkin custard deliciously decorated with Valrhona white chocolate-whipped ganache.
Windowsill Pies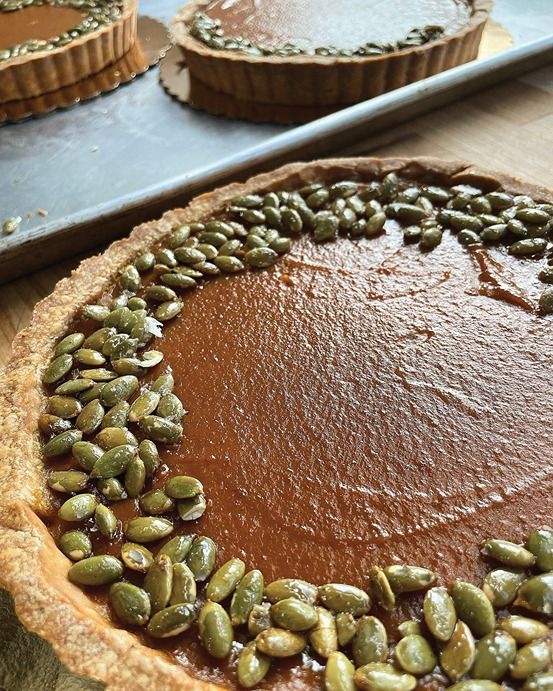 Finally, almost every pie-purveyor in town will be offering the ubiquitous Thanksgiving treat, the one offered at Windowsill Pies is more than worth writing about. If you've never had the pleasure, it's past time to make your way to Freret Street for their ginger pumpkin tart with crispy pepitas. As a whole, the Food & Wine Magazine-featured pie runs a higher than the budgeted $20, but lucky for us, they offer a 2-inch mini that fits the bill.

-----------------------------------------------------------------

Sandwiches: $20 and Under in New Orleans
In New Orleans, a po-boy is the obvious go-to when looking for meals between the bread, but there's plenty of delicious alternatives in town worthy of a bite.
Regardless of whether or not you are still in school, fall has a way of stimulating cravings for a great sandwich. Though it's easy to slather up a sweet, sticky PB&J or tuna fish salad sandwich with lots of pickles, sometimes the answer to your sandwich needs lies outside of your kitchen. Though it would seem an easy task for a talented chef to stack the perfect 'wich, take into consideration the ingredients. When they're using freshly baked bread (sometimes made in-house), ripe veggies, and quality proteins, the care and preparation involved make for a sandwich you'll never forget.
Ayu Bakehouse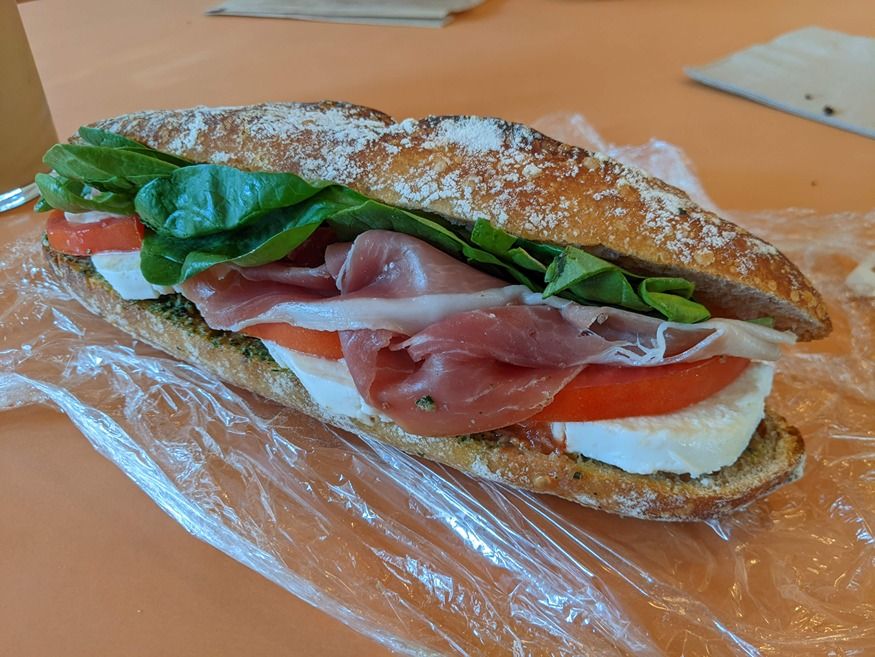 Bakeries are easily one of the best spots for a great sandwich. After all, they've got the main ingredient prepared fresh daily at their disposal. Though there's a ton of bakeries in town, a new one just opened up on the corner of Frenchmen and Dauphine. Dubbed Ayu Bakehouse, the folks at this fresh spot aren't loafing around, offering breads, pastries, salads, Hey! Cafe coffee, and—you guessed it—sandwiches. Though they've only been around a few months, a favorite is a sandwich version of the caprese salad—fresh tomatoes, basil, mozzarella, and prosciutto are layered on a large, crunchy, chewy French baguette spread with garlicky pesto. The menu changes daily, but, recently, they took that caprese classic and added radish, snap beans, and a "special sauce" on a small baguette and named it, appropriately, the Frenchmen. Follow them @ayubakehousenola to see what lunchtime surprises they have in store.
DiMartino's Famous New Orleans Muffulettas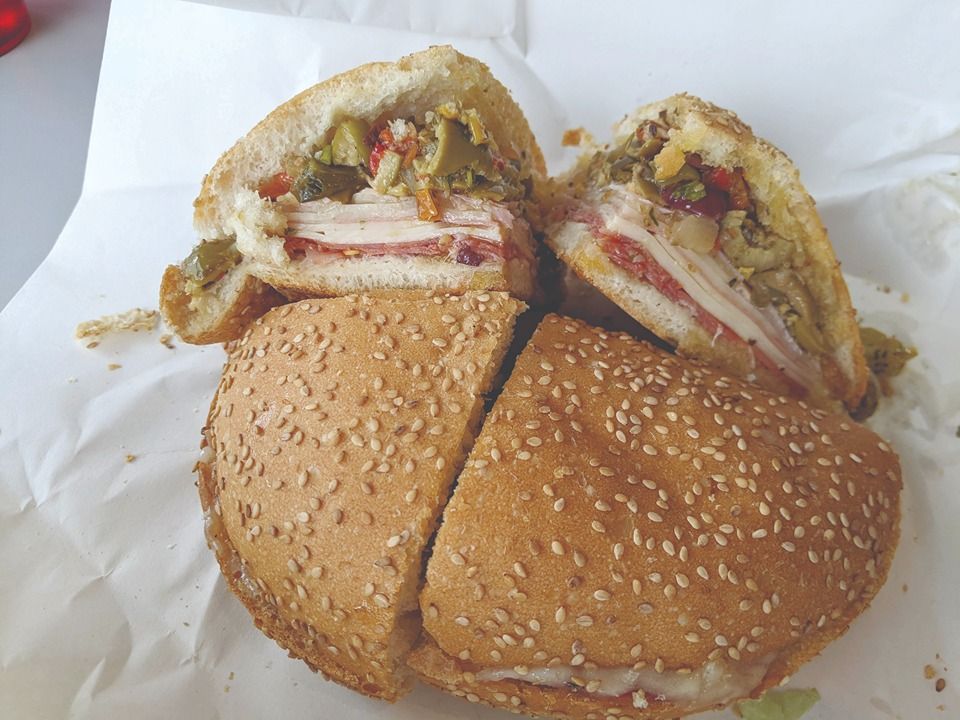 If the po-boy is king in New Orleans, then surely the muffuletta must be queen. The muffuletta is a local invention that's been around for over a century. The Italian round, seeded bread called muffuletta is what makes a muffuletta sandwich—that, and the olive salad. Though many turn to Central Grocery on Decatur Street, the French Quarter shop which is said to have invented it, there are many other places that offer muffulettas that some locals claim are just as good as (if not better) than Central's "original." One such spot is DiMartino's Famous New Orleans Muffulettas. Now with three locations, DiMartino's has been open since 1975, serving muffulettas and more—everything from po-boys and burgers, to seafood platters, and eggplant parmigiana. Offered in both small and large sizes, DiMartino's muffuletta is a little different because they toast the bread, which offers a slightly firmer foundation for layers of salami, ham, mortadella, Swiss, provolone, and lots of tangy olive salad. A small will feed you and a friend for only $12.99. One could go on and on about the iconic muffuletta, but that's another article.
Who Dat Coffee Cafe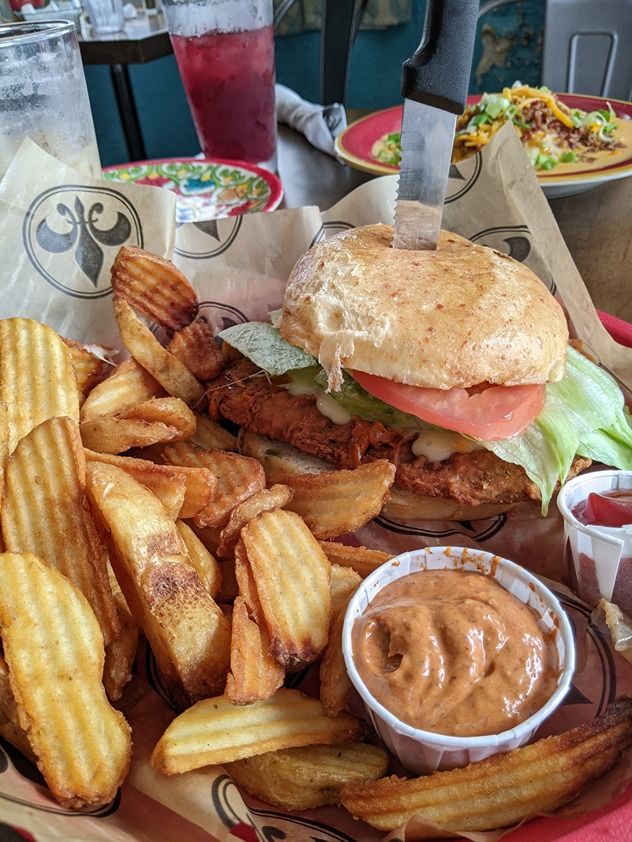 Over on Burgundy Street, there's a great little café serving up big eats called Who Dat Coffee Cafe. One might drive by the quaint Marigny corner and assume it's just a coffee house—which it is—but it's also a whole lot more. Not found in guidebooks or reviewed by national magazines, this unassuming spot is beloved by the neighborhood regulars who drop in often for breakfast, lunch, and brunch. Dishes include everything from grilled corn cakes covered in a creamy egg sauce and topped with cheddar, to an open-faced salad/sandwich made with shrimp and crab meat on grilled ciabatta dubbed the "da Marigny." One particularly stunning 'wich is their chicken fried steak served on a house-made jalapeno cheddar bun, dressed with pepper jack cheese, and their signature remoulade. Be sure to get the wavy, wedge fries on the side with an extra serving of that stellar remoulade for dipping. It's a sauce worth writing home about.
Tartine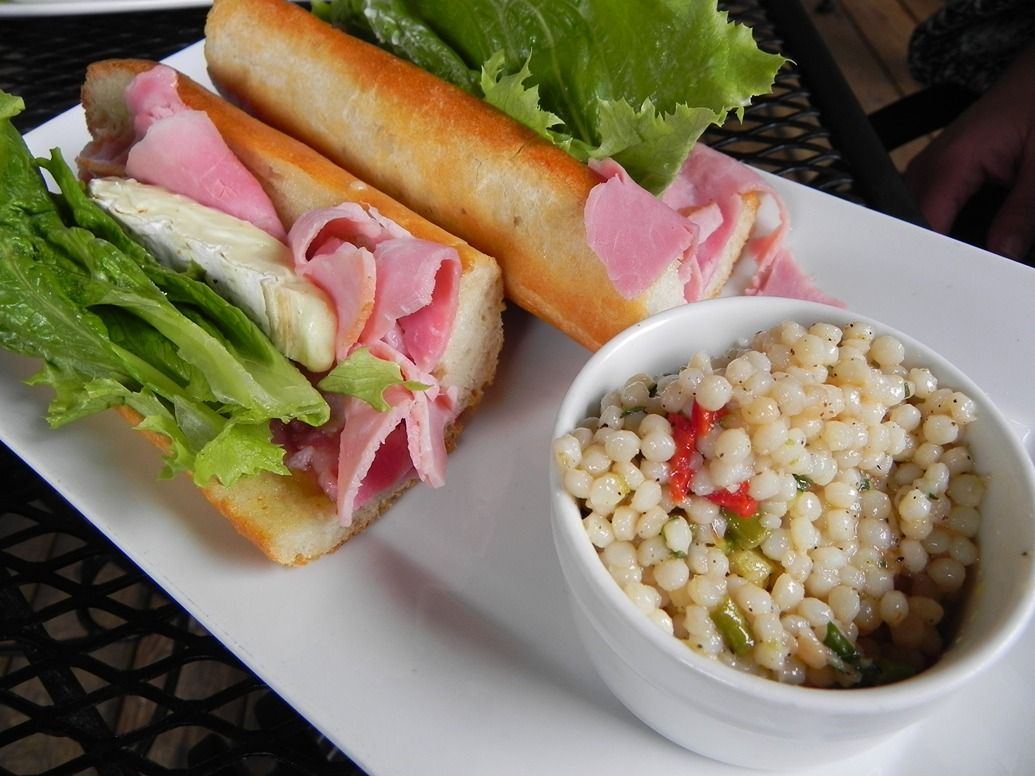 Though it's not a bakery, per se, Tartine is a small, uptown eatery by Cara and Evan Benson, which features their own incredible house-baked breads. Formally trained as a pastry chef, Cara has taken her skills and with them, created a little piece of Paris "on da Mississippi." In addition to scones, quiche, eggs baked in brioche, and huge salads, Tartine offers, well, tartines, which are typically open-faced sandwiches, featuring pậté or egg salad (both of which are on Tartine's menu), but one rises above the rest—thickly-sliced smoked ham, triple cream brie, and fresh lettuce burst from a crunchy baguette dressed with a slightly sweet fig mustard for only $11.50. You could even add a cup of their soup of the day and spend the afternoon on their patio dreaming of Montmarte or the Champs Elysees.
CIBO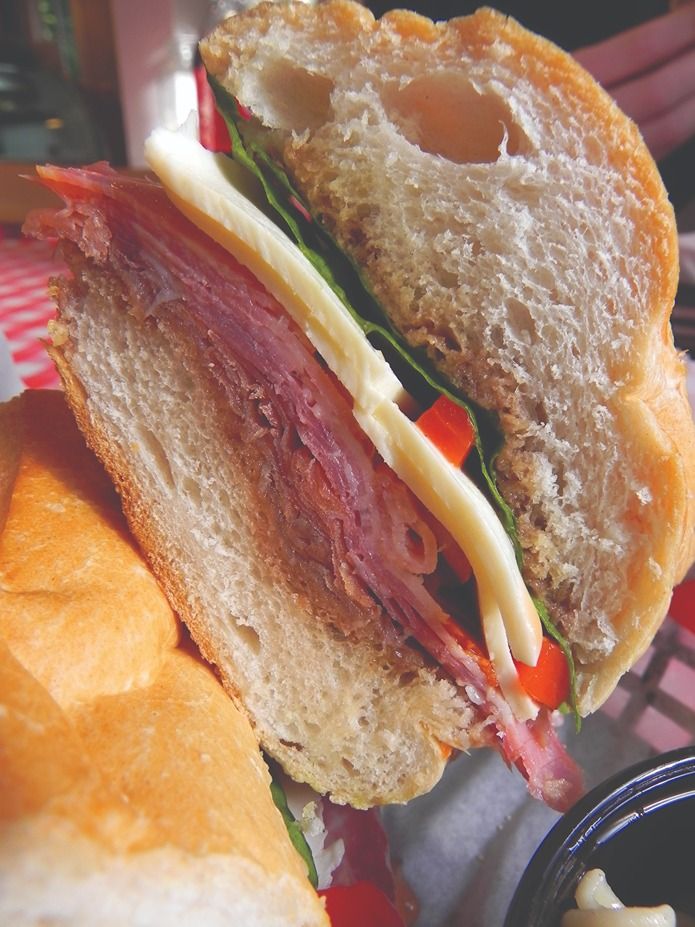 Finally, it's been mentioned in this column before, but it deserves to be mentioned again,
CIBO
is a great spot for sandwiches. You have only to stop in to find out for yourself. Located near Oak Street on S. Carrollton Avenue, the Italian-inspired eatery offers breakfast, lunch, and dinner with everything from bagels and salads to hot plates of meatballs and three-cheese ravioli. But their sandwiches really shine. Try the "Imports Combo" with prosciutto, sopressata, capocolla, fresh mozzarella, and roasted red peppers on a toasted Italian loaf, or sink your teeth into a chicken parmigiana slathered in their own red sauce and covered in melty Parmesan and mozzarella.
-----------------------------------------------------------------

Frappes: $20 and Under in New Orleans
Even for aficionados, a piping hot cup of coffee on a sweltering summer day in New Orleans is about as appealing as running a 10k in a goose down parka. Though many folks can be found sheltering inside well air-conditioned spaces where a steaming cuppa Joe can be had in relative comfort, it's altogether easier, more portable, and infinitely more fun to go frozen with a frappe.
History
Describing drinks chilled with ice, the name frappé is French in origin and goes as far back as the late 1800s. The French were enjoying café frappé, or iced coffee, which was sometimes served like slushes. Then, in 1957 Giannis Dristas, a representative of Nestlé, created the Greek version of café frappé, by mixing instant coffee, cold water, and ice cubes in a cocktail shaker—an invention that has forever linked Nescafé to frappé.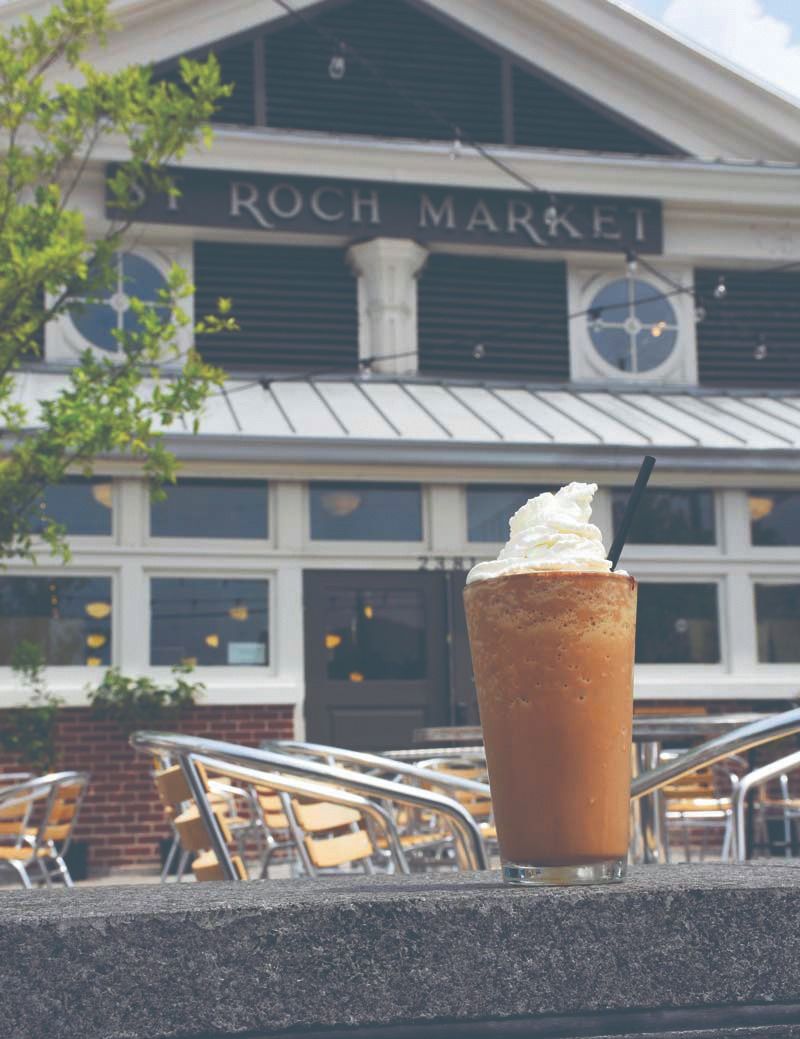 Fast-forward to the '90s when George Howell's Massachusetts coffee shop chain, the Coffee Connection, developed and trademarked the frappuccino, made with ice cream and cappuccino. The Coffee Connection was purchased by the Seattle-based java giant Starbucks in 1994 and the rest, as they say, is history.
These days, it seems coffee shops use the terms frappe (sounds like slap), frappé, frozen coffee, and frappuccino interchangeably to mean the same thing, though if your shop isn't Starbucks, you're likely to get slapped with a lawsuit for formally using the latter. Whatever you call it, it's a sweet, cooling delivery method for that daily caffeine injection we all adore, and, as a bonus, you don't have to go to Starbucks to get it.
Coast Roast Coffee
Though Coast Roast Coffee started in Long Beach, Mississippi, it has quickly become a beloved New Orleans brand with a café inside St. Roch Market and CR Coffee Shop on Magazine Street. Using high-quality arabica, they roast the beans in a restored, century-old roaster, resulting in a smooth, rich flavor you have to taste to appreciate. Though they do offer a regular frozen coffee, it is more than worth it to try their chocolate-covered espresso bean flavor to add an extra sweet jolt to your day.
Coffee House
Away over there in Arabi, there's a cool little café dubbed, most appropriately, the Coffee House. This community café started life as a drive-thru in 2015 and has now grown into a full-fledged shop, offering java brewed from Coast Roast beans as well as free WiFi, friendly faces, and handmade croissants and breakfast burritos. Their frosty frappe flavors, replete with whipped cream, are constantly changing, but they've been known to offer everything from white chocolate and cheesecake to lavender maple and (a Star Wars fan favorite) "Darth Frappe," or mocha and almond with chocolate whipped cream.
Way down in Metairie, in a busy strip mall on W. Esplanade Avenue, Evolve Coffee is mixing it up serving specialty coffees and teas, including the healthful and oh-so popular matcha. Using beans roasted by Mojo Coffee, Evolve makes not only a creamy, frozen latte, but a cool matcha-licious fusion dubbed the "frozen Evolution"—a mashup of freshly brewed espresso and ceremonial-grade matcha sourced from Japan. One day perhaps we'll see them slushify their signature rose matcha latte.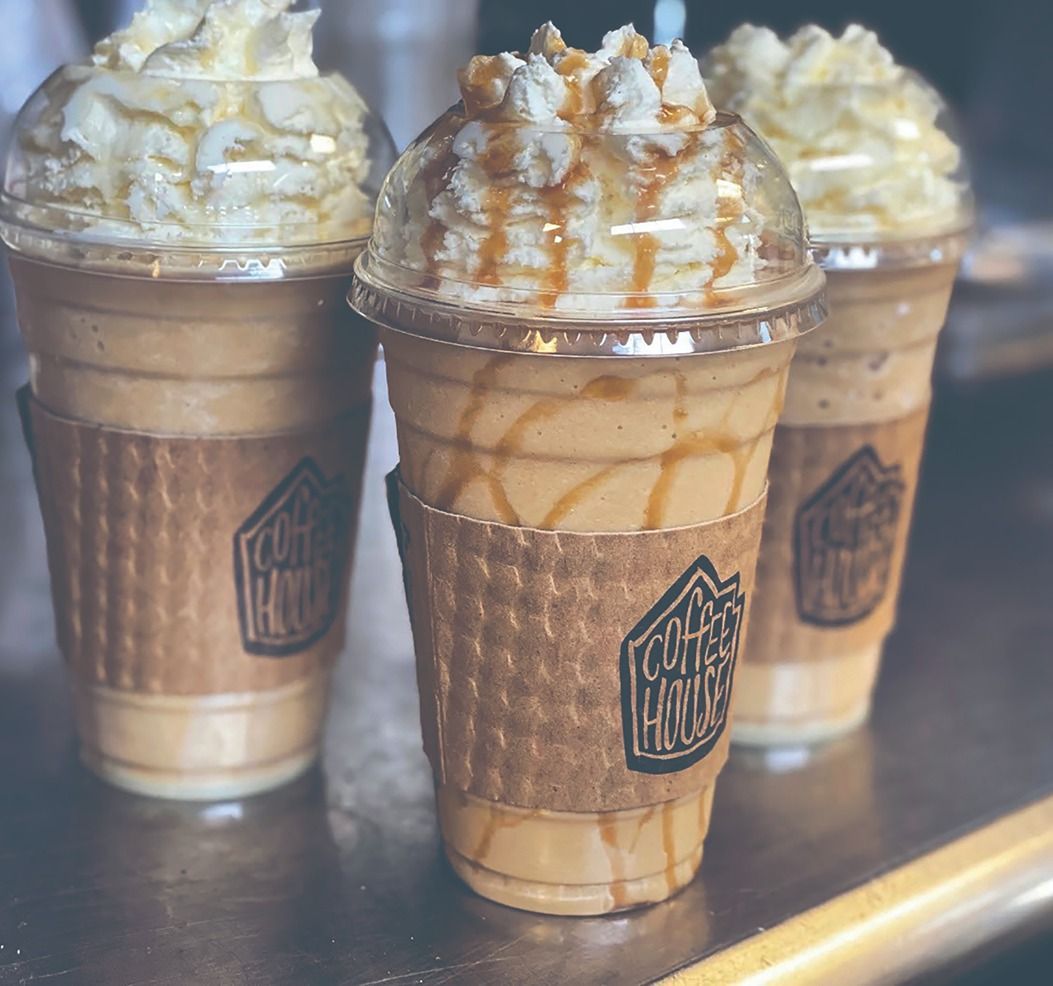 Speaking of Mojo, as one of the first coffee shops in town featuring "hand-crafted pour over methods" to the GNO, it should come as no surprise that at least one of their locations offers a fabulous frappe. In the Lower Garden District, on the corner of Magazine and Race streets, Mojo serves frozen coffees with a slew of syrups added for flavor, from salted caramel and Bananas Foster to miel (honey), Milky Way, and king cake.
Coffee giant PJ's Coffee has locations all over the country, but it calls New Orleans home as it was founded here in 1978 by Phyllis Jordan. Sourcing only "the best quality arabica beans," which are then small-batch roasted, PJ's features their own frappes, though they're called granitas (traditionally an Italian sno-ball-like dessert) and "velvet ice." Though the two are generally only offered mocha and latte-flavored, the company will occasionally release seasonal versions like Southern wedding cake with vanilla and almond or honey macadamia.
Finally, one of the most famous frappes to be had in the Crescent City would have to be the frozen cafe au lait at Cafe Du Monde. Whether you're at Lakeside Mall, on Williams Boulevard in Kenner (brah), or standing in line at their iconic, green and white-awninged stand on Decatur Street in the French Quarter, it's pretty hard to beat this frozen coffee and chicory treat. Grab one to slurp while gaping at the Mighty Mississippi, and, perhaps, this summer won't seem quite so hot.
__________________________________________

French Fries: $20 and Under in New Orleans
Smother them in cheese and chili, or drown them in ketchup and mayo-fries are just a blank canvas for a limitless palette of flavors-right? But it doesn't have to be that way. Fresh or frozen, plain french fries, with maybe a few shakes of salt, tell their own tale. Naked and exposed, hot and fresh, one can enjoy their excellent fried, potato flavor or, sadly, their lack of flavor.

Poorly made fries will reveal things like that oh-too common bitterness that comes from old or dirty oil, sogginess if the oil is too cool, burned, bitterness from oil that's far too hot, and don't forget the waxy, starchy flavor when using altogether the wrong kind of potato.
Cafe Degas
Though many people wax poetic about McDonald's french fries, there are far better creations coming out of our local kitchens. Fries don't have to be fresh or hand-cut to come out perfect. With care taken in sourcing, storage, and preparation, restaurants can consistently produce glowing, golden, french fried beauties. Take for example, the perfectly fried spuds one gets at Cafe Degas. It's a French restaurant so it only makes sense they'd have great fries, non? Oui! The Bayou St. John bistro on Esplanade offers "pomme frites," with dishes of steamed mussels and seared hanger steak, but you can order a side unaccompanied by other distractions and revel in the beautiful, fried potato-ness they possess for only $6.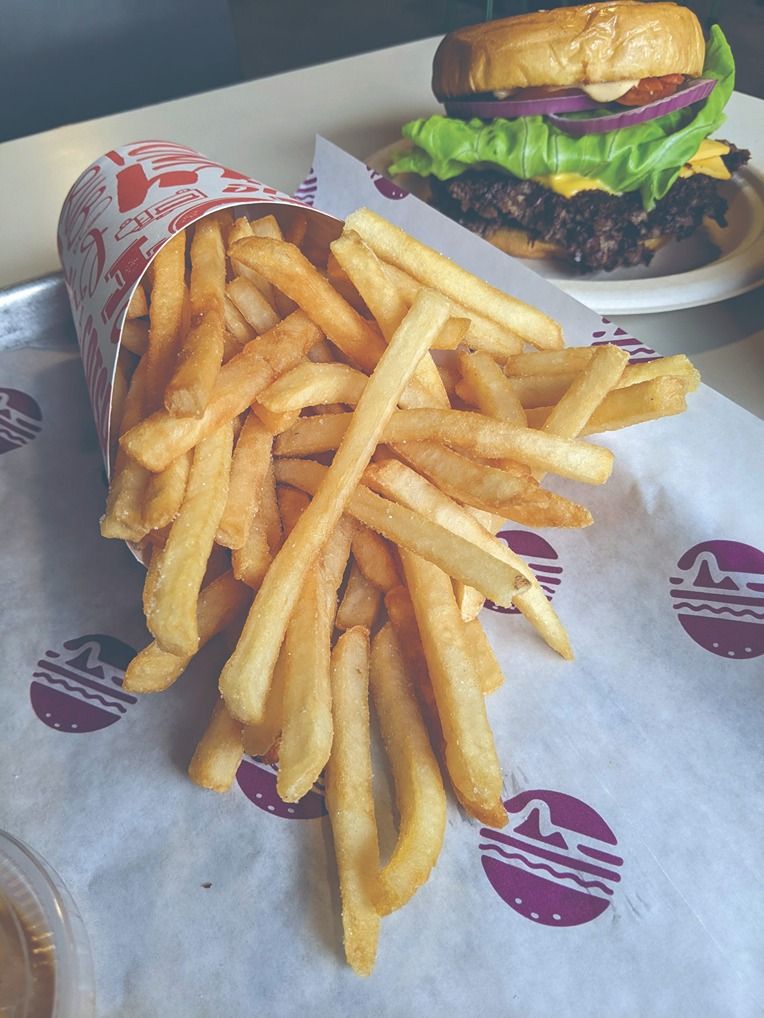 Bub's Burgers
Over in Mid-City on Banks Street, Bub's excels at busting out the killer smash-style burger, but their consistently great fries are a real draw. While they do offer to dress up their perfectly good fries with cheese sauce or bacon, ranch and jalapenos, they'll be every bit as delicious without anything extra. Every order of their "shoestring" fries come out hot and crisp, with the perfect amount of salt. You could get a small order for $4, but I say spend the extra buck and get a large. You will have no difficulty finishing them, even with the addition of a "Royale" burger with American cheese.
Bevi Seafood Co.
Only a hop and a skip away on the corner of N. Carrollton and Bienville, Bevi Seafood Co. is a place known for boiled crawfish, crab, and shrimp, as well as several memorable po-boys and sandwiches, but their fries seem to fly under the radar. Again, they offer cheese fries and roast beef debris fries, but by themselves these crispy sticks of potato happiness are great without any ado. Perhaps they are fried twice or maybe they're brined, but Bevi's fries have an extra level of crunch to them, making their near steak-like thickness a boon rather than a bane. Just try a pile, plain and uncluttered, and you'll see why no additions are necessary.
Liuzza's by the Track
Yet another Mid-City restaurant belongs on the fearless fries list-that Jazz Fest favorite, Liuzza's by the Track. Yes, you should definitely eat their gumbo, and yes, the BBQ shrimp po-boy is worth every peppery bite, but have you tried the fries? Maybe you think they've been tossed onto a side plate as an afterthought, but just bite into one, and you're on your way to spud heaven. Crisp, hot, hand-cut and salty, you can down a plate of fries with a cold can of Abita or a frozen daiquiri for under $10 and leave happy.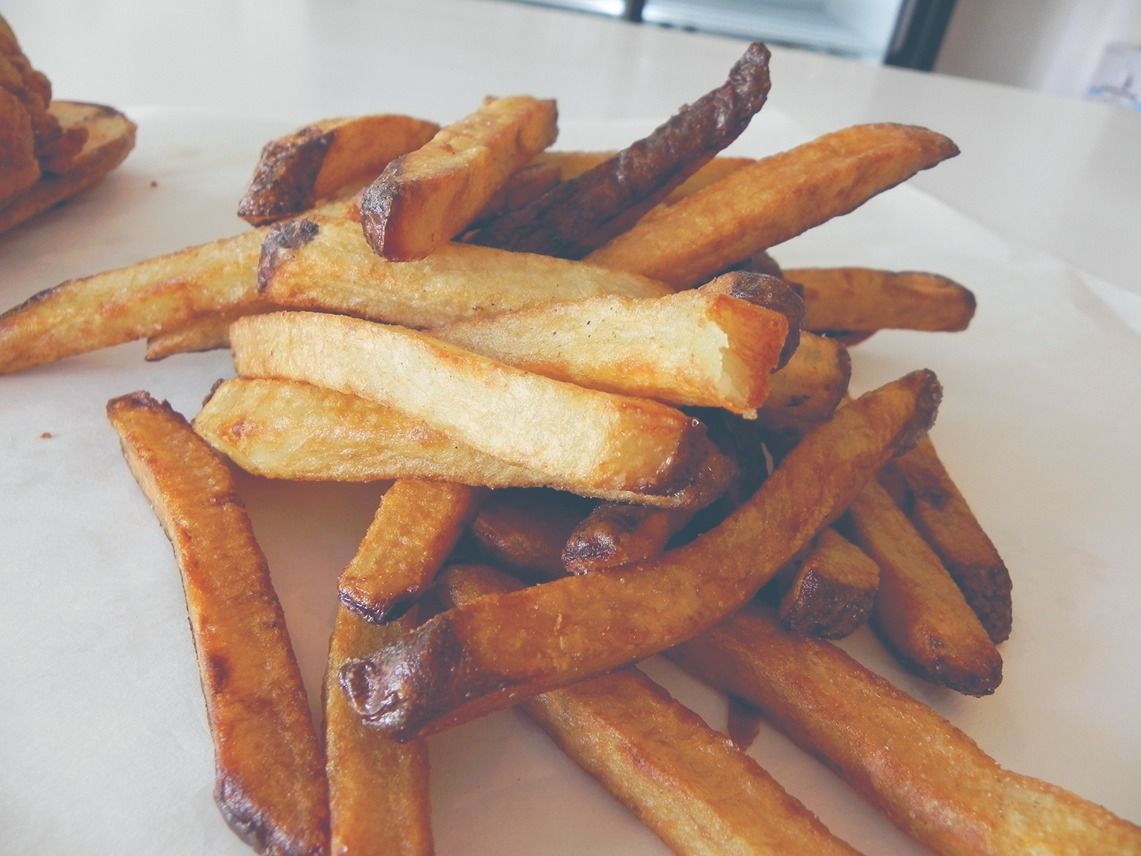 Fat Boy Pantry
Down in the Lower Garden District, Fat Boy Pantry on Magazine Street offers a mish-mashed menu of sandwiches, coffees, freshly-squeezed juices, and ice cream. It's hard to see past items like their Benedict Eggwich with hollandaise and "smash browns," or the fried lobster po-boy, but their fries are something yet again. Though the menu implies the fries are not served on their own (they only seem to accompany some of the sandwiches), they'd likely make you a pile on their own if you asked politely. Maybe it's because they wrap them up in butcher paper with the sandwich or maybe they keep their oil impeccably fresh, but these fries stand alone in their stellar flavor and texture. They're thick, almost like a steak fry, perhaps just a touch on the soggy side, but in a good way. One thing's for sure-you will not be able to stop eating these red-gold beauties until they are all gone.
Chloe

Last, but definitely not least, there's a high-end fry that belongs on this list. Not too long ago, LeBlanc + Smith opened a boutique hotel and restaurant on St. Charles Avenue dubbed The Chloe. Led by the talented chef Todd Pulsinelli, the Uptown restaurant offers plenty of dishes to rave about, from the smoked pork belly lettuce cups and shrimp etouffee dumplings to the roasted lemonfish, but don't you dare sleep on those fries. Though you can get them with a chicken katsu sandwich or mushroom melt French dip, the shoestring-style fries can easily stand alone. Make it celebratory, with a glass of sparkling wine poolside and we promise, you won't miss the obligatory pile of ketchup.